Interviews
Can taking just 3 actions a day make stores more agile?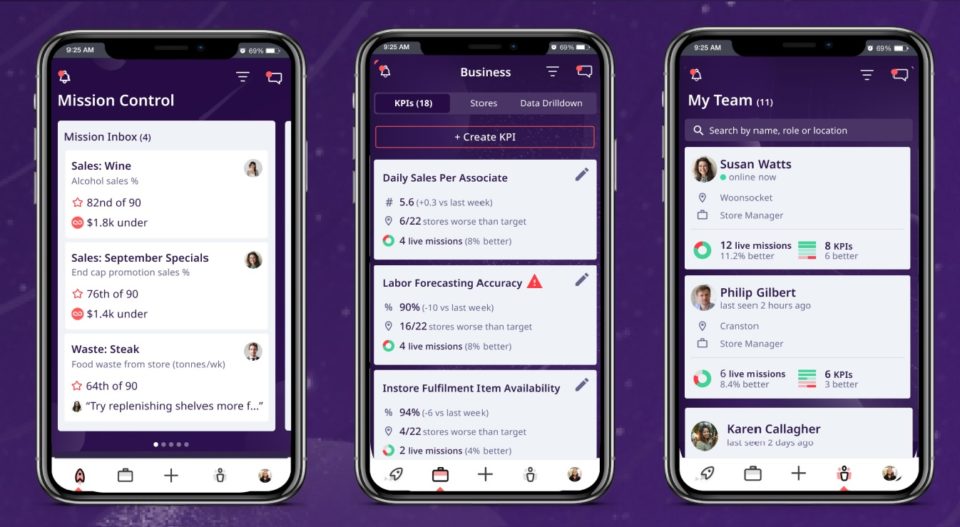 (Yes – if they're the right ones)
Some retail solutions are no brainers.
Quorso is one of them.
More and more data is generated every day by retail businesses. There's value to this information but it's often not effectively acted on.
Why?
Because there's too much of it.
Quorso solves this issue. It helps retailers to run more agile, effective stores by taking the raw data and turning it into three daily Missions that are guaranteed to drive sales and KPIs.
The results speak for themselves. On average, retailers can achieve a sales uplift of 2.7%, or £170 [$233] per mission per week within 3 months.
Running three Missions a week can add £510 [$701] to the bottom line. This means in a year retailers can achieve a sales uplift of £26,520 [$36,464] per store.
Not bad when you consider that these Missions translate to just 220 seconds of extra work a week.
We spoke to CEO Julian Mills about turning data into action, shifting the way we manage stores, and why agility is critical to the future of the store.
Julian Mills, CEO, Quorso
Could you describe Quorso in a nutshell?
Quorso is the app for agile stores.
At the moment, store managers are inundated with information. They're told that their sales are down on comp, or they're under budget, but they don't know how to improve.
Quorso cuts through the noise and removes that uncertainty. It takes all of the data that is relevant for store managers and translates it into a few simple actions to focus on each week that can really move the needle.
Not only does Quorso prioritise where store colleagues spend their time, it coaches them through how to fix each problem, records what they found, what they did and the results.
By showing store managers and other store leaders how the simple actions they're taking in store are driving performance, Quorso accelerates shared learnings and boosts employee motivation.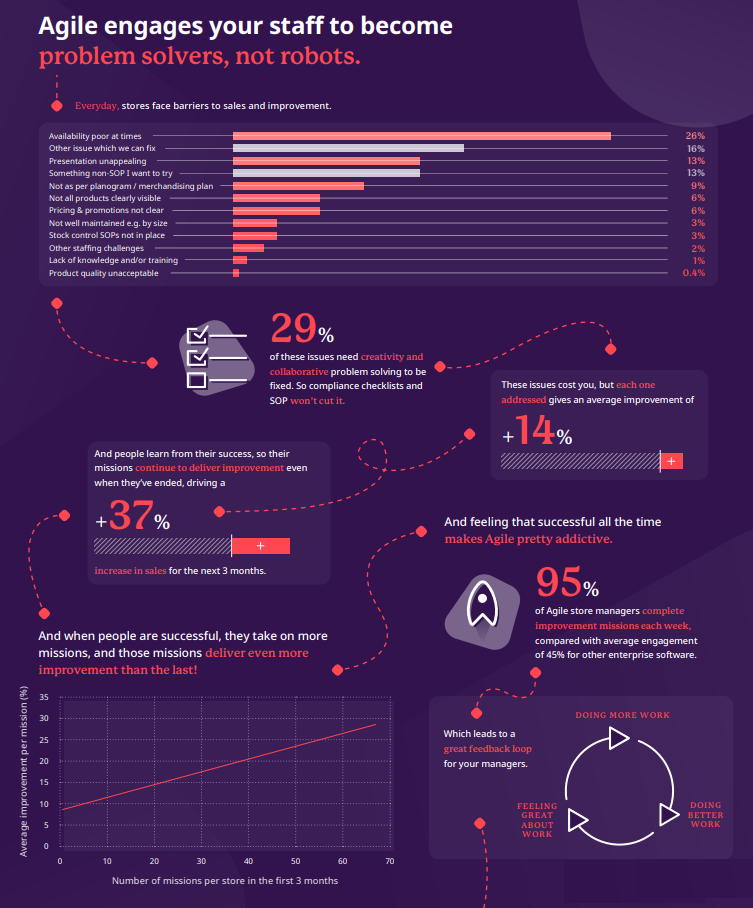 What are the benefits of using Quorso?
Simply put – 90% of Missions launched improve performance on average by about £170 [US$233] a week.
The average Mission takes 72 seconds to complete and contributes $2,000 in sales, so it's almost immediate time to value.
Our customers see an overall sales uplift of between 1.5% and 6%.
This figure is dependent on a few key factors.
The most important is what percentage of your store teams can you persuade to do something every day or every week?
With Quorso, we typically have over 85% weekly engagement, which is much higher than the 45% typically achieved by other enterprise software.
The second one is about how many Missions people do each day or each week. Statistically every Mission contributes about the same, so the more you do, the more improvement you drive.
The third one is the success rate, which we see averaging 80 to 85%. If fewer actions than this are driving improvement, then there's a problem with your team.
What types of data does Quorso use to generate Missions?
There are two main types of data.
The first is the raw data that we get from plugging into a retailer's existing data feeds. This includes point of sale, stock, BOPIS or click and collect rates, fulfillment rates, schedule adherence, and customer satisfaction.
We take all of that information that falls down on the poor overworked store manager and identify the biggest opportunities for them to improve each day.
The other kind of data is user generated. The more Quorso is used, the more it learns which opportunities to surface.
For example, if lots of people launch Missions to sell more bananas, but they don't succeed, Quorso will stop showing banana sales related Missions.
But if people are having great success with sausage-selling Missions, Quorso will generate more Missions for other stores to sell this product.
Essentially Quorso is learning based on the clever things that thousands of store employees are doing every day.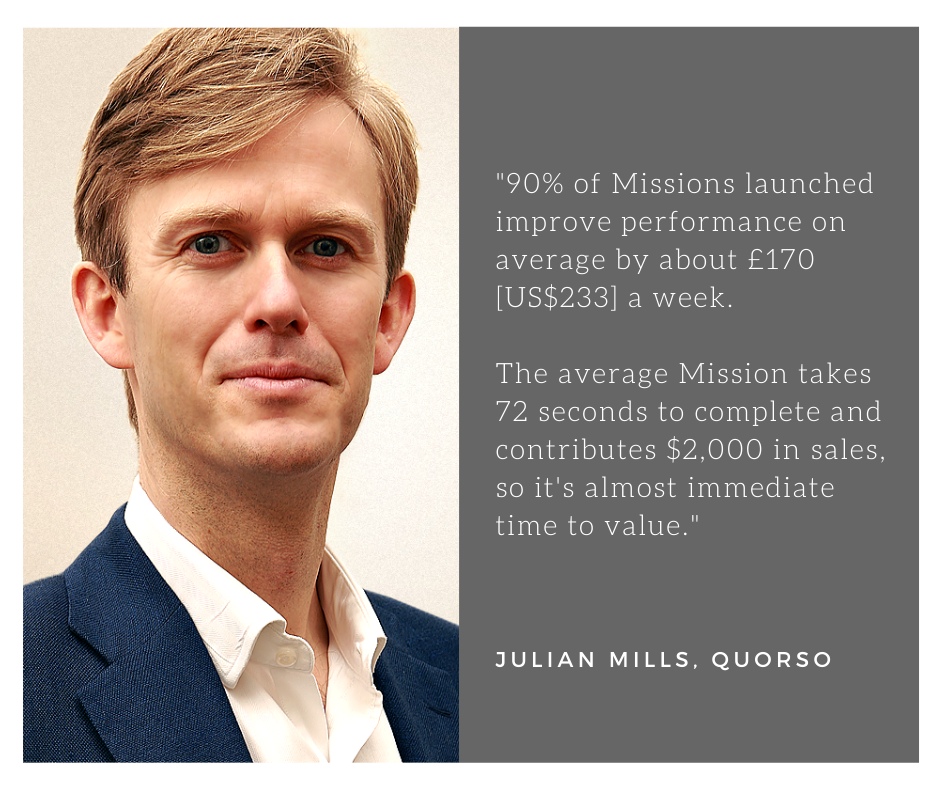 While Quorso is learning from every store, the stores are learning from each other too.
Every time Quorso gives a store manager a Mission that has already been successfully resolved by a peer in another store, it also shares what was done in that store to fix the issue.
Quorso also makes it really easy for store managers to connect with each other on Missions and ask for help, share what they've and what they've learned.
How do staff access and act on Quorso's Missions?
We've created a user-friendly mobile app that staff can use to receive and track their daily missions without the need for a lot of training.
We're also partnering with major communication and task solutions to integrate Quorso's Missions directly into their software.
These parterships mean retailers get all the benefits of Quorso Missions without needing to log in to new platforms or overhaul existing processes. Instead they receive and act on Missions all within the core app they are already using.
What insights does Quorso provide about staff performance?
You can get an objective read on how your store teams are performing by tracking their Mission activity. The way we look at with retailers is in terms of the "will and skill" of their staff.
We would describe people who do all their Missions as having high "will". They obviously care.
People who drive a big improvement from doing those Missions, or people who have a higher success rate when they do a Mission, we would describe as high "skill".
What you're trying to do is move your managers towards being high will and high skill.
A lot of the value that we create for people at Area Manager and above level is showing you who your good people are, who needs some coaching, and enabling you to align your best people to your most important stores.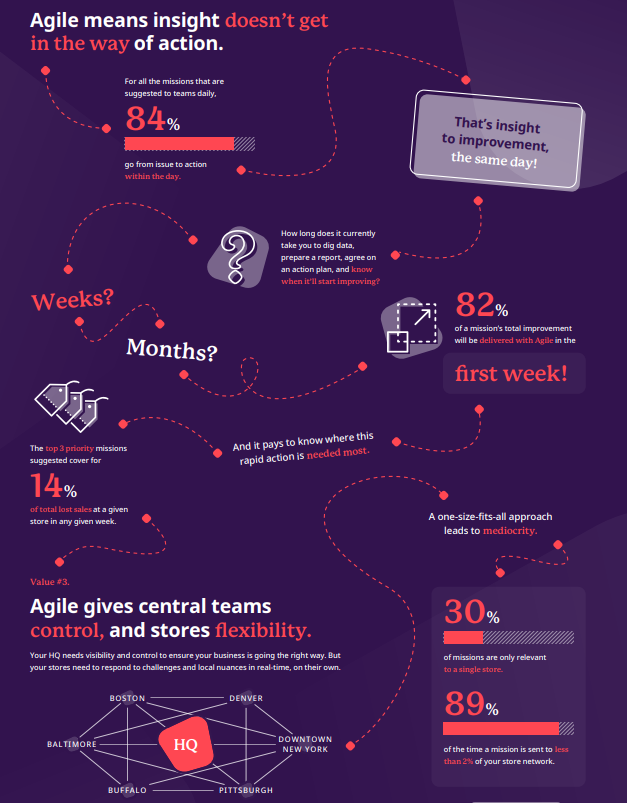 One of the vogue retail subjects at the moment is Omnichannel. Is this something that Quorso supports?
The reality is retail is still a store game.
What's really interesting is a lot of people assume that if a sale happens online, it doesn't touch a store.
But if you read the latest Target annual report, they say '95% of all of our online sales touched a store'.
The reason for that is the store has become a kind of Swiss army penknife for retail. It's moved on from being a place where people just walked in the door and bought stuff.
It's now the place where you come in to try something before you buy it online. Or they don't have quite the thing you're looking for in stock, so you order it via an assistant's tablet. Or you've ordered online, you picked it up in-store and maybe bought some other things while you were there. Or you are returning something in store that you bought online. You've also got store staff doing picking and packing of online orders.
Quorso helps handle all this in two ways.
One, it brings in not just the two traditional store data sources (sales and stock), but also the 7 or 8 the new ones, including online metrics, employee and customer satisfaction, time to serve, etc. and uses them all to identify Missions.
Two, it helps store staff who are now stretched even more thinly to prioritise and focus their efforts in the best possible way, every single day.
If you think about it, many store managers are given lots of tasks every day that they don't actually need to do. Quorso shows them the data-driven Missions they need to do to have measurable impact.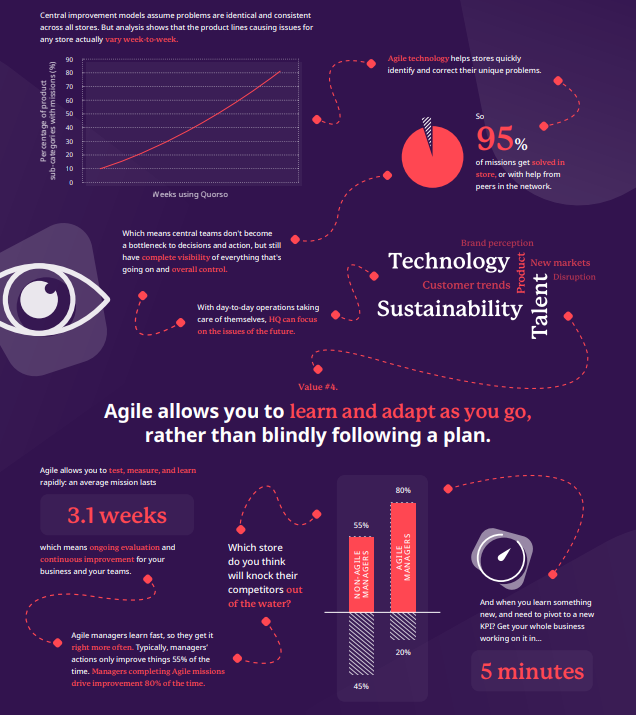 Have any retailers changed their behaviour from using Quorso?
Yes. One example is a very large retailer that we work with who has been sending data to stores for years on damages.
We brought that data into Quorso and, in just four weeks, identified that these issues generally required central fixes to supply chain or merch. There was little that could be done locally in the store.
As a result, the retailer decided to stop sending the damage information to stores, reducing store managers' weekly reading materials by about 15%.
Another of our clients is a very big pet store chain. We found that when someone fixes a problem in something like cat food or consumables, you get much less improvement than you do if you fix an issue in hard goods, like collars and leashes.
The reason for that is that people would just substitute the food and switch to another product, whereas with hardware they'll either buy it or they won't.
From these data-rich and crowdsourced insights, you get all sorts of interesting ideas about how your stores should actually run, compared to the way that you thought they should run.
How agile is retail really at the moment?
I think it differs by function or by team within a retailer.
If you look at what marketing has been doing, there are a number of retailers who I'd argue are pretty agile and doing some interesting things. They test, measure, learn and adapt fast. It's the same in the e-comm space. Whereas store operations, which is where we focus, is not very agile at all.
I think that during the pandemic everyone has woken up to the fact that they need to get more agile.
Part of this is about local flexibility. The fact that every store was experiencing slightly different problems on the ground meant that retail leadership teams had to put more trust in the local store teams and give them more scope to make local decisions. I think for the most part, local store teams have really stepped up to this responsibility and done a brilliant job.
This balance between providing a top-down framework, but also giving stores leeway to problem-solve locally is core to what Agile Stores is all about it.
It's much more fun and engaging for the store teams. It's what people want from their work. I think it also gives the customer a much better, more tailored experience.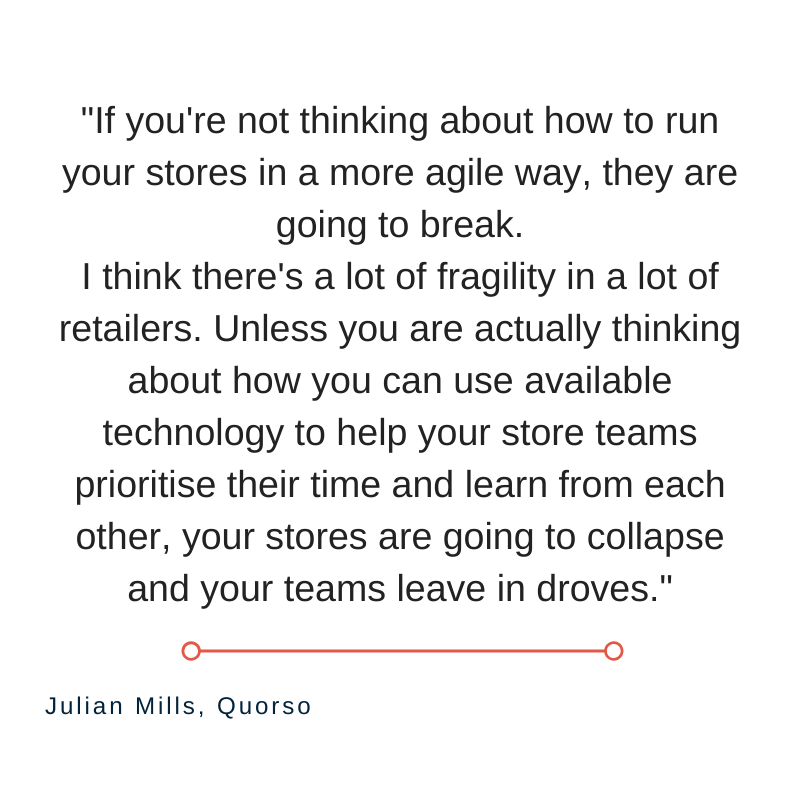 What is the number one thing you'd tell a retailer to do right now?
If you're not thinking about how to run your stores in a more agile way, they are going to break.
I think there's a lot of fragility in a lot of retailers. Unless you are actually thinking about how you can use available technology to help your store teams prioritise their time and learn from each other, your stores are going to collapse and your teams leave in droves.
You have to ask yourself, where would you rather work? In an agile, nimble retailer or a slow, traditional retailer?
A lot has changed in the last few years and I know which I would choose.
How agile is your retail business? Benchmark your business with Quorso's Agile Stores Calculator – and discover how much sales uplift you could achieve by going agile today.