Interviews
Delivery innovators Shutl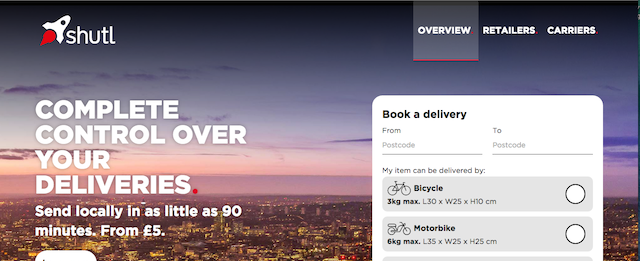 Shutl have been delivery innovators since 2009. With their fastest delivery time standing at just under an impressive 14 minutes, Shutl gives people complete control over their deliveries and the opportunity to send and receive packages locally in as little as 90 minutes, or choose a convenient 1-hour time slot.
We talked to Shutl's Head of Direct, Jason Tavaria, about the company and the importance of giving the customer complete control when it comes to delivery.
PUTTING THE CUSTOMER IN CONTROL
I'd love to hear why Shutl is so special in your own words.
Shutl has been leading the way people think about delivery since its inception in 2009. While the ecommerce industry has progressed at a snail's pace, Shutl's model allows the consumer to be in control of their deliveries. Local delivery in as little as 90 minutes, or at a one hour timeslot convenient to them, is far from the dreaded 'sorry you were not in card' or having to stay in one place all day and wait for a delivery.
Why did you feel there was a gap in the delivery market for something like Shutl?
Ecommerce is still relatively new and therefore not fully optimised. Inventory is spread all over the country, while e-commerce orders are typically serviced by a centralised hub. Shutl saw an opportunity to create a service that was unbeatable, by offering delivery within 90 minutes and providing people with the products they want when they want them.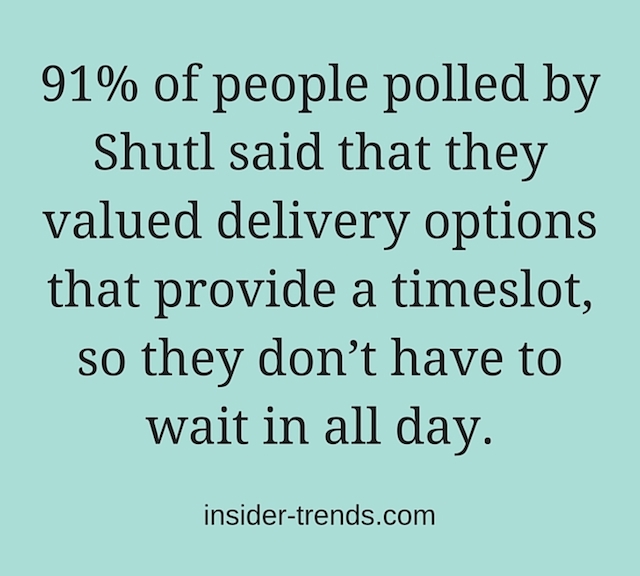 THREE-QUARTERS SAY THEIR CHOICE OF RETAILERS IS INFLUENCED BY DELIVERY OPTIONS
There seems to be a big focus on giving people complete control over the whole process of delivery. Is this something that plays an important part in your ethos?
Control comes down to three things. Delivery options, allocated time slots and communication. A recent survey commissioned by Shutl found that delivery options are a key factor in influencing the choice of retailer for three quarters of respondents. Furthermore, 91% said that they valued delivery options that provide a timeslot so that they don't have to wait in all day.
Shutl's business model is built around ensuring that customers are in control over every aspect of their delivery.
Is there anything else you're trialling at the moment, or changing within your current model?
Yes, we have some new initiatives taking off this autumn. Unfortunately, I cannot disclose what they are, but they will provide consumers with even more choice and control.
It would be great to hear your thoughts on how Shutl will work within rural areas.
Shutl is always looking at ways in which the service can be expanded and improved and rural will play a part in that.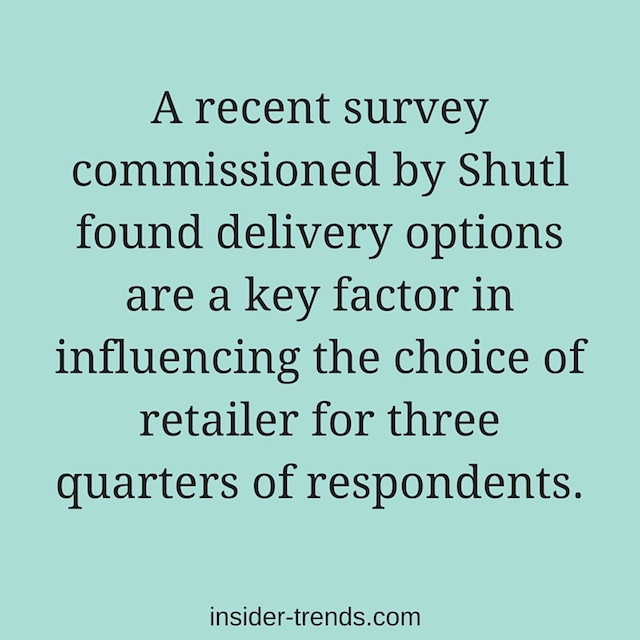 DELIVERY FOR THE DOWNLOAD GENERATION
Thinking 5 or 10 years down the line, what does the future hold for Shutl?
Shutl's goal is to become synonymous with giving consumers a new level of control over their deliveries.
And from a more general perspective, putting Shutl aside, how do you think the delivery landscape on the whole will look in the future?
The two, three day delivery window being offered by the majority of retailers today will seem archaic to people who have grown up download-ing entertainment in seconds. As more retailers recognise this, I believe that in the future, the delivery service that consumers get from the largest ecommerce retailers today will become standard across all merchants.