Retail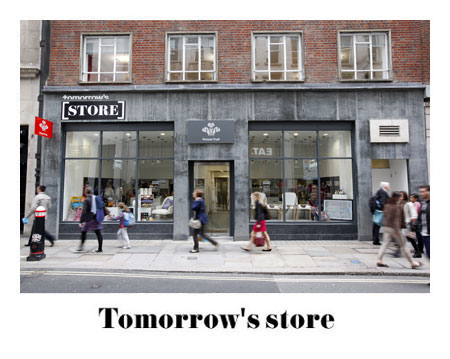 If you live in or frequently visit London, the chances are that you'll spot exciting and interesting-looking new shops almost every time that you're out in the capital. Every month marks the opening of new pop-up stores selling beauty products, fashionable menswear, quirky home furniture and everything in between. However, here at the Insider London offices we will every so often come across new shops which are unique to the point that they are impossible to overlook. Here we've rounded up three of them, all of which are particularly distinctive in their own way.
Tomorrow's Store
At first glance, Tomorrow's Store resembles any run of the mill gift store. There are high ceilings and low dangling light bulbs, with items of varying sizes and prices scattered throughout. There appears to be no logical connection between the exciting and interest products on sale, from scented candles and birthday cards to t-shirts and ties. The front window of the store even features an arrangement of "Skeleton Chairs", hand-crafted by Goldsmith's graduate and London resident Sam Edkins.
In fact, it is only the designers which link the products in Tomorrow's Store together. Every product has been developed by an entrepreneur who has received The Prince's Trust: the Prince of Wales' funding, a grant designed to help disadvantaged youths to succeed. The Prince's Trust office is conveniently situated next door, and with each product on sale comes a small card explaining the entrepreneur's back story.
Tiger
Tiger has been described in the past as a posh pound shop, and while this may not seem like an attractive prospect to most of us, it is a far cry from the typical pound shops which we may imagine. In fact, prices are by no means limited at the £1 mark, but that isn't to say that you won't find some excellent bargains at Tiger. The Danish brand's first central London store has been consistently busy since its opening in 2013, selling affordable yet high quality goods for the home, the children and for you. From storage to kitchenwear, costumes to bath products, you'll find a wide variety of products at surprisingly low prices.
There are already stores to be found in Hammersmith and Wandsworth, but the Tottenham Court Road store marks the first Tiger in central London.
The Parlour
It is a 1950's American vibe which sets The Parlour apart from the countless other salons and beauty stores across London. The Parlour is owned by Bostonian Jacqueline Fletcher, whose stylists boast retro 1950's hair-do's every day and will happily do the same for their customers. Visitors can enjoy blowdries, trims, highlights or a makeover, all while enjoying the cocktails and cakes on sale.
Alongside your typical hair or cosmetic treatments, The Parlour also offers a selection of other promotions and events. Mothers and daughters can receive discounted treatments every Tuesday, and on a monthly basis the elegant salon hosts a monthly book club. With this in mind, it is perhaps unsurprising that The Parlour recently won Jacqueline Gold's #WOW award for women in business.
These three locations are just a selection of the ever-exciting and imaginative stores which opened across London in the past six months. If you've recently visited a store with a twist, then why not let us know about it in the comments below?