Tech
Talking retail innovation and the Physical Web with Shah Auckburaully
Shah Auckburaully describes himself as (amongst other things), a "Hacker, Moonshot Thinker, IEEE Member and Superhero". He's also currently working for StarVest Media Group and we decided to pick his brains to discover more about why he's so excited about the Physical Web, its possibilities for retail, and how retail might look in 2025 for aspiring superheroes! Take it away Shah…
Can you give me a simple description of what Starcom does, and what you do for them?
The Starcom MediaVest Group creates connected human experiences that add value for our clients through precision marketing, content and technology solutions.
Ranked the number one global network by Ad Age, SMG partners with the world's leading marketers and more digital disruptor brands than any other agency network. With 110 offices worldwide, SMG's network includes three agency brands, content brands, ad tech units and more.
As a Senior Developer Advocate at Starcom MediaVest Group in London, my role includes developing cloud-based solutions for all devices for display advertising, Out of Home Advertising and Proximity Marketing. I use my tech expertise to guide our different teams to adopting a technology-led approach for storytelling in marketing campaigns and create innovative and memorable human experiences. I work closely with start-ups as part of our Next Tech Now Initiative and – very importantly – as a member of the IEEE, it's mandatory for me to always stay up to date. I never stop learning so that I remain the best in my field.
What retail technology are you currently most excited about?
The Physical Web is my favourite piece of technology right now. As a Wireless Sensor Engineer (when I'm not working my 9-5 job), I have always pushed for the Internet of Things. IoT hasn't taken off in many sectors as rapidly as I had hoped, primarily due to the lack of interoperability of things and the cloud a few years ago. Nowadays, everybody has access to the internet in his/her pocket, and has information available at his/her fingertips. There will be millions of smart interactive devices in our homes, at work, and everywhere in between. With information advertised in the cloud, accessing the information is not easy. With a QR code for example, phones do not come with QR scanner applications by default. It requires an extra step for a user to install the app.
The Physical Web requires a user to do only three things: wander around/or walk towards something, get notified and then walk away. For example, an individual walks past a screen featuring the trailer for Star Wars. As they come within three metres of the screen, their phone displays more information about the movie such as booking information. The individual can tap to know more and do a booking, and walk away. Or the individual can ignore the message and walk away.
It means no QR code. No entering of URLs. No need to download apps.
And how is that enabled?
Through Beacons that support Google's Eddystone Broadcast protocol. Eddystone defines a Bluetooth low energy (BLE) message format for proximity beacon messages. It describes several different frame types that may be used individually or in combinations to create beacons that can be used for a variety of applications.
Eddystone is an open format and is also cross-platform. This openness of Eddystone is the big differentiator.
URLs, emitted by objects and devices, are the backbone of the Physical Web. The Eddystone-URL frame type broadcasts information that can be used by a phone even if it doesn't have the client's/store's app installed. This is the Game Changer: development time is low, all the action happens in the cloud, and businesses – especially retail businesses – can do clever things such as transmit different messages and URLs based on stock levels, transmit sale messages based on product on sale and adjust broadcast range of the beacons. Because this is all cloud based and the point of interaction is a URL, standard tracking tools such as Google Analytics can be used.
What are the most interesting ways in which the Internet of Things will change retail?
Well, retailers need to ask themselves three questions when adopting IoT as part of their marketing and selling strategies: how can they leverage IoT to be more productive with their employees? How will IoT change things that retailers sell? And how will the replenishment process work?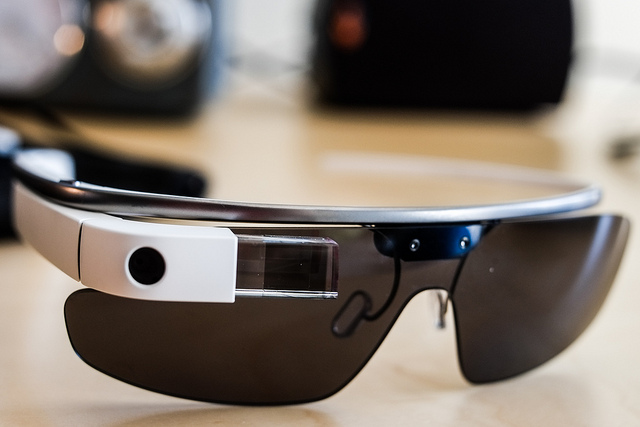 Google Glass. Image credit: Lawrencegs
Let's tackle that first question first – how can retailers leverage IoT to be more productive with their employees?
Think Google Glass – information about a particular product will be available right away to the employee during the demo process.
Aside from VR, the use of NFC using RFID on product tags, the use of mobile passes instead of conventional business cards, the use of software defined radio hardware to triangulate movements of the devices – and their owners – inside stores, and many more will revolutionise retail. IoT is not only about beacons – it's about all things having a MAC address, an IP address, and being able to transmit or/and receive information.
How will IoT also change things that retailers sell?
Retailers will not only have to innovate the behind the scenes with IoT but also sell IoT devices. Retailers selling smart dresses that change colour or flash nearby a particular signal will require tech support teams to teach users how to use these products, and how to troubleshoot the products once the users are no longer in the stores.
Computer stores like Currys/PC World that currently sell FitBit, Smart Light bulbs from Philips, and other devices have expert sales staff on the floor to help customers. Retailers will eventually have to hire tech-savvy sales staff or invest in training of their staff.
And how will the replenishment process work?
Automatic stock inventory control and replenishment will no longer happen in the background at warehouses. Customers will have the smart devices such as smart fridges, which will automatically order new items when the customer runs out of frequently consumed items. More devices will be like the Amazon Dash – the Dash is the perfect example of how devices will behave, especially the re-ordering process.

What kind of retail experience do you think the most innovative brands will offer in 2025?
Millenials and Generation Z will be the primary markets. Millenials' love for technology also makes them less social, and stores will move back to being virtual, like SecondLife. Facebook's $2 billion for Oculus, Google's $542 million into Magic Leap and not to mention Microsoft's delightful HoloLens all indicate that virtual reality devices will be mainstream by 2025.
Expect the retail experience to be less physically mobile but mobile in the virtual worlds. Millenials and Gen Z will prefer to stay at home, in their beds, and connect to their "worlds" where they can order food while "flying like superman"… virtually.
Retail Marketing will still be experience-led. Think of a brand asking you to virtually swim in a sea of soda to win points for a free bottle of their new beverage. The Instragrammers and YouTubers of today will look physically fit and young in the virtual worlds where they can keep promoting new products.
There will still be physical stores that would promote proximity marketing and holographic OOH displays, and do deliveries via drones or self-driving vans. The mass marketing will be done in VR worlds. SecondLife will come back.
Which three thinkers do you feel are the most innovative?
Astro Teller. He's an entrepreneur, scientist, and author, with expertise in the field of intelligent technology. He is currently the Director of Google X, the division responsible for the self-driving car, Google Glass, Project Loon, etc.
The business magnate, engineer, inventor, and investor, Elon Musk. He's also the founder of SpaceX and a co-founder of Zip2, PayPal, and Tesla Motors. He will lead humanity to a better more advanced future.
And myself. I advance technology for humanity. I'm in the process of making a name for myself. Watch me!
Thanks Shah – we certainly will!