Retail
Insider Interview: Steve Callanan, Founder, WIREWAX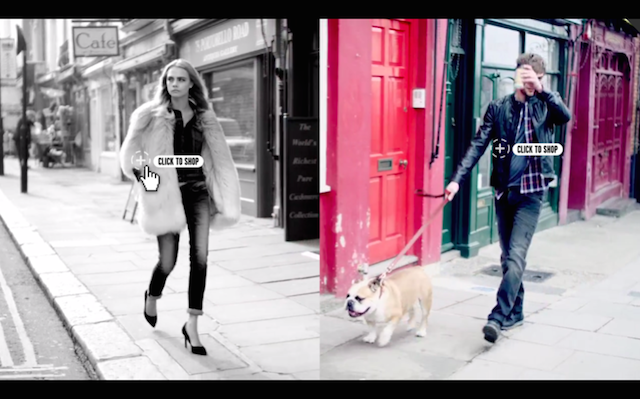 Providing an answer to anyone who's ever wanted to enrich video content with more information in the creation of a full immersive experience, comes WIREWAX. The world's first interactive video platform, WIREWAX is the solution for better engagement, higher conversions and more engaging content.
In a discussion with the company's founder, Steve Callanan, we talk quality content, standout WIREWAX case studies and why, when it comes to selling, interactivity should never be an afterthought.
How would you describe what WIREWAX do so my grandma would understand?
It's actually really simple. WIREWAX is the answer to everyone who's ever pointed at the TV and said, 'what's that?', 'where can I buy those?' or 'who's that guy?!'. We're not quite on TV yet but if your grandmother is watching her favourite episode of Breaking Bad on her laptop, iPad or mobile and it's WIREWAX enabled, she can reach out and touch characters to see bios, unseen clips, alternative storylines, or even touch products to buy them directly from the video.
It's used to enrich video content with more information, to allow viewers to buy products they see or to create immersive experiences. We provide the tech and people use it in different ways.
It's all powered by computer vision so creating a WIREWAX video is fast and efficient, meaning you can create something magical in minutes.
You've created this amazing platform but also understand that quality content is the new advertising. When it comes to retail, why is content so important right now?
Lately it's hard to miss the constant stream of stats that prove video content on your site is a no-brainer to improve performance, to hold onto visitors and boost sales. A video on your website increases conversion by 20%, boosts time spent on site by 88% and 73% of consumers are more likely to make a purchase after watching a video. There's no denying brands are responding to that more widely now and gone are the days when just putting a video on YouTube would suffice.
In fact, we're constantly being told that the savvy brands are moving away from YouTube altogether and putting video back on their own site where they can steer visitors to other content and ultimately convert them. They're leveraging the drivers that take viewers to that video on site from Facebook, Twitter, Instagram and so on, rather than relying on an extremely noisy YouTube endpoint to do all the work. What's more, brands notoriously struggle on YouTube. They can't compete with the growing influencer network and a recent study by Cedar shows that only 20% of users will subscribe to a brand channel and only after the brand has paid for 50% of the views.
Once you've figured out that bit, the next challenge is to ensure you create great content, of course, but content that's right for your audience and consumer. Beautifully crafted, big budget, vanity videos can be eye-candy for any visitor to the site, but you have to consider is that right for those you're trying to appeal to? That may be ideal for high-end fashion brands that have an inherent obligation to present a highly-polished image, but could be a turn-off for fast fashion consumers who are looking for a digestible, one minute snippet of this week's trends, for example. Give your audience what they want and what they expect.
The next bit is to remember to keep it fresh. Consider a new video every month, every week or even every day. There's no greater turn-off than only seeing the once-great video you saw six months ago, and regularly updated content will encourage consumers to keep returning.
And most importantly, make it interactive. Don't just think about WIREWAX when you have an 'interactive video' proposal – think about WIREWAX when you have a video proposal. Every video can be enhanced and it will guarantee a return on your investment, either directly through shoppable content or indirectly by creating a more engaging and immersive experience. By adding just one WIREWAX tag to your video, you've made it work harder for you and given your audience an infinitely more satisfying and memorable moment.
Are there any standout examples you've seen where the content has been so high quality it's revolutionised a company's selling stats?
Plenty. One of the first videos we saw a user create was coined 'the world's first shoppable music video', by Canadian fashion retailer, SSENSE. They made this music video with Iggy Azalea, Diplo & FKi, they dressed them all in clothes you can buy from SSENSE and made it shoppable with WIREWAX. They gained international acclaim for the concept and generated over $80k in sales from the video alone.
The BBC created this WIREWAX trailer for the third season of Sherlock, with embedded, unseen clips, photos from the onset production and hidden easter eggs. They had over half a million views in the first 24hrs, 1.3 million interactions, 20,000 tweets and averaged 4 minutes of engagement with this one minute video.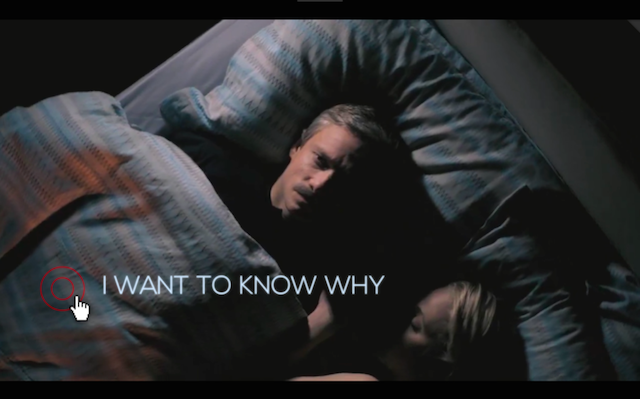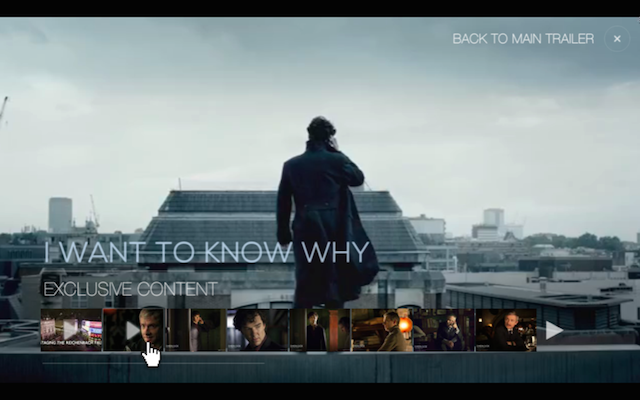 It works in the least expected places too. This shop-the-room video for one of Time Inc's brands generated a record-breaking 48% click-through-rate to product conversion. The value to the sponsor was estimated to be 6-figures.
From a user's point of view, the process of putting an interactive video together with WIREWAX looks really simple. How important is this ease of use for both you and a brand?
It's paramount. Interactive video is nothing new, it's been around for a while and audiences have always loved the experience; but until now it's always been a major headache to do. Traditionally brands and agencies would send a video to a vendor to 'make interactive' at great cost. That just doesn't fit with contemporary best practice anymore. Clients want to be empowered to enhance video content themselves if they wish, with a simple, friction-free tool that makes their lives easy. What's more, they want to be able to do this across lots of videos every day, not once a year at great expense.
We've always been driven by a mission to make the process as pain-free, fast and efficient as possible. It's imperative that it becomes part of the production workflow and that will only happen if users have everything they need with no fuss.
Of the projects that WIREWAX have worked on recently, which are the most innovative and future-focused? Why?
We've seen users create some pretty spectacular WIREWAX videos and if someone needs help then we'll be on hand to really push the technology and do something custom. A good example is this interactive film for Dulux where they wanted to create an immersive colour exploration with video. We helped them with a custom tag that displayed matching colour swatches when you hover over anything in the video and a custom overlay (what appears when viewers interact) featuring Pinterest inspiration boards, ordering tester pots, video-in-video of how to create paint effects, competition, hidden easter eggs and more.
Heineken took an unusual approach to the technology and created this star constellation video for their John Smith's brand. You can navigate through the video, explore the experience and 'claim' a star (in an actual pint glass-shaped constellation) by submitting a video of your extraordinary talent. Those that pass the rigorous vetting are posted into the experience too. When they approached us about the idea we were fascinated and were keen to see how far we could push the tech to deliver. It was a very custom project built on core WIREWAX but really stretched what's creatively and technically possible.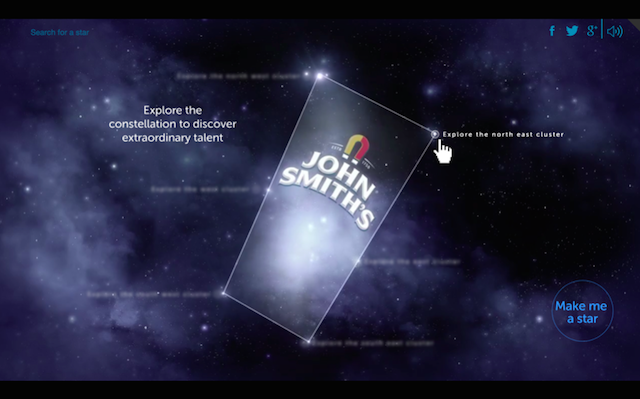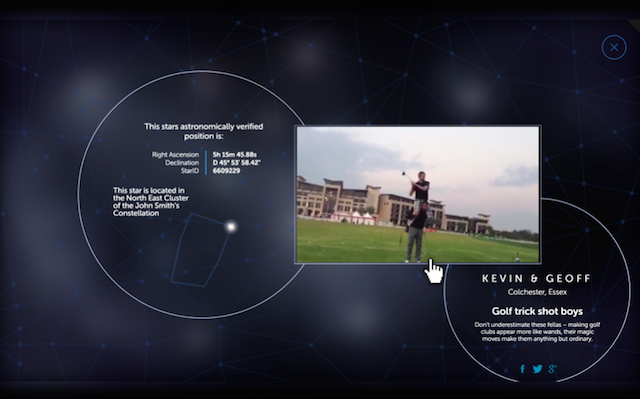 It's not always about fancy bells and whistles – sometimes the most innovative and future-focused brands are looking at what makes for a perfect user experience and how they can start thinking about WIREWAX as part of their everyday. Lacoste Russia created this perfectly crafted and simple video series. The video is shot with this in mind, being considerate to the end user yet still maintaining an engaging and powerful experience. Sometimes the best ideas are the most simple.
Could you talk me through a case study of a retailer using WIREWAX? What did they do, how did it work and what were the results?
We're no stranger to the challenges of retailers. In this case study, we worked with Pepe Jeans who wanted to create a video that would still feel personal to their global audience. They distribute to nine diverse territories, so they needed to be sure that the video would be authentic to local language and currencies.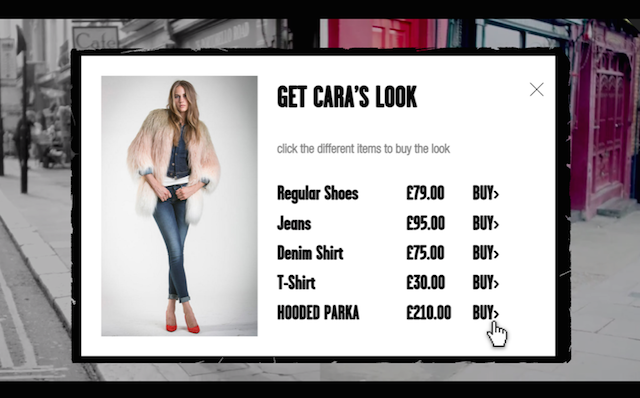 Featuring the international supermodel and actress Cara Delevingne, they knew there would be strong global appeal. We used our geo-intelligence tech to switch content based on location and local language. If a viewer watched the video in Paris, they'd see pricing in euros, language in French and click-through to the local store.
Everything about this experience was live and dynamic so much so that we were able to synchronise the interactivity with their e-commerce platform meaning if a product was out of stock, it would automatically be removed or replaced in the video in real time.
Pepe Jeans reaped the rewards. 76% of viewers engaged with an entire season's collection in a single video. With three clicks on average for the featured products, and 26% of time spent in the product overlay, they successfully took a single video and distributed it to a massive global consumer base with huge returns.
There's no denying interactive videos are a powerful thing. What is it about the interactivity that's so important when it comes to selling in today's market?
It's vital that interactivity not be an afterthought. Slapping a clickable button or banner on top of a video isn't innovative. But adding motion-tracking hotspots that blend into the creative of the video is a natural, more intelligent evolution of the medium. Over the hundreds of thousands of interactive videos made with WIREWAX, we've seen that motion-tracking tags produce 9x higher engagement than static ones. We believe it's because we're creating a tangible link between the viewer and actual things in the video content they're engaging with.
With passive video, you're left hoping people enjoy it enough to leave the video with a desire to find out more about your brand or product. Out of those that do take the initiative after watching a disconnected video, you're next asking them to navigate through several intensely challenging steps to satisfy their interest. It's no surprise that the numbers of those that do finally find what they're looking for and convert is microscopic. The others throw in the towel and move on to the next video of a cat wearing sunglasses. If you left any other digital asset at such a dead end you'd be accused of flushing money down the toilet and be unlikely to keep your job.
Interactive video, however, satisfies all those seeking instant gratification (especially the elusive millennials). See something in a video you like, reach out and tap it to readily access the information right then and there, all without leaving the video. Doesn't that sound like how it should always be? Viewers think so too. Numbers of viewers interacting has never been higher and the rate of increase in audience share participation is exponential. 67% of all viewers will interact, on average three times and that number is growing. What's more, they're much more likely to stick around with interactive videos to completion. It's not only a satisfying experience but a deeply engaging one too.
What is WIREWAX doing to be one step ahead at all times?
We've always believed that the future of this technology depends on breakthroughs in computer vision. It's that engineering that's doing all the heavy-lifting and we'll never quit trying to solve some of video's biggest problems. Computers and devices should know what all those pixels mean and it's that approach that's making us the #1 provider. No one is going to make WIREWAX videos if it's a major pain. The more you can automate the process and do almost all the work for the user the more they will use it.
What's more, we're constantly finessing the experience and allowing clients to do more. We've an unparalleled wealth of data and learnings we can apply to each new collaboration too. That's why brands keep coming back to us for more. We always deliver above and beyond expectations
And finally, what do you think will come next within the world of interactive video platforms?
Undeniably it'll be the common adoption to apply WIREWAX to all video. It's also about a shift in the behaviour of the viewer. We're already seeing viewers who have experienced a WIREWAX video then disappointedly tap on videos that aren't yet interactive in the hopes for the same experience. It's only a matter of time before that mild frustration turns into a demand from audiences and it's the content producers that fail to supply that demand that will be left behind.