China
The Best New Retail in China – August 2023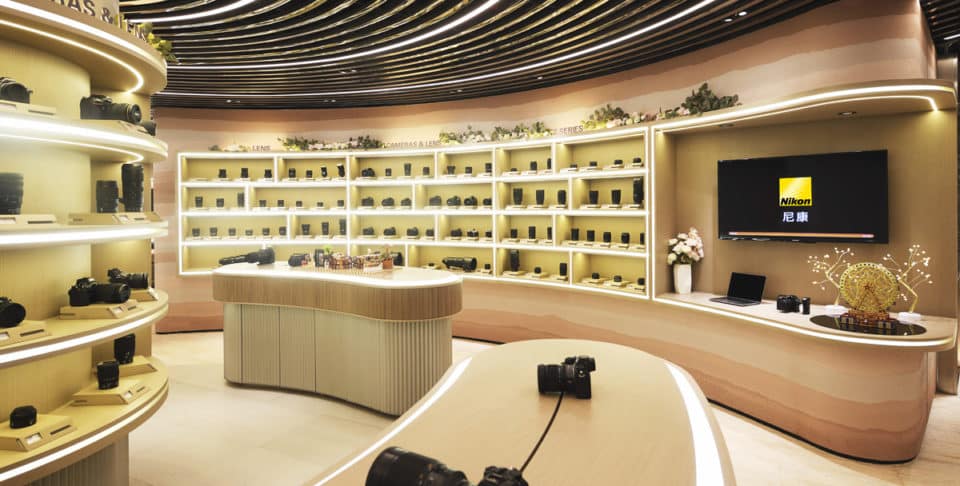 A blend of nostalgia and cutting edge tech is the theme for stores in China this month.
Long-established brands like to tell a story about their heritage, turning their spaces into mini galleries and museums, whereas some stores are making use of AI to provide a unique experience for customers.
We've found a gallery-like magazine store, a camera lens display shelf, AI makeup and fragrances chosen by mood.
Grab a cuppa and find out the latest trends in retail in China this month.
Sephora, Shanghai
A new experiential store has launched in China from beauty retailer Sephora, called the Store of the Future
The store is filled with innovative digital aspects and touchpoints for customers to explore everything on offer. Visitors can try out AI generated makeup and also get a tailored skin analysis. There are RFID sensors throughout to provide additional information on products as well as a selection of reviews. Customers can also get bespoke tutorials based on current trends.
There is a wide array of products to choose from, with well-known beauty brands Anastasia, Hourglass, Wei and many more. When customers have chosen their items they can use mobile stations to check out with ease. There are unique gift options available for products, such as voice messages. Finally, Sephora will be offering community events such as masterclasses in order to connect with beauty fans.
Dayin Bookmall Heping Park Magazines Tea House, Shanghai
Houkou has seen the launch of a new magazine store, which functions as part shop, part gallery.
Located within one of Shanghai's parks, the space evokes a sense of nostalgia, and stocks magazines from all around the world, on every subject from fashion to current affairs. The first floor currently houses an exhibition dedicated to Pablo Picasso, displaying two pieces of his artwork.
Each magazine is available to be read in the store, or can be borrowed for a later date. Subscriptions are also available for each magazine. When customers are finished browsing, they can enjoy a drink and bite to eat at the store restaurant.
Galeries Lafayette, Shenzhen
A new flagship from French brand Galeries Lafayette has opened in Shenzhen, with a concept store and French architectural feel.
The space will stock an eclectic collection of brands from France, as well as items from local and global brands. The Edit by Galeries Lafayette section will stock Jacquemus, Balmain, Margiela and many other exclusive brands. There will also be an Edit Gift space for gifts and other lifestyle items, with brands like Marni and MM6.
Shoppers can find relaxed styles and trainers on the third floor, and can relax and enjoy food from the Café Kitsuné there. The store was celebrated with the From Paris with Love launch, which celebrated French style.
Nikon, Shanghai, Guangzhou and Chengdu
Nikon has launched not one but three new flagship stores at a variety of locations in China.
The store design has clean rounded lines and neutral coloured walls. The main feature is a ceiling that resembles a camera lens, reaching to the floor to create a beautiful display shelf, which contains a collection of vintage cameras.
The stores feature museum-like elements, as well as an array of Nikon's Z series cameras and lenses. Photography created with Nikon cameras is displayed throughout to inspire customers, and there are also other products available to purchase, such as tote bags and t-shirts.
Undefeated, Guangzhou
Urban street brand Undefeated has launched a new store in Dong Shan Kou.
The store design is influenced by factories and warehouses, and part of a growing refurbishment trend in China. The space has an industrial brutalist feel, with exposed steel and concrete designed to best reflect the products.
The brand is offering its exclusive collection of streetwear and trainers, with collaborations from Nike, Timberland and Converse, amongst others.
Armani Beauty, Hainan
A new flagship from luxury brand Armani Beauty has arrived in China.
The store includes Red River, an Armani Beauty conveyor belt, which displays an array of products from global beauty brands, as well Armani's signature products like Acqua di Giò and Armani Code.
Shoppers can try The Emotion Lab to discover the Armani fragrance that best suits them, after drawing designs with an interactive calligraphy screen. They can also try out bespoke beauty looks from a digital make-up area called Face Maestro.
Spotting the trends that matter to your business can be hard when you're in it day-to-day. Our bespoke reports can help you get clarity where it's needed.