New York
The Best New Retail in New York – November 2023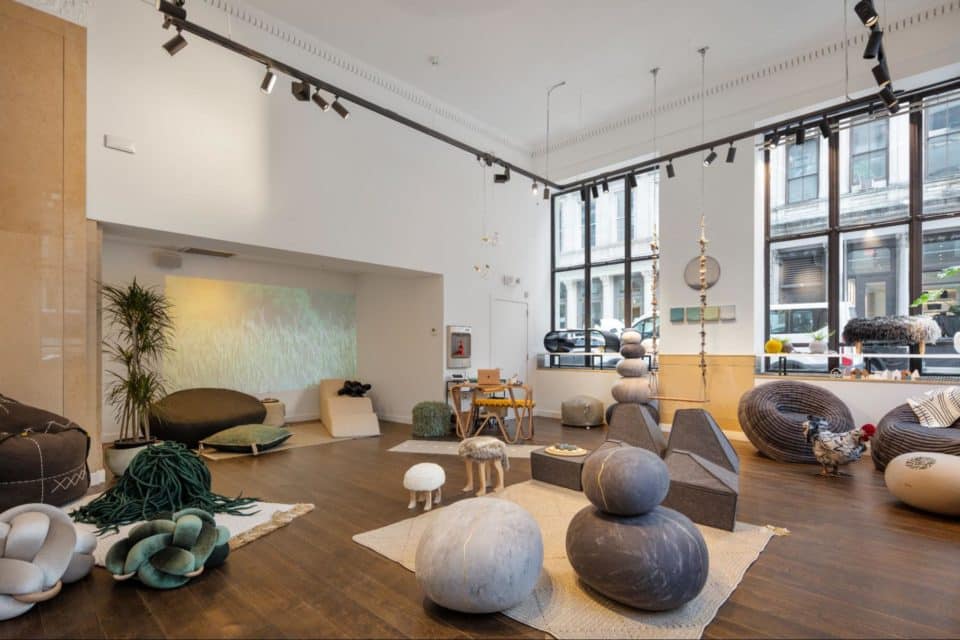 New York is one of the world's biggest spaces for art and culture, and that influence has made its mark on the retail stores we have found this month.
Brands are collaborating with a range of artists, from renowned painters, to local creators, to graffiti artists. Some stores are using artwork as part of their design to give a gallery feel to their spaces, whereas others are using it to create bespoke items for customers that are looking for one-off pieces.
The second theme for this month was sustainability, with stores either making sure that the products they stock are ethically sourced, or including sustainability throughout the process, from design to end of life.
Here is the best New York has to offer in retail inspiration this month.
BaBoo, Manhattan
Ethical décor store BaBoo has launched its second showroom and store in New York.
The store's interior reflects the ethos of the store, incorporating natural textures and unique designs. BaBoo aims to appeal to the general public, as well as interior designers and buyers.
Customers visiting the space can be inspired by the layout and the wide selection of products, including lighting, rugs, kitchenware, decorative objects and creative projects for children. Each item is handcrafted, rare and sourced from around the world.
Wegmans, Manhattan
A new store with a difference has opened at Astor Place from supermarket chain Wegmans.
While the store contains items you would expect to find in a supermarket, such as long life products and frozen foods, the majority of the space is dedicated to fresh foods, namely seafood.
Wegmans has hired fishmongers from Japan as part of its seafood department to help manage and train staff on Japanese fish preparation and cutting, as well as advising customers on how to cook the fish they purchase. The fish comes directly from Toyosu, a renowned fish market in Japan, and is exclusive to Wegmans.
Shoppers will also be able to purchase sushi, poke, mezze and other deli foods prepared on-site. The store has also partnered with a local brewery to create its very own Aster Place IPA. Future plans include a restaurant with a sushi, oyster and champagne bar, opening in 2024.
Fana, SoHo
Jewellery wholesaler Fana has opened its first boutique flagship store aimed at the public.
The space resembles a gallery, decorated with pale wood and cream fixtures, with small, glass covered stands displaying the brand's products. The gallery feel also continues with pieces from a local artist on the walls, with Fana intending to find a new artist each month.
Customers can purchase items from the stock on display, or instead work with the brand's in-store artist and designer, who can help clients design a bespoke piece.
Maiden Home, Meatpacking District
The first ever bricks-and-mortar space from Maiden Home has arrived in New York.
The space has been designed to look like a house, with the brand's collection of items on display throughout. The interior design is neutral plaster and limestone flooring so that the focus is on the brand's products. The lighting also reflects the individual spaces, with the entrance to the store light and welcoming, and the last area, darker and more intimate, to better display the bedroom furniture and accessories.
The store also contains a design centre to allow customers to learn more about the materials used in the pieces, and also get advice from the brand's interior design team. Additionally, Maiden Home plans to host events and other activities at the store.
Valentino, Madison Avenue
A new expansive flagship from luxury brand Valentino has launched in New York.
The store contains three floors which each have a distinctive theme, while all incorporating Valentino's signature red throughout. Even the entrance to the store is impressive, with handles created by Massimiliano Pipolo, a renowned ceramic artist from Italy.
Customers can find womenswear and footwear when they enter, with menswear in a relaxed and comfortable basement area, and areas for VIPs on the second floor. The brand is also displaying paintings in the store, as part of an exclusive collaboration with artist Mario Schifano, demonstrating Valentino's Italian heritage.
Fisker, Meatpacking District
Electric vehicle manufacturer Fisker has opened its latest Fisker Lounge in New York City.
The store functions both as a space to showcase the company's cars and a way to communicate its sustainable ethos to customers. There are virtual displays for visitors to access, where they can learn about sustainable design and what happens to the cars no longer in use.
Customers can explore the new Fisker Ocean car, including what recycled materials have been used in the car's construction. There are also in-store experts available to help customers choose their Fisker model and book a test drive.
Paris Laundry, TriBeCa
Paris Laundry, a high end label popular amongst hip hop stars, has launched its first flagship.
Customers can purchase from the brand's clothing collection, as well as curated vintage items and artwork. The store also includes an area for customers to create bespoke pieces, with embroidery and embellishments, and there is also a print shop.
The store opening was celebrated with an appearance from Cash4, a well-known graffiti artist, who created limited edition pieces by decorating clothing. Visitors could also join in to decorate their clothing with embroidery.
Engage, inspire and inform your retail staff for 2024 with an Insider Trends report. We'll cut to the heart of the trends that matter to your customers – and therefore your business.