New York
The Best New Store Openings in New York – December 2022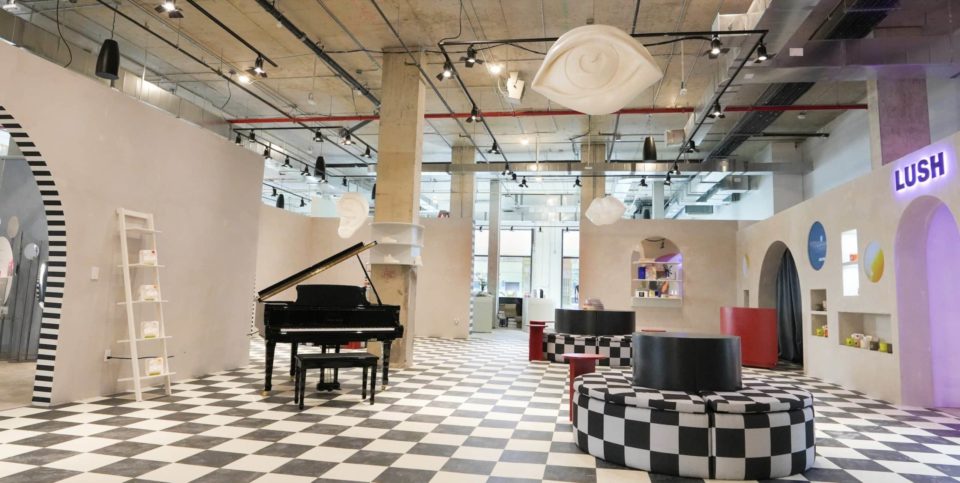 Our latest collection of store openings in New York are focused on making physical retail sites a place for customers to spend time and relax. Bars, food and seating are included in many of the stores featured this month. Artwork is another, giving shoppers other reasons to linger and browse.
Here are all the luxurious and relaxing new stores we love in New York.
H&M, Brooklyn
A huge new H&M concept store has opened in Brooklyn to bring more experiential experiences to shoppers. The store will have different themes throughout the year, featuring artists, musicians, designers and local businesses.
The first concept is a French style "Brasserie Hennes" that incorporates a vintage feel, with homewares, gourmet eats, perfumes and other items. Three local businesses have also been chosen to provide coffee, magazines and music for a relaxing space within the store.
Technology is another feature to help personalise the experience for shoppers. RFID chips are included in the clothing, and this data is fed to the changing rooms. The smart mirrors can then recommend other products and provide styling advice.
Starbucks Reserve, Empire State Building
The Empire State Building now includes Starbucks Reserve over three floors of the space, with a focus on prestige coffee making. Visitors will be able to try exclusive blends and mixes which will only be sold in this location, such as Starbucks' Cold Pressed Espresso and a coffee cocktail menu. Shoppers can pair this with treats from Bakery Princi.
Coffee aficionados can also take advantage of special small group classes, where they can learn more about coffee and beverage methods. They can also take part in taste sessions where they can pair different foods and drinks.
Maison Du Krewe, New York City
Eyewear brand Krewe has opened a maison in NYC, which it wants to feel like the experience of being on a European holiday eating and drinking with friends. The store is within a historical townhouse, which has a light spacious feel to best display Krewe's range of sunglasses and includes many vintage touches.
At the end of the ground floor, Krewe has added &HOLIDAY, its new wine bar. For customers that want to relax with a drink and some nibbles, there will be a drink specialist on hand to introduce them to different wines.
The basement will help those customers who need prescription eyewear and the top floors will house not only the Krewe headquarters but additionally a space for events.
Showfields, Brooklyn
Lifestyle brand Showfields has opened a new concept store in Brooklyn that displays store items in rooms laid out like a home. Customers can find garden and pet products in The Stoop at the front of the house, homeware in The Dining Room, fashion and beauty in The Style Zone and wellbeing products in The Courtyard.
There are also experiential areas for shoppers, such as a room run by Lush filled with scents, a space for live performances, and another that will host pop-ups and other activities. The store launched with a collaboration between Pinterest and Apartment Therapy, called Dine by Design.
Hermès, Madison Avenue
It has taken a record eight years of planning, but luxury brand Hermès has opened one of its largest stores to date, exclusively designed by architects RDAI. The site includes a former bank and the designers have incorporated some of these features as part of the history and legacy of New York.
Many paintings and artworks are included throughout the store, culminating in an expansive installation by Francois Houtin within the leather department.
As well as Hermès' collection of men and women's clothing and accessories, visitors can also purchase sports goods and other items, such as saddles, roller skates, skateboards and bicycles. Each floor has a bar area with seating, a VIP room and concierge service. And finally, a roof garden has been built for the brand to host exclusive events for customers.
Seed Brklyn, Brooklyn
A new artistic store has been opened by Christophe Roberts, a creator and sculptor, called Seed. Roberts wants to inspire creativity in others and is hoping that more artistic spaces may follow. The space is a hub for a diverse community and combines fashion with art and culture. A natural theme influences the surroundings with green branding and plants throughout.
Visitors to the coffee shop can browse a selection of merchandise from Spike Lee and Zaha Hadid. There are two floors dedicated to shopping, showcasing collections from up and coming brands, and visitors can also get their footwear cleaned. Finally, there is a gallery space which displays pieces on screen from a variety of artists.
LidsHatDrop, Queens
Hat brand Lids has opened its first bricks and mortar store in Queens, looking to engage with its community of dedicated enthusiasts. It first created the idea of exclusive hat designs released as a limited edition collection online with its LidsHatDrop platform.
The physical site will continue with this style of release with products being available in-store as part of a special collection for customers. Lids is also offering items that are designed in collaboration with celebrities and athletes. It's interesting to see an online sales model being translated into physical retail.
Do you have a retail challenge you're struggling to solve? We can build you a inspirational retail safari around it. Get in touch to find out more.