Retail openings
The Best New US Store Openings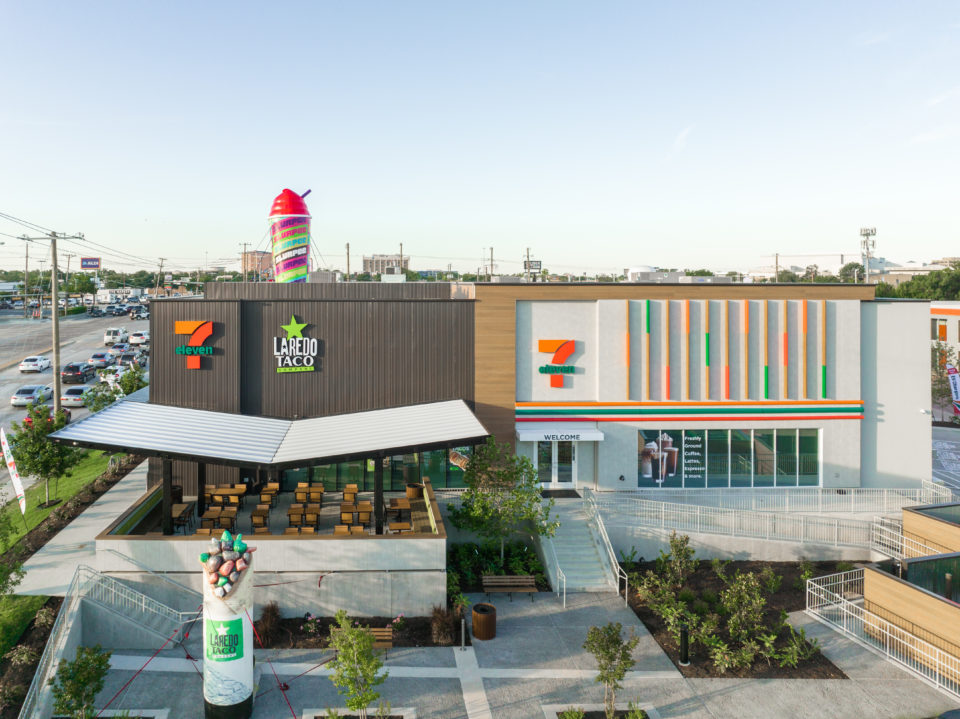 We all know that New York is famous for its shopping, but it's not the only place in the US exploring exciting retail concepts. More than ever, retailers are focusing on frictionless checkouts and delivery. E-commerce and tech giants are also trialling brick-and-mortar for the first time.
Here's our round-up of the best new store openings across the US.
1. Amazon Style (Glendale, California)
Innovation is at the centre of Amazon's first brick-and-mortar apparel store, which stocks the brand's own fashion line as well as well-known names. Located in Glendale, California, Amazon Style uses a range of cutting-edge retail tech to ensure an efficient and highly personalised shopping experience.
Racks of clothing are fitted with barcodes that link to the Amazon Shopping app. Once you scan an item, one in your size (which is pre-saved on the app from previous purchases) is sent to your own personal fitting room. Meanwhile you are put in a virtual fitting room queue to prevent any physical waiting.
As well as featuring all your chosen items, inside the fitting room an algorithm picks out personalised recommendations for you to try on. The full product range is only a click away via touchscreens if you want to shop further. This frictionless experience is taken one step further with a version of contactless checkout kiosks that charge your on-file payment method with the wave of your hand.
2. Gap (San Francisco)
Bridging the gap between the shop floor and behind the scenes is the theme behind Gap's latest expansion. The retail giant has expanded its space at its San Francisco headquarters by an additional 18,000 feet, in order to test product innovations and new store technologies across four names: Old Navy, Gap, Banana Republic and Athletia. The focus of this space, however, is on the "Co-Lab" maker studio, which invites shoppers to watch the work practices of the onsite creative teams.
3. By Far (Los Angeles)
Luxury accessories brand By Far is joining the ranks of luxury heritage brands with its first retail store, located on Melrose Place Los Angeles. This sunny location is perfect for the mood-lifting retailer, which will showcase its 90s inspired brands across this new 2,000 square foot boutique space. Exclusive vintage furniture and artwork by up-and-coming brands ensure a stylish experience that culminates in a bright orange VIP room.
To create a cohesive offline experience, the brand turned to New York design studio De-yan and AI analysis to create an in-store colour palette that carefully mirrored By Far's social platforms.
4. Camp (Los Angeles)
Birthday parties, sponsored concerts and a sleepaway camp – having fun is a priority in CAMP's first West Coast Flagship. The 7,000 square foot space at Westfield Century City in Los Angeles, promises a nostalgic and adventurous journey through the store, which takes design inspiration from sleepaway camps.
Each area is a tactile play experience that focuses on a specific subject matter or theme, including a Barbie-branded disco cabin, a musical Radio Lab and a Mess Hall with a communal paint space. Related toys, games and kits are featured in each area.
5. 7-Eleven (Texas)
Digital innovation is a key feature of 7-Eleven's ninth Evolution Store. This Texas-based concept store differs from other convenience stores through acting as an experiential testing ground, where customers can try the latest products and retail tech innovations.
A trend we're seeing often is on display here: mobile checkouts. In-store customers can bypass the queues and pay for their purchases directly from their phone through 7Rewards, the loyalty program in the 7-Eleven app. As part of its omnichannel approach, the 7NOW delivery app lets customers order from more than 3,000 products to be delivered to their door.
Consumers can also enjoy The Celler, an area offering an expanded selection of wine and craft beer, a second self-serve espresso machine and a premium cigar humidor. When tired from shopping, the in-store Laredo Taco Company restaurant offers a celebration of Tex-Mex cuisine
6. Meta (Burlingame, California)
Meta is turning to physical spaces to bring the metaverse and similar cutting edge technology to the public consciousness. Located near Meta's Reality Labs HQ, in Burlingame, California, where the company develops its metaverse products, the focus of this 1,550 square feet is information and hands-on experience.
Consumers can examine and get a feel for a range of metaverse-related products including Ray-Ban Stories, Meta Portal, and Meta Quest 2. Specialised demo areas and trained salespeople ensure a helpful customer experience that doesn't focus solely on sales.
7. AllModern by Wayfair (Lynnfield, Massachusetts)
Modern design is the inspiration behind Wayfair Inc.'s first AllModern store in Lynnfield, Massachusetts. Tech-enabled convenience and free design services provide a seamless shopping experience, where shoppers can interact with furniture, receive design advice at the Design Studio and gain free access to installation and assembly services. Further information is provided on the AllModern app where consumers can build their cart.
Visit inspirational stores like these on your own retail safari. Get in touch to find out what we could show your team.