Retail
The Best Worldwide Retail Initiatives May 2019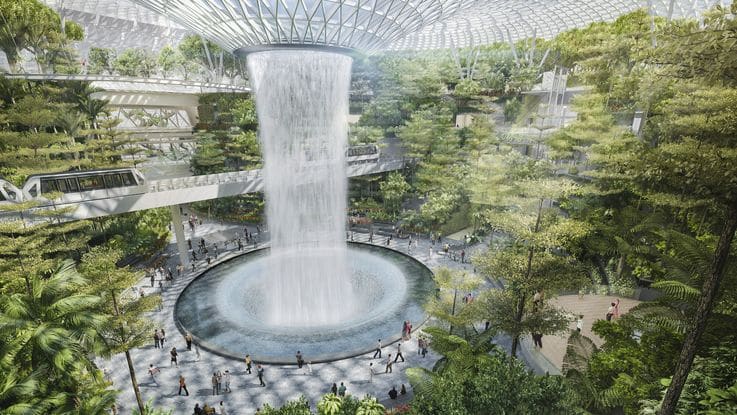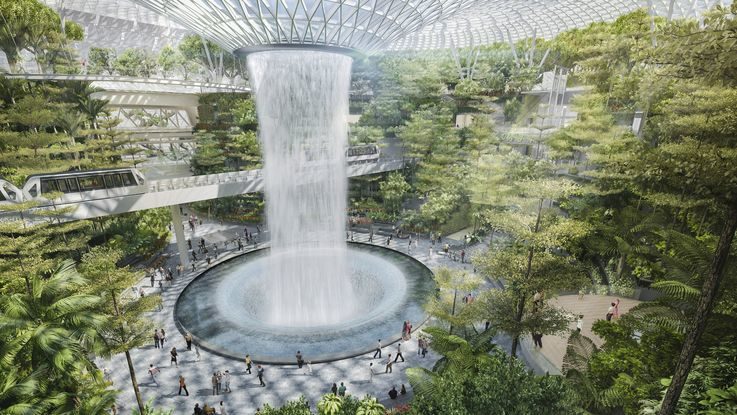 Image credit: Changi Airport
There's so many exciting retail developments happening around the globe and we have cherry picked the most forward-thinking and innovative retail initiatives especially for you. This month, we're seeing a lot of convenience-oriented trends, a big focus on sustainability, and some interesting takes on renting and re-selling. Read on!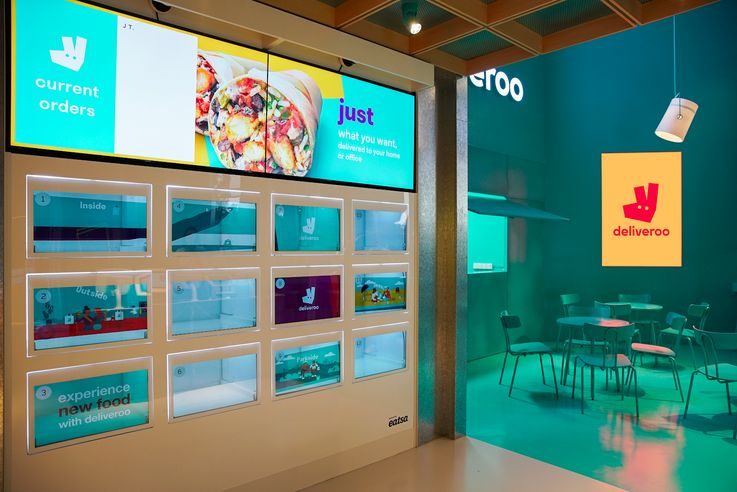 Image credit: eatsa
Deliveroo Food Market
London-based food delivery startup Deliveroo has reacted to its competitors Honestbee and opened a physical store in Singapore. The new offline space Deliveroo Food Market functions as a semi-automated store where digital payment kiosks and lockers allow customers to pay and pick up their food without any interaction from staff – they're just based in the kitchen. It is the third hub for Deliveroo in Singapore but the only one with a dine-in area served by the kitchens on-site. There is also a cafe, Nineteen95, that serves coffee and light snacks. It's yet another example of an online brand going physical.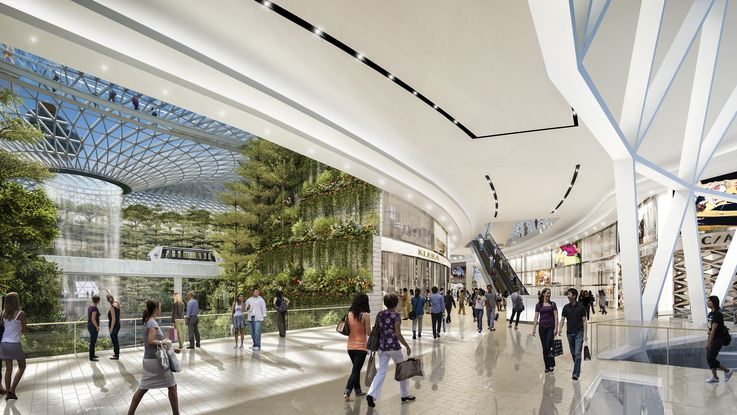 Image credit: Changi Airport
Jewel Changi Airport
This Singapore airport has undergone an impressive expansion. The new hub called Jewel is a combination of a mall, entertainment complex, botanical garden and airport lounge. It has the world's tallest indoor waterfall running through the centre of it. The glass building is connected to Singapore's transport systems. With five stories above ground and five stories below, there is a lot to explore before your flight leaves.
The building, costing $3.1 billion, will not only be accessible to travellers but to the public too. There is a sprawling adventure park, a 130-room capsule hotel, iMax theatre and a food court with over 280 vendors. The indoor garden, dubbed 'forest valley', has over 200 species of plants that are fed by the mist from the waterfall, which itself is fed by rainfall. There is also a 1000-person event space as well as an exhibition and gallery space. Singapore's focus on urban planning has played a large part in the building of this space, as their strict guidelines on building projects ensure connection to the community.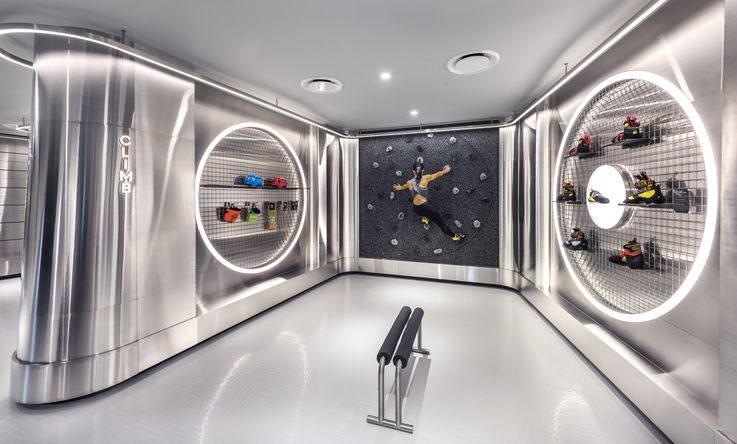 Image credit: Ministry of Design
Durasport
Architecture and interiors firm Ministry of Design has created an immersive ultra-performance store in the aforementioned Jewel Changi Airport, Singapore. The futuristic design has been tailored to sports enthusiasts who want to try out sportswear and equipment in simulated environments before committing to buying them. Its three-stage retail strategy is to 'excite, immerse and convince'.
The store features four hands-on experiential zones for skiers, climbers, cyclists and triathletes to be able to test the equipment and sportswear. The facilities include a ski simulator; an indoor climbing wall; a Magic Mirror that allows customers to virtually try on ski clothing; a swim bench for testing the flexibility of wetsuits; and cycling trainer rollers which can simulate various slope gradients and cycling experiences. This is not only a great way for customers to make educated purchases but also entices people into the store with the promise of an experience.
[youtube https://www.youtube.com/watch?v=RGUKvMUiESQ&rel=0&controls=0&showinfo=0&w=737]
Moleskine Retreats
The growing trend of remote working has many perks: it's flexible, you can work independently and you can do it in your pyjamas should you wish. But there are downsides too – it can be isolating, which is why notebook company Moleskine has partnered with travel company Unsettled to launch a series of retreats in Bali and Mexico City with accommodation and working spaces provided.
The trips cater to absolutely anyone that works remotely, whether you're the CEO, a poet or a farmer. The retreats span two to four weeks and you will be given curated local experiences, group meals and social events. You will also become part of a globally curated community, which is currently made up of 1300 members in over 80 countries. This initiative is all about the perception of Moleskine as a brand. It's not about the products themselves, but where the brand might take you or what it can help you to do.
This online luxury fashion retailer is taking the pop-up concept to the seas. The brand has teamed up with Pellicano Hotels to set sail along the coast of Italy on a 1930s yacht. The event will kick off at the brand's London townhouse, 5 Carlos Place, where the boutique will be kitted out like the II Pellicano yacht.
The yacht itself will be transformed into a resort-wear shop and over the course of eight days will make stops at three of Pellicano's hotels, allowing customers to explore some of these leading tourist spots. The tour starts 15 May in London, and ends in Italy on 7 June. Luxury retail experiences don't come much more luxurious than this. Plus, with so many places to visit customers are sure to be visiting the on-board store for new outfits.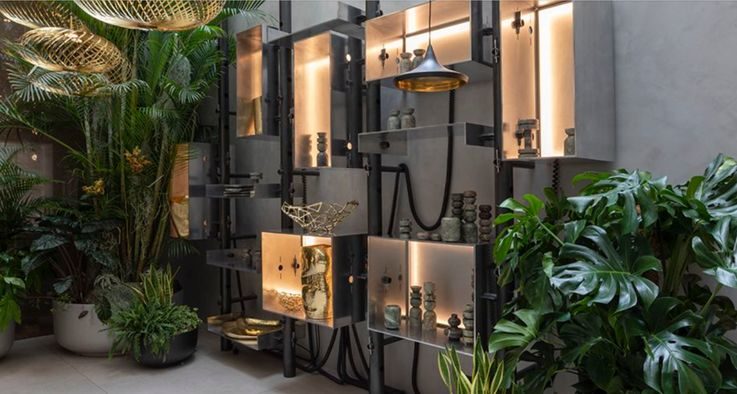 Image credit: Tom Dixon
Tom Dixon's The Manzoni
Tom Dixon's restaurant, The Manzoni in Milan, doubles as a furniture showroom and headquarters for the designer. After the success of the London-based restaurant and showroom the brand decided to take the model into Europe. The idea behind the 100-cover restaurant is that everything in it will be for sale, from the glassware to the furniture. The benefit is that you can see and experience the products in a live setting.
The space is monochromatic which is how the latest collection has been designed but it also works really well in a restaurant setting. Although the space functions as a showroom for the brand's collections, it has been designed to be reconfigured easily, The Jungle room in particular can accommodate meetings or private dinner parties.
Wardrobe/The Gregory
Online clothing rental marketplace Wardrobe has teamed up with The Gregory Hotel in New York to offer guests the option of reserving items from the Wardrobe app and having them delivered to their hotel room. After they have been worn they can been left in the room or with the concierge to be returned. The hotel itself is finding ways to be more sustainable and mindful and hopes that this will add to that. For busy travellers, the idea of being able to reserve clothes that you don't have to bring or pack up could be really appealing.
Wardrobe has partnered with Next Cleaners, who use the most environmentally friendly Wet Cleaning and GreenEarth technologies, and don't rely on items being packaged or mailed. Some of the brands featured on Wardrobe include Louis Vuitton, Chanel and Givenchy, as well as sustainable ones such as Livari. It's a fantastic example of two sustainability-conscious brands coming together to innovate.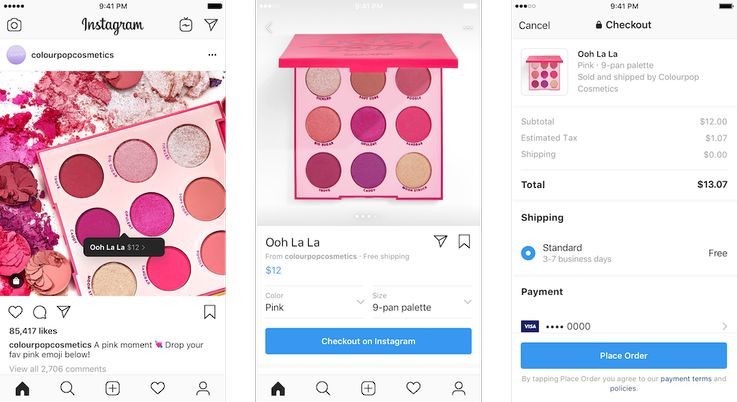 Image credit: Instagram
Instagram Checkout
Social media app Instagram has launched a new feature that allows users to make purchases without leaving the app. Users need to register their payment and delivery address details the first time they use the service and after that it's just one click to purchase. Users will also receive push notifications from Instagram to update them on their orders.
The feature is currently only available in the US with twenty participating brands including Mac Cosmetics, Zara and Burberry. Social commerce is becoming increasingly popular as people get their inspiration from brands and influencers alike on these platforms, so it makes sense to cut out the middleman and make the process as smooth as possible.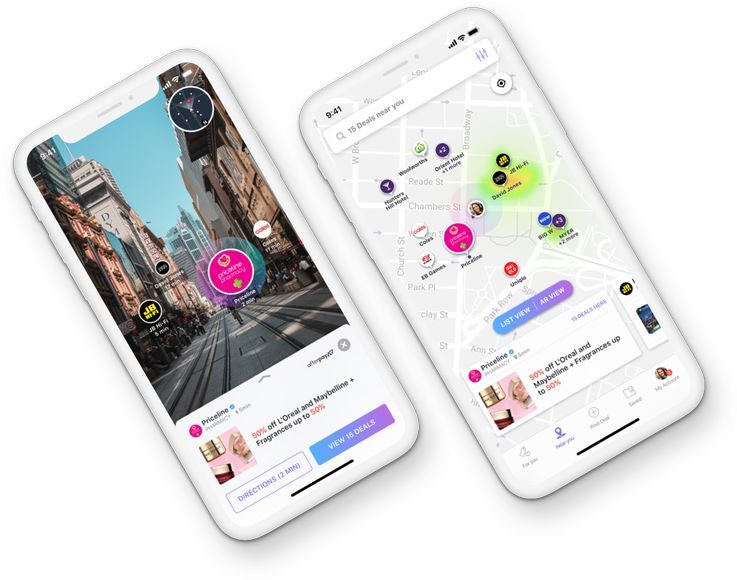 Image credit: Sweep
Sweep App
Sweep is the world's first community-based AR shopping experience. By using unique AI, AR and geolocation technologies it allows users to find, claim and share deals around them in a really fun way. It has been designed to bring people together that love to shop in a trusted community.
Millennials frequently rely on their phones for recommendations and reviews from trusted sources and this app is offering them that. They will be able to shop for the best products and deals whilst also helping others to make insightful purchases. The app can tailor the shopping experience by saving personal preferences or sharing your current location. It benefits retailers to partner with the app too, as it will drive traffic to their online and physical stores.
Urban Outfitters/Dote live shopping parties
Fashion brand Urban Outfitters has partnered with social shopping app Dote to create a platform for influencers (aka Dote Creators) to host live shopping parties. The influencers are able to create their own profiles and wish lists within the app that users can then shop from.
A new feature called 'Shopping Party' will allow Creators to conduct 15 minute live streams from one brand. The pilot hopes to bring back the social element of shopping whilst maintaining the ease of online shopping. It's also a great way for brands to get more out of the power influencers have over their audiences by making sure they can buy what they see.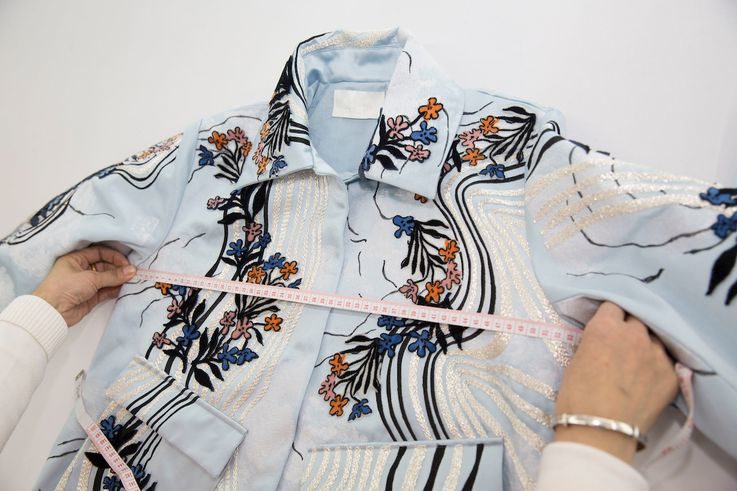 Image credit: H&M
H&M's transparency push
H&M has launched a plan to share more specific details about where its garments are made. The hope is that by being more transparent it will encourage others to follow suit and help create a more sustainable fashion industry.
On the brand's website customers will be able to find out the production country, supplier names, factory names and addresses as well as the number of workers each employs. If shopping in-store customers can use the H&M app to scan the labels to get the same information. This information itself won't solve the issue but by giving customers access to it they can make more informed choices. It's an important step for such a huge brand, and transparency is certainly a good place to start.
Galeries Lafayette Le Good Dressing
The rapidly growing second-hand apparel trend is taking shape in France and luxury French department store Galeries Lafayette is looking to take advantage of that. In partnership with Parisian startup Place2swap it has created Le Good Dressing. However, this second-hand resale site has a twist: the items are instead exchanged in physical retail locations.
Currently only available at Galeries Lafayette's Lyon Part-Dieu store, sellers bring their items into the store's service area and buyers come in to collect their items. No commission is charged and the seller receives a voucher that can be used in Galeries Lafayette stores as well as their e-commerce site. It's still a potential money maker, but the main driver here is increasing footfall.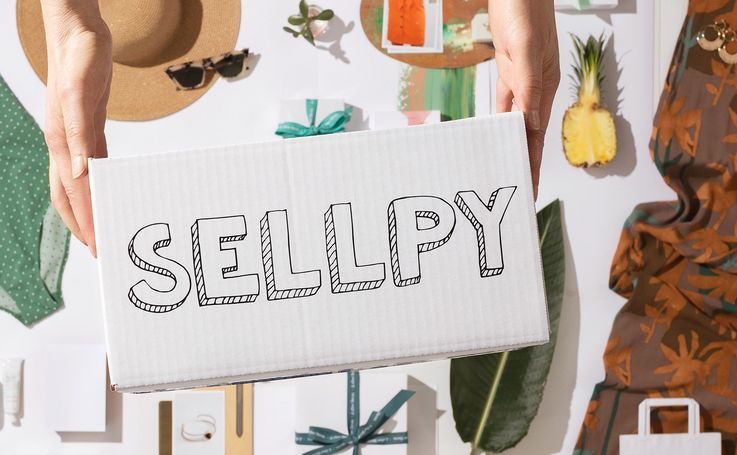 Image credit: & Other Stories/H&M
& Other Stories/Sellpy
H&M owned retailer & Other Stories is also following the second-hand trend and has launched a shop within a shop for the Swedish market. Pre-owned pieces from the fashion retailer will be available on their website and the store will be run by Sellpy. The pilot hopes to find new homes for its much-loved designs and prove that it isn't just luxury items that are wanted for resale.
Want all of our best insights? Book your future of retail presentation today and we'll tell you everything you need to know to get ahead.