Interviews
Why ecommerce leader bonprix's newest concept is in physical retail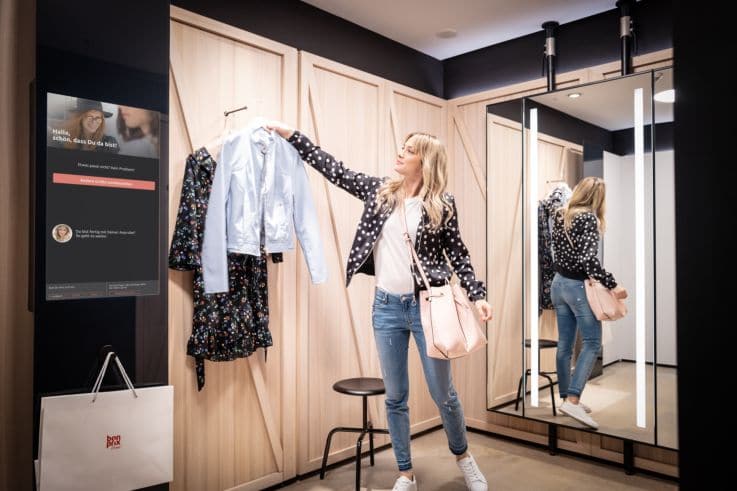 With more than 35 million customers in 30 countries, bonprix is a big name in international fashion retail. Part of the Otto Group, bonprix's multichannel approach of ecommerce, physical retail and catalogue selling has seen it achieve annual sales of 1.57 billion.
While 85% of the company's sales come from ecommerce, and the bonprix website is one of the ten highest-grossing online stores in Germany, bonprix's newest initiative is focused on physical retail.
The bonprix fashion connect concept space in Hamburg is an experimental new space from the retailer as it looks to solve the issues customers have with traditional retail stores and work towards a fully connected retail model.
We spoke to Daniel Füchtenschnieder, Head of bonprix Retail GmbH, to find out what prompted the new concept, how customers have responded and what can be learnt from it.
Daniel Füchtenschnieder, Head of bonprix Retail GmbH
Can you tell us about your new store in Hamburg?
Our "fashion connect" concept aims to combine the best of both the online and offline worlds, showcase the latest fashion trends in a new way and put the customer centre stage by offering solutions to the issues of traditional retail settings.
Our consistent use of digital technologies enables us to offer our customers a unique shopping experience that makes them feel comfortable. We rely on a revolutionary store concept that is continuously evolving. This makes our fashion connect store both a flagship store and an experimental shopping lab at the same time.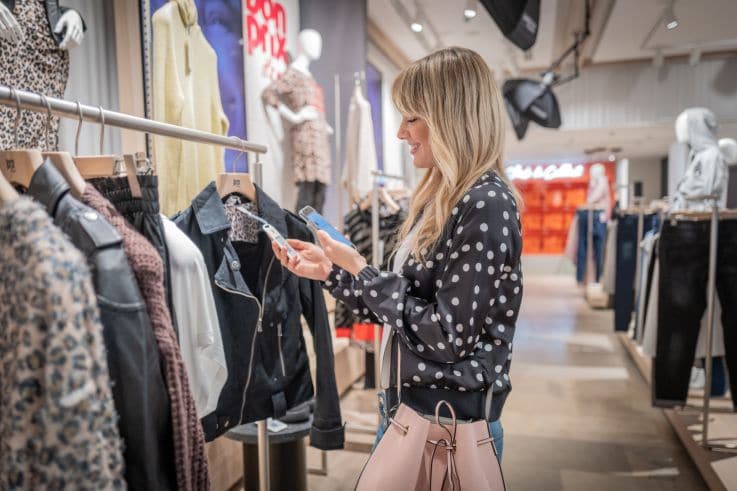 How does it differ from a standard retail/bonprix store?
Experience has also taken centre stage when it comes to architecture and design. In collaboration with various partners, we have created a place where shopping is fun and comfortable. The experience starts on the ground floor with an appealing and inspiring product presentation.
Based on a showroom idea, changing fashion themes are always presented on the tidy trend floor. The "one-item" presentation (only one of each item in the collection on display) enables the customer to precisely select looks.
The atmosphere in store is enhanced through video and images on numerous monitors and tablets. The prominent placement of the 66 Click & Collect boxes enables customers to conveniently pick up their products ordered online and discover them on site. In the lounge area, comfortable furniture and iPads with games, news pages, etc. ensure a pleasant break for the girlfriend, waiting partner or children.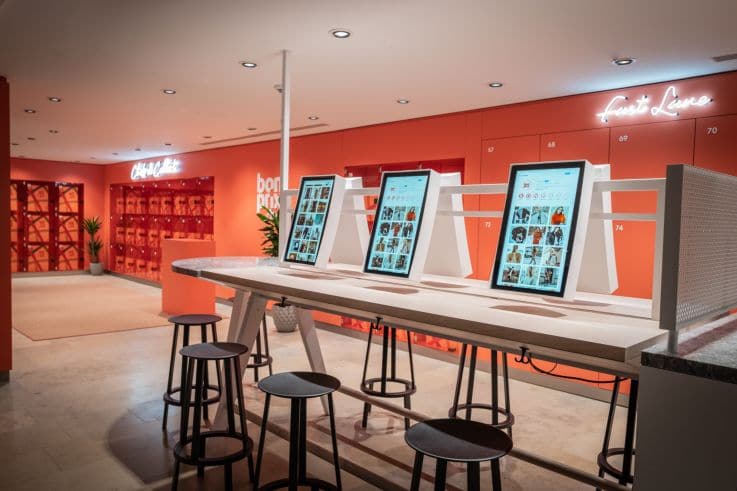 What prompted you to develop this new concept?
Digital communication and assistive services have long since arrived in customers' everyday lives, Google speaks of the "Age of Assistance". On the other hand, there are hardly any holistic approaches in stationary retail.
Classic retail weaknesses such as ransacked shop shelves, narrow and poorly lit fitting rooms or long queues at the checkouts are often the order of the day and reduce customer satisfaction.
Nevertheless, stationary retail is and remains an important part of inner-city life. People enjoy social exchange and seek the physical experience of brands and products. It is not for nothing that despite the strong growth in e-commerce, three-quarters of all fashion sales are still made in retail.
The idea was therefore to create a radically new, seamless shopping experience in brick-and-mortar retail that combines online advantages and offline strengths and offers our customers real added value when shopping: shopping frustration becomes shopping pleasure!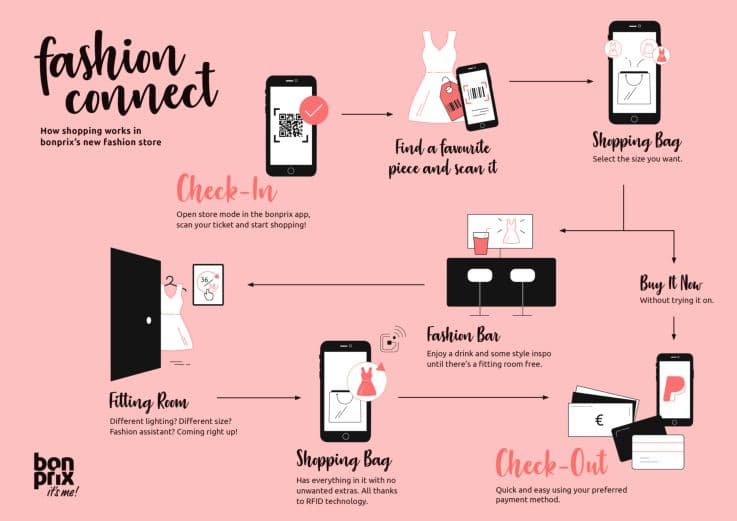 Can you talk us through the app and its role in the experience?
At the heart of the pilot store is bonprix's enhanced app. It acts as a personal shopping assistant, guiding the customer through their visit and is designed to be used as an in-store remote control.
After checking in, the customer can scan products and select the correct size. Items are then added to a virtual shopping bag so they can be picked and hung in a fitting room ready to try on.
Real-life fashion assistants are also on hand to help newbies use the app and offer help and advice in the fitting room area. The app is also used to order new sizes directly in the fitting room and to pay for the desired items quickly and easily.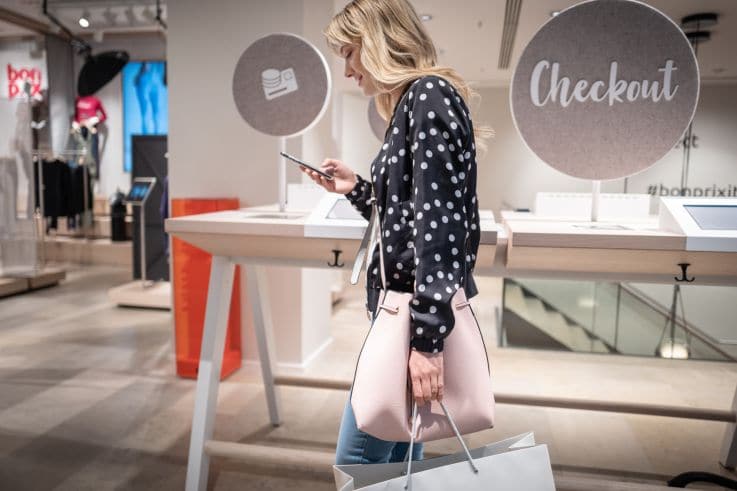 How does the fitting room experience work?
To make trying on clothes more fun bonprix has developed a brand-new fitting room experience. After a customer scans the items they want to try, they are picked and hung in a fitting room.
Meanwhile, shoppers can relax with a refreshing drink at the in-store fashion bar and be inspired by the world of bonprix at the various displays. Once everything has been prepared, the customer is invited to their personal fitting room.
As well as being more generously sized, the rooms are well ventilated and offer a choice of four different mood lighting settings. A large touchscreen displays the contents of the bonprix app and shows the next steps. If the customer needs a different size, for example, they can order it directly to their fitting room via the screen. Anyone requiring help or advice can summon a fashion assistant at the touch of a button.
How is the payment system set up?
The customer is free to select their preferred method of payment, which reduces queues in-store. Once the customer leaves the fitting room with the items they want, the app uses state-of-the-art RFID technology to automatically update their shopping bag.
Shoppers can use the app to pay by PayPal, or head to the checkout with a debit card, credit card or cash. There's no need to wait to have any security tags removed either.
Were there any challenges in implementing these various technologies?
The customer is always at the centre of our considerations. We therefore took a lot of time to find out what they find most disturbing about classic retail and what they would like to see in a store.
The challenge here is to implement this with the available technical means in such a way that a truly seamless shopping process from start to finish is made possible, which places the focus on the experience and not on technology. Ultimately, the entire application of the technical aids must be so simple and intuitive that the customer is not irritated by it but is supported to the maximum extent.
[youtube http://www.youtube.com/watch?v=BWOCYJZ0BzQ&t&rel=0&controls=0&showinfo=0&w=737]
Do you collect data from the shopping sessions?
For us as a large online retailer, multichannel effects are particularly exciting because the store is an important touchpoint in our customer's journey and opens up new analysis and linking possibilities for our vision of a fully connected shopping experience.
With retargeting, for example, we can merge and individualise the way we address customers more, for example by making tailor-made offers for our web shop after a store visit via various online-based marketing measures.
Do customers have to start/end their experience in-store?
We have been offering "Click & Collect" in our fashion connect store since the very beginning (ordering online and picking up instore). We are at the edge of introducing the first endless aisle elements in our store, which enables our customers to browse the store and order online.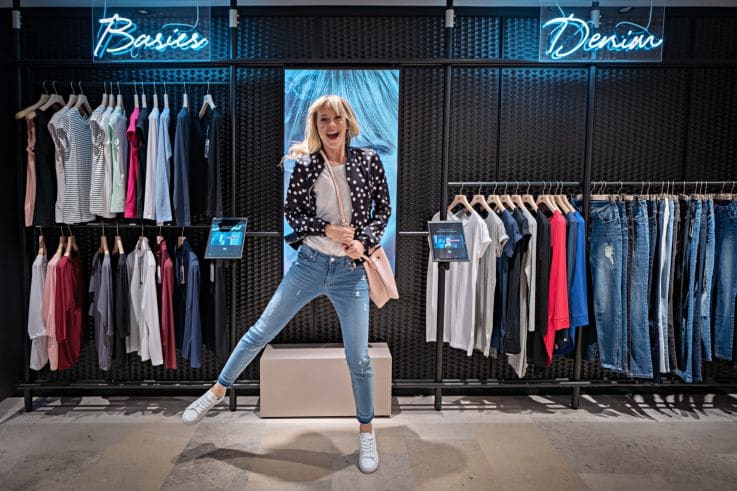 Do you have any insights as to how successful the store has been so far?
Since the opening on 14 February 2019 there has been a high level of interest and attention not only from our customers, but also from the whole industry, experts and in the press. We were overwhelmed by all this positive feedback and it encourages us to continue on our track.
The response from our customers has been extremely positive and much of the feedback is in line with our experiences from the test phase: customers enjoy this new type of shopping. In particular, the experience in the fitting room is very well received by customers: the convenience of delivery and the possibility of reordering is perceived by many as an absolute highlight.
Further evidence of success is that the bonprix fashion connect received several awards in recent months including among others the "Breakthrough Award" at the Deutsche Onlinehandel (German Online Retail) Award 2019, the POPAI (Point of Purchase Advertising International) 2019 Honorary Award for "Best Digital Integration", the German Design Award 2020 in the category "Retail Architecture" and most recently the "Store of the Year 2020" Special Award from the German Retail Association.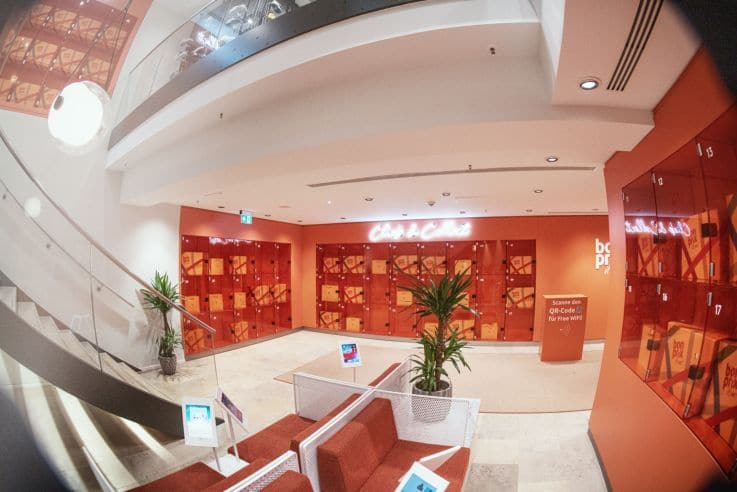 Have there been any big or surprising learnings from the space?
We were very positively surprised by the enormous industry response, the great interest and the strong encouragement.
This showed us how important and inspiring it is to have a transparent exchange with one another in order to jointly shape the shopping world of tomorrow.
Furthermore, it became clear that completely new KPIs such as "session conversion" or "experience per square metre" are needed to evaluate such retail innovation projects and that the future belongs to the hybrid customer who wants to shop in completely different ways depending on their situation and state of mind. It has also shown us how right this interdisciplinary and adaptive approach was.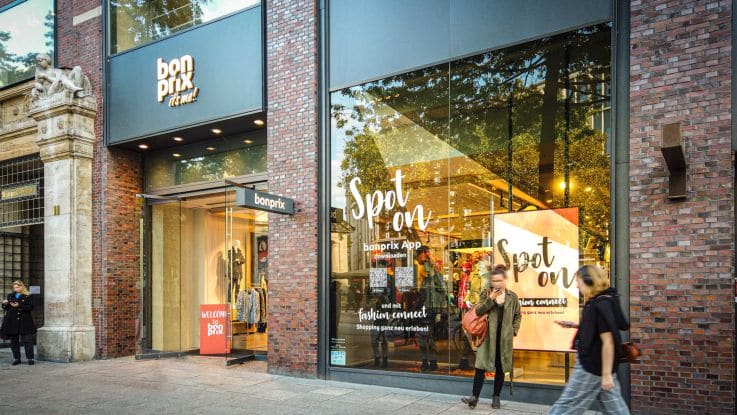 Do you have any thoughts on where fashion retail may move in the future?
Brick-and-mortar, and especially fashion retail, will continue to be the place that offers the ultimate shopping experience thanks to its ability to engage shoppers through their five senses as a key way to drive strong customer loyalty.
But the fashion industry has now understood that a good product alone is no longer enough to inspire customers. In view of changing customer expectations and new technologies – think digitisation – retailers need to be more adaptive and leverage their physical stores to offer their customers orientation and experience. Ultimately, the key is to combine an in-store retail experience with a well-curated selection, thus inspiring customers to immerse in your brand.
Are there any other developments that you can tell us about? What are you focusing on for the future?
We believe in the potential of a fully connected retail business model and the sustainability of our concept. As projected, we are in the midst of an accelerated learning curve. New insights continuously flow into various innovations and compel adjustments to our fashion connect approach.
Our primary focus is customer feedback analysis to identify how our customers accept this new way of digitally assisted shopping. As a major online retailer, we are also excited about the multichannel effects as the store is yet another touchpoint in our customer's journey. That's why we say goodbye to a separate channel perspective and will continue to explore the omnichannel potential with our fashion connect concept.
Images courtesy of bonprix
We're here to help you stay on track during these difficult times. All of our workshops and presentations can be delivered virtually to help you stay informed wherever you are.