Retail
Why Omnichannel is the elusive Holy Grail of retail – and three retailers who have found it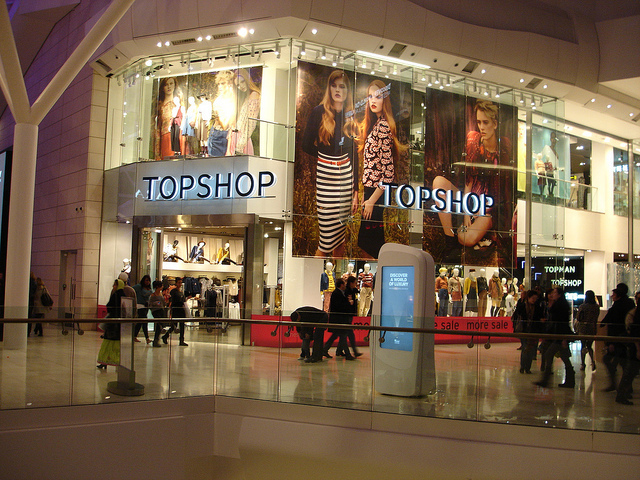 Omnichannel is the word on every retailer's lips as devices of all kinds become more and more integrated into the ways of experiencing information around us. A recent study commissioned by Deloitte and Ebay acknowledges that the potential value of omnichannel usage within company sales strategies was worth up to £9bn in 2014 alone. But, as in vogue as this concept is, it seems that very few businesses succeed in refining this dynamic retail experience to an inspirational and effective level.
Perhaps a part of the reason why the vague notion of a great omnichannel strategy is such an elusive thing to nail down is precisely because a top-of-class experience should be so seamless – as a user changes between smartphone, desktop and physical store – as not to be perceived. Despite the ephemeral quality to this success, however, by examining the core characteristics of a modern shopping experience and the ways in which some retailers are making the most of it, these findings can be adapted for use by any brand.
We now operate within an incredibly dynamic retail marketplace, with information being brought to our attention through many routes before an eventual purchase. Rather than this number of channels being a barrier to sales, however, the mind of the modern, multi-channel consumer is attuned to react positively to information sharing across many mediums – something that focused companies can really make the most of.

Three brands making waves with their omnichannel strategies

Topshop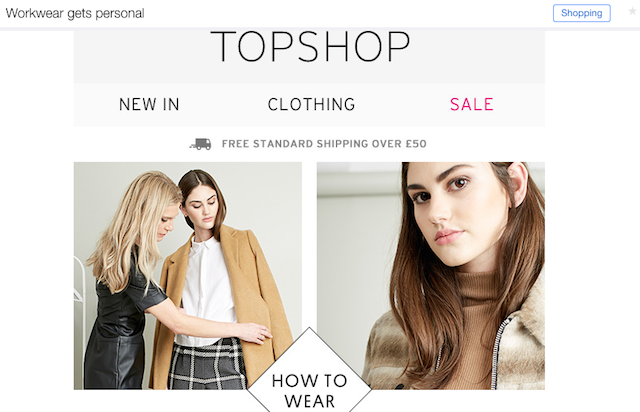 Topshops's tri-weekly email capture the reader's imagination with clearly sign-posted CTAs.
In many ways, Topshop – which was voted the UK's best omnichannel retailer last year – is ideally placed to take advantage of its huge, technically literate and information hungry user-base at the cutting edge of retail and beauty trends, using a variety of funnelling systems to get its users into its omnichannel stream. Starting with a relatively old-school method – its tri-weekly, themed email send-outs to subscribed users, Topshop captures the reader's' imagination with just the right amount of clear, beautifully visual information, sending them in the direction of the website via some clearly sign-posted call-to-actions. Potential customers can browse the selection of stock to get some more targeted fashion inspiration and can save their selections on the wish list section of the site. The experience of these online offerings is then backed up by the indulgent live experience of the physical store.
This is something that an increasing number of retailers are latching on to, with Topshop leading the way. The red carpet has really been rolled out to welcome shoppers to a truly inspirational retail experience, with a huge amount of fresh and engaging digital and physical content encouraging new engagement. All of this pays off. Topshop reported a doubling of digital sales between 2014 and 2015 according to Marketing Magazine. Their digital content marketing strategy now forms a centre point of their creative manifesto.

Starbucks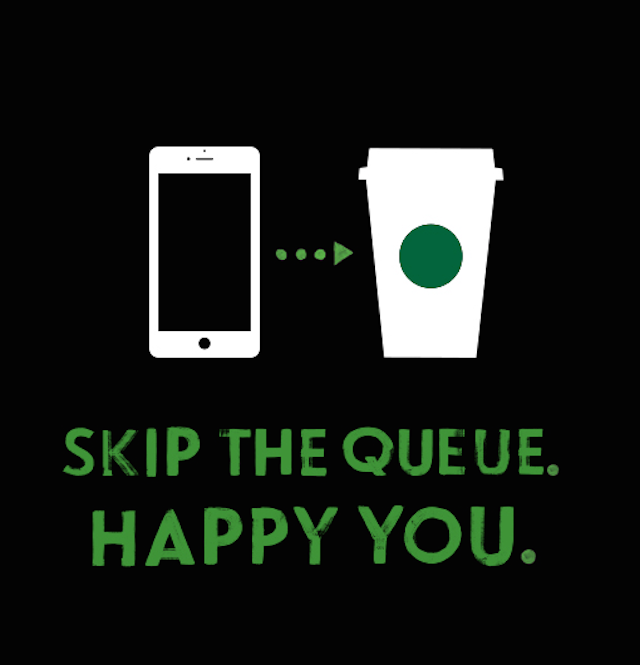 Starbucks app users receive unique news and rewards. Iphone users can use it to order and pay in advance.
Starbucks is another brand that has made the most of its fast-paced and tech-savvy consumer base in a uniquely successful way – mixing the (for many) morning retail ritual of the flat white or cappuccino with a rewarding, interactivity-driven multi-channel strategy.
Physical promotions and information within the store are complemented by news and rewards offers accessible uniquely via the app. This drives up the propensity a user has to download the app for the first time, catapulting them into this lucrative stream of a prime branded experience.

Oasis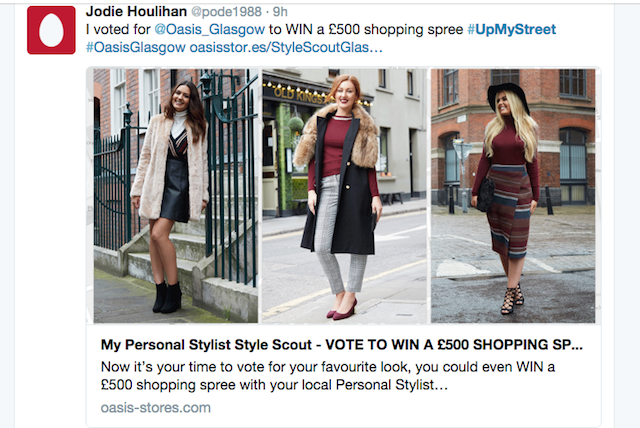 Oasis succeed in driving interest in immersive, social-media driven competitions
Oasis have employed some of the successful techniques of Topshop, but at a scale befitting the size of their more focused consumer base. Using a beautifully directed website users see focussed and visually-driven curated content, which provides context and drives desire to imagine the clothes within their everyday lifestyle much like a magazine. This relatable content is backed up by bespoke features such as the 'Seek and Send' option which helps search the entire Oasis inventory for a much-coveted item which can then be delivered directly to a users' door. In store, staff are equipped with iPads to give up to the moment advice on availability – and order online for the customer for necessary.
Oasis are also one of the few outlets that have succeeded in continuing to drive interest in immersive, social-media driven competitions. Here, shoppers can get involved to win prizes and connect with other users just like them who are wearing and doing the same things, creating the impression of a brand going far beyond the static to show what they're all about.
As these examples show, successful omnichannel is about understanding both the potential of devices, plus the core consumer base of the brand – once a company can harness this, they should have no barrier to using technology to aid their objectives. As consumers become ever more attuned towards innovation from all sources, the possibilities of omnichannel in pursuit of retail goals are endlessly exciting.
What companies do you think have found the holy grail of omnichannel retail? Let us know in the comments.
You can read our selection of 13 companies who are doing omnichannel brilliantly here.