Brand Focus
30 things you didn't know about Burberry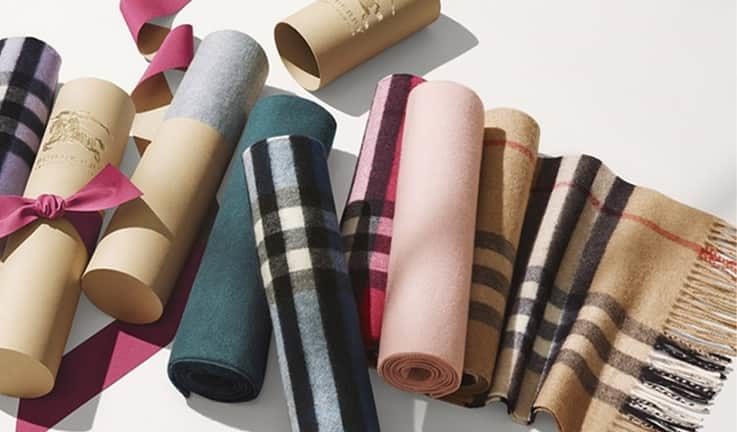 British heritage brand Burberry has disrupted the luxury industry, rewriting the rulebook across every traditional channel from runway to seasonal ad campaigns, e-commerce to in-store experience.
It's helped set 'best practice' for luxury brands navigating new territories across digital and social media, whilst retaining a prestige service.
We've pulled together 30 of the best ideas and innovations from the iconic brand:
1. Burberry was born from innovation. The company was founded by Thomas Burberry who invented gabardine in 1879, an innovative weatherproof cotton fabric which revolutionised rainwear.
2. A truly omnichannel brand, Burberry trades online and through 209 owned stores, 200 concessions within department stores, and 60 outlets.
3. The Burberry team consists of over 10,000 employees worldwide.
4. In October 2017, Burberry will open Burberry Business Services in Leeds. This will be the centre of its HR, Finance and Procurement functions as it continues to refine its Global Operations.
5. Burberry says digital has helped it to boost revenues both on its own website and through third-party sites. It has soft-launched its customer app in the UK, and it has a redesigned website for desktop and mobile. Digital growth, it says, reflects its strategic focus and investment in digital: some 70% of customers' buying decisions are now influenced online.
6. Burberry is focusing on improving service. It has invested in training sales staff, with an emphasis on service, and has increased its private client team by more than 50%.
7. All Burberry shows feature products from all four seasons, designed for its global audience.
8. In February 2016, Burberry unveiled plans for the "see now, buy now" show format, which replaced its previous four show calendar with two mixed gender shows. Since the September 2016 show, collections are available to purchase immediately after the show.
9. Burberry is reportedly experimenting with virtual reality, augmented reality and the latest developments in social-commerce to ensure it is ahead of evolving shopping behaviours and can respond quickly to changing trends.
10. Burberry sells products through retail (online and offline) and wholesale channels. For 2016/17, retail accounted for 77% of revenue and wholesale for 22%. Burberry also has licensing agreements (1% of revenue).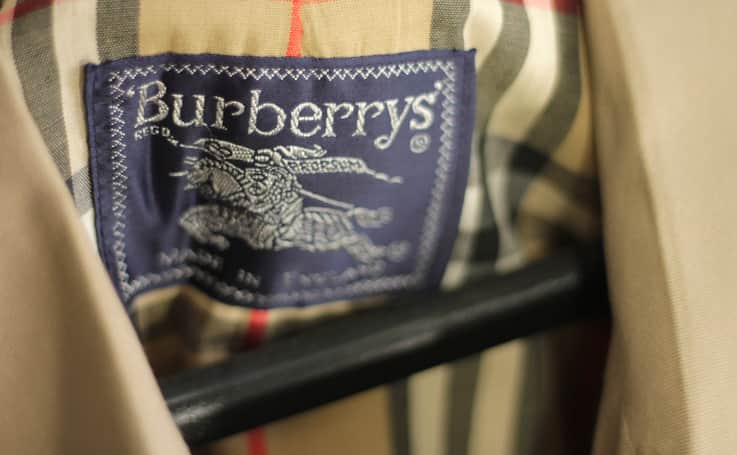 11. Burberry operates in three regions. For 2016/17, Asia Pacific represented 39% of retail/wholesale revenue, Europe, Middle East, India and Africa (EMEIA) 36% and the Americas 25%.
12. For 2016/17, Accessories represented 38% of retail/wholesale revenue, Womens 29%, Mens 22%, Childrens 4% and Beauty 7%.
13. Burberry is the only global luxury brand to join the RE100. This is part of the brand's wider commitment to procure 100% of its energy from renewable resources by 2022. RE100 is a collaborative, global initiative of influential businesses committed to 100% renewable electricity, working to massively increase demand for – and delivery of – renewable energy.
14. In 2016, Burberry launched a Facebook Messenger chatbot, a combination of both artificial intelligence and human assistance in customer service.
15. Since the launch of the chatbot on Facebook, it has rolled out a similar strategy across other international messaging platforms including Line, Kakao and the Burberry app.
16. Burberry is constantly exploring new ways of engaging customers with its product. The Art of the Trench is a Burberry owned website created to celebrate the iconic Burberry trench coat and the people who wear it. The concept invites people to submit portraits of themselves wearing their trench coats from around the world to feature on the site.
17. The Burberry Foundation has awarded £3 million to the Royal College of Art to establish the Burberry Material Futures Research Group – the first of its kind in the world. The group will apply radical thinking to invent more sustainable materials, transform consumer experience and advance manufacturing for the benefit of industry and the wider community.
18. The grant forms part of Burberry's five year responsibility agenda. The agenda outlines three ambitious goals: Support 1 million people in the communities that sustain Burberry's business and the wider luxury industry; ensure 100% of Burberry's products have at least one element that drives positive change; Invent new approaches to revaluing waste created in the production of luxury goods, whilst becoming carbon neutral in its own operations.
19. Burberry is planning to put more marketing power behind product launches as it looks to increase investment around specific categories and attract more local customers to the brand. For example, its signature DK88 bag was accompanied by a standalone marketing campaign and dedicated store windows, the first time it has done that for a new bag.
20. Burberry aims to be a 'first mover' in digital. Burberry is currently testing out mobile commerce with WeChat in China.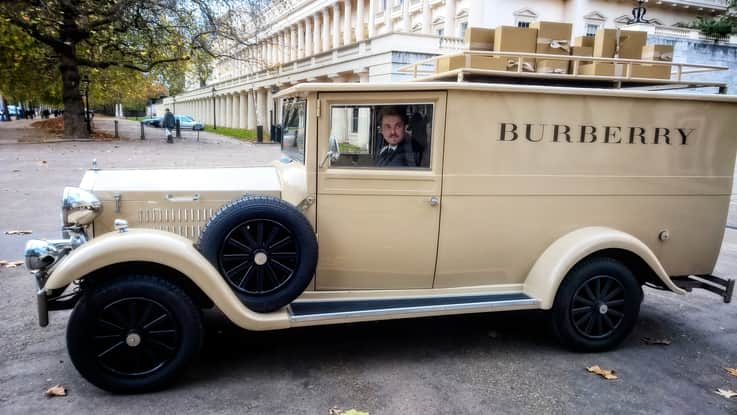 21. Burberry was the first luxury brand to offer customers a personalised experience on Pinterest, letting them create customised make-up boards to promote its new 'Cat Lashes Mascara' product. The personalisation worked by asking visitors three questions. Their answers, along with their initials combined to create a personal Pinterest board.
22. To mark the Pinterest campaign, Burberry and online cosmetic store Sephora partnered on dedicated social media posts and Pinterest promoted pins. From each pin, users could click through to make a purchase on Sephora.com and 5,000 users in the US could sign up with a questionnaire, to request a sample of Burberry's new mascara. (2016)
23. Burberry was the first brand to use a 'Snapcode' on Snapchat. The Snapcode invited in-store shoppers to scan a barcode using a mobile device and unlock content for the Burberry's new campaign for male fragrance Mr Burberry. It was live over a two month period.
24. The Mr Burberry Snapcode campaign was supported with scent-dispensing posters in Knightsbridge, London. The posters sprayed fragrance directly onto the user's wrist when inserted underneath the sensor.
25. In September 2014, Burberry disrupted the 'front row' experience by unveiling its Spring/Summer 2016 collection on the mobile app the day before its official runway show at London Fashion Week.
26. In December 2015, Burberry allowed people to create and buy personalised versions of its heritage scarves on their mobile phones by scanning an advertising screen in London's Piccadilly Circus.
27. According to an earnings report released earlier this year, the brand's February 2017 show generated "record online reach and engagement," with foot traffic to Makers House — an exhibition in London that allows for visitors to view its new collection — increasing 50% compared with its September line.
28. Burberry has been experimenting with RFID chips at retail since September 2012. RFID chips have been embedded into the lining of its seasonal coats and bags to allow consumers to unlock special content such as making-of short films or behind-the-scenes sketches on Burberry.com.
29. As of November 2016, Burberry had 12 million people on its CRM database, following a programme of capturing new data for new customers. Burberry has an 85% success rate of capturing a customer's data once they enter a store.
30. Burberry has also joined the roster of 'event advertising' brands at Christmas. The 2017 Christmas advert featured the story of Burberry's founder Thomas Burberry and was viewed more than 42 million times online.