Store design
40 of the World's Most Instagrammable Stores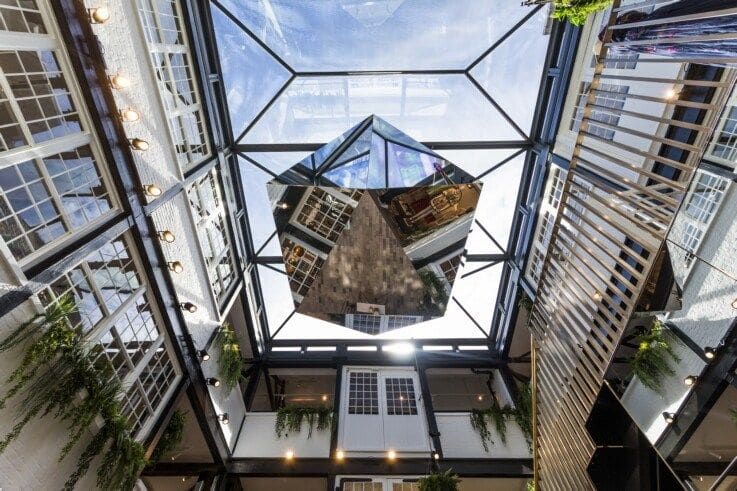 If you haven't posted a picture of it on Instagram, did you even go there?
Finding the perfect shot for Instagram is a modern-day necessity. Retailers are realising the importance of that, not only making their stores destinations in their own right but creating corners for the sole purpose of Instagramming.
It's great content for the lifestyle bloggers and Instagram fans, but it's also a fantastic way of getting people to promote your space and your brand. Here we have picked 40 of the most Instagrammable stores from around the globe that we think are definitely worth a visit, and, of course, a photograph.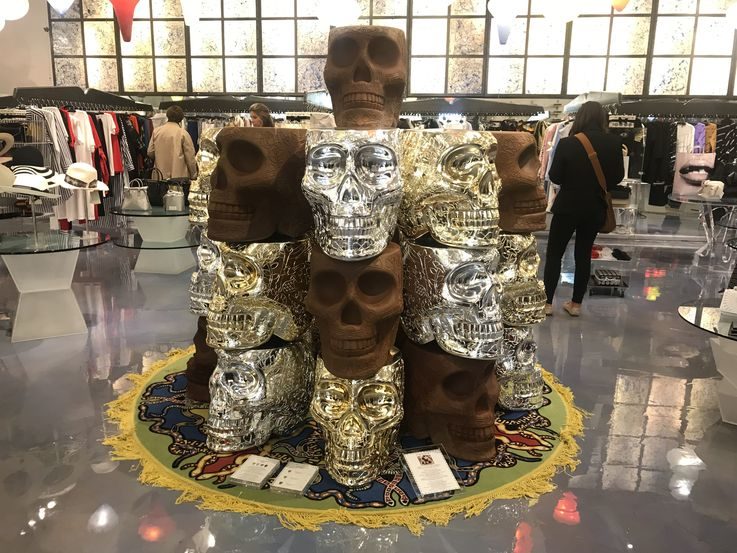 Image credit: Insider Trends
1. 10 Corso Como (Milan)
The granddaddy of concept stores, everything about 10 Corso Como screams 'take a photo'. Conceived as a '3D magazine', every room is unique with its own look and feel. The stunning art instillations that fill the space make it feel more like a gallery than a store. A curated range of different products, from artwork to fashion to homewares, means you can pick up everything you need to live the 10 Corso Como lifestyle at home. Even the rooftop terrace is a wow spot for photos thanks to the mirrored architecture.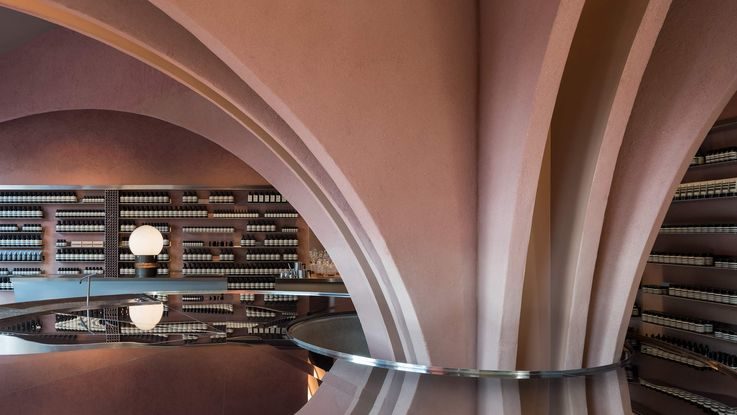 Image credit: Aesop
2. Aesop (London)
The millennial pink of Aesop's Chelsea store certainly draws in the Insta crowds. The cult Aussie skincare brand has already been garnering a lot of attention for its luxury, cruelty-free skincare range and now it has a store to match. From the street the warm interiors are really inviting against the backdrop of the otherwise grey neighbourhood. Entering the store is like setting foot in the opening credits of a James Bond movie, which is intentional as this is where the brand took its inspiration from. The industrial space features a Devonshire clay central column above a water table where water gently flows into four fibreglass sinks. And with the backdrop of Aesop products lining the shelves, it is the perfect spot for your Insta pic.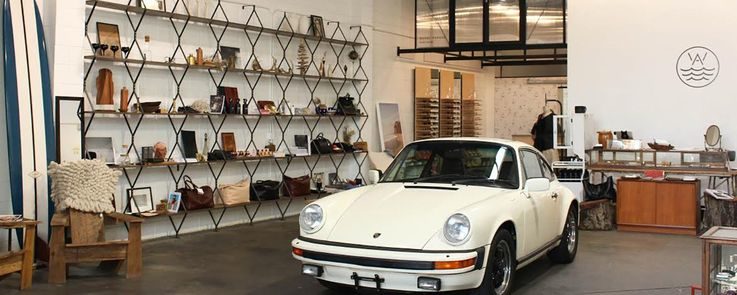 Image credit: Alchemy Works
3. Alchemy Works (LA)
This is not your traditional bricks and mortar boutique. The space, nestled into the arts district of LA, was designed to collaborate with local creatives, photographers, designers and makers. It's housed in an old warehouse with high wooden ceilings and lots of natural light, creating the perfect setting for a photo opportunity. The vintage cars that take centre stage are for sale and once sold they are replaced with something just as visually pleasing. It's a fab way to keep everything in the store fresh and keep people coming back for more photo opportunities.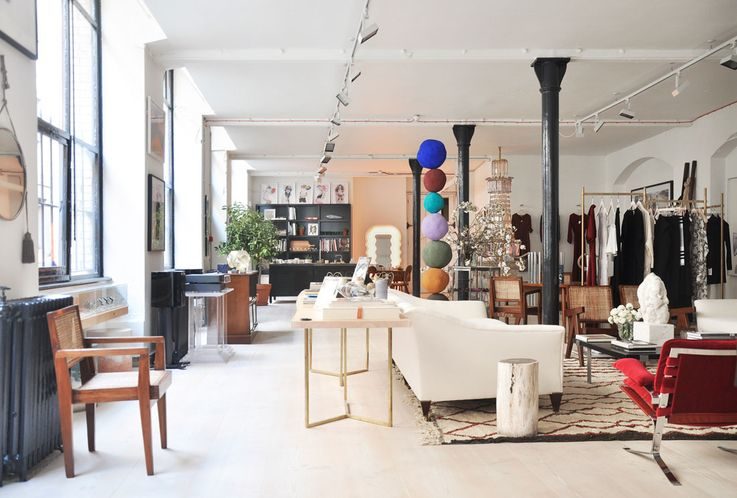 Image credit: Alex Eagle Studio
4. Alex Eagle Studio (London)
Intentionally located in the heart of Soho, Alex Eagle's eponymous shop is paying homage to the neighbourhood's creative past. The space is designed to provide a warmer welcome than your traditional luxury store and it certainly feels like taking a tour of someone's home. It has an eclectic mix of fashion, homewares, books, food and music all curated in a way which inspire you to get snapping.
5. Anthropologie (London)
Walking into the Anthropologie store on Regent Street, you can't help but notice the huge living wall that fills the full height of the space. It features many plant species, and at 15m high feels a little bit like walking into a rainforest. Standing on the stairs with the wall as your backdrop has become a perfect spot for a photo. The store itself is brimming with inspiration; it is beautifully curated with an eclectic mix of fashion and homewares that are all very shareable.
6. Aspinal (London)
Entering this luxury store just off Regent Street is like walking into an English country house. The sweeping wooden carved staircase with full height ceiling takes centre stage and is the most popular spot for taking a picture. The rooms are themed like a country home; there is a ladies drawing room and a games room, for example. With pause points in almost every room, opportunities for selfies are abundant. The cash desk that has been inspired by a circular champagne bar is another much-loved spot.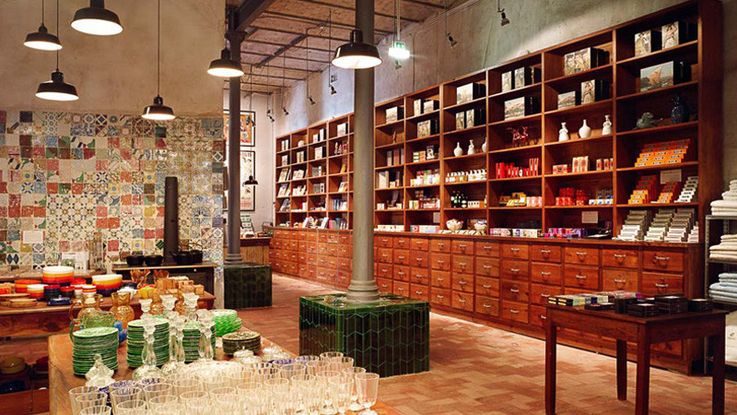 Image credit: A Vida Portuguesa
7. A Vida Portuguesa (Lisbon)
This former tile factory in Lisbon is an instant draw for tourists and locals alike. The lifestyle store sells everything from kitchenware to toiletries – curated with some of the most beautiful products, all made in Portugal. The central wooden tables and the apothecary-style display cabinets are merchandised to perfection and worthy of a photo. But the real inspiration is the building itself with stone floors, exposed brick and industrial style lighting. It's difficult not to get snap happy.
8. Bellocq Tea Atelier (New York)
Amidst the chaos of Brooklyn you will find the calm oasis that is Bellocq Tea Atelier. The beautifully curated store stocks an assortment of teas and accessories, set against a backdrop of aubergine walls, wooden floors and ornate chandeliers. The millennial-pink seating area to relax and sample the delights amongst the potted plants makes for a perfect Instagram space.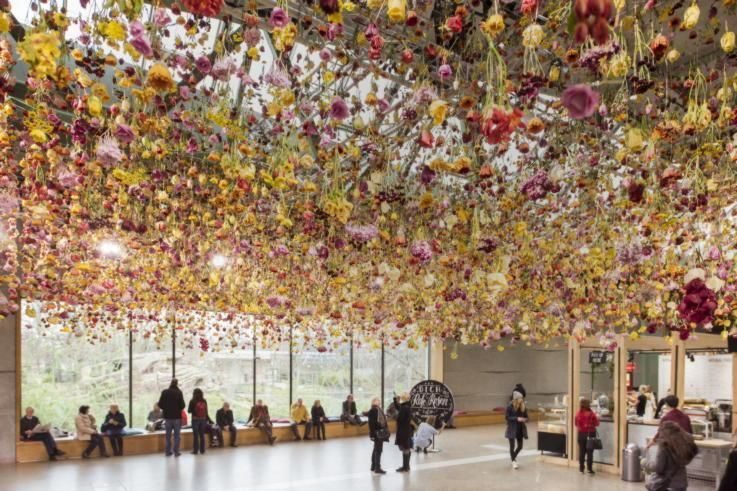 Image credit: Bikini Berlin
9. Bikini (Berlin)
The Bikini mall in Berlin is full of perfect spots to take a photo. Currently there is a living plant wall housed in a wooden pergola, complete with a rope swing that encourages visitors to post on Instagram with the #bikiniberlin. There are also swings on the top floor that you can hang out on to take a break from shopping but equally work well for a photo. The mall itself is right next to Berlin Zoo with large windows for you to gaze out and watch the monkeys swing from tree to tree. Inside, green foliage makes you feel connected to the outside world, and brightens up your pics.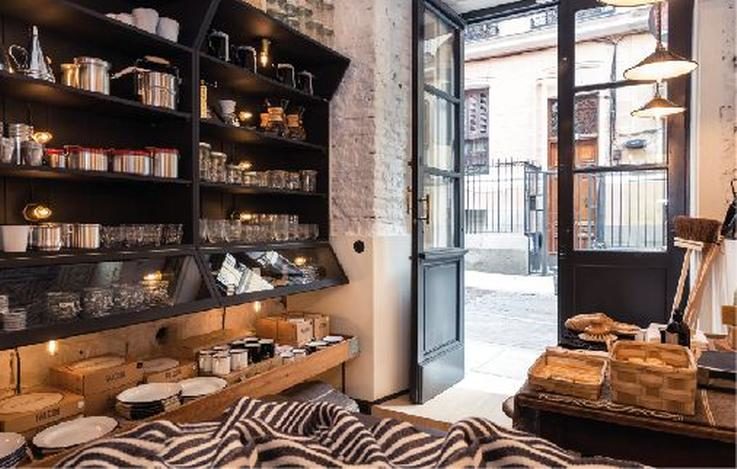 Image credit: Casa González & González
10. Casa González & González (Madrid)
This stylish homewares shop in Madrid stocks functional products whilst focusing on sustainability. Nestled along a quiet backstreet, there isn't a hint of the modern world here; just timeless products set against the backdrop of white wash brick walls and wooden display cabinets. Every part of the store is Insta-worthy, even your purchases, which they'll wrap in brown paper and tie with string.
11. Charlotte Tilbury Beauty Wonderland (Dubai)
Charlotte Tilbury's Beauty Wonderland is exactly that – a seriously chic art deco style boudoir with dazzling palm tree chandeliers, huge ornate mirrors and sumptuous velvet seats. The store at The Dubai Mall – the largest mall in the world – has been designed to make everyone's beauty dreams come true, and with nine different worlds full of immersive experiences it isn't hard to see why. Every part of the store is photo-ready but for that perfect shot it's worth booking out the 'Beauty Boudoir' – a vintage-inspired beauty studio with individual vanity tables. You can pretend you're getting ready for the Oscars.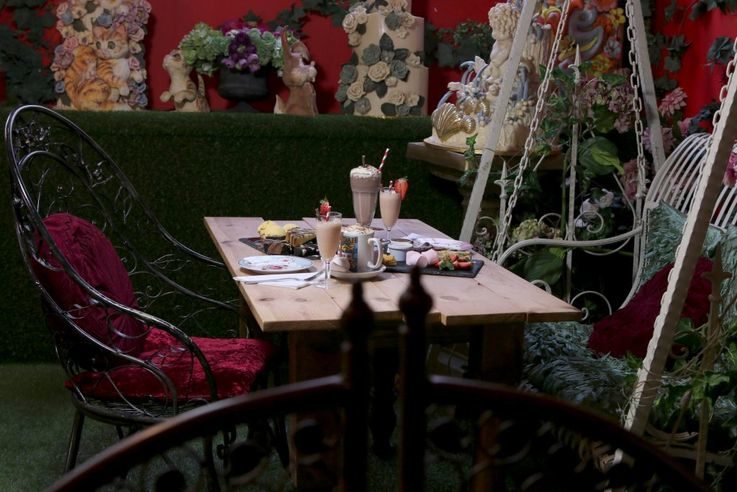 Image credit: ChoccyWoccyDoodah
12. Choccywoccydoodah (London)
Choccywoccydoodah is like walking into a sophisticated Willy Wonka world. The brand's spaces are jam packed with incredible cake and chocolate designs which you can't help but take photos of. It's also a great shop window for the in-store cafes which are ideal for getting customers to try before they buy. You can even have a party in one of the secret spaces which are Instagrammable in their own right.
13. Egg (London)
Tucked away in a tiny street in Belgravia lies Egg; an independent boutique housed in an old dairy – you can still find the original blue and white tiles. Niche brands are stocked along with Egg's own designs and everything is merchandised to perfection, with clean lines and sculptural shapes. As you wander the store you will notice the careful attention to detail on everything that is displayed, which is exactly what makes the store so Instagrammable.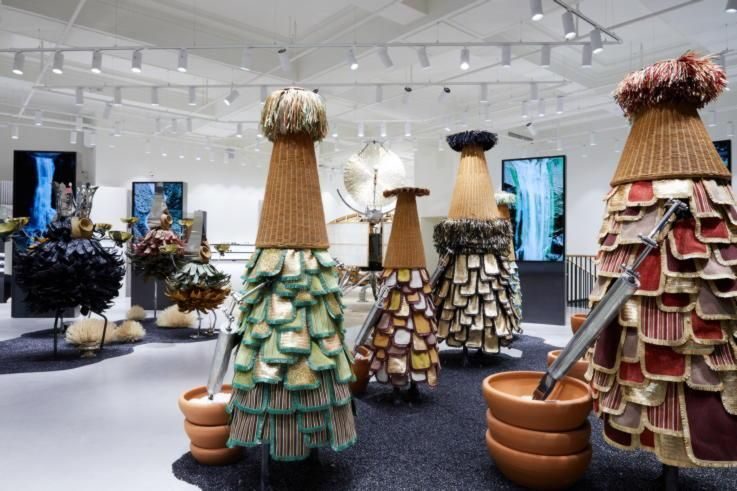 Image credit: Gentle Monster
14. Gentle Monster (London)
Gentle Monster is renowned for its innovative approach to store design and the space on Argyll Street is no different. As you enter the store you can't miss the warrior aliens made from rafia, fabric and mirrored metal that jolt to life every few minutes in kung-fu like motion. The lower ground floor comes complete with alien battlefield and for a moment you forget that you are in an optical store altogether. In Gentle Monster, social sharing isn't just a happy by-product; it feels like the reason the store exists.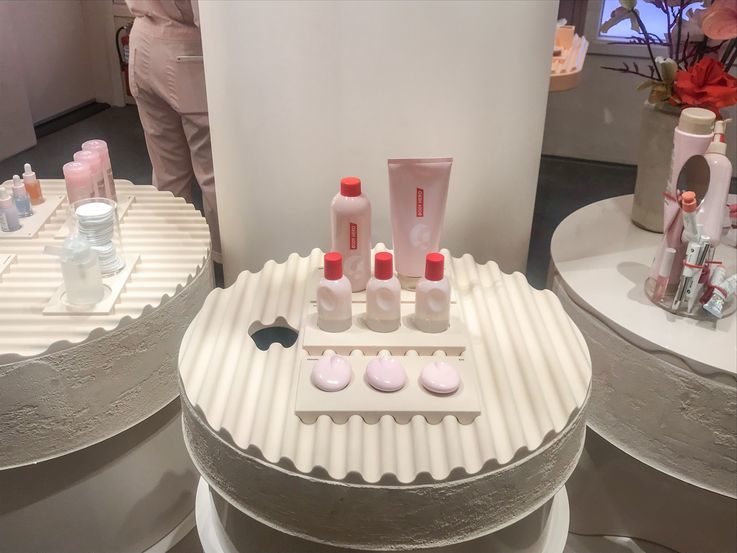 Image credit: Insider Trends
15. Glossier (New York)
The Glossier flagship in NYC is a dreamy pastel pink space full of gleaming displays of Glossier products. Millennial pink is the colour of the moment and instantly inviting for Instagram fans. In the foyer you are greeted with an arrangement of beautiful pink roses. The store is designed for maximum playtime and backlit mirrors are laid out for customers to try on make-up. Large mirrors with positive affirmations are the perfect spot for taking a selfie. Then there's the room with the human height Boy Brow sculptures surrounded by mirrored walls, perfect for an Insta story.
16. God's Own Junkyard (London)
In deepest darkest Walthamstow you will find God's Own Junkyard, a neon paradise stocking vintage signs and lights housed in an old warehouse. The late owner made a name for himself in Hollywood fashioning props for directors such as Stanley Kubrick, Tim Burton and Christopher Nolan. There are literally thousands of signs here as well as disco balls and religious statues. You can wile away hours here so it's a good thing there is a cafe on-site, The Rolling Scones, to refuel after all that posing.
17. Hamleys (London)
The world's most famous toy shop surely deserves a spot here. Hamleys' window displays have always drawn an audience and are often brought to life in a literal sense with live performances from magicians and seasonal actors. Once inside the store your eyes and ears are assaulted with displays of toys and performances from characters. Depending on what your child's (or your own) favourite toys are, you will find a photo opportunity at every corner.
18. Innisfree (Seoul)
Korean beauty brand Innisfree is brand storytelling at its finest. The all-natural company has an eco-friendly ethos at its core which is instantly recognisable upon entering the store. A staircase ascents along a living-wall, taking you from the bustling streets below to a green oasis. The in-store café has a plant island where you can relax with organic drinks and desserts. The brand's origins on the Korean island of Jeju – where all the product ingredients are sourced – is constantly referenced. This is a smart way of adding authenticity to the brand while brightening the space.
19. Irregular Choice (London)
Walking into the Irregular Choice store on Carnaby Street is like walking into a carnival. The space is colourful and bright and a wall of flowers lines the video staircase showcasing its latest prints, shoes and styles. It's a great way of keeping the interior as current as possible. The iconic carousel horse, Instagram-ready, is joined by four unicorn friends, all painted brightly. There is also a wall lined with disco-ball mirror tiles and flowers trailing the ceiling, all begging to be snapped.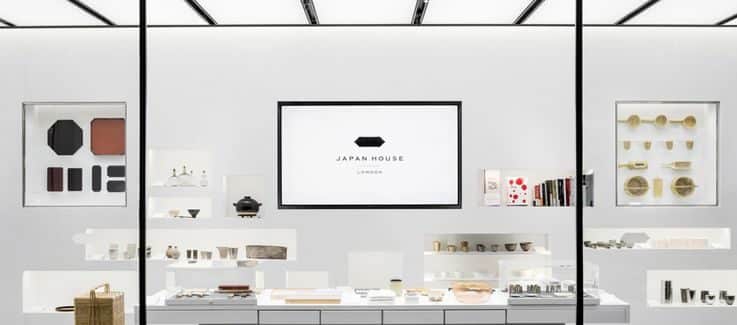 Image credit: Japan House
20. Japan House (London)
Japan House is the place to go to get your fix of all things Japanese. It is a hub for sharing Japanese culture with the UK and the art deco building on Kensington High Street houses top Japanese food outlets, retail space and an expansive book collection. There is also The Shop that blurs the lines between retail space and gallery. The thoughtful edit of Japanese goods is Instagram-worthy and because it links to the exhibitions, it constantly changes. The current display of colourful silks makes for some stunning photos.
21. Koibird (London)
Destination-themed concept store Koibird changes its theme seasonally, so you can expect something new every time you visit. The new season brings new products and a total reinvention of the store's interior to match. The current destination is California so expect lots of colour and some really bold story-telling. The aim is to evoke the cool Cali spirit, and the Hollywood sign behind the counter is inevitably a popular backdrop for pics.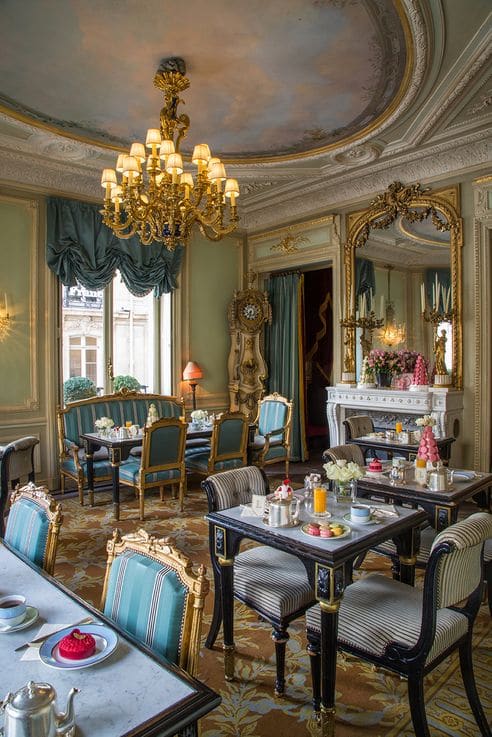 Image credit: Ladurée
22. Ladurée (Paris)
Pay a visit to Ladurée's flagship on the Champs-Elysées and you can experience quintessential Parisian decor, and a whole lot of macarons. The French luxury patisserie and tea room, one of the oldest in Paris, is a heavenly experience for those with a sweet tooth – but the decor is a big draw in itself. Whether inside the tea room, buying macarons to take-out or sitting out on the patio, there are photo opportunities everywhere.
23. Libreria (London)
Libreria is one of those rare bookshops that isn't trying to be anything more than a bookshop. Hidden just off Brick Lane in Spitalfields the store is an oasis for book lovers. The bright yellow shelves stretch as far as the eye can see and there are built-in reading nooks to thumb through your favourite novel. There is a no-phone policy here, but that doesn't stop people taking pics.
24. Moreru Mignon (Tokyo)
Stepping inside Moreru Mignon is like stepping into a dreamy wonderland of sweets – think giant pastel coloured donuts, and giant macarons and cakes. This fantasy world is dedicated to Purikura; booths that let you take digital photos you can edit via touchscreen or stylus. Despite there being several booths here the whole space is designed with photos in mind. Naturally you will want to look your best for those Purikura shots so there are lots of mirrors for you to touch up your hair and make-up.
25. Museum of Food & Drink (New York)
If you like taking pictures of your food and posting them on Instagram, you will love MOFAD Lab – a 5,000-square-foot experimental space in Williamsburg, Brooklyn. Here they have constantly changing exhibitions that allow visitors to taste, touch and smell. It is currently exhibiting Chow: Making the Chinese American Restaurant. Pose for a picture against a backdrop of Chinese take-out boxes or by the traditional neon take-out sign found in Soho.
26. Museum of Ice Cream (San Francisco)
Inspired by the founder Maryellis Bunn's dream of jumping into a pool of sprinkles, at the MOI you can actually jump into a giant pool of sprinkles. The life-size pool is bubblegum pink and has slides to launch yourself into the pool for that ultimate action shot. The creators believe ice cream to be a symbol of joy and have created a space that will ignite all five senses. Everywhere you turn in this wonderland you will find a photo opportunity, from the swing against a backdrop of floor to ceiling whipped cream cans, to the sit-on unicorns or jewelled elephants. The options are endless.
27. Peggy Porschen Cakes (London)
It's the perfect recipe for Instagram success; decorative coffees featuring ornate patterns, cakes decorated like works of art and a millennial pink space filled with beautiful fresh flowers. Peggy Porschen Parlour is a destination in Belgravia for Instagrammers and lifestyle bloggers alike, and you can't help but take a pretty picture here. The bakery's fans include Madonna, Elton John and Kate Moss so you know you're in good company.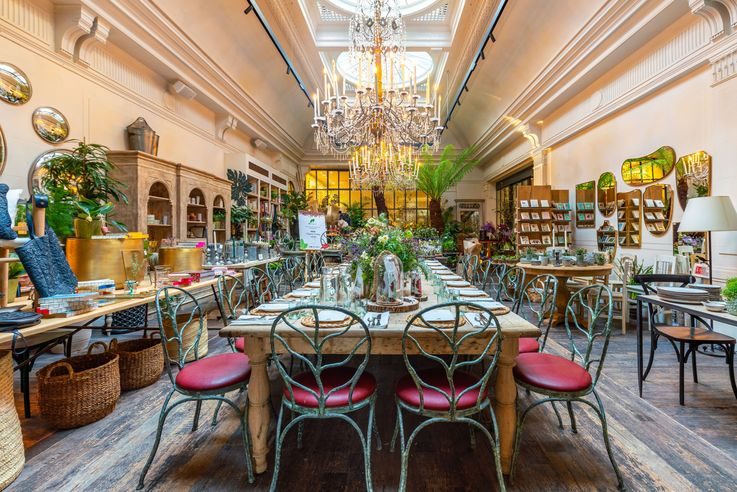 Image credit: Petersham Nurseries
28. Petersham Nurseries (London)
Lifestyle brand Petersham Nurseries has a stunning home and garden store in Covent Garden, complete with delicatessen, wine cellar and florist. The brand is a blend of Italian and English heritage which is evident throughout the store. The specialist and exotic plants mixed with the one-off handcrafted and artisan pieces creates a magical indoor sanctuary. This picture-perfect mix is, inevitably, perfect for pictures.
29. Rosé Mansion (New York)
The Rosé Mansion pop-up that was so popular last summer is back again this summer in a new location, just in time for rosé season. Dubbed the 'interactive wine mansion', you can sample the wine whilst wandering the themed rooms. You can learn about the culture and science of wine, but let's not pretend most people aren't just here for the selfies. The bathtub full of pink and white rose petals against a floral backdrop is pretty popular for snaps, as is the fountain of rosé made from tiered wine glasses. There is even a room filled with giant balloons that look like purple grapes. This year's space opens on 1st June and we can't wait to see what they have in store.
30. Showfields (New York)
The owners believe that Showfields in NoHo is 'the most interesting store in the world'; a gallery space that connects brands. Their goal is to create a store that is both a fresh retail experience for customers and a different retail model for brands. The physical element of retail is important here and that is precisely what makes it so Instagrammable. The brands have free reign to create their own little worlds which makes for some very appealing photo opportunities. Whether it is climbing in the bathtub full of plastic balls or rowing on the rowing machine, there are photo opps around every corner. And that's before entering the third floor gallery place where artists invite you into their worlds – and yet more chances for photos.
31. Skinny Dip Nail Club (London)
Skinny Dip Nail Club in Covent Garden is the perfect spot to get your nails done, and to document it for Instagram. The familiar millennial pink is everywhere, on sumptuous chairs with red cushions against pink walls and cupboards. Plus, gold fixtures and fittings really lend themselves to those classic Instagram shots.
32. Snark Park (New York)
Snark Park is a series of immersive installations in the new Hudson Yards development. You can wander through each monochrome concept and take photos against backdrops of art, design and architecture. The merchandise is linked to the current installation, Lost and Found, and you can pick up apparel or sweets in collaboration with Kith Treats. There will be a new installation every few months so there's a reason to keep coming back.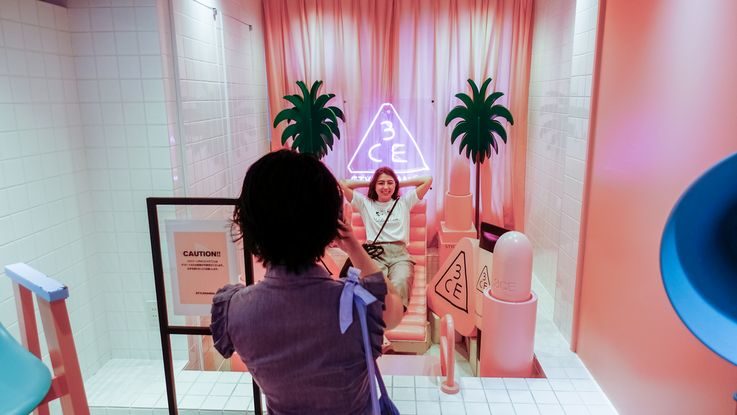 Image credit: Insider Trends
33. Stylenanda (Tokyo)
Stylenanda's Harajuku store is the perfect place to Instagram. With a really cool boutique hotel theme, the entire store is bubblegum pink, including the neon signs. The Korean women's fashion brand stocks everything from clothes to cosmetics and around every corner there is something you want to take a picture of. But there is also a designated selfie spot, complete with pink recliner and surrounded by giant pink replicas of its cosmetics products to pose with.
34. Sweaty Betty (London)
The Studio at No. 1 Carnaby Street really does have it all; experiential retail, a café, hair salon, fitness studio and an area to chill. The flagship store is full of motivational quotes in neon signs, such as 'empowered women empower women', that are perfect for Instagram. The Farm Girl cafe has lots of lovely treats as well as being shrouded in greenery to take those popular shots of your coffee cup; the rainbow latte is a particular favourite. The relaxation area surrounded by hanging plants, cushions and cool neon signs is the ideal spot for checking in on Instagram. Even the changing room lockers have quotes by artists such as Britney Spears and Madonna inside them. This is a store that's mastered experiential retail – so the Insta love is well deserved.
35. teamLab Planets (Tokyo)
TeamLab Planets is the world's first digital art museum, where the team have created immersive experiences in dark empty galleries. The worlds of science, art and technology are brought together to create some extraordinary experiences. Whether walking through a high-tech digital waterfall or standing beneath a forest of sunflowers, you can immerse yourself in the natural environment as well as cosmic ones. Visitors are invited to take their shoes off to really get the most out of the experience. Although out of reach for some, those pieces available for purchase are popular among serious collectors.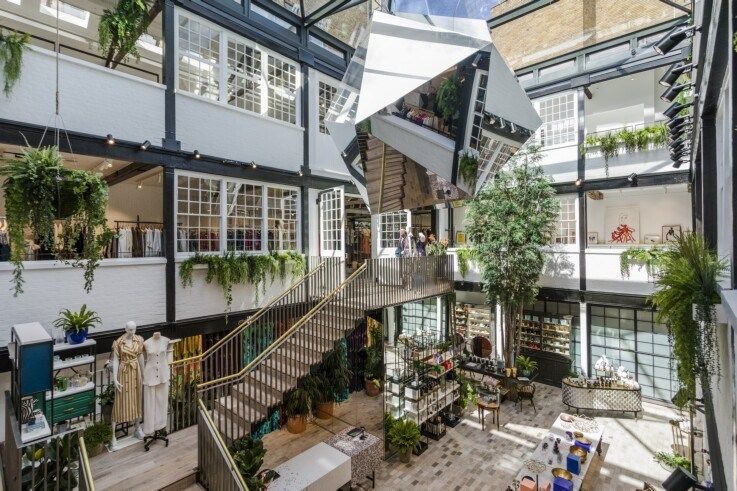 Image credit: Dalziel & Pow
36. The Shop at Bluebird (London)
The central atrium is the star of the show at The Shop at Bluebird. The concept and lifestyle store moved to its new premises in Covent Garden in 2018 and you can see why. The Grade II listed former-coach house, complete with cobbled courtyard is a destination in its own right. The central staircase and the vaulted glass ceiling that take you up to the galleries, displaying big ticket brands such as Alexander McQueen and Chloé, is where you will find the lifestyle bloggers having their photos taken. The revolving pop-ups from new brands means the space is constantly changing so there is always something new to explore.
37. Tom Ford Beauty (London)
The first ever standalone Tom Ford Beauty store in Covent Garden is not only glamourous but packed full of the latest tech. On the ground floor there is a colour room where you can try on the latest new product launches using augmented reality. The lower floor is appointment only which adds to the glamour of it all; complete with make-up lounger and an interactive fragrance customisation area. Better still, there are smart mirrors that record your make-up sessions to repeat at home. Here, there's a sense that Instagrammers are not just sharing the store for its beauty, but for the futuristic tech too.
38. Wild at Heart, Liberty (London)
Liberty is an iconic London store in its own right, constructed from the timbers of two ancient battleships in the 1920s. The statue of its founder, Arthur Lasenby Liberty, stands by the entrance to the flower shop and it's this spot that people line up in their droves to have their photo taken. Wild at Heart's opulent, creative approach to flowers is the perfect contrast against the mock Tudor building. The flowers displayed in tin buckets create the most inviting entryway to the department store, and the seasonally changing flowers means the entrance always looks unique.
39. Winky Lux Experience Shop (New York)
Last summer Winky Lux, the cruelty-free luxury makeup brand, launched a pop-up in Soho with Instagrammable moments around every corner. It was more than a store; it was a museum for make-up – where you were free to wander and try on as many make-up and beauty products as you liked. There were seven different rooms decked out with all the make-up and beauty items you could wish for. The rooms themselves looked as if they were designed for Instagram; with a disco room, a room with wall to wall flowers and even a room dedicated solely to being comfy. A similar experience is currently running in Nashville (pictured).
40. Word on the Water (London)
A 1920s barge with a permanent mooring on the Regents Canal towpath is an unusual location for a bookstore. The books are displayed inside and out but a popular spot is inside where you can sit and have a read by the cosy fire. The barge also doubles up as an events space, running talks on engaging topics and open mic sessions for musicians and comics. The backdrop of the canal with the beauty of the barge itself makes this a very Instagrammable spot.