Tech
8 cutting-edge tech ideas from the world of retail – June 2019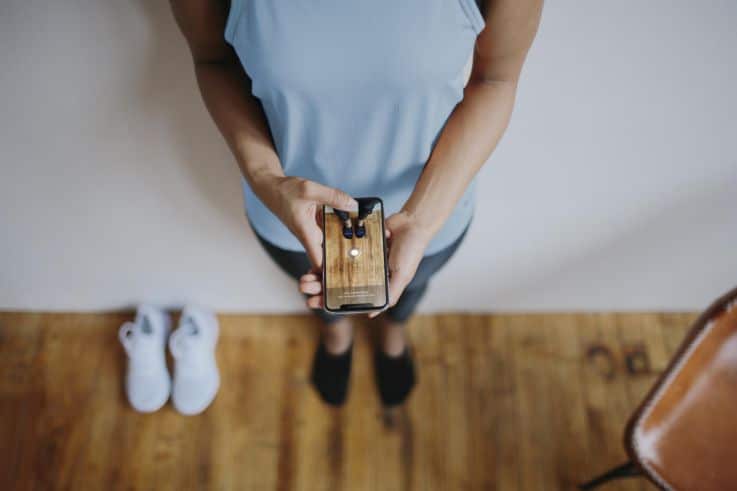 As usual we've been keeping our ear to the ground when it comes to what's top in retail tech. We've scoured the best new cutting-edge ideas to find the ones that we think have the biggest potential impact. See what made the cut.
NBCUniversal and Walmart's shoppable shows
What is it?
Shoppable TV seems to be a growing trend. Both NBCUniversal and Walmart have recently launched initiatives that let viewers buy while they watch.
NBCUniversal's Shoppable TV features 'on-air shoppable moments' with QR codes that can be scanned with smartphones to send viewers to a brand's website. Meanwhile, Walmart is moving into creating original content for its Vudu platform which includes shoppable shows.
Why you need to know?
This isn't the first, or last, that you're going to hear about shoppable media. Increasingly, every touchpoint is becoming a sales opportunity. We like to spend our time being entertained, not advertised to. But we're also used to being inspired by the content we consume. Making it possible for us to buy the outfit in our favourite show or the recipe being cooked onscreen feels like a natural extension.
What's interesting about these ideas is that they show the variety of different approaches. NBCUniversal is leveraging its media empire to offer brands opportunities to get more out of their ads and sponsorships. Walmart shows that we could also see a future where retailers and brands are creating their own content built around shoppable moments.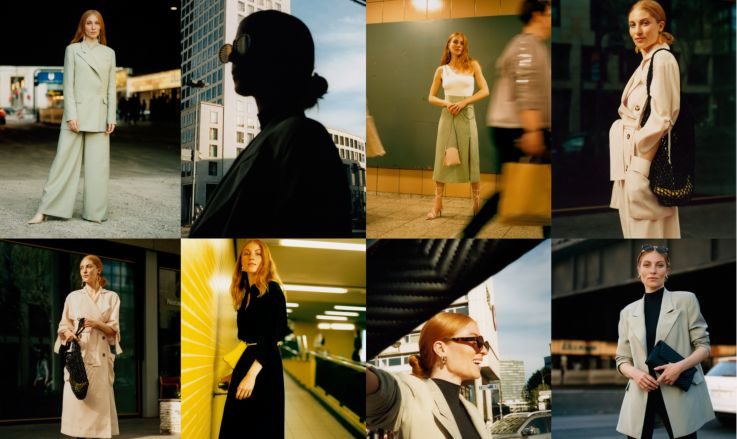 Image credit: H&M
H&M and O Boticario's data-driven product lines
What is it?
Another trend that is growing is the use of data and AI to inform product design. H&M has used specially collected data to create a limited collection aimed specifically at customers in Berlin. Over in Brazil, O Boticario has partnered with IBM to use AI and data insights to design two new fragrances for millennial customers.
Why you need to know?
This is going to be everywhere. Retailers and brands alike re starting to try and make use of the masses of data they have on customers, some of it going back decades, to create products they can't help but love. And as these examples show, it means the future of retail may be hyper-personalised.
H&M's collection has been custom created to appeal to customers and trends in Berlin. O Boticario has developed its fragrances with a certain market in mind as well. Rather than one-size-fits-all, products of the future are likely to be personalised to different demographics, markets, tastes and more.
Google's AR-enabled product search
What is it?
Google has recently added the ability to use AR to display search result images in 3D. For example, when buying a pair of shoes you could have the option to 'view in 3D' which will turn the 2D image result into a 3D model that can be moved around. There's also an option to 'view in your space' which uses AR and your smartphone's camera to project that 3D image into your real-life environment. Current partners include New Balance, Target Corp, Samsung and Volvo.
Why you need to know?
A lot of people start their online shopping journeys at Google (although other search engines are also available), so it makes sense to try and make it as easy as possible for them to buy. Or as hard as possible for them to say no.
Better product imagery is one way to do this. Even with better quality photography, it can be difficult to always visualise how a product will actually look though. Being able to view it in 3D at the touch of a button is a neat little feature.
There's also no doubt that the AR view-in-home element will be well utilised for purchases like furniture and homewares. But maybe it could even eventually work for fashion by letting customers virtually 'hold' outfits up to themselves. We expect this feature could make its way onto brand websites as well.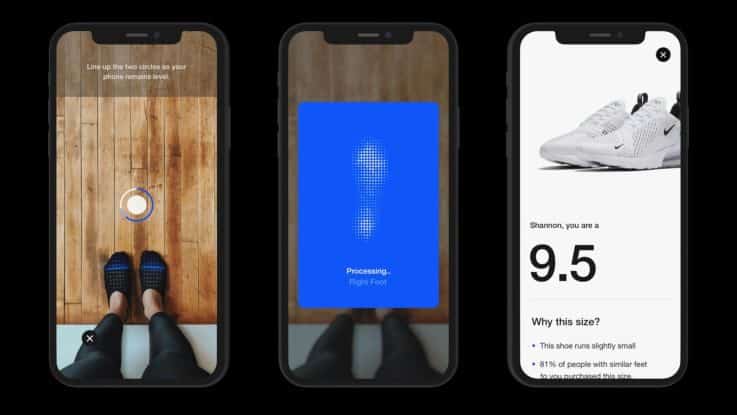 Image credit: Nike
Nike's tech-powered shoe fit feature
What is it?
Nike has created a way to solve the challenge of badly fitting shoes. Nike Fit uses a customer's smartphone camera to scan their feet and then recommend shoes that will perfectly fit. The info can be saved to their NikePlus profile for future use.
Why you need to know?
This is another way that Nike is making it easier than ever for people to buy. Rather than potentially lose sales because online shoppers are unsure that something will fit them, Nike promises them that it will. The tech can also be used in stores to reduce the number of different sizes tried.
Nike claims that up to three-fifths of us walk around with shoes that don't fit well and that 28% of online shoe returns are down to fit. The company itself gets half a million messages each year from customers with size issues. It's a genuine problem then, and not one that's only limited to shoes.
There's no doubt that we'll see more tech like this being used to try and solve the fit problem in the future. And let's not forget that
Iridescence – the digital-only dress
What is it?
We've now entered a world where shoppers are willing to buy clothes that only exist digitally. Earlier this year, virtual dress iridescence was sold at auction for $9,500 in a world first. The purchaser gets to have the garment digitally fitted to an image of themselves. Because all of the info about iridescence is on the blockchain its authenticity is ensured. Iridescence is the result of a collaboration between digital fashion company The Fabricant, artist Johanna Jaskowska and blockchain company Dapper Labs.
Why you need to know?
We are increasingly living our lives online. With that, we're also becoming more image-focused in our media consumption, fuelled by the likes of Instagram. But for every new outfit photo there is an environmental cost. Many agree that our fast-fashion culture of constantly buying new outfits is unsustainable. As such, clothing that only exists digitally could become the norm in the future.
Iridescence isn't an isolated concept after all. We've seen Nike create custom digital shoes for video game hit Fortnite and ASOS design clothes for The Sims. Perhaps digital clothing will become a 'try-before-you-buy option' where you pay a small fee to see how something looks before you commit? Or maybe we'll be able to digitally rent clothes in the future for our online persona? One to keep an eye on.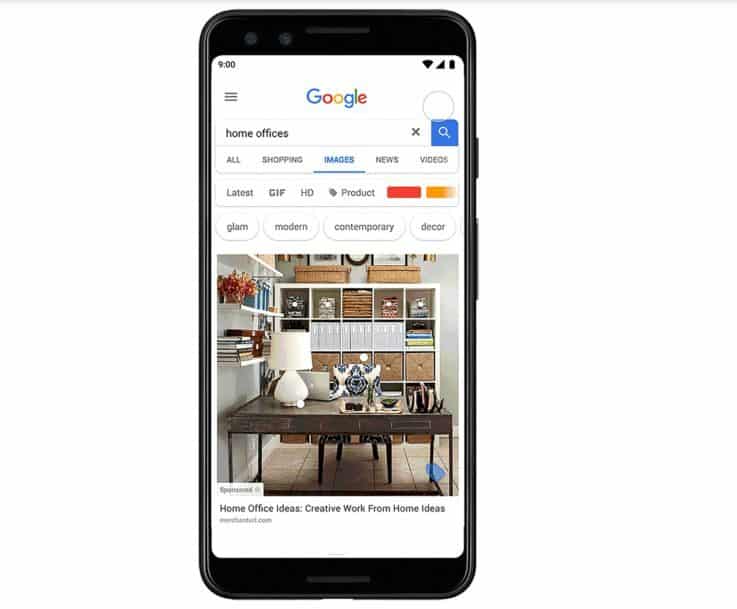 Image credit: Google
Google Images' shoppable ads
What is it?
Google claims that 50 percent of online shoppers say images of products inspire them to buy, which is why it's making Google Images shoppable in their own right via sponsored ads. If a customer searches for home office inspiration, for example, they may look at Google Images to see how they could set them out. Brands can now pay to have an image-based, shoppable ad appear in the results. Shoppable ads are indicated by the tag in the corner.
Why you need to know?
At the moment Google is piloting the concept with select retailers and a small percentage of traffic, but we could see it rolled out more widely. The ads mean that retailers can tag multiple items in the image which can be bought eg a vase, table, lamp etc.
They're very much Google's answer to the shoppable social media trend. We're increasingly being inspired by the images we see on Instagram and Pinterest, but Google is banking on the fact that we still start many searches with it to score a piece of the pie.
For brands creating inspiring online content it's also a way to get more out of the images they're carefully curating by making them shoppable in their own right. Google's test is only the beginning – it's likely that in the future every image we see online will be shoppable.
Macy's and Pinterest's location-based inspiration campaign
What is it?
Macy's has teamed up with Pinterest this summer to provide outfit inspiration based on location. Macy's has placed pop-up Pinterest Pincodes across the US in places like Central Park, The Brooklyn Heights Promenade and the Santa Monica Pier.
Customers can scan them using their smartphone to open a Pinterest board featuring curate outfits for the specific location. These in turn link to Macy's online where the outfits can be bought.
Why you need to know?
Physical retail is increasingly breaking out of the four walls of the store. Smartphones have given us the freedom to shop anywhere, which lets retailers like Macy's make the most out of locations where customers are but can't support a traditional store. Central Park alone gets 37.5 million visitors a year – a potential audience size that no store can boast.
The concept of suggesting products specifically tailored to a location isn't new – for one it's part of the Amazon 4Star approach – but this partnership shows how it could expand. Anything could be made shoppable from posters to trees with a simple code and a smartphone.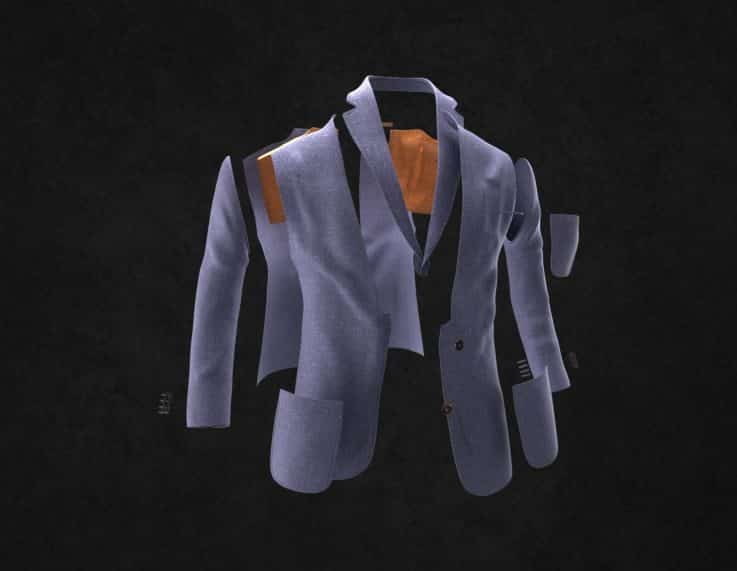 Image credit: Knot Standard
Knot Standard's AI-powered style walls
What is it?
Made-to-measure menswear company Knot Standard is using tech to enhance its customisation services. The brand has added data-driven style walls to its US showrooms to show life-size images of products that change as customers tweak features. The style walls are voice-activated so customers can ask for 'shirt cuffs', for example, to have them automatically displayed. They can even recognise colour requests.
Why you need to know?
For a brand like Knot Standard, which is all about customisation, the tech makes the consultation process much simpler. Staff can show customers accurately what a piece will look like before it's made, which takes any guesswork or uncertainty out of the equation.
What's more, the screens are customised to the individual customer based on what they like and what they're bought in the past. It can even help customers see how a style might fit with what they already own and suggest outfits. Knot Standard has used data from over 25,000 past client appointments to hone the recommendations.
Customisation and personalisation are among the top things that customers are asking for, but with these purchases comes increased risks for both buyer and brand. Customers can be unsure of what they'll get and brands don't want to create individualised products that they can't sell on. Tech like Knot Standard's style walls is a great way to bridge the buying gap, especially for online shoppers.