Interviews
Flying high: Dalziel & Pow talk designing 'the best store in London' for The Shop at Bluebird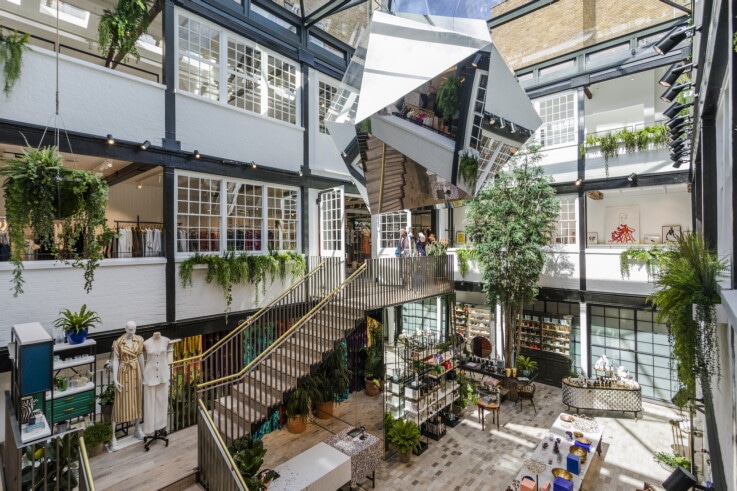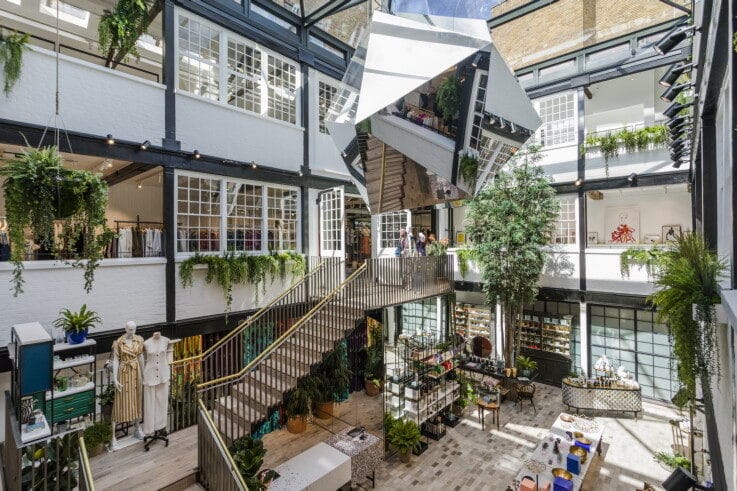 Part of the Jigsaw group, The Shop at Bluebird is one of London's best semi-secret retail experiences – a must-go for those in the know. Offering a careful edit of high-end artwork, design, premium fashion and beauty, the space has been a draw on King's Road for 12 years. Now though, The Shop at Bluebird has made the move to a flagship store in Covent Garden and stepped up the retail experience courtesy of creative agency Dalziel & Pow.
Conceputalised as the 'Playground of Wonders', the space has been designed with theatrical flourishes and Instagrammable moments starting with the centerpiece atrium. The journey is one of discovery, but also experience with the ability to transform the space for brand takeovers and events.
Dalziel & Pow explain how they approached a brief to 'design the best store in London', designing in a listed building and creating a world within a store.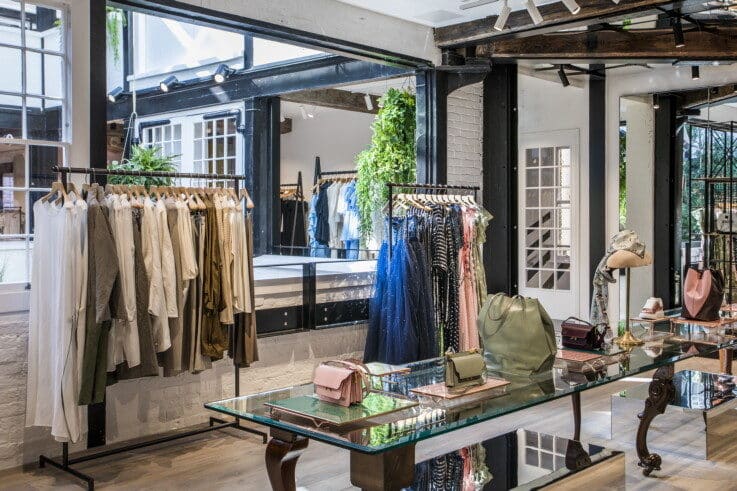 Can you talk us through the brief for the store?
Our client asked us to 'design the best store in London' and we thought it was such a great open brief, the kind that doesn't come around often. Our first thoughts were how to create an experience that London hadn't seen before. We wanted to land something impactful with Instagrammable moments, so that the experience could be shared and talked about far beyond the space itself – to create a buzz and draw people in.
As a team, we created the experience vision 'Playground of Wonders'. It was important for us to capture the brand's whimsical, expressive and free-spirited identity within the 15,000-square-foot flagship. We instantly fell in love with the Carriage Hall – a Grade II listed building full of character, with great opportunities for us to explore.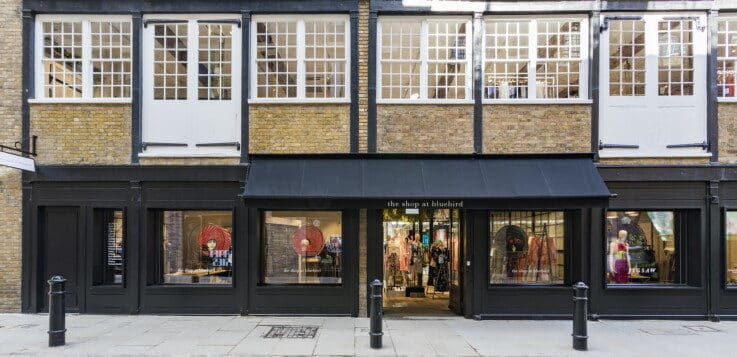 Who is The Shop at Bluebird's target audience?
The Shop at Bluebird (TSAB) customers are as diverse and eclectic as the edit in store; they're global, affluent, influential and informed, their sense of fun and exploration is mirrored in TSAB's values and they visit the store to discover these things and be entertained, and that's how they position themselves – around their values. TSAB have always championed young British designers, is always creating and looking for new influences and I think that's why it would pique the interest of a different range of customers. One thing that's always been part of TSAB's values is that it stocks luxury brands, but has always been really accessible and welcoming to everyone. I think the store amplifies these values as it's a very welcoming space and not intimidating at all considering the fact that it houses mostly luxury brands.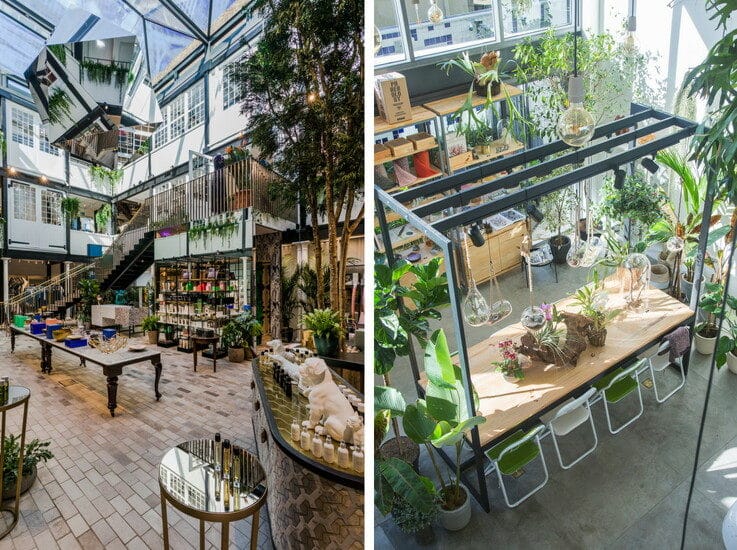 What was it like working with a Grade II listed building? Did that affect the interior?
The design is respectful of the Grade II-listed architecture, offering an artful blend of heritage and modernity. We highlighted original features such as beautiful wooden beams and brickwork, as well as adding subtle cues of equestrian details, and carriage wheel motifs as a nod to its former life as a coach house.
Carriage Hall was built in the Victorian era, so we looked at opulent references and textures that could be interpreted in a new modern way. TSAB itself originated on King's Road within an Art Deco building, so we also referenced that period within some of our design elements looking at patterns and geometric forms – we were trying to connect all of its history together to create one new TSAB experience.
It was important to us as designers to retain and bring back to life any of the building's original character, so it was full focus again. A key design feature is the glass-topped atrium which sits at the heart of the store, encircled within three galleried floors, flooded with natural light and paved with cobblestones, it evokes the original open-air courtyard. We created a juxtaposition of indoors and outdoors, an oasis with lush hanging baskets cascading onto the foliage on the ground.
We used the architecture where possible to showcase the Grade II listed qualities, for example suspending from existing wooden beams and creating walkways from arches, lining them in new more expressive materials, to create a balance of old meets new.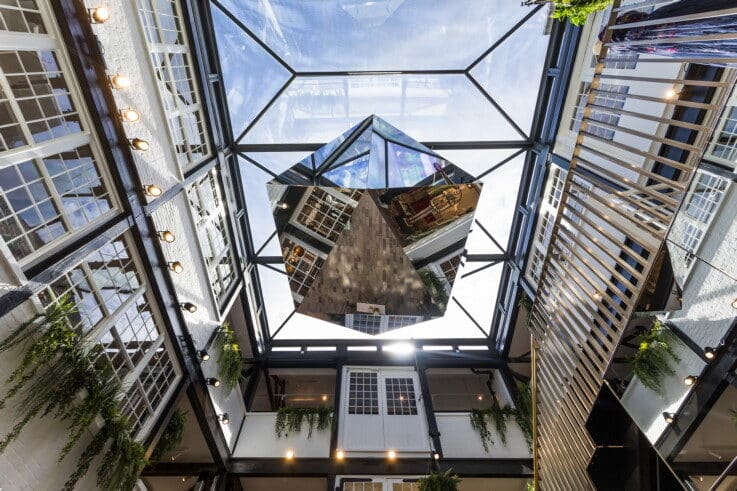 What are your favourite design elements within the store?
Delivering a sense of wonder and anticipation, the space has been designed to gradually reveal its theatrical interior and Instagrammable moments. The showstopping centrepiece of the atrium is a bespoke icosahedron installation of 20 mirrored facets that reflect and distort the surroundings. The main staircase also has a reflective underside, as if floating among the greenery, and this playfulness with the perception of space continues around the store. It's been great to see the reaction from customers splashing it across social media.
We added an exciting sense of discovery to the store experience, giving each shop-in-shop or department a unique treatment. Bags and Jewellery, for example, uses yellow zinc as a signature material, while Beauty and Fragrance is natural, earthy and soft with apothecary detailing and a living tree bursting through the 'test and play' table.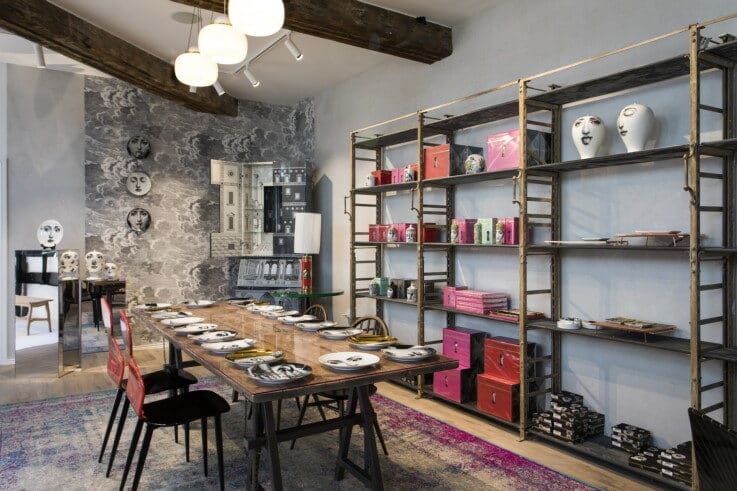 The first floor embodies the playground of wonders theme with sleekly styled areas that again play on reflections, using mirrors and cleverly landscaped screens to create infinite perspectives. A striking lighting installation mixing Rothschild & Bickers bespoke hand-blown glass with found vintage pieces was created as a new interpretation of the well recognised King's Road lighting focal point.
Statement design and objets d'art similarly express the brand's creative, eclectic spirit, combining found antique furniture with pieces rehomed from the King's Road location. Long tables for merchandising displays bring grandeur of scale, alongside large handmade rugs and dramatic draped curtains. Wallpaper in clashing colours and textures continue the eclectic aesthetic, both the elegant geometrics of Art Deco pattern and florid Victorian motifs. The work of Timorous Beasties, the Glasgow-based studio known for its surreal and provocative patterns, appears frequently including behind the cash desks and in fitting rooms, creating a link between the old and the new store, and a bit of nostalgia.
What was the approach to the artwork on the walls?
Art has always been a core part of TSAB and it's infused throughout – including a wall of artworks on the first floor exclusively curated by William Ling of the Fashion Illustration Gallery. The stairwell treatments pay homage to different artists on each level. The lifts were treated with a kaleidoscope of coloured paint that seemingly drips down the walls and puddles out onto the timber flooring, connecting the two floors and driving customers to explore beyond the ground floor.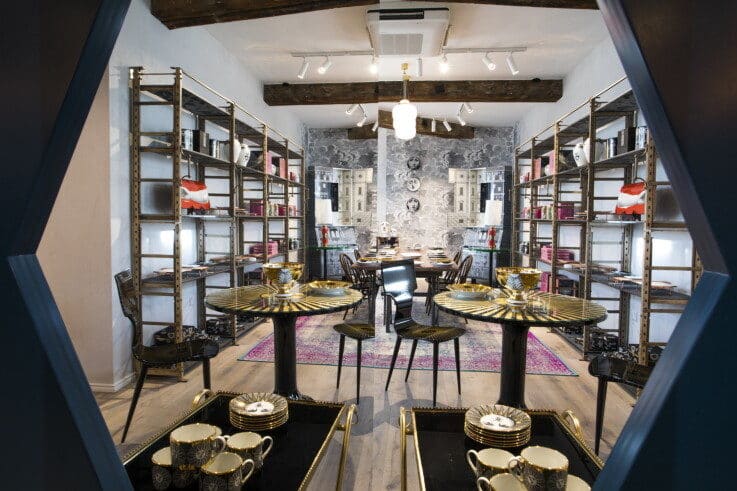 What there any design learnings from the past Shop at Bluebird store?
Our previous designs for TSAB have been a shop-in-shop model inserted into key Jigsaw sites. This was a new and exciting brief for us because it was solely focused on TSAB and creating a brand-new experience for them.
TSAB on King's Road was said to be the best-kept secret in London with an incredibly loyal customer base. TSAB is profitable because of their unique edits, mix of designers and the customer base – but they wanted to become a global brand, so the move to Covent Garden gives them the opportunity to attract an international audience.
Our job was to create a flagship for everyone to discover and experience – to translate what they've been doing so well on a much larger scale – taking experiential retailing to another level.
Covent Garden is going through a massive period of regeneration with a whole host of brands flocking to Floral Street to sit alongside TSAB – it's quickly becoming a destination shopping area. TSAB's loyal customers are also making the journey from King's Road to Covent Garden
It does feel a bit offbeat, but then that's what we like about it. It still feels like a bit of a secret, exciting for those who don't know about it as they stumble across it and think "oh my God this is such a beautiful find". The store has had a huge impact on social media, attracting a wider audience to discover it for themselves.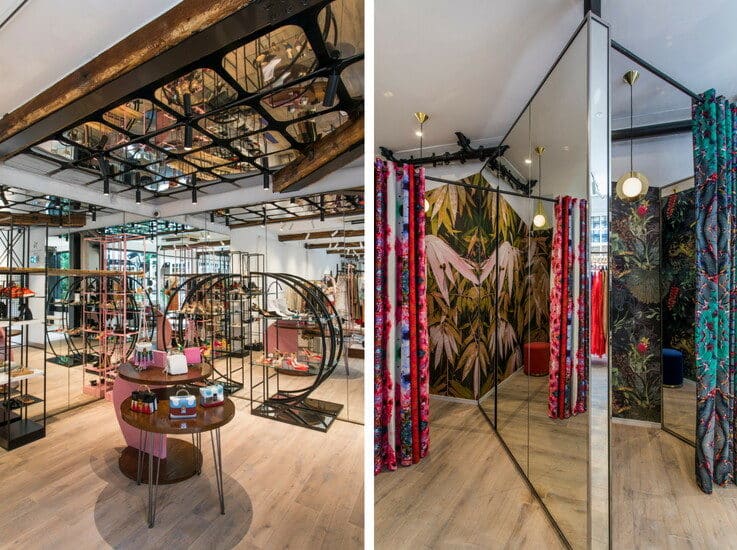 How does this link in with the luxury retail of the future?
Luxury brands are on a mission to break down traditional stigmas by becoming more accessible.
Generation Z and Millennials will soon account for over half of luxury shoppers globally; therefore learning how to engage with them is vital. When customers can buy the products they want so easily on their mobiles, why would they want to come into an intimidating store?
In a world where luxury has become formulaic and cold, TSAB is a welcome antidote.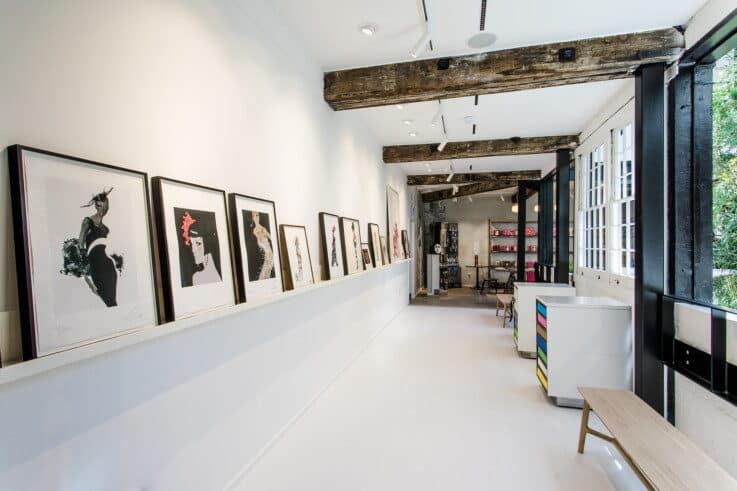 Was there anything that you did in the design to boost dwell time or boost sales?
We've increased dwell time by bringing customers into a new world that inspires them in different ways. The atrium is the key area to draw people in; by bringing the outside in, we've created a sense of wonder in a relaxed oasis where customers can shop and explore at their own pace.
It's a space to spend some time because there are so many different pockets to discover. There's fashion, lifestyle, a restaurant, the Blink brow bar and the gallery. TSAB's sales figures have increased by double digits each year, so they already had a unique proposition that translated into sales – the relocation was an opportunity to enhance that, to increase footfall and help them as a brand to flourish and attract an international audience. The 'Playground of Wonders' has that energy to prompt you to buy something a bit unusual because you're in a completely different and exciting world.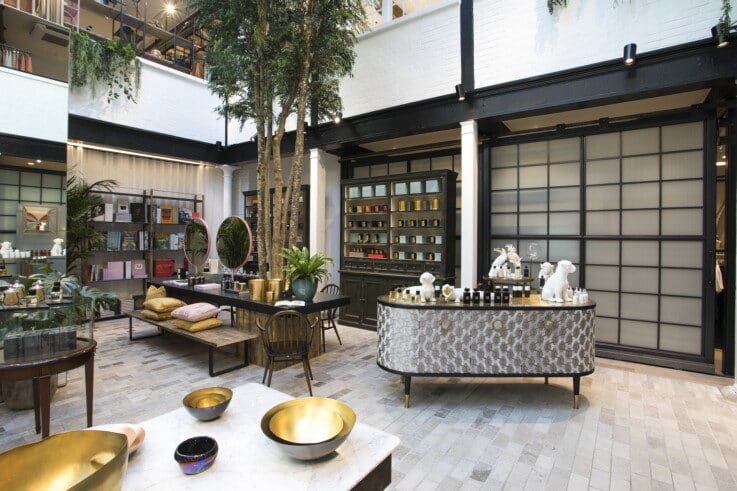 Who are three most inspirational retailers that are wowing you currently?
One for sure would be Veja, the sustainable and ecological footwear brand. By eliminating ads and marketing costs, they're able to ensure their trainers are made using organic materials in an environmentally friendly process. They're very transparent with their business, as a result creating a strong customer following who trust them.
Everlane have recently opened their first ever bricks-and-mortar store, which does a great job of translating their brand's ethos and minimal web identity into a physical space. They create exceptional quality items that are built to last, while revealing the true costs behind all of their products, therefore eliminating traditional retail mark-ups. By being fully transparent, this again builds stronger loyalty between the customer and brand.
The last one is Selfridges. They continually innovate, they're always one step ahead, creating some really cool in-store experiences, immersive window experiences and also host exhibitions, such as The Flipside which looked at what it means for a brand to be luxurious, and Music Matters, where they hosted gigs in store. Brands all talk about the power of experience – but Selfridges have been the pioneers of experience for over 100 years.
Images courtesy of Dalziel & Pow
Who else is shaking up luxury? Here's five brands redefining luxury retail. If you want more content like this, or to keep up with the latest retail trends, click here to join our community.