Coronavirus and retail
How 5 retailers are changing the way we queue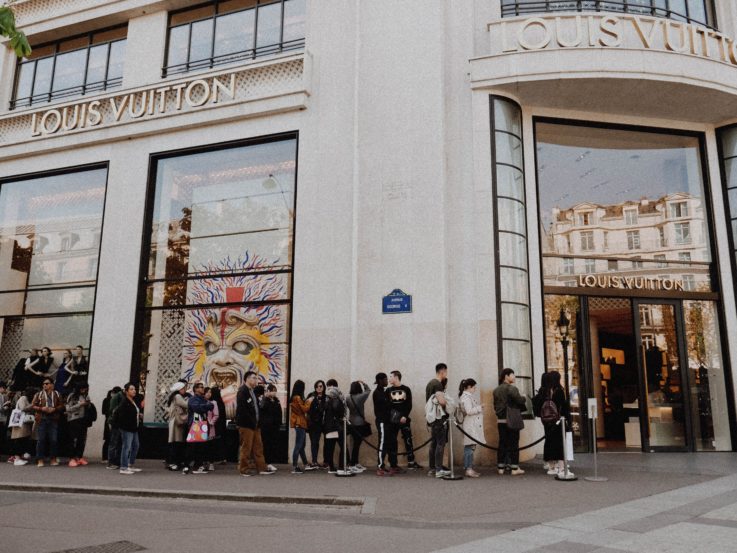 The humble queue.
A familiar part of the physical retail experience. And while it has always been a minor friction point, who would have thought six months ago that it would become a major headache?
Social distancing requirements have changed the way we queue by requiring two-metre gaps between waiting customers. This means that at busy times queues are far longer than retailers ever would have planned for. This has caused issues around practicality and required many to have to come up with creative solutions to accommodate.
Reduced store capacity also has a knock-on effect on queue lengths as retailers adopt a one-in one-out policy.
With the coronavirus pandemic ongoing and many expecting us to be living with it for months to come, there is an opportunity for retail to rethink queuing – now and in the future.
From high to low-tech, here's how five retailers are changing the way we queue.
1. Aldi's automated traffic light system
A familiar requirement of social distancing is for retailers to limit the number of customers in-store at a time. For many, this has meant having staff physically count customers in and out.
Not at Aldi though. It's rolled out an automated 'traffic light' system in its UK stores that uses red and green lights to visibly communicate to customers when it is safe to enter.
The system tracks people as they go in and out to ensure it doesn't let too many people in at one time. Each store can set its own maximum occupancy limit which accommodates for differences in store size.
The idea has clearly been sparked by the coronavirus pandemic, but it could become a staple of queuing in the future enabling stores to control crowds during busy periods and peaks such as sales and holidays.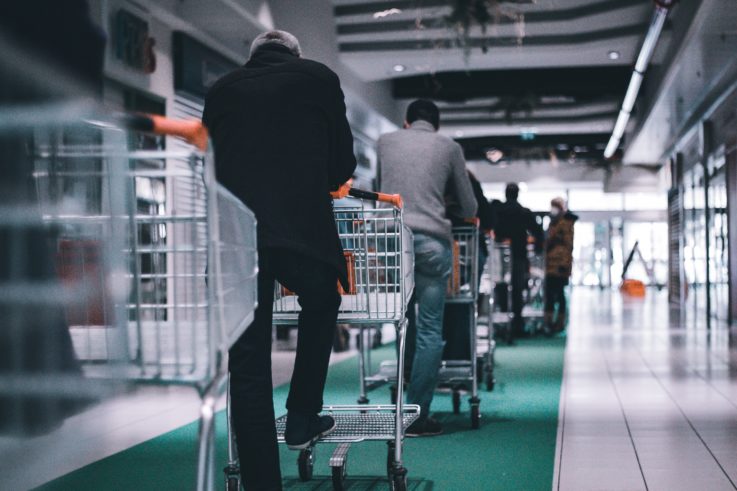 2. Asda's virtual queuing system
Over at Asda, the approach seems to be based on avoiding queues outside store doors altogether.
The company is trialling a virtual queuing system that lets customers book a spot in the queue via their smartphones. They can then sit in their car, rather than lining up, until they're notified that it's their turn to go in-store.
It's unclear if the system allows for customers who haven't driven to the store, or how it would handle a mix of physical and virtual queuing, but it's an interesting concept.
We could see this becoming part of the omnichannel mix in the future giving customers an option to pre-book a slot in advance before they visit a store. Rather than for queuing though, this might work for collection or returns without leaving the car, or even for customers to access extra services like an appointment with an expert or help loading heavy goods.
3. Morrisons' Speedy Shopping lanes
Morrisons has opted for a low-tech solution to the queue challenge. It has created Speedy Shopping lanes for customers who are doing basket-only shops.
Staff are on hand to help direct customers to the correct queue depending on their shopping journey (big trolley shop or small basket shop) with three Speedy Shopping customers allowed in-store for every trolley-using customer.
Stores also have dedicated checkouts for Speedy Shoppers. Overall the emphasis is on getting more customers in and out of the store faster.
While it's interesting to see a queue system focused on different types of customer journeys, there is the potential that customers wanting to do a bigger shop may feel that Speedy Shoppers are getting preferential treatment.
This is one approach to queuing that we could see catching on going forward as retailers look to better serve different customer needs.
4. Lidl's WhatsApp chatbot
Lidl's new initiative isn't so much a queuing system as a means of preventing queues. It has created a WhatsApp-based chatbot for customers in Ireland to find out the quietest times to visit their local store.
Using the chatbot, customers can send a message with the time and day that they'd like to go shopping. The chatbot will then use information about shopper behaviour to let the customer know if the store is usually quiet, busy or averagely full at their chosen time/day. Shoppers can use this information to plan their visit.
This idea isn't just applicable during the current pandemic but could become a familiar part of any shopping journey. Customers already like to be able to check what items are in stock before they visit the store, so why not also find out when you might have a longer wait?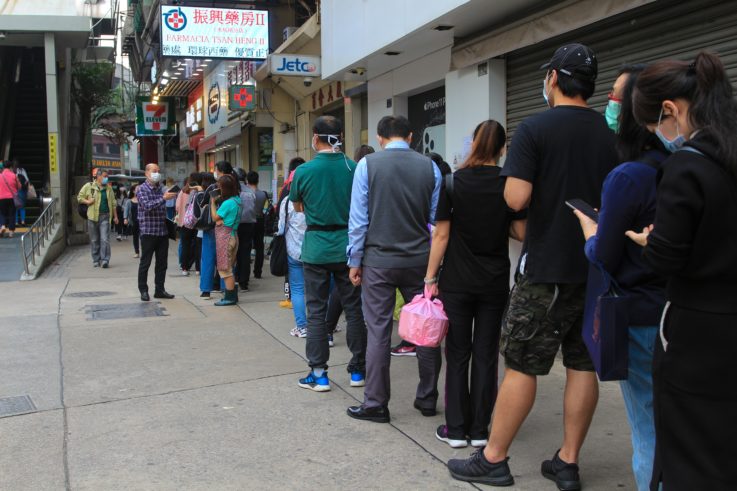 5. Tesco's body imaging automated system
Tesco is also trialling a new concept with its customers in Ireland. Its high-tech automated queuing system uses 3D body imaging to keep track of how many customers are in the store.
A digital kiosk at the front of the store shows how many shoppers are in the store at any one time and the maximum number allowed in. If the store isn't already at capacity, customers will see signage inviting them to enter. If it is at capacity, then they will be asked to wait.
Although cameras are used for the body imaging, Tesco has said that there is no recognition or recording elements to the system.
This is the most technically advanced concept on the list, but there's an argument to be made that retailers already have cameras in their stores so why not get more out of them?
By the same token, because cameras are prevalent in retail stores already, this concept could be easier to roll out than others.
How will we queue in the future?
Queues may be a small part of the retail experience, but they're a consistent one. As such, they're prime for disruption.
While coronavirus may have inspired these new initiatives, the reality is that most of the solutions are applicable during normal times as well. Covid-19 has been the push that retail needed to look at the queue experience and how to improve it.
The above examples are a glimpse at how we might be queuing in the short-term but what about beyond that? Surely the ultimate goal is no queues at all?
That future is likely some way off though. And it may be that we never eliminate queues in retail – or that we want to.
For example, if we get rid of queues in day-to-day retailing (to try clothes on, to pay, to get in store) then queues may become a status symbol. If we see a retailer with a queue then we will assume that something interesting is happening, that something worth waiting for is going on, rather than just that it's busy or short on staff.
The other side of the coin is retail turning the queue into an entertainment or information point. Could tech like AR and VR be used to gamify the experience? Or to make it so customers are no longer stood outside the store but on the moon or in the desert or surrounded by art?
Retailers could also tap into the fact that almost everyone has a smartphone in their pocket to offer a higher level of service to customers. For example, customers could select products or clothes they want to try so they're ready for them when they get in-store. Or they could request to be met by a staff member to help them on their journey. They could flag that they're here to return something or collect something.
Right now, the focus is understandably on keeping customers apart. But whether this 'new normal' becomes just the normal, or we see old behaviours returning, the way we wait in line may never be the same again.
Want to grow your sales? We're giving away a free sales growth plan for large retailers for a limited time. Get in touch to get yours.