Japan
The Best New Retail in Japan – November 2023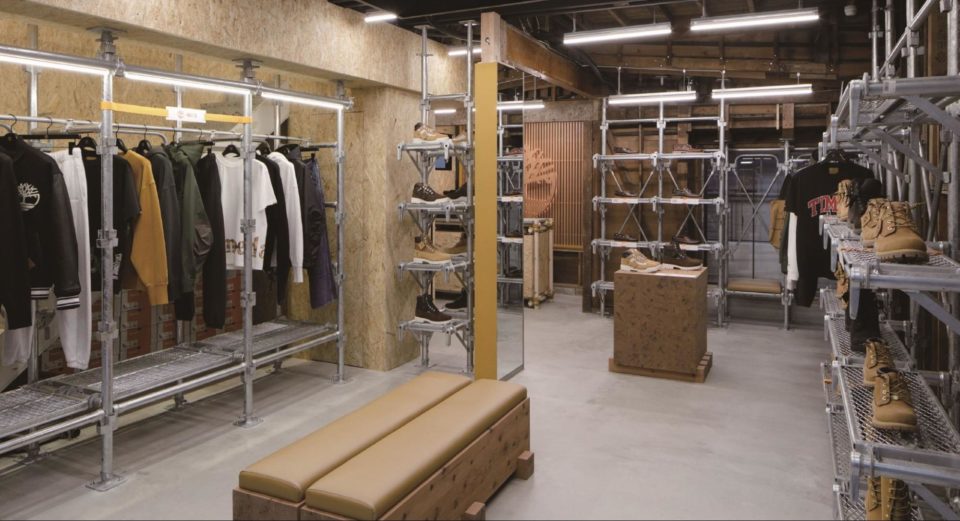 Japan has some of the most exciting and innovative retail around, and this month continues that trend.
Fans and community are the theme for stores in November, with music, football and Virtual YouTuber merchandise and experiences available.
We've also found a footwear shop that looks like a construction site, a fashion store that is full of yellow glass, and a supermarket with a seamless phygital experience.
Find out the best of what Japan has to offer in retail right now.
Timberland, Tokyo
Footwear brand Timberland has chosen Tokyo for the location of its first concept store.
The space is made of unfinished plywood and exposed lighting, with fixtures that look like scaffolding to display the boots, evoking the idea of construction and workwear.
There is a wall for displaying artwork from local artists celebrating Timberland, including artists specialising in paper cutting and collage.
There is also free shoe cleaning and repair services for customers who bring in Timberland boots. Customers can add charms and limited edition patches, and get their items engraved on the second floor. The store also hopes to offer services to print artwork on products.
The store opening was celebrated with a secret performance by Japanese rapper Zorn the day before, and 200 members of Club Timberland were able to pre-order limited edition boots engraved with Zorn's music label.
Universal Music, Tokyo
Record label Universal Music Japan has launched a new concept store for music fans in Tokyo.
The space is designed to be a hub for fans and UMG artists, and is spread across four floors. One floor is for entertainment and experiences, two are spaces for pop-ups, and the final floor features a store within a store, RS No.9 Harajuku. This store is the official shop for The Rolling Stones merchandise and music, and is decorated in the band's signature red and lips logo.
The launch of the store coincided with the release of a new album from The Rolling Stones, called Hackney Diamonds. There was also a London bus for customers to ride and an appearance from Japanese guitarist Mr Hotei.
OK, Tokyo
Budget supermarket OK has launched its new store in an upmarket area of Tokyo.
The store contains a host of affordable products, such as bento boxes, frozen foods and pre-prepared food. The brand is also hoping that its location will attract some new types of customers, such as restaurant owners in the local area and overseas tourists.
Accordingly, the store is also offering Bento boxes with wagyu beef, as well as more expensive champagne. There is also an instant photo area for customers to print photos immediately.
Catch & Go, Yokohama
The first high tech supermarket available in Japan has launched in Yokohama.
The store is a collaboration between supermarket retailer Daiei Inc and tech company NTT Data Corp, and is located within an Aeon shopping mall. The store contains a number of cameras and weight sensors in store to track the items customers purchase, allowing them to simply pick up products and go.
Shoppers download an app to their phone which is scanned when they enter the store. They can then choose their items and leave, with the payment automatically taken from their phone in less than 10 seconds. The brand is hoping that the store will appeal to customers who do not want to queue.
Interestingly, the new high-tech space will be restocked and maintained by Daiei's larger traditional supermarket space in the same mall.
PSG, Tokyo
Tokyo also sees the opening of a new store from French football team Paris Saint-Germain (PSG).
The team is increasingly popular amongst Japanese football fans, and is one of the only sports clubs to host official stores in the country. PSG already has a number of stores in the country, as well as hosting a pop-up in Osaka, which have seen record numbers of sales.
Customers will be able to access a wide selection of official PSG products and exclusive items only available in Japan.
m-i-d, Osaka
Fashion retailer m-i-d sought the design work of Curiosity for the launch of its latest space, maison m-i-d 1985.
The store design stands out due to the use of yellow throughout. The brand conceived of the idea of a box of light as a contrast to the chic black and white garments. The space is made up of panels and boxes of glass with grid lines covering them, mirrored by the ceiling which also repeats the grid lines and glows yellow.
The space also contains a seating area at a bar with original chair designs by Curiosity.
Hololive, Tokyo
A new intriguing pop-up store has landed at Tokyo Station from entertainment company Cover Corporation.
Called Hololive, it features merchandise themed around popular VTubers (Virtual YouTubers), such as the Tokyo Tourism Ambassadors. The items on offer include keyrings, bags, blankets, mugs and other accessories. Customers who purchase over a certain amount will also receive a free item, such as cards featuring Tokyo Tourism Ambassadors.
Visitors will be able to hear some of their favourite VTubers delivering in-store announcements, and it is expected that shoppers will need tickets to gain entry to the store. The store will be open until 18 January 2024.
Get a jump on 2024 with an insider look at your sector and the customer trends that matter. Talk to us about a bespoke report today.