Interviews
How does The Lionesque Group create pop-ups that connect?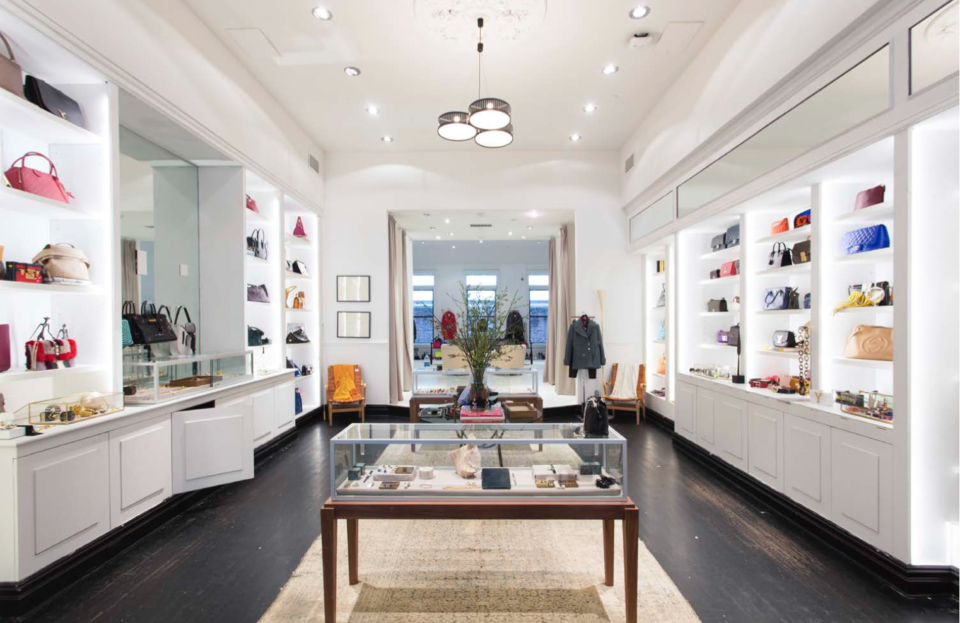 The Lionesque Group knows all about creating connections.
The award-winning company lends its expertise to brands looking to make physical retail work for them. In particular, it is known for its industry-leading pop-up experiential retail concepts.
If you want to create a retail pop-up that resonates, The Lionesque Group should be your first port of call.
We spoke to CEO and founder Melissa Gonzalez about the biggest changes happening in pop-ups, the misconceptions some retailers have, and why her dream pop-up project is still to come.
Melissa Gonzalez – CEO and founder of The Lionesque Group; Principal at MG2.
What does The Lionesque Group do?
We build human connection in physical spaces.
We work closely with brands from the early strategy phase of 'what does physical retail mean for my brand' in terms of the right format, right location, right merchandising strategy, the right technology integration, to design and build-out management. This may be for pop-ups or permanent spaces.
In January of 2020, we merged with global architecture firm MG2, which has really helped us to broaden our expertise, capabilities, and resources.
Do clients typically come to you knowing why they want a pop-up?
It depends.
Some come to the table knowing they want to do a pop-up, but that's as far as they know. Some are still wrapping their head around what budgets would look like.
Some of them come to us with a full model built out and we need to make determinations on location and store format based on this model that they've already projected.
Can you tell us about some of the pop-ups that you've created for clients?
We work across a few areas when it comes to pop-ups.
The first are the marketing-oriented pop-ups. We typically work with larger, established brands on high impact pop-ups of substance.
Examples of this would be the Marc Jacobs Tweet Shop, which will always be one of my favourites. We also worked with Amazon on a 'The Marvelous Mrs. Maisel' pop-up.
The second big area we work in is with fast growing digital-native D2C brands who are coming to physical retail for the first time and want to use pop-ups as a test ground.
We call it pop-up as a prototype. They'll test everything from what's the right square footage and what's the right store format, to what are the right locations?
Even if they think that they've triangulated on a city based on ecommerce data, they will test what's the right neighbourhood within that city, what's the right block and what's the right adjacencies?
The third area is partnering with real estate developers to help them create turnkey pop-up programmes. We've worked with The Roger Smith Hotel on revolving storefronts called The Market.
We currently have a revolving storefront in Seattle called Periodic. Back in 2017, we partnered with GGP (now part of Brookfield Properties) to launch IRL, which was a physical retail store that showcased home related brands in a turnkey solution.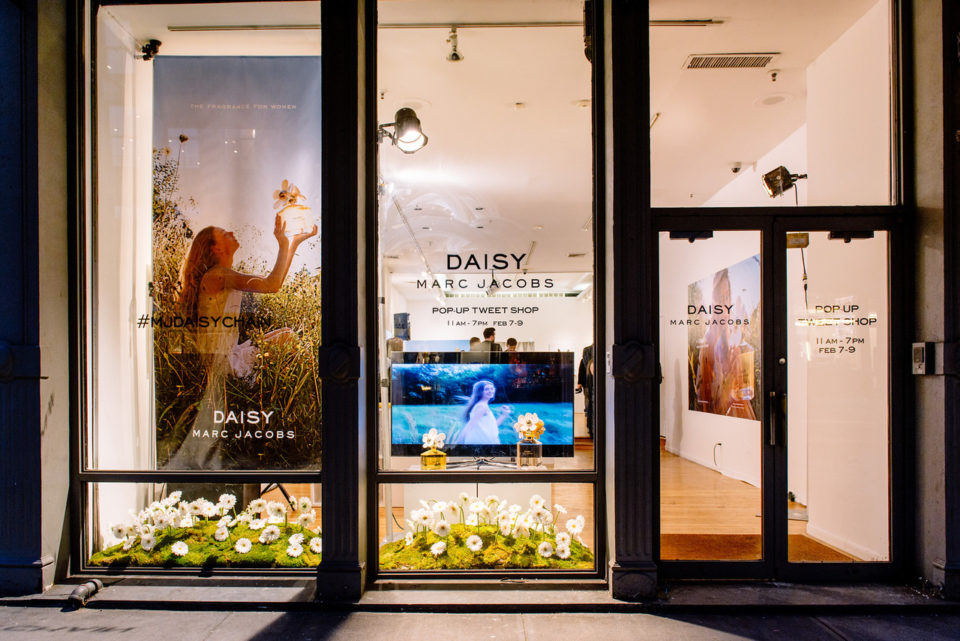 Can you tell us more about the Marc Jacobs pop-up?
It was definitely one of the earlier high-impact projects that my team and I worked on.
Marc Jacobs had a permanent store near the pop-up, but this pop-up was a very curated and focused experience around the Daisy fragrance.
We wanted to really target their target demo of women 18-24 by creating a fun, immersive environment that inspired user-generated content.
For the beauty industry, it was one of the first social currency stores at the time. What I loved about it was that it wasn't about how popular you were or how many followers you had; it was an invitation to participate and I think that was something that led to its success.
Visitors got to be part of Fashion Week with the brand that they coveted. They got to come in and create their own content. Then they would see themselves livestreamed, and then they would take a picture of themselves.
The pop-up had about 10,000 people visit in the four days that it was open and generated millions of social media impressions.
Although we didn't sell any product for dollars during the duration of the pop-up, the brand saw a lift in sales over the next two quarters due to all the organic amplification we were able to create from this user generated content.
It also provided insights too because even if the visitor paid with social, the same fragrances were selling out each day, so the brand was also learning what the consumer was favouring or not.
How do you measure success when brands are using pop-ups to test things?
It's really important during that early strategy phase that we define what we consider a success?
With the Marc Jacobs Tweet Shop or with 'The Marvelous Mrs. Maisel' pop-up, it was about media coverage and impressions and social media posts.
It was not about necessarily selling product for the duration of the pop-up. Although there was the long tail – did more people subscribe to Amazon? Did more people want to download the show? Did more people buy the fragrance later?
A lot of the time, we're tracking that over the next couple of quarters because you see that longer tail impact that happens from all the amplification, media coverage, social media impressions, etc.
With a lot of the digital native brands, we think through all the metrics for success early on. Is it moving SKUs that you don't see moving online? Is it a higher average order value? Is it more products per basket? Is it less product returns? Is it more frequent repurchases?
Some of this thinking helps us inform the flow of the space, the design of the space, the merchandising of the space, and the technology we integrate into the space in order to track that.
We may also do some AB testing. If we're going to be in three cities, then maybe we're going to test different formats or different square footage. We can then extract some insights to help best position them for success in round two based on the learnings from those AB tests in round one.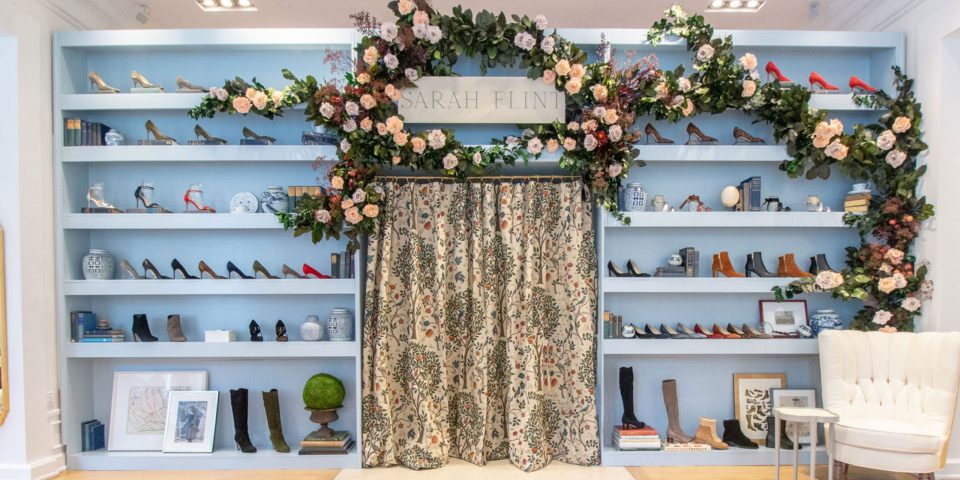 What were the big trends in pop-ups before Covid-19 hit?
Pre-Covid, when a lot of brands were approaching physical for the first time, it was all about 'what are the things that we can't deliver or answer for in our online community that we want to bring into physical?'
A common one is creating a fit shop.
The Sarah Flint pop-up that we did at the end of 2019 was a fit shop. It was an immersion into the brand and the lifestyle of Sarah Flint in the way in which it was designed, but the customer experience was about finding a perfect fit.
What did the material feel like? What do the colours look like? What were the different heel heights? Visitors could create a customer account and gather all these insights into how the brand fit for them, which they could then also use to shop online.
Community building was a huge aspect as well. A lot of the pop-ups weren't just for sales, but also designed to host events with like-minded partners that didn't compete for wallet share.
For example, Sarah Flint did a lot of events with powerhouse women, and she had Karlie Kloss come in. It was really about building human connection around multiple aspects of the brand – the product, the lifestyle of the brand, and the community.
Those are the opportunities in physical that you don't get to do in the same way online.
Is the pop-up aesthetic changing?
We did see a little bit of a trend of people trying to do stuff more inexpensively.
We always tell our clients that even if it's a short-term pop-up, it is a long-term permanent impression that you're making with your consumer, especially if you're introducing yourself to physical for the first time.
Sometimes brands take the approach of 'I just have to get the store open and if my product's there it will move', but it's a little shortsighted to the larger opportunity of the impression you're making to a customer that could make them a fan and an evangelist for your brand.
If you really want to create that, then you need to make a bigger investment.
If you look up certain categories online, there's more brands than you can wrap your head around that are trying to compete in that vertical. Having that differentiation, having that message clear and utilizing physical to really communicate that is really important.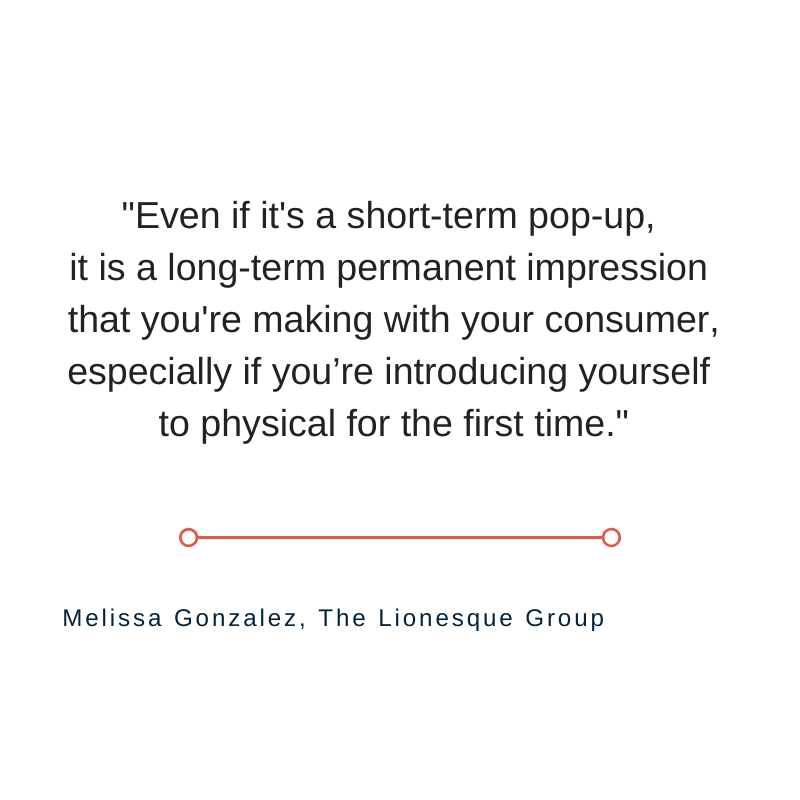 What role does the pop-up have going forward? Will it always be supplementary to physical retail?
I think it's a permanent supplement.
I think as brands and retailers look at their physical footprint strategy and their overall portfolio, they're going to identify that some cities require a flagship destination, while others need a focused smaller format environment.
In other cases, it will be that a pop-up makes the most sense because the market is important to the brand, but they can't justify the economics 12 months a year. On a seasonal basis, or when new product launches are coming out, or key times around announcing new partnerships, is when it's going to make most sense for them to be in those cities.
We're also going to continue seeing more shop-in-shops as we have with Tonal and Nordstrom, and Ulta and Target.
Do you have a dream pop-up that you would like to build for a client?
I still think there's such an opportunity to create a truly immersive yet tactile retail environment. A space that is highly emotive with a sensory element to it, but that is also complemented with integration of technology in a purposeful way.
I think we haven't seen a ton of successful integrations in that way because of cost and time to implementation. But also, I've seen a lot where it leans one way or the other. It's either highly analogue or it goes all tech and there's not this really organic symbiotic relationship of the two.
I feel like we're just starting to see more opportunities to create something where it has all of those elements. Customers go to physical retail for a reason. They don't just go to touch iPads.
Customers go for the lifestyle and the discovery element of that brand and to be able to immersed into what that would be, but have that purposeful integration where the technology is furthering that experience in a deeper way – whether it's endless aisle access or deeper product information, or more seamless ways of checking out – but not at the sacrifice of the tactile aspects of physical retail.
One of the silver linings of Covid-19 is that a lot of technology companies went back to the drawing board to create more flexible models – short-term contracts versus long-term contracts, more plug and play integration, more templating of what the content needs to be.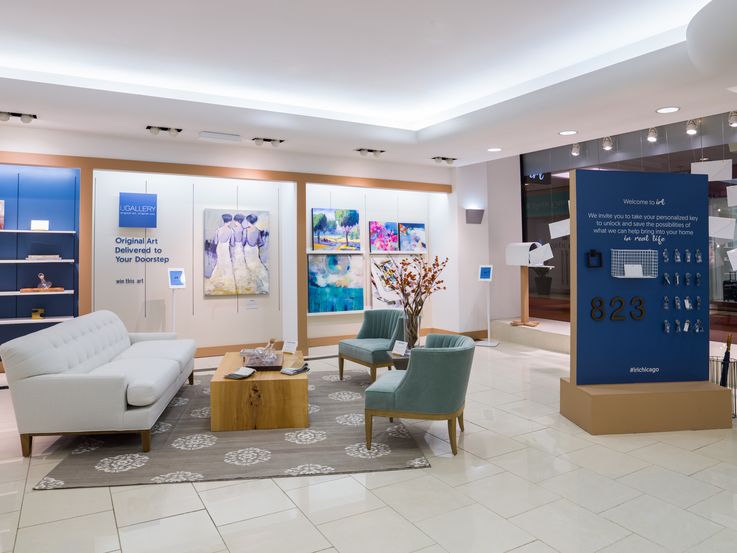 Is there anything you'd like to see change regarding retailer attitudes to pop-ups? Are there any misconceptions?
I think the constant reminders that we share are location matters.
Sometimes there's a misconception because brands or retailers may gravitate towards cheaper options. But at the end of the day, location matters so much, especially with pop-ups as you have a limited time to be in front of your target audience.
Budget matters too. If you don't have the budget to do it right, then maybe it's not the right time. There are things you really have to be careful not to sacrifice on because it's a temporary time that you're in front of your customers, but it's a permanent impression you're creating.
I think that there's still an underestimation of the importance of the staff as one of the key touchpoints in the space. We often see that under-budgeted and there's not enough allocation of time to properly train and onboard them to 'speak' the brand.
The other thing is that you should have an idea of what your merchandising strategy is. It still surprises me how many approach a pop-up without any sort of merchandising strategy, because that informs a lot of what needs to happen in the store.
The last thing is that you still have to give yourself time to plan it out. Even though it's short term in duration, if you don't give yourself a few months to properly plan it out, it's at the sacrifice of the pop-up.
This isn't just from a design and build standpoint, but thinking about what's the marketing plan to support, to drive awareness, to drive traffic, to increase the opportunities for amplification while the doors are open.
Has technology, like smartphones, had any impact on decision making around location? Are pop-ups less reliant on foot traffic because you can drive customers to the space through digital channels?
There has to be a certain level of convenience.
There's been some pop-ups for brands where it didn't matter where we went as we were going to get a following, such as sneaker brands. Those are probably exceptions.
On average, I don't think you should rely 100% on the traffic you'll drive. You still want to position yourself for relevant organic foot traffic. Adjacencies matter, especially if you're in a shopping center.
The average person doesn't spend all day at a mall like they used to, they might go to three to four stores when they visit. You want to think about what the right adjacencies are for your brand, thinking of a consumer journey, so that you're going to hit that mix of four stores and get in front of your customer.
If you do want to plan a pop-up around something that's actively happening in a city, whether it's NBA All-Star weekend or a marathon, then you're going to want to think about proximity. How do you make it most convenient for your customer that you're targeting?
Likewise, if your audience is now mostly working from home, then maybe a suburban destination makes more sense over an urban one right now.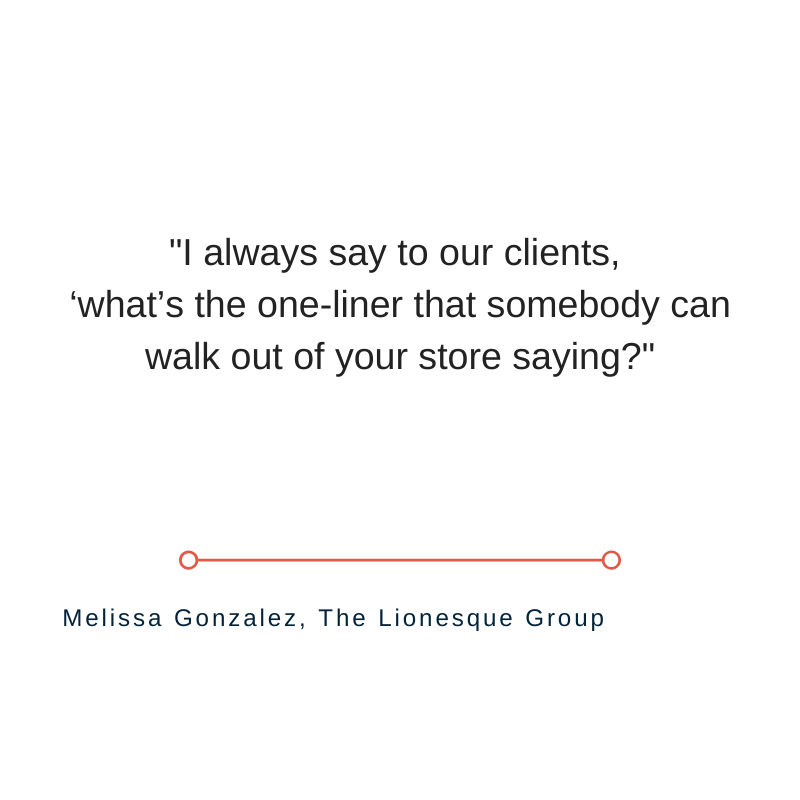 What are the other ingredients to having a super successful pop-up?
A marketing plan is important. That can't be an afterthought.
What's the buzz leading up to opening? What's that opening week moment? What are you doing to continuously remind people and keep that awareness going throughout the life cycle of the pop-up?
I always say to our clients, 'what's the one-liner that somebody can walk out of your store saying?' Don't overwhelm them with overstimulation.
Curation of product and experience and the story of the store is even more important in a pop-up than a permanent space. People inherently walk into those destinations ready to discover, more so than a store that's around 12 months a year.
But they're only going to best receive that if it's a clear point of view.
As an internal test, ask yourself 'what's the one-liner that they can easily walk out repeating to themselves, to somebody else that they talk to, if they post to socials', because it's that clarity that's going to make the deeper impact on them with the experience they just had with your store.
What do retailers need to keep in mind going forward?
Even in one of the hardest years that most of us have lived through, we've seen that people desire, need, and want human connection.
I don't think we could ever be 100% online. Keep in mind though, that if customers make the choice to go to a retail experience, they're going to expect it to be better than it used to be.
People want that connection, but they're going to walk in now having even more fluency on mobile, on shopping online. The transactional part to them is going to have to be even more seamless than it ever was before. They're also going to walk in with more product knowledge than they ever did before.
It's not just the design of the space or the experience of the store. Your store team needs to be as knowledgeable as possible so that they're positioned to add that layer on top of what the customer already knows when they're walking in the door.

Images courtesy of The Lionesque Group