Interviews
How Mash Staffing's approach to hiring is making for better brand experiences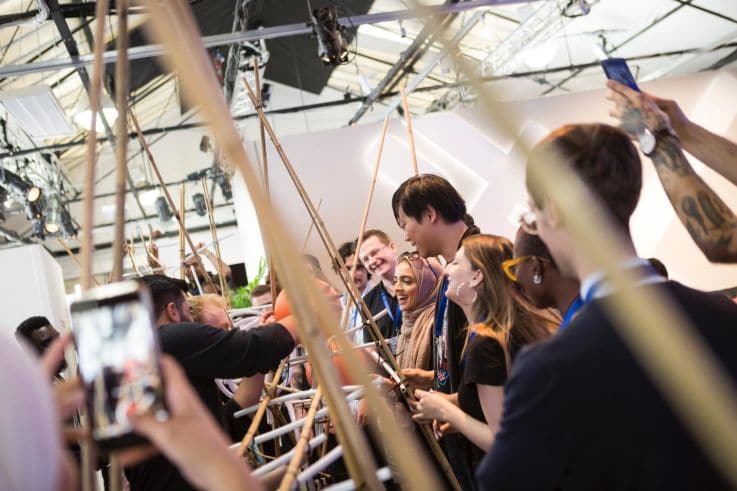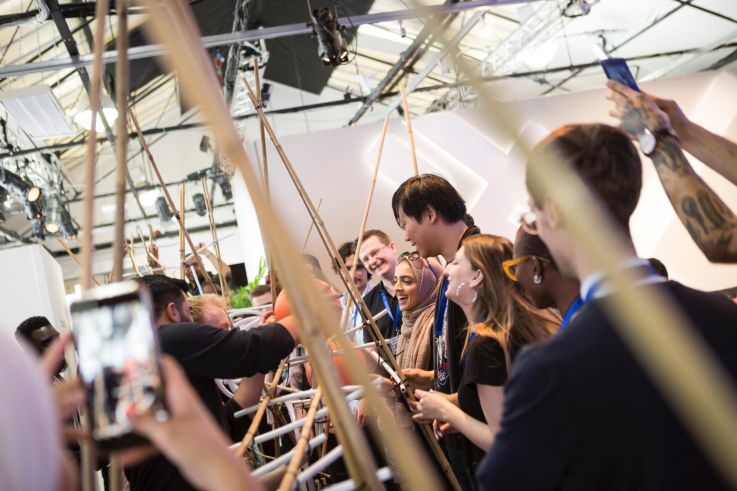 Your staff can make or break your in-store experience. Mash Staffing has years of expertise in finding brilliant people that can build a brand. It believes that the best approach is to match people and their interests to positions so that they feel positive and enthused in their roles.
Nowhere is this seen more clearly than in the new Samsung space in King's Cross, London, which Mash provided all the staff for, and continues to manage them. The company's digital tools also help set its staff apart by giving them a channel to communicate better with their employers.
We sat down with MD Chris Wareham to find out the company went about finding and training the staff for Samsung KX and how brands can improve their staff relations.
Chris Wareham, Managing Director, Mash Staffing
Can you tell us about Mash Staffing?
Mash is in the business of connecting people with brands. We started out providing staff for brand activations and experiential marketing initiatives.
We have over 4,000 people on our database with a focus on the individual. We get to know people and what their passions are. What are their interests? We then work to match people with positions that feed those interests.
We have provided all of the staff and their ongoing management to the new Samsung KX space in London. We provide Peloton with staff for their new studios and we also work with brands including Nike, John Lewis, Tesla, Waitrose and Lavazza.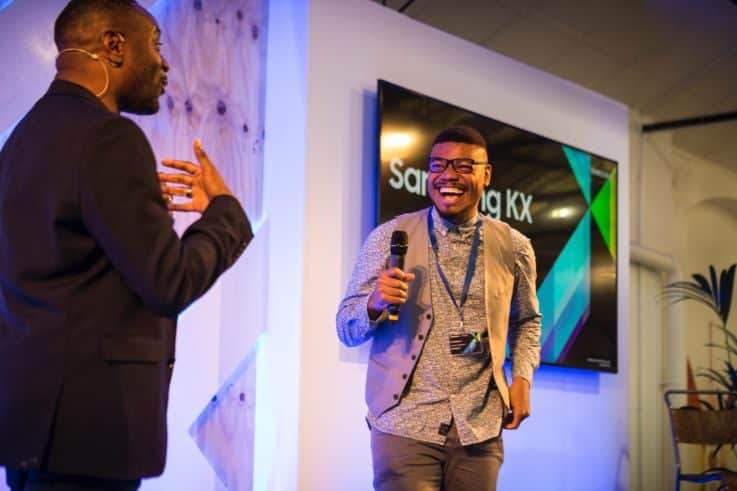 What makes you different?
A point of difference for Mash is that we have always pioneered digital products that make our clients lives easier.
Our M+ platform was developed having identified a need for clients to simplify the measurement of data and metrics during their nationwide brand experiences – how many people walked by, how many tried, what was the weather, what did it look like etc.
In the past, this information would have been gathered together in various documents or spreadsheets, which were extremely time consuming and difficult to make sense of. With M+ Reports, staff on the ground are able to capture information via their digital device which is then collated into an easy-to-digest format for real-time client reviewing.
How did you come to work with Samsung?
I've been working with Samsung in some capacity for most of my career, Mash first started working with them during the 2012 Olympics activating their experiential roadshow, Samsung Galaxy Studios, in about 8 locations around London. Originally these spaces were just for showcasing products, but as brand experience has grown up Samsung soon realised they needed to start transacting as customers wanted to buy what they saw.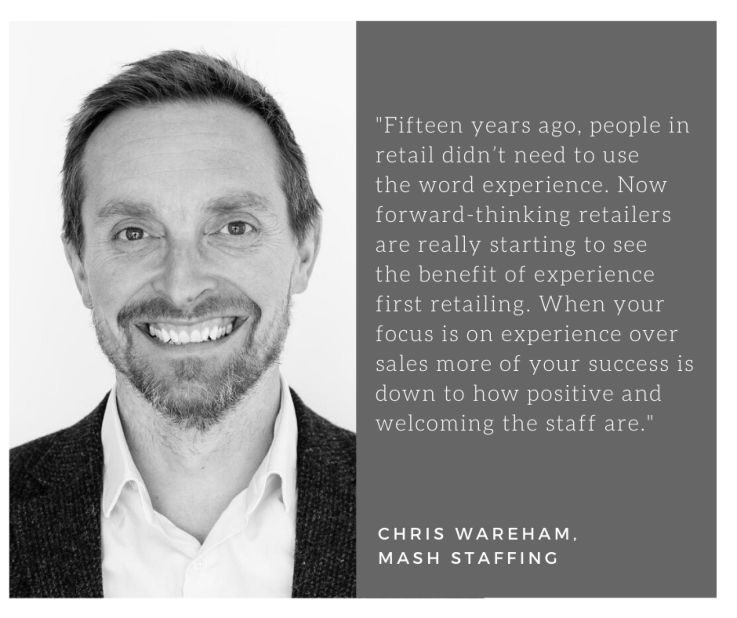 How is the approach at Samsung KX different?
Fifteen years ago, people in retail didn't need to use the word experience. Now forward-thinking retailers are really starting to see the benefit of experience first retailing.
Samsung KX is not a store or a shop. It is a space for people to discover and fall in love with the brand. You can simply come in and enjoy a coffee and do some work, enjoy an event or discover and try Samsung's range of products and experiences. There's no pressure to buy anything."
The KX team are measured on dwell time and satisfaction – customers are asked if they would recommend Samsung when leaving the store. When your focus is on experience over sales more of your success is down to how positive and welcoming the staff are.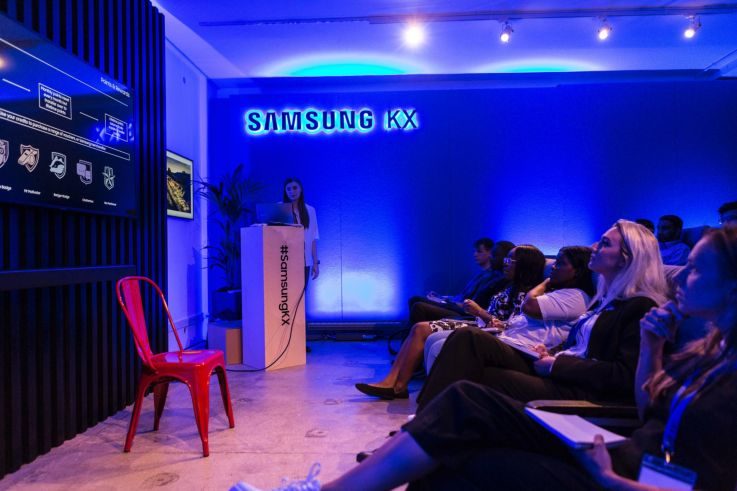 How did you find and train the staff for the space?
We advertised for 90 roles and received over 15,000 applications. We then held casting days and interviews to find the best candidates.
We believe that face-to-face interviews are important. Someone can be great on video but not be the right fit for the role in person and vice versa. We also hired for personality rather than tech expertise. You can always teach passionate people about the products, but you can't change their personality.
When it came to the training, we transformed an event space at Shoreditch Yard into a totally bespoke training facility for three weeks. The Samsung KX space is all about experience, so we wanted to give the staff a truly experiential training experience.
We also tried to live the values that Samsung wanted to instil into the staff. There were four main themes to the training – brand product, brand behaviour, teambuilding and wellbeing. As part of that, we ran yoga classes, provided great street food, ran teambuilding exercises and so on.
We've had some amazing feedback from the team, many claiming it was the best retail training they'd ever been on.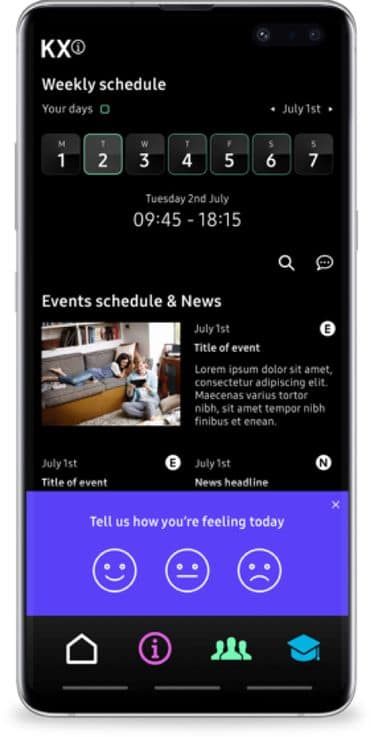 Can you tell us about the staff app?
We've created a bespoke app, KXi, that acts as a staff portal. This is essentially a digital handbook and is a platform for them to access information and share feedback.
It contains FAQs about payroll or queries, for example. It also has a mood indicator where staff can click a happy face, neutral face or sad face to share how they're feeling. While this doesn't remove the personal connection of speaking with colleagues, it acts as an additional support mechanism to be able us to understand and respond to how staff are feeling."
We believe that the staff are there to enhance the brand, rather than transact. As such, we think this is how a brand should interact with their staff. Knowing the mood of those who work in the space is important in ensuring its success – happy staff make for better experiences.
The aim is to make Samsung the place people want to work. We're making it clear that people can share their thoughts or opinions. Open and honest communication means that we can talk about things that are happening before they become a problem.
People really like working for Samsung. It's a very different vibe.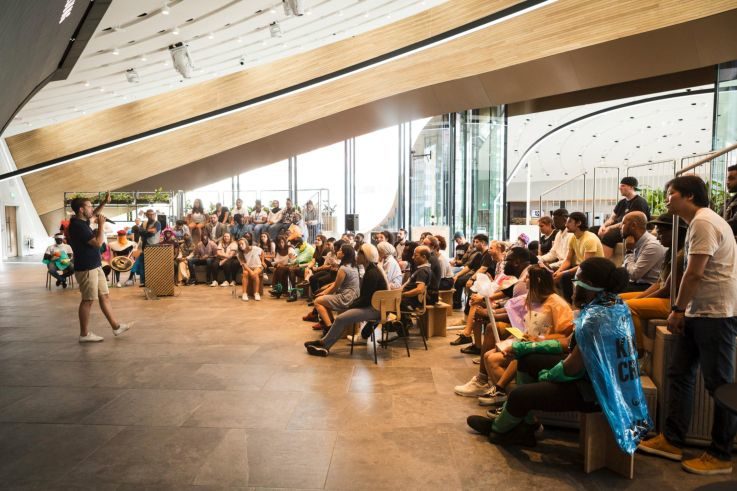 Do you have any tips for retailers looking to engage better with staff?
It's all about ongoing engagement and motivation. You need to clearly communicate with people and create an environment where they can feel they can talk freely about how they feel.
The other thing is just getting the basics right – paying people a fair wage and on time, setting a clear progression path, providing a nice staff area and so on. It sounds obvious, but there are lots of people who aren't doing it.
Do you have any thoughts on how experience can be linked back to sales?
I think it's very hard to tie experience directly back to sales when so many sales happen across different channels. With Samsung, the KX space is a feeling, a perception, a love for the brand. Building that relationship with customers is what's important.
Images courtesy of Mash Staffing
These 47 top new concept stores are a glimpse into how the world of retail is changing – which trends can you spot?
Watch this space for more interviews, retail openings and retail innovations. You can also follow us on Twitter, Facebook or check out our LinkedIn page. See you soon!