Tokyo
Inside the inspiring retail trends of Tokyo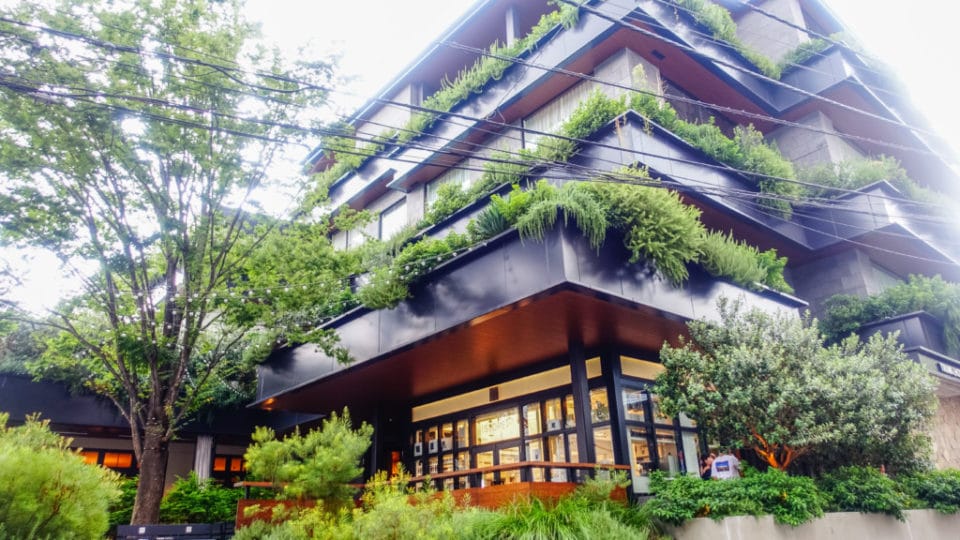 Tokyo is one cool place. Not that you need us to tell you that. The city's retail is no exception. Tokyo is a place of big ideas, great design and locally tailored approaches that keep customers coming back. Join us on this mini seated retail safari to explore some of the trends shaping the city's shopping.
If you want to inspire your team to think more creatively or are looking for a fresh take on visual merchandising and tech, then Tokyo is the place to visit. Get in touch to book your personal Tokyo safari today.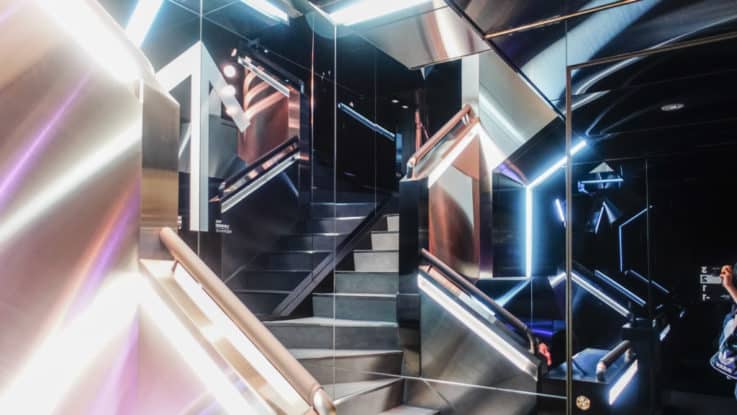 Wow visual merchandising
It doesn't matter what you're selling in Tokyo, the visual merchandising is on point. From cool internal structures to awesome displays, it seems like almost every store is working to create a more interesting environment.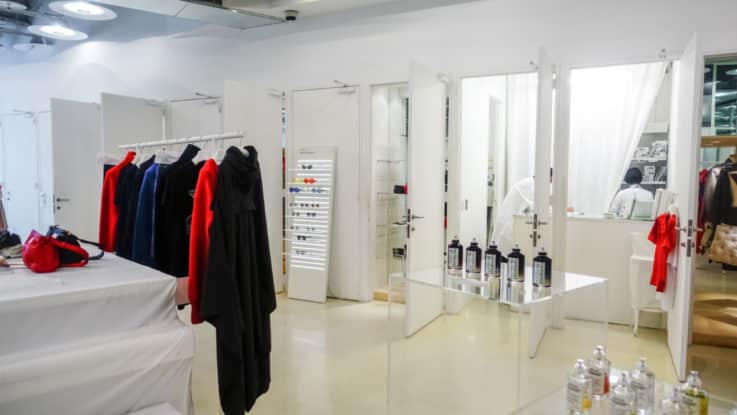 We discovered one space that uses doors to great visual merchandising effect. While some products are out on the shop floor, it's really all about the series of doors in the internal walls. All of the store essentials like cash desk, fitting rooms, display cabinets and stock rooms are hidden behind them which makes them functional, as well as a cool bit of design. You're never quite sure what you'll find behind them, but it's great fun to find out.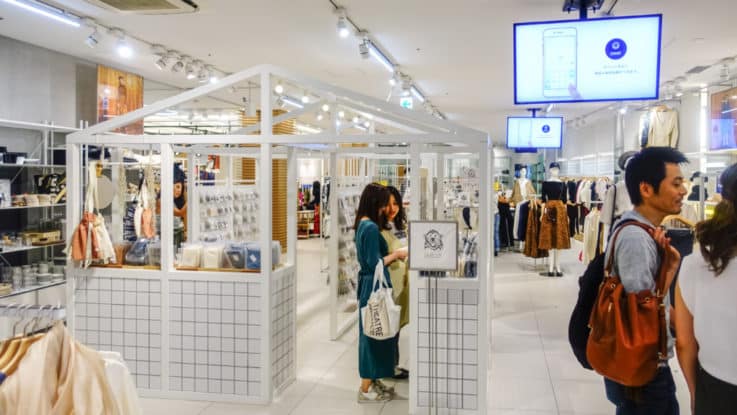 At another store we visited the company used its app as part of its visual merchandising. The store has digital screens throughout which encourage customers to whip out their phones to interact with the brand in better ways from style inspiration to discounts to a chat function. It's a great example of how tech can be used as an enabler. Rather than having to update the visual merchandising manually, the brand can use the app to keep providing fresh content to customers, and drive interaction at the same time.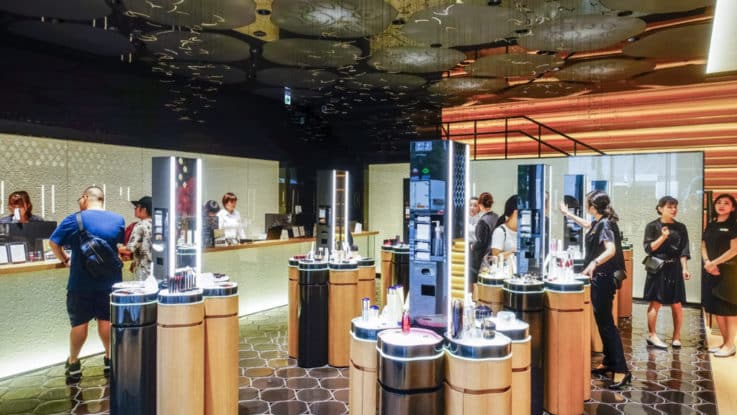 We also visited a beauty store where everything was laid out like it was expensive jewellery. Rather than the products feeling like something you would just buy, the visual merchandising gives them covetable status. Instead of being stacked high, just one of each item is displayed on stands. It creates this sense of the products being something exclusive and therefore more special. You feel as though you want to stop and browse because you're not overwhelmed by masses of product.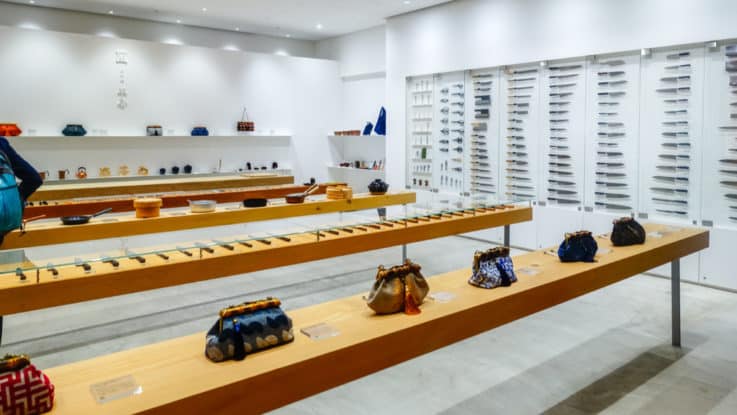 Anything can be sold in this way as a beautiful knife shop that we visited shows. The knives are laid out in a gallery/museum style which encourages you to move around and find out more about them. In this case, the breadth of the range creates a perception of deep knowledge. There's a sense that you can get every kind of knife that you could possibly need there and, therefore, there is no need to go anywhere else.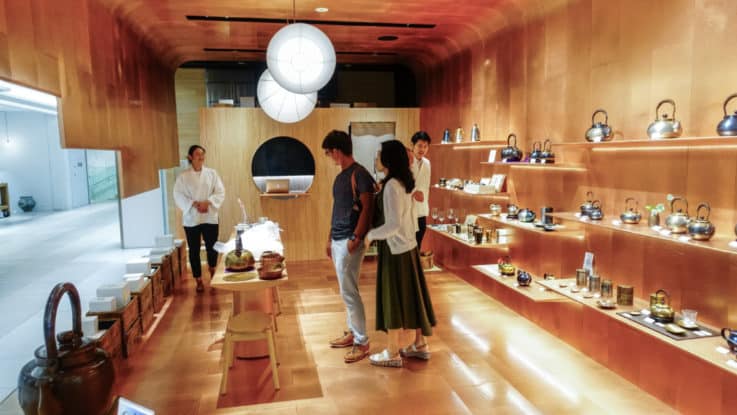 It was the same story at a tea kettle space we visited. The store design packs a serious wow factor thanks to the use of copper colouring for the floor, walls and ceiling. It's a really cool nod to the traditional copper kettle and helps to demonstrate the brand's expertise and heritage in tea making.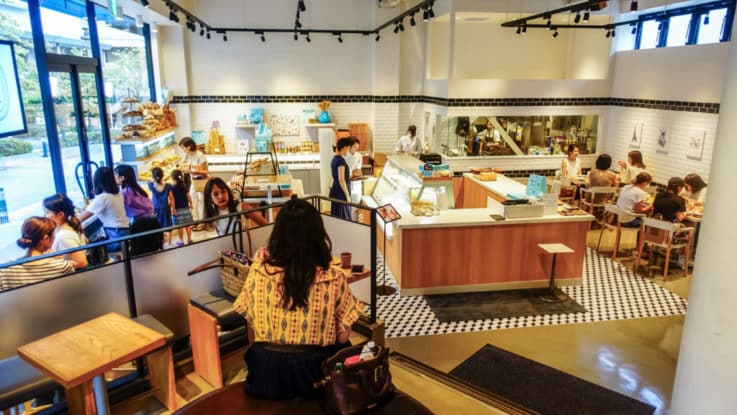 Coffee and retail combined
The whole coffee shop within a store trend is still going strong in Tokyo. What's interesting is the variety of different retail concepts it shows up in.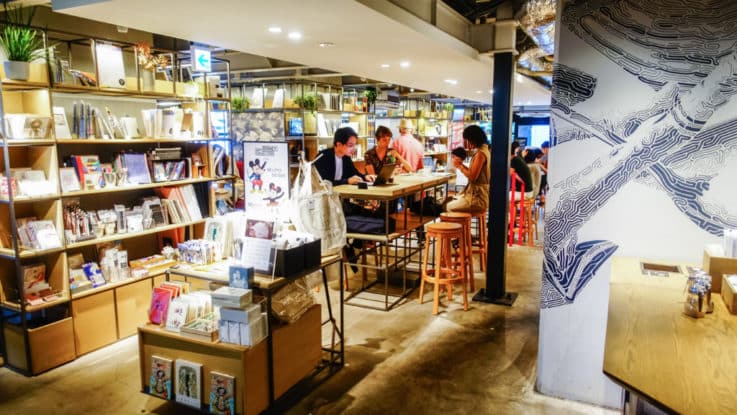 One of the most established is the coffee and bookstore combination. We visited a collaboration between a major international coffee brand and a leading local book seller which is all about encouraging people to spend time in the space. It's well-suited to the nomad and freelance worker crowd with spaces to work provided in and among the books, and a buzzy, bright atmosphere.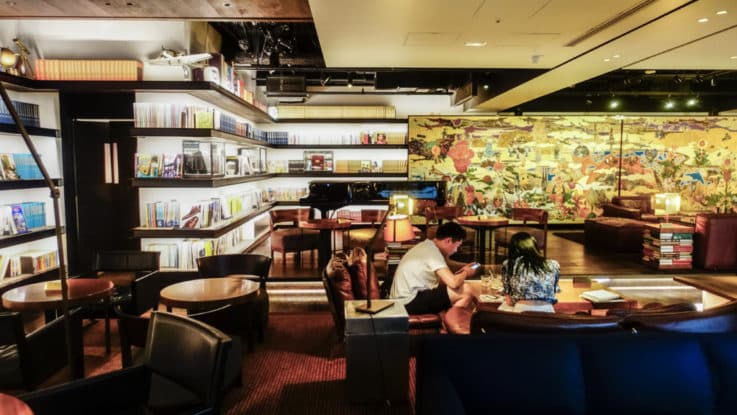 Another company has partnered with the same major coffee brand but created a different in-store vibe. This is a slower experience with customers able to sit and have a drink in a space that feels like a large luxurious library or home. It feels quiet and relaxing, and somewhere perfect to sit and have a look at your new book. There's also an extensive travel section at the back of the store where visitors from all over can find guides and advice.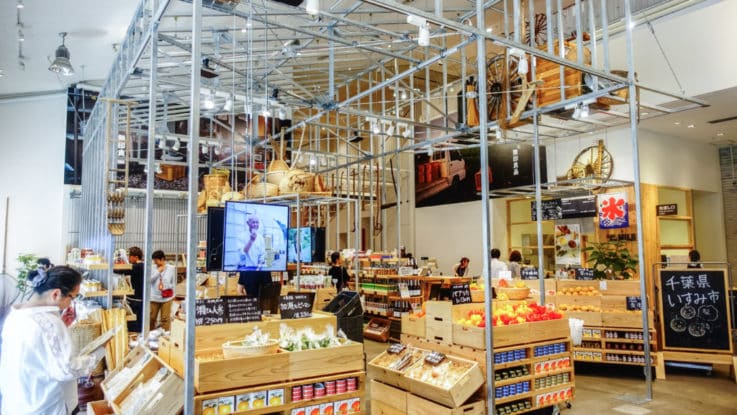 At a well-known local homewares brand's store the focus was on lifestyle living, which in this case also included a massive bakery and café. This isn't a key part of the brand's business, but a way of getting customers into the space and experiencing the kind of life they could have with it. After all, not everyone who comes into your store is necessarily there to buy.
By giving them another reason to be there, whether that's to have a coffee or something to eat, you get them into your world. Afterwards they may then look around and find that they just can't live without your products in their life. The brand hosts various in-store events and talks for the same reason.
Another café has taken a different retail tack by partnering with an e-cigarette brand. Customers can visit the in-space desk to buy all of their e-cigarette essentials and accessories with personalisation available. There's an argument for saying that the initiative plays up a connection between coffee and smoking in a modern way, but it's also a means to capitalise on the growing e-cigarette market. People who come in to top up their e-cigarette may also be tempted to top up with a coffee.
In addition, the space caters to the laptop worker crowd by offering free photocopying. A simple service, but one that might cause customers to choose it over a competitor. It taps into the trend of becoming more useful to customers, rather than just trying to sell to them.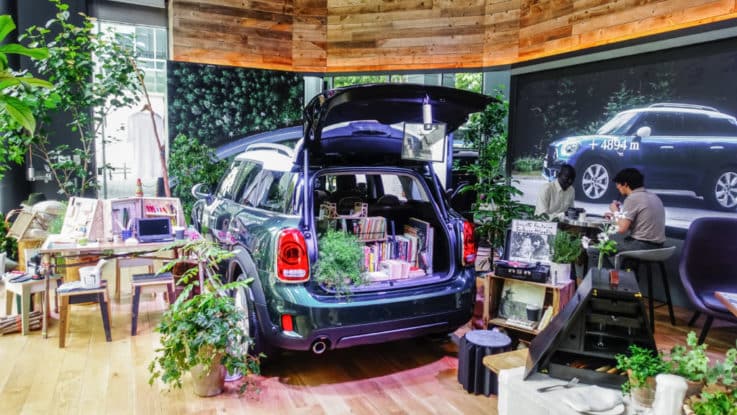 Even brands that are coffee shops and restaurants first are adding in additional experiences to attract and retain customers. At one brand, known for its markets, restaurants and coffee shops, we visited a space that had an impressive experiential corner for a major car brand. Featuring an actual vehicle, plus imagery and video, the experience was deliberately tailored to fit in with the coffee shop's environment. Plants and lifestyle elements like books helped to make it feel in keeping with that world, and therefore more attractive to the coffee shop's customers.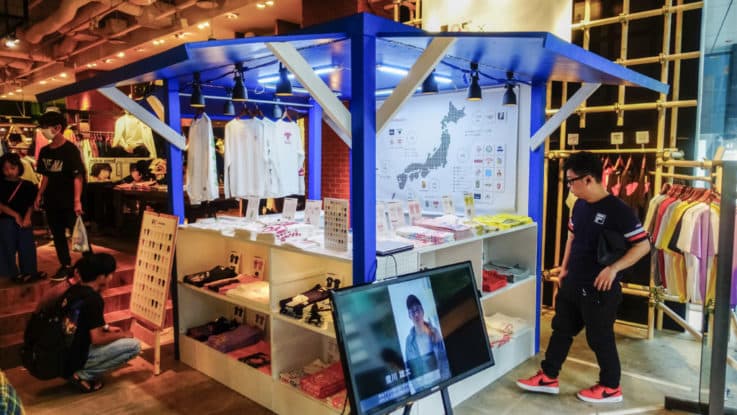 Another coffee shop we visited took a similar tack in making its space more attractive by offering more than just food and drinks. In this case, it was a series of cool pop-ups that customers could browse and shop. The range of different products and the cyclic nature of the pop-ups means there's always something new to explore. And that gives customers a reason to come back.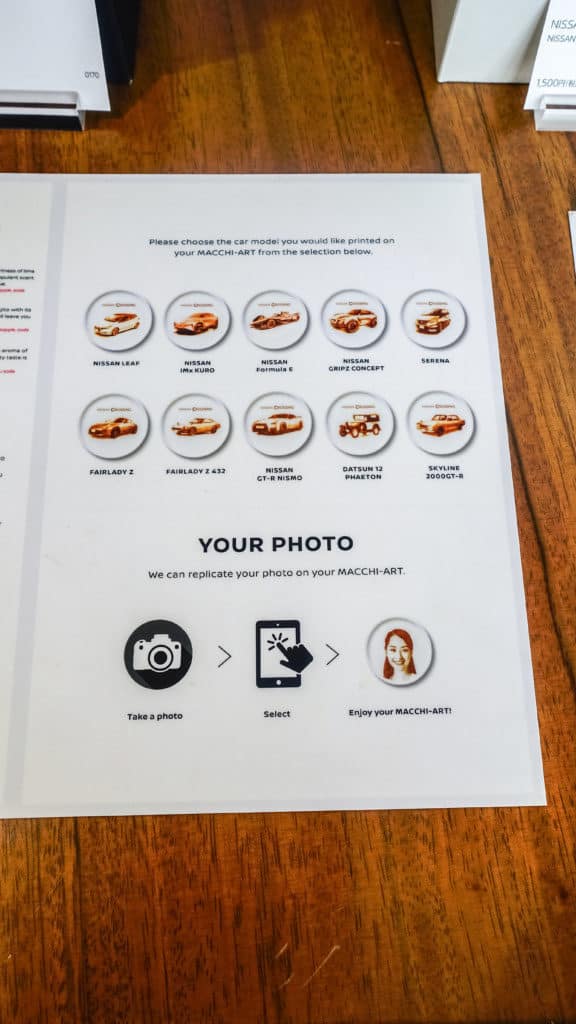 Coffee is also something of a major trend within the car world. A number of major manufacturers are using experiential spaces with cafes to bring customers closer to their brand. One of these spaces even enables customers to get their favourite model of car, or a selfie, on their coffee. It's a simple offering but adds a fun factor to the standard coffee buying experience. It's also the sort of fun image that's easily shareable on social media, which helps spread the brand further. And all for very little effort.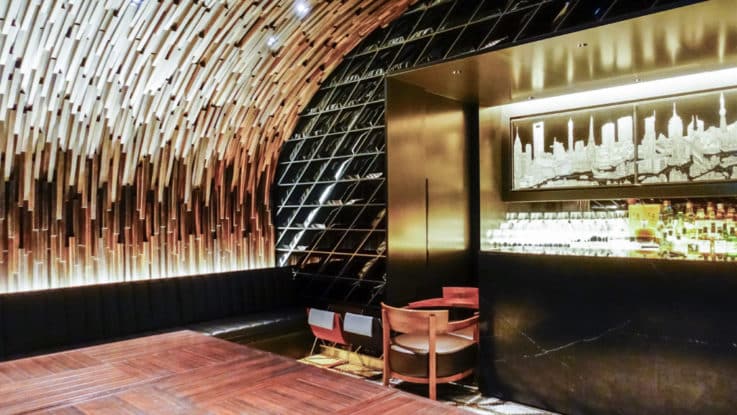 Another leading car brand uses its space to promote its cars without always referencing them by taking a lifestyle approach. As such, the exhibitions space may have installations related to a certain model or something completely different. Likewise, its in-store high-end craft shop sells a variety of different products but all aim to emphasis the level of quality associated with its vehicles.
Downstairs is an invite-only basement where the brand hosts regular events, workshops and talks with different creatives. There's also an in-store café and restaurant to encourage customers through the door and get them to stay longer. It's about creating a space where people can get a taste of what it's like to be part of that brand. And if they like the feeling then they're more likely to consider it when looking for a new car.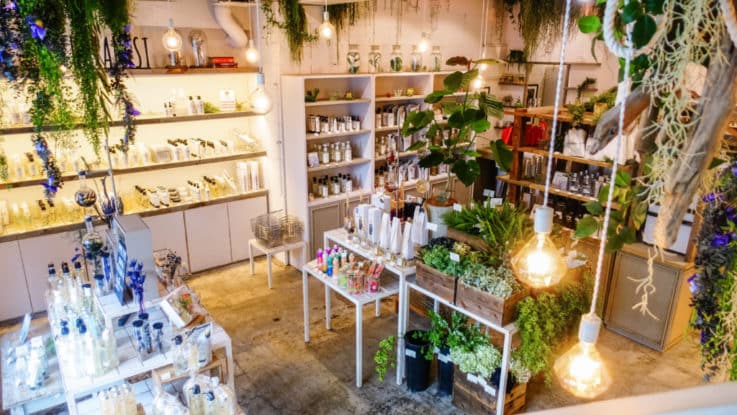 Elsewhere we saw cafes being used to help sell skincare, clothing, lifestyle goods and more, or to provide craft workshops and other experiences. It shows how the lines between different types of retail are blurring as spaces become more multi-functional. It's a trend that speaks to how we live our lives – we don't do things in a very regimented, separate fashion.
We go out and meet friends and shop and get a coffee and go to the cinema and have a drink and have something to eat all within the same trip sometimes. And whilst it might seem that music and clothes and coffee go together in an obvious fashion, we saw one space that blended a retail experience around different types of paper with an urban farm and a café. Clearly, there's a lot of cross-pollination that can be explored.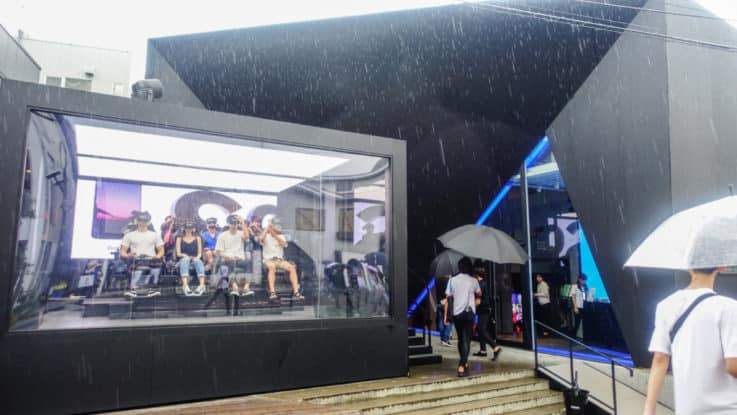 Tech experiences
Like many major retail cities, Tokyo is embracing tech more and more. At the moment though it's being used more for customer experiences than sales gimmicks.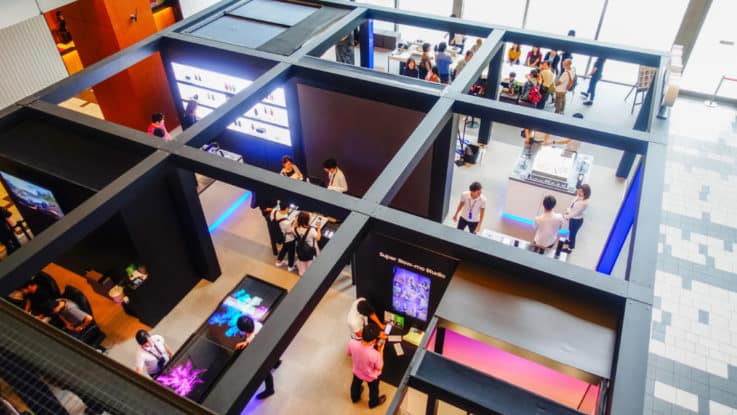 One major electronics brand has filled its space with all sorts of fun, tech-enabled, interactive experiences. From a virtual reality rollercoaster to a slow-motion video studio, the space didn't just entertain, but showed off what the brand's products could do. By giving customers something to do in the space the brand makes its products less intimidating. They also become more desirable as once customers have seen them in action, they're more likely to want to take them home with them. We also saw a pop-up version of this from the same brand, which although occupied a smaller area, still managed to pack a punch in terms of the experiences offered.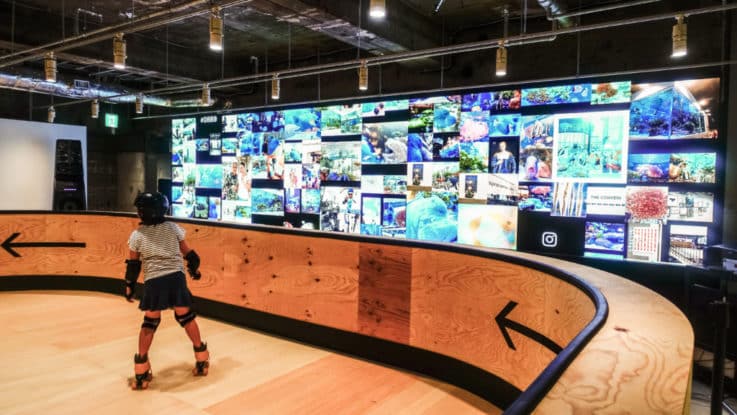 For another leading electronics company the refurbishment of its main building has given it the opportunity to do something different. It has created an experiential park space with lots of different interesting things for people to do. There's a real broadcasting mini radio station, a pop-up roller rink and digital tables where customers can play games together.
The roller rink has a video screen that shows pictures from customers that use the corresponding hashtag. It's a nice bit of consumer generated content that aims to make people feel closer to the brand. The fact that the park is all about fun and experiences, rather than racks of products for sale, also helps drive this good feeling. It's a space where people can just come and relax on their lunch break if they like – something that you can't say about most brand spaces. The park is set to expand over the coming years, which demonstrates a real commitment to customers.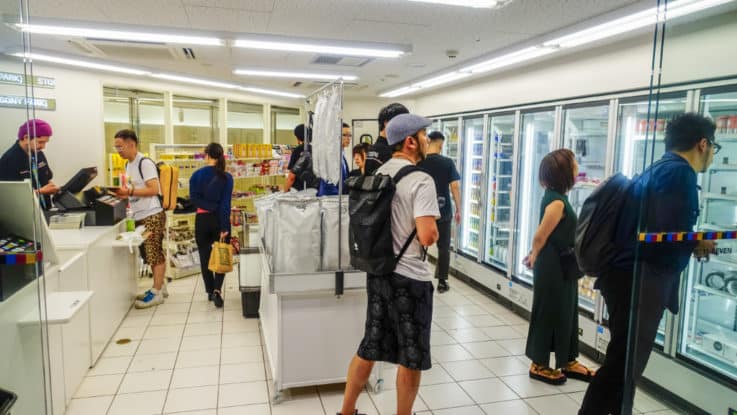 The park is also home to a cool concept convenience store from a local designer. It's deliberately designed to look like a typical convenience store, but the goods on offer include clothing and accessories. They're packaged up to look like grocery products with t-shirts like pre-packaged sandwiches and hoodies in crisp bags. While it does function as a shop, the space is more of an art piece with products like playing cards and other things that don't need to be chilled displayed in fridges. It's a really knowing nod to the local culture and a fun space to explore as you never know what you might discover.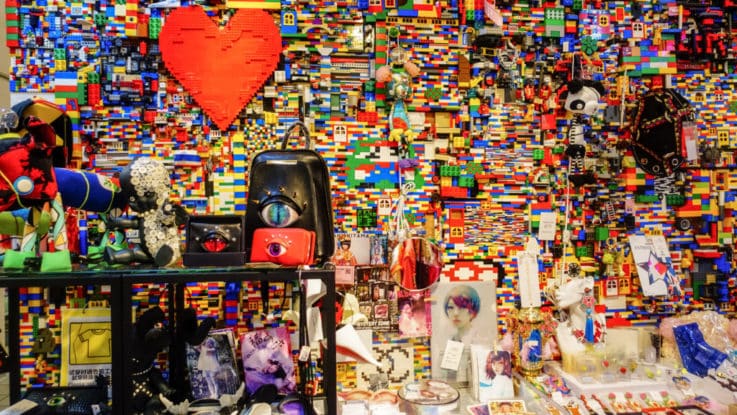 Cool experiences
One thing Japan has in abundance is cool store experiences. Some have an obvious sales angle, and some are more brand-building exercises, but the creativity on display is truly inspiring.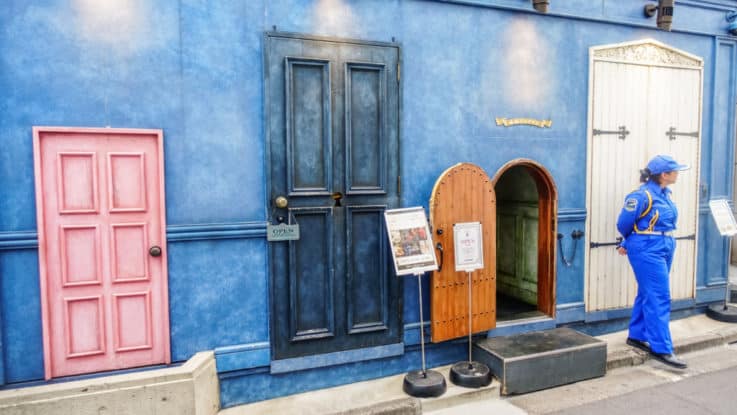 We passed by one completely themed store around a well-loved children's book. Unlike a lot of spaces though, this theme doesn't stop at the door. The entire outside of the building was designed in keeping with it, and as such attracted plenty of attention. It made people stop and want to go inside. Once in, the fun continued with the store design and visual merchandising. It's a great example of a space that goes above and beyond to offer customers a unique experience.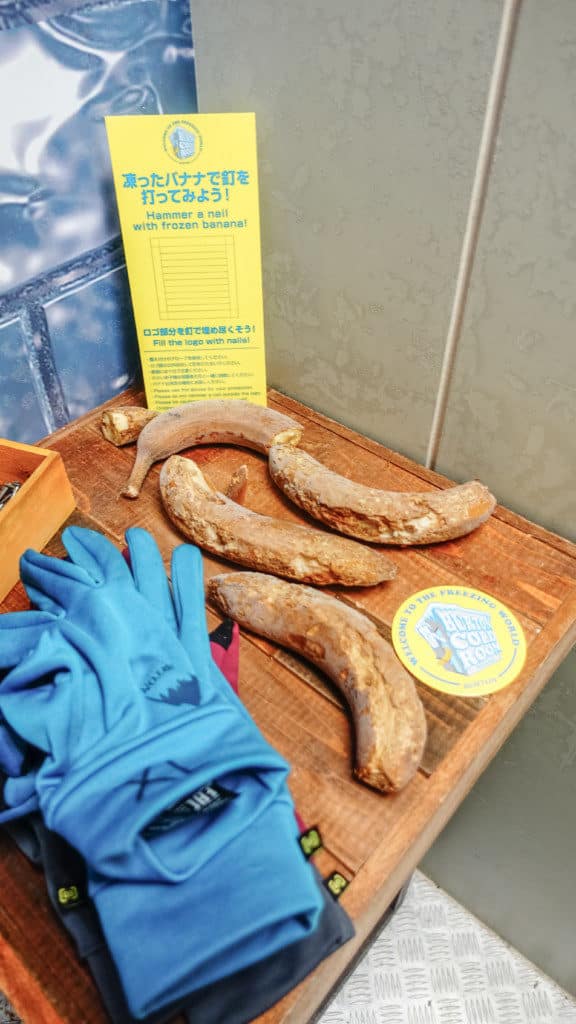 A specialist snowboarding brand that we visited has come up with a unique, fun twist for promoting its products. Customers are invited to come into the space, put on its products and then hammer in nails with frozen bananas – yes you read that right! Visitors get their photo taken at the same time and are given a magnet when they leave.
It's the kind of experience that subtly sells you the benefits of the product by keeping you warm while you have fun, and then makes sure you remember the brand afterwards through a memento. The novelty factor is reason enough to get people visiting and of course it's the sort of thing you tell your friends about.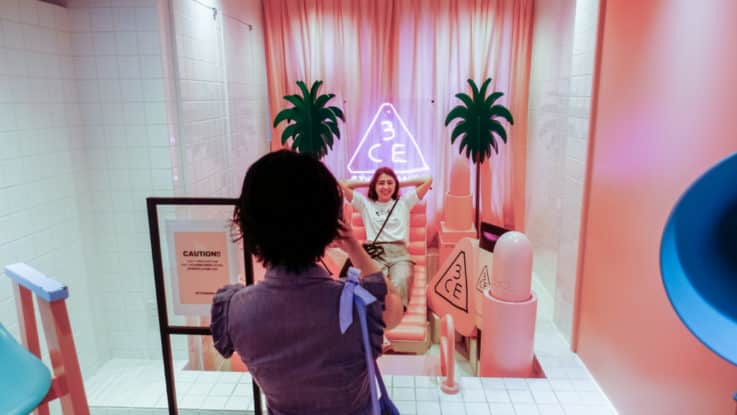 Fun is also the name of the game at a beauty store we went by as the bright pink outside would suggest. It's a similar colour scheme inside with all the skincare and make-up products displayed in an easy-to-browse way. There's also a range of selected clothing products.
One of the easy wins though is the dedicated Instagram area in the corner. Decorated with fun oversized products, customers can sit down and snap away at will for the perfect shareable shot. Made all the better by wearing the products sold in store.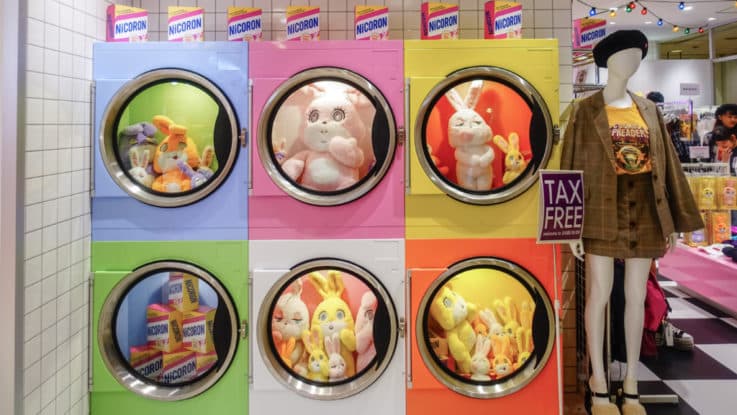 At another store we visited a great photo was the entire focus. The whole store is decked out in bright pink, with super fun visual merchandising
The space is concentrated around photo booths where you can get your hair and make-up ready, take photos, add effects, edit them and then print them out as stickers. All of the products sold in the space tap into this from the obvious make-up products to phone charging cables to make sure you can grab a shot in the designated Instagram area.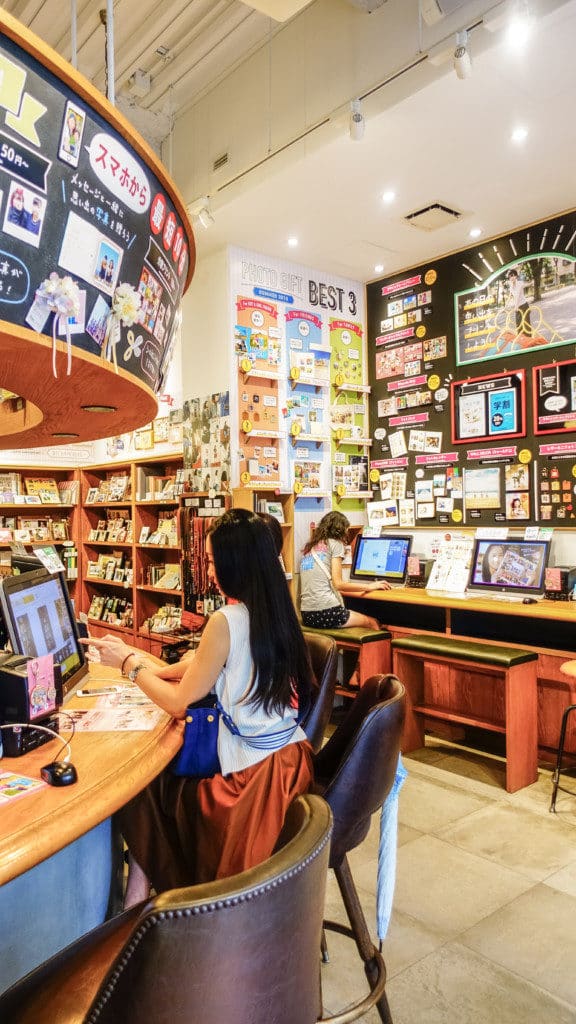 We also visited a branded store that pushed experience over products. This lounge-type space from a major camera brand lets customers edit and print out their photos to their heart's content. As more and more of us accumulate photos digitally on our devices, there's something special about making some of those memories tangible. This space taps into that and at the same time hopes to encourage people to fall in love with photography a little bit more.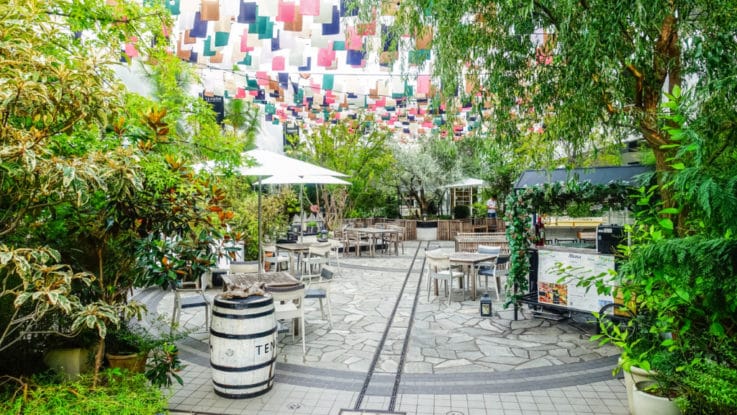 Multi-function spaces
Retailers around the world are increasingly looking for their spaces to do more and brands in Tokyo are no exception. We came across a number of examples of multi-functional spaces which aim for more of a lifestyle, than single product, offering.
Among these was a complex that contained a restaurant, cafés, hairdresser, co-working space and a style shop. Together these work to create more of a destination for customers. Rather than cater for a single purpose, visitors can work and play in the same space, with services that cater for needs that may change from visit to visit. An attractive outside seating area with beautiful decoration also helps to increase dwell time.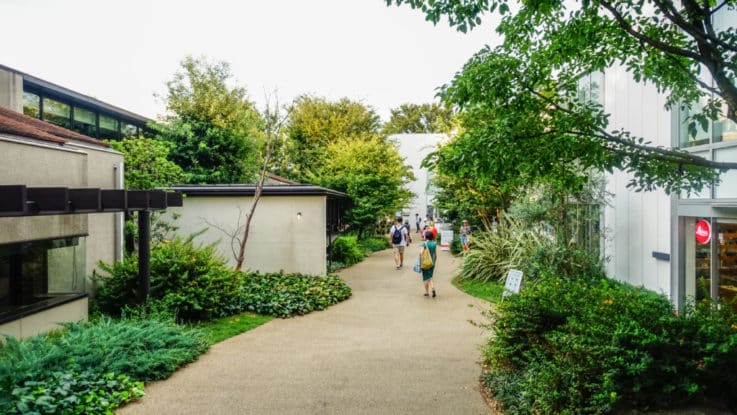 Another complex we visited was more of an inside-out mall. This campus of shops and restaurants shows a different way to have a shopping district. On-site cafes, restaurant and lounge spaces again make it a place people go to spend time. This type of multi-use destination is on the increase as it gives customers more reasons to visit – they may not shop every time they come get a coffee or have something to eat, but they now have the opportunity to.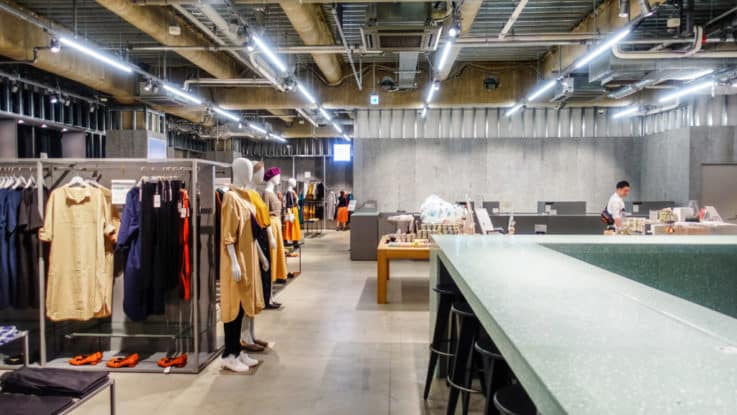 We also saw several examples of retail moving into hotels. One of these locations is owned by a company that owns a lot of retail brands in Japan. As such, there's a lot of crossover between the hotel and retail spaces. The hotel has a large shop on its first floor, but there's also a pop-up space in the lounge area which rotates to showcase different brands. This is one example of a brand creating a lifestyle around itself. You don't just buy its clothes, now you sleep in its hotel.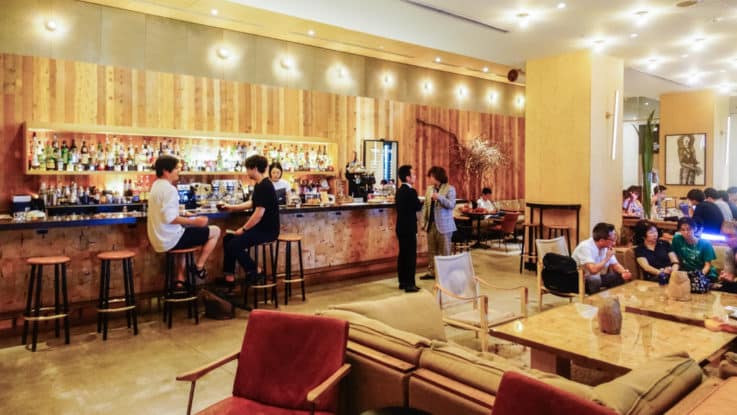 Another hotel we came across has also incorporated retail efforts into its offering. A carefully curated store in the space stocks a range of food, drink and design products. Notably this includes the brand's own product range. There is also an in-hotel art gallery which has super limited edition clothing linked to it.
By enabling customers to buy its own-brand products, the hotel lets them take a little bit of it away with them. It's something that more and more hotels are coming round to – if you give someone a great experience staying with you, you can strengthen that relationship by letting them buy the products associated with that.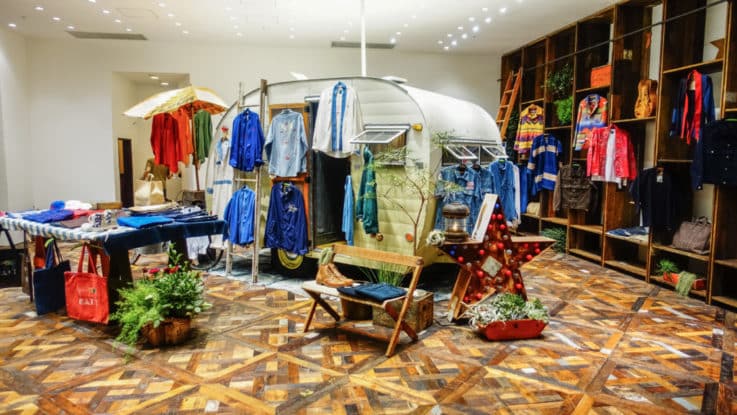 Interested in finding out more?
We've only touched the surface when it comes to all the retail inspiration Tokyo has to offer. Discover the latest trends by exploring spaces like these on your very own bespoke Tokyo retail safari. Get in touch to find out more.