Tech
Insider Interview: Localz

We met Martijn Verbree, Director Europe, and Tim Andrew, the CEO and Co-Founder, of Localz at their offices on Tottenham Court Road.
Tell us about Localz.
We help large companies use location. We help them understand where their phones are and what they're next to in the real world. They can then use that knowledge to improve the customer experience or save the user time. Our APIs and software sit seamlessly inside brands' existing apps. You don't need to download the Localz app.
Our systems help take out little annoyances that the customer didn't realise were annoying. So when you arrive at the airport, Localz can call up your boarding pass on your phone without you having to trawl through your email. Or when you get to a supermarket checkout, it can call up my digital loyalty card without me having to think about it. It makes brands smart, so it knows where customers are and what they're going to need next.
It's about taking processes and making them invisible. Localz can make everyday payments automatic and invisible, like Uber does in its taxis currently. Like Uber lets you take a cab and takes the payment automatically as you walk away, our tech could be used to automate payment in, say, a sandwich shop. The customer could choose their items and scan them at a non-transactional till. A beacon in the till could recognise who you are and what your loyalty data is. Then, as our systems see the customer leaving the store, they could take the payment, using details that the customer had saved ages ago.
Or you could go to a restaurant and seeing what the specials are and order through your phone. You can pay by walking out – the wait for the bill is always the longest wait in a restaurant. It's great for the restaurant – they turn tables faster and people who self-order buy more than those who order off a menu.
What's the benchmark for these types of automated payment experiences, currently?
Uber's payment system is changing customer's expectations across the board. People just remember getting in an Uber car and walking away at the end, and paying but not really remembering doing it. They didn't fight around with cards, they just got out and started walking. That has now set the bar for retail experiences, or with airlines or banks. Brands tend to think about what their direct competitors are doing, but their competitors are anyone their customer interacts with – in any industry, offering any experience.
How quickly do you think people will get used to automated payments?
The supermarkets are actually a lot more comfortable with this than customers currently. Customers will be soon, though. Lots of people are fine with Uber, and as more people get used to Uber, they'll get more confident, and quite quickly, their expectations will change.
Soon, people will be annoyed by situations when they have to pay using a credit card – they'll avoid situations where they have to do it. The uptake will be pretty fast.
So Localz makes boring things invisible – does it ever enhance the experience?
Absolutely – Localz enhances experiences by adding extra context, by taking everything you know from the digital world to improve a real world experience. It helps create fantastic experiences for customers. Our systems can help brands get to know their customers. A friend of mine lives in Melbourne, and LOVES Louis Vuitton. She has loads of their bags and drops into the Melbourne store really frequently. All the staff know her name – they'll welcome her at any time, sit her down, give her some champagne and show her what's coming up. But when she went into the New York Louis Vuitton store, they blanked her because they had no idea who she was. She was so annoyed that she didn't go into any of their stores for a whole year. When she mentioned it to them, they said, "If we'd known, we'd have looked after you." Our systems would have helped them understand what an important customer she was. A lot of what we're trying to do is create an in-store experience that's similar to the online experience.
Where is it live at the moment?
Most of our live projects are in Australia, where Localz was founded. Woolworths supermarkets – the fifteenth largest retail group in the world– are doing a big deployment with us currently. It should be in a few hundred supermarkets there by Christmas.
There's an Australian real estate company called Homepass.com who are using it, too. Our tech lets them give customers lots of information from a smart signboard when they're walking past – at the moment that they want it. They can access images, brochures and videos. Customers like to browse this information before they go in the property, so they can decide whether to view it.
Secondly, in Australia, when you view a property, you have to give ID. With Localz, you can just walk up with your phone in your pocket – our systems mean the agent knows who you are, so you can just walk in. A lot of customers don't want to talk to the agent until they're ready. At the same time, the agent gets lots of useful information so they can help people buy.
I hear you're working on click and collect solutions for a number of brands. Can you walk me through how it works?
Sure. Let me talk you through how Woolworths are using it for click and collect orders in Australia.
The standard process is not rewarding for customers – there's normally a long line when customers get to the store. It's not rewarding for employees either, as they're running back and forth. Our tech makes it easier on both sides.
We fitted beacons around the store and in the windows. These can communicate with smartphones up to 70 metres away. When a phone gets into range, if you have an order that's ready to be collected, it wakes up the Woolworths app. It works with IoS and Android.
While the customer is still outside, the app asks the customer if they want to pick up their order. If they say 'yes', it then asks them whether they'd like to pick it up straight away or whether they'd like to be reminded later, so they can do a little bit of shopping first.
When they tell the system they're ready to collect their order, an alert is sent to a centralised database and the store employees. It tells the staff that someone needs to action the order. In the Woolworths example, the alert is actually sent to an Android watch. Woolworths specifically requested a solution that let employees walk around the store and keep their hands free. The employee swipes left on the watch to say that they'll action the order. If no team member says they'll action it within 5 minutes, we remind everyone again.
When a team member swipes left, the customer's smartphone displays a little map of where to go, as the kiosk can sometimes be quite hard to find. The customer also sees a picture of the person who'll pick it up for them.
When the item is given to the customer, both the customer and employee confirms the collection by signing a digital form on the employee's smartphone. Or the item can be scanned out with a laser.
A survey is then sent to the customer, asking them to rate their experience with the brand, and the time it took the brand to complete the pickup is logged in its system.
That's it. It a very smooth experience.
There are lots of variations on the above, depending on the brand's preference.
Can you outline the main benefits to retailers?
From the retailer's perspective, the employees can wander around the store now. They don't have to pay someone to sit at a desk, waiting for people to come in. There's a resource saving of around 10 minutes per pickup, too. One of our clients, who had a small number of pickups a day, around 10 a day, found they saved the equivalent of 1 full-time employee using the system. They've now re-deployed that person to do other, more useful, things.
The metrics on service time and customer satisfaction really help retailers know where they're at and if they need to improve.
And the brand benefits when the customer benefits, too. Happier customers are customers who come back more often and spend more. So our systems mean the customer doesn't have to wait around, they don't have to dig out an order number, and they stay informed throughout the whole process.
The same 10 minute saving per pickup also saves the customer 10 frustrating minutes, so they have a better brand experience. They're also more likely to spend a little longer in the store and shop more.
This stuff matters, because click and collect revenue is 20% of some retailers' total revenue. And click and collect customers spend 3.5 times more money than customers who only shop online or offline.
Omnichannel is the future of shopping. Customers won't see themselves as shopping online or offline, they'll just see themselves as shopping.
Are brands using Localz to differentiate their brand experiences?
The gap between premium and utility brands is going to widen. Premium, value-add experience brands will use Localz to get to know their customers and give a better experience.
Utility brands will use our tech to make shopping as smooth and convenient as possible. The faster they can make the shopping experience, the happier their customers will be. When you turn up at the supermarket, it could detect the fact that you seem to buying the ingredients for a particular recipe, and point out the forgotten ingredient. It could reorder items based on the aisle the customer is in. It could see the items that customers have on their shopping list and, as the customer walks into the store, tell them what's actually out of stock and suggest an alternative.
Can your tech work on the micro level inside stores?
We're working with DisplayData – they make electronic shelf tags that let brands quickly update prices easily all over their store network, in a couple of clicks. Now they can have bluetooth beacons inside.
These systems work differently – their range is set to engage when customers are really close, rather than at 70 metres. When a customer puts their phone near the tag, the beacon can activate all sorts of functionality. Customer could watch a video about the product, view product reviews and see price comparisons from other retailers. They don't have to rely on talking to someone.
One particularly cool thing is it can show different variations of one product – we call this the 'endless aisle'. One model of a phone might be on display in a shop, but 12 other colours might also be available. Localz can quickly show all the other colours via the user's smartphone.
If they like what they see, they can choose buy it in the store via their phone, there and then. They can select whether to collect it in store or whether to get it delivered to their home. They can pay through PayPal in a couple of clicks.
We bring the online channel into the real store. It adds a bit of context in the real world.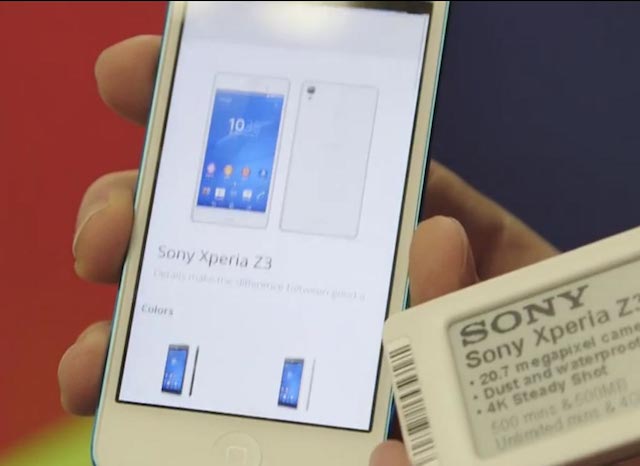 Localz Endless Aisle. Read more about this on their blog.
It's amazing how many different use cases you can list.
When you start to think about all the things it can do, it gets very exciting. It's all based on thinking what a phone is next to in the real world, and what it can do from there.
There are thousands of use cases. We haven't dreamt up half of them yet.
Does the retailer have to create special digital content to work with your systems?
No – we can just call in content from the standard mobile site. The beacon means that the customer doesn't have to navigate through the whole site – they just hold their phone near the tag and the page they want appears on their phone. Making it easy to get to the right page easily reduces showrooming.
Do customers need an app to access Localz' benefits?
You do need an app to interact currently, but we're looking to bring in appless technology in the next 12-24 months. Going appless is one of the biggest changes we expect to see.
Both Apple and Google feel that location is core to their next experiences – it facilitates so many different things. They're both building more location capability into their native operating systems, meaning customers won't need an app to access this functionality soon.
Even now, when you need an app to interact with the brand, you don't need to be aware of it on your phone. It's 'the invisible app'. This means there's a resurgence in apps now – their usefulness is coming back.
Are you working to incorporate personalisation within the system?
Once you know who someone is and where they are, you can add value in all sorts of interesting ways.
If someone has come in to pick up a TV, it could offer them 50% off a sound bar. Or if they know there's going to be a long wait for click and collect, but the customer is a highly valued one, the store could offer a buy one get one free coffee.
We've partnered with Teradata to personalise the backend systems – they work on campaign management, real-time interactions, email, push notifications and SMS. We're also working with IBM, Salesforce and Intel.
We're not a big fan of the offers thing. We don't think it's the killer use case that someone will download an app for. Customers want the real value adds, things like jumping the queue. Localz is doing well because we boost the customer experience, and we save the retailer time and effort.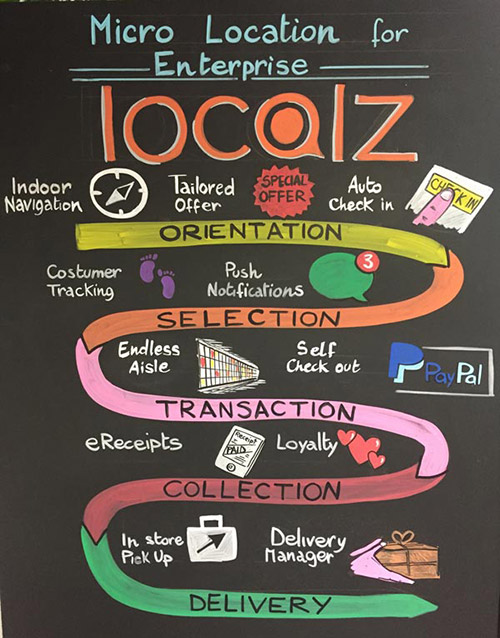 A lot of brands seem to be struggling to get personalisation right.
Location gives brands a really powerful level of insight. But it also gives brands the power of knowing when to shut up. The bar for relevance is getting higher and higher.
That's why we partner with Teradata and Salesforce – they have the real-time positioning engines that let our partners do that. It's so important for brands to be sure that customers are interested before pinging them.
If brands keep getting your attention without being relevant, customers will delete their app and the brand will lose its ability to communicate. Or it'll turn its customers from people who were indifferent to people who actively dislike them.
Personalisation increases basket size when it's done well. But it's got to be handled well. If a brand isn't sure if it can do it brilliantly, it's best to wait until they're confident they can do it right.
In 5 years' time, what will your tech do?
We're working on the Google Physical Web project, that will send people to a dedicated page rather than an app.
We're kicking around LTE5 technology – that's 5G. It has an accuracy of around 2 metres. In some cases it will negate the need for beacons.
What are the biggest blocks to mass adoption?
The biggest blocks we run into are legacy IT systems. Some companies' systems were built in the 70s or 80s. When ecommerce came about, it was developed as a separate channel. There's the store network and online, with separate stock control.
Mobile, physical and desktop shopping seem the same from the customer's side, but the backend needs to be able to cope with that.
Online is still a separate channel for most retailers. Currently, if you order an item online to collect in store, they'll arrange for that item to be sent to the store from the online fulfilment system, even if 20 are already on the shop floor. That's the biggest challenge they have right now.
Localz has huge potential, but it will only be fully realised when the online and offline channels are merged completely.
Replacing a company's IT framework sounds like a mammoth task.
Yes – it's a very bold decision for companies to decide to replace the core platform. It's like having a heart replacement. Clients are often held up by thinking they need to replace their core systems, and there's a whole industry that supports that kind of thinking too.
We're starting to see forward-thinking retail CIOs just demanding tech that fits the old systems now – APIs that can be layered over the old tech. It lets them test new technologies so they can keep anything that works and snap off anything that doesn't, without a massive integration project.
Versent are one of the companies working on this. They're based in Australia. Its website looks boring but the tech is so important!
Which other retail tech companies do you think are really exciting?
Qudini's virtual queueing technology – it's simple and elegant. It gives people an accurate understanding of how long they have to wait. It actually complements our systems very well.
Barpass is another good one. They actually one of our partners. It's run by BPL Digital. It's an app that allows you to order drinks and food so you can beat the queue. They're working with Rex & Mariano, a fish restaurant in London – when you walk in, you get an iPad that you can order off, so you don't rely on waiters. We partnered with them at an event at the Grand National. People ordered through Barpass to buy and pick up their drinks without queueing. We put proximity in there, to remind people that they could use the app when they were in the bar.
We know it's not a startup, but Amazon are great – they keep developing lots of little services. We tested Prime+ recently – the service where they deliver in an hour. We tested it 3 times this week – the first time it took 17 minutes, the second time 21 minutes, the third time 33. It's a gamechanger. They're presenting a real challenge to companies like Deliveroo, because they're able to scale. If Amazon get it right, this could be their answer to not having a store.
And a bit more behind the scenes – Tomando are great. They aggregate up all the different shipping companies and providers, so brands can find the most affordable way to send customers their packages. They've built in loads of additional metrics and insights too. They're so useful, they've grown very rapidly.
Classpass is an app that brokers classes in smaller gyms. You can see what's on when and just walk in and sign up. It's like Uber for small gyms. It's created a huge network, much bigger than Fitness First, without owning a single gym. It's brilliant.
Anything else you want to tell us?
We've had most traction in the retail space, but our team have lots of payments and logistics experience, which all adds up to the experience. How a parcel is delivered is a reflection of the company's brand.
It's something we're working on with DPD, one of the last mile delivery companies. They're like the Rolls Royce of delivery companies. They give customers lots of choice about how to receive their parcel and communicate really well.
We're experimenting with a 'come find me' app for them. You might be running late, your parcel's about to be delivered but you're still in a coffee shop, ten minutes down the road…. The app means you can tell them to come and find you. We're helping them with the backend, with the location stuff, working out where to find the customer. We're not doing the app itself but we're doing all the stuff that's powering it. It's very different to using our tech in shops. Or the delivery guy could come to find you, wherever you happen to be in the city. It'll go that way.
All images courtesy of Localz