Retail
Interview with Tim Williams of YrStore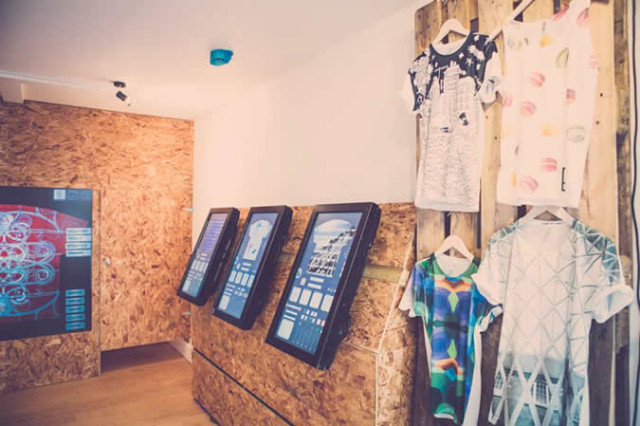 For the past few months, visitors to the Topman store on London's busy Oxford Street have been treated to an exciting and innovative new showcase of technology, in the form of interactive touch-screen clothing design. Users can create patterns, upload images and insert text, before trying out their design on the world's first live digital "mirror" and watching the final product printed onto high quality American Apparel garments before their eyes.
Here at Insider Trends we recently caught up with Tim Williams of YrStore, to find out more about interactive clothing design, the Topman collaboration, and the future of this exciting technology.
How would you describe what YR STORE does so that my grandmother would understand?
YR STORE is the world's first live all-over print studio. This means that you can walk into a store and begin designing a t-shirt, jumper or even leggings using one of our giant in-store touch screens. We can then print that onto a garment directly before your eyes, with the whole process taking only 5-10 minutes.
Your new Topshop pop-up store looks very exciting. Is it the first of its kind?
We already run another company, named Luma, which is focused with designing and building bespoke software and hardware packages for events and shops. Our YR STORE pop ups were an experiment into showing off some ideas which we had been working on behind the scenes.
Back in June 2013 we set-up the first YR STORE as a pop-up, to see what people thought of the idea. We didn't know if people would be interested in or like what we were doing. That was last year and the response was fantastic – we stayed at the pop-up location just off Carnaby Street for 7 weeks, before being offered a pop-up space at Boxpark in Shoreditch.
What has happened since? How did you come to work with Topshop?
We moved to Shoreditch in August, and that's when we agreed on our Liberty pop-up. We then approached Topman about working with them on a permanent YR STORE at their Oxford Circus store. We opened our Liberty and Topman YR STORE's at the end of October, and we are planning to open several new stores very soon.
Here at Insider Trends we're passionate about the future of retail. How is your new collaboration innovative and future-focused?
As far as we're aware, YR STORE is the world's first studio which allows you to easily and quickly create your design and watch it being printed. The in-store touch screens are fast and very simple to use. Anyone can design their own garments, and each one is unique. The option to allow consumers to create one-off fashion focused clothing items is really new and exciting, and I think we will see a lot more of it in the future.
We are really harnessing current technology to make consumers feel at home when designing personalised garments – something that wouldn't have been possible just a few years ago. In the future we will allow customers to specify garment features, like buttons and zips, but we are also working on utilising the 3D printing systems which have hit the news over the past few months.
Where else have you made use of this impressive new technology?
Our Liberty store ran from October to Christmas, and we have more stores coming very soon.
What's next for YR STORE, and what do you think will come next for digital, interactive technology as a whole?
We are really focused on incorporating YR STORE into the 'go to' fashion brands for personalised and individual style. The ability to customise or even custom produce every garment which we sell is incredible, and I think that we will see a lot more of this. I have always been a believer in using technology to create something tangible – it seems pointless developing interactive technology without a purpose, so I expect that we will see more useful and functional applications for interactive technology.
It amazes me that people still talk about Minority Report – which is 12 years old this year – but the ability to control by gesture is improving all of the time. The great thing about technology is that we will never know what's around the corner – which makes it an exciting field to work in.
Who is pushing boundaries and inspiring you in the worlds of interactive technology and fashion?
There are so many technological innovations at the moment, it's impossible to pick only a few. However, Google is my favourite corporate – they have so much innovation going on and the funds to continually push the boundaries. In terms of fashion, there are again too many people and brands which are exciting and inspirational to us, but if I had to choose the brands and designers that most inspire us, they would be Agi and Sam, Katie Eary and Yohji Yamamoto, 10Deep, Kit Neale, and Supreme to name but a few.
Thanks Tim!