London
The Best New Retail in London – September 2023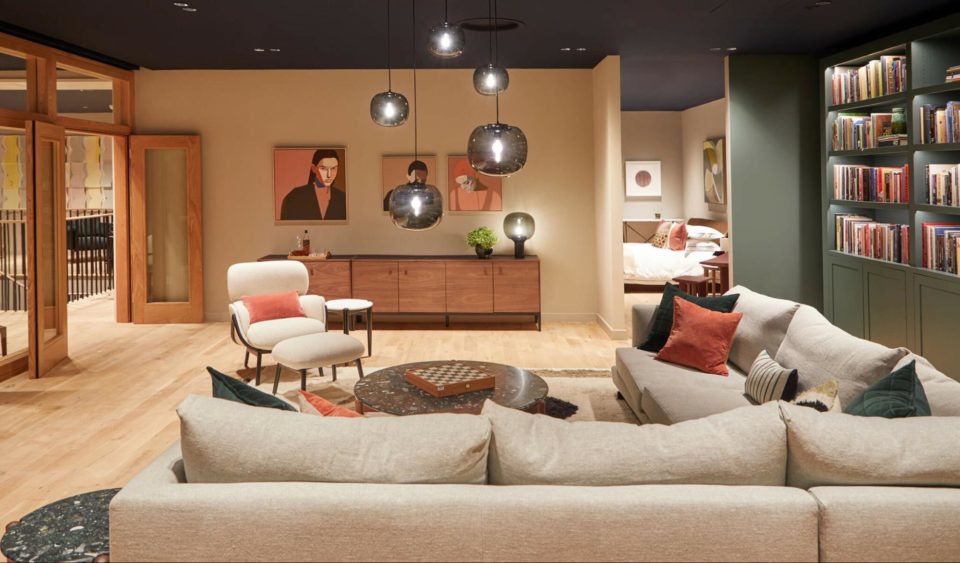 Heritage and thoughtful curation are the trends in London stores this month, with brands dipping into archives, commissioning artwork, and considering how their products complement and enhance the existing character of the space.
Community activation and localisation also remains a focus for brands, who have created special launches and other events to engage with customers and build a relationship beyond products.
See what insights you can glean from our latest list of the best new retail in London.
Gucci, New Bond Street
The latest Gucci store has opened in London, expanding on the brand's Gucci Salon concept.
The location is a former gallery in a historic building, which the brand has reflected with curated artworks and historical Gucci items. Customers can find Gucci's collection of ready-to-wear, shoes, accessories and jewellery across each floor. There is also a specially built mezzanine floor designed to look like a retro train for the company's Valigeria travel range.
A historical archive of bags and suitcases, some from as early as the 1930s, are on display in the Tudor room. Additionally, a by-appointment-only salon is available for very special customers and clients, with the room tailored to each visitor's tastes before they arrive.
Avirex, Soho / Fitzrovia
Not only one but two stores from military-influenced brand Avirex have launched in London.
The space in Soho is a pop-up and the largest store Avirex has in the UK. The second site, in Fitzrovia, is designed to be a smaller, more intimate experience.
Both stores incorporate a new design concept, with contemporary fittings and fixtures, and touches that reflect Avirex's history with music and celebrities.
Pandora, Oxford Street
Pandora has opened its third store on Oxford Street, reflecting the demand for its jewellery amongst London customers.
The store incorporates the London location in its design, with a specially created illustration combined with a pink taxi style seat and pink phone box, ready for customers to snap pictures for social media. The opening was launched by Vick Hope, a TV and radio presenter for the BBC.
The store contains all Pandora collections, as well as its new range of lab created diamonds. Shoppers can also get items personalised, including the large range of Pandora charms. The sales areas are mobile, which allows customers to purchase items throughout the store. Additionally, endless aisle functionality is available and customers can have items sent directly to their house.
Rituals, Oxford Street
Luxury beauty brand Rituals launched a new store in Oxford Street, with a book signing from Fearne Cotton.
As well as existing collections and home products, the store also sees the launch of The Ritual Of Hammam and Piaggio for travel items. Similar to other Rituals' stores, sustainability remains a key focus, with refillable items available to purchase.
The launch saw a number of activities available for visitors, including a competition to win products, complimentary engraving on any items purchased in store, and free goods when spending a certain amount.
The Conran Shop, Sloane Square
A new flagship from The Conran Shop has opened in Sloane Square, connecting to the brand's prior history.
The space has been designed to resemble a home, allowing visitors to move through the store and gain inspiration from the setting of the products. The brand has also curated a selection of artworks, including a mural specially designed by Charlie Sheppard, to connect customers with design principles.
The store continues in the spirit of its founder, Terence Conran, by collecting an eclectic range of products for shoppers to choose from, as well as collaborations with designers like Daniel Schofield. The space also incorporates design and art into the bathroom, with the influence of Le Corbusier in the tiling.
Lone Design Club / Fenwick, Bond Street
Independent brand platform Lone Design Club is taking over Fenwick in London until 16 October.
The platform creates pop-ups in different spaces, including disused retail locations, to showcase a range of independent products.
The space within Fenwick will be focused on sustainable products and includes a series of events, such as meet the maker and workshops. Designers available in-store include Wrong Generation, Maison Bent, Farphoria and Serena Days.