Interviews
Jet Sett: An Interview with Luxury Independent Boutique Wolf & Badger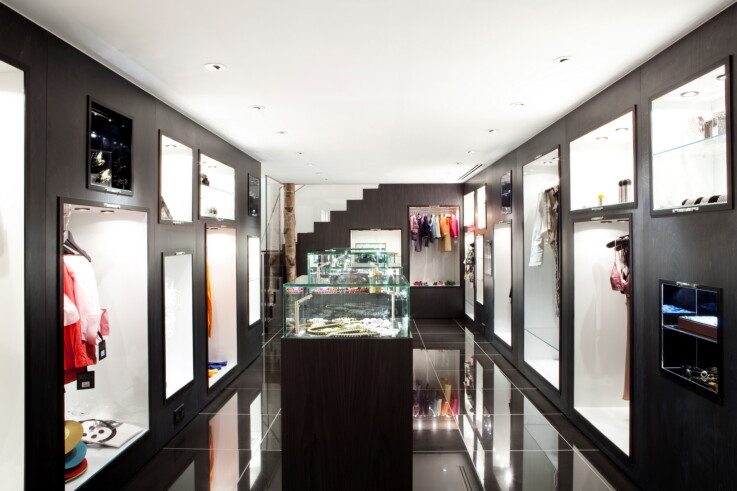 Wolf & Badger may sound like characters from a children's story, but the boutique is in fact one of the most innovative in London. It has a unique marketplace system; offering independent brands space to sell while also keeping the bulk of their revenue. Wolf & Badger has a nose for the most exciting emerging brands, and a beautifully complimentary omnichannel offering.
With a new store launching in New York next spring, we caught up with brothers Henry Graham (Creative Director and Co-Founder) and George Z Graham (CEO and Co-Founder). Oh, and that name? It was what their mother nicknamed the brothers as children.


Creating a multichannel business

In a sentence or two, can you describe Wolf & Badger, and what makes it different and special?
Henry Graham (HG): We only work with independent brands. Our line-up of designers and products is always fresh and ahead of the trends. We look purely at the merit of the product we are selling and bring only the most exciting, innovative products to our website and stores.


Your multichannel system is really impressive – I love that the website, store, The Sett [Wolf & Badger's print magazine] and your social media reflect the brand so well and really carry that message of discovering new designers. Had you always planned to have physical spaces and e-commerce?
George Z Graham (GG): Absolutely. We launched them both at the same time way back in 2010, but until only quite recently our store sales outweighed our online sales significantly. Today, we are seeing 90% of our sales coming from online, as our web business has now really taken off.


How do the channels talk to one another – do you find one channel sends traffic to another, that one handles more of the sales and another more of the discovery?
GG: Both online and offline work well for both discovery and for purchases, just in different ways. We'll often see customers visiting us in-store for one of our great collaborative events with a brand, and subsequently start purchasing through us online; but we also see a lot of customers engaging with us online, via social and through visiting wolfandbadger.com, and then actually make their purchases in one of our stores. It works both ways, and that's why being active across channels is so important to us.


Value of a physical network

Can you talk us through the design and strategy decisions behind the look and feel of the stores?
HG: Because we are both multi-brand and non-directional in terms of the products we sell, the merchandise line-up in the stores is quite eclectic. Although we carefully curate each collection we sell, the retail experience could be a little overwhelming if we did not carefully consider the retail environment itself. As such, we work with a monochrome palette of black and white and have self-contained vitrines and rails in our stores that allow the brands to be easily shopped by customers.


You're launching your first overseas store, in New York. Can you talk us through the decision to launch there?
HG: For a long time our customers have been telling us how great it would be if we opened a store in the US as there is nothing like what we do over there. Not only are there a huge amount of amazingly talented designers that we hope to start working with, but New Yorkers are themselves very much into design, fashion and appreciate the importance of supporting independent brands.


Why is it important to have a physical space in the US when you already sell internationally via your website?
GG: It's no secret that most of our sales are transacted online, but the stores are so important to the overall customer experience. Our stores provide a real-world, tangible, social experience that no pure play e-commerce site can ever match. As we expand further into the US, having a store in New York is a no-brainer for us, as it's such an important element of what Wolf & Badger is all about – introducing customers to the best independent brands in a fun, creative and experiential way. The stores are also great in smoothing out logistics, providing a seamless customer experience in terms of deliveries, hassle-free returns and giving a place for people to click and collect or try on in-store.


Does a New York store require a different approach in any way, in terms of store/customer experience design or product range? Will you be hosting American and European designers in the space?
GG: Like with our website, the New York store will carry an exclusive selection of European brands who are completely new to the US market, and then that will be complemented by an awesome selection of the best independent brands from across America. We're excited to be introducing customers to new and exciting brands in this way, both from their home country and from overseas. Through several events each week, New York customers will have plenty to engage with and discover in the new store!


Sourcing designers
How do you source your designers? Are you out scouting, do they apply, or is it a mixture of the two?
HG: We are fortunate that because we have a great reputation in the industry we receive many applications from amazing brands wishing to sell with us. We also look at trade shows and go to various fashion weeks. Increasingly we are also finding more and more brands we want to work with on Instagram.


What would you say is your biggest brand success story so far? A company/designer you've helped to launch that has gone on to amazing things.
GG: We've worked with so many incredible brands who are doing amazing things, it's difficult to pick just one. Many designers have their own stores now which is great to see, and many many more have gained stockists all around the world after being discovered on our platform.


Having seen so many independent retailers pass through, what advice would you give to emerging fashion designers?
HG: I would be mindful of the reality that it takes a lot longer to build a brand and gain traction in the market than one might estimate. I would also caution designers to be super focused when producing their collections and start with a small range of products and listen carefully to their customers before expanding their line-up.


Building a global platform

What have been your learnings from running Wolf & Badger? Anything you'd do differently in the future?
GG: In retrospect, we should have pushed our online business harder in the early days; we missed a trick there, but we're doing that now. Conversely though, focusing on our offline business has really positioned us well for future growth, and we've learned the importance of being multi-channel. It's something we'll be doubling down on as we continue to grow, as you'll see with the opening of the New York store this Spring!


What's next for Wolf & Badger?
GG: We're building a truly global platform for customers to be able to discover and buy from the world's best independent brands. Our expansion out of Europe and into the US is the next step in that journey, but we're also talking to potential partners in China and other countries as we seek to open up access to more markets.


Finally, which three retailers or brands are inspiring you at the moment?
HG: Tetzbo Japanese Pens, we don't stock them but I wish we did.
BravurWatches, beautifully designed and made watches, a perfect gift for yourself or a loved one. Available on our e-commerce site and in our Mayfair store.
Gucci, who seem to be able to do no wrong at the moment.

Images courtesy of Wolf & Badger
The Wolf & Badger store, in SoHo New York, will open in February 2017. To learn more about our retail safaris of New York stores, click here.