Store design
KITE: a new approach to Optical Retail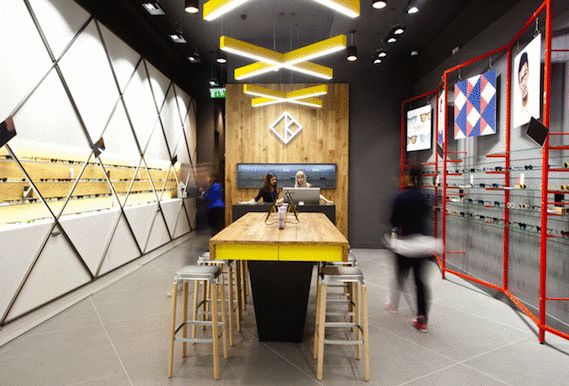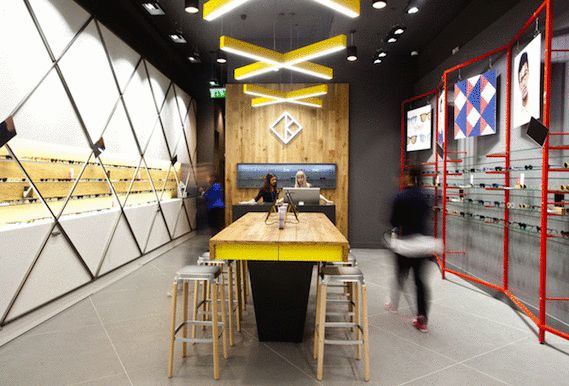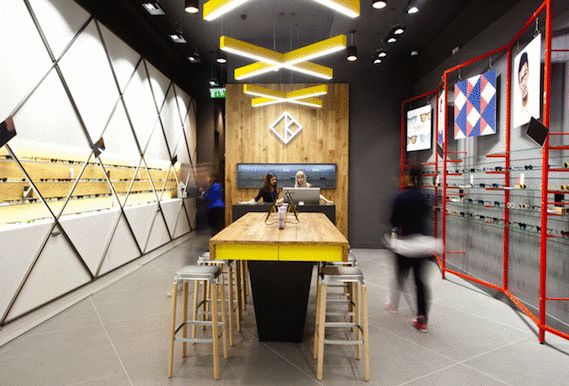 KITE store Westfield Shopping Centre
KITE are changing the way we look at eyewear and the typical experience of going to the opticians. Located in the Westfield shopping centre in London's Stratford City, they focus on making a trip to the opticians fun and pleasurable, more akin to going shopping for new shoes.
The in-store experience is relaxed; no strategic sales pitches here, instead staff project a friendly, non-pressure vibe and walking through its doors you feel less like a customer, or potential sale, and more like a friend coming to hang out. Interactive touches like the KITE Kiosk; a touch screen mirror that allows you to take selfies and share your potential new glasses on social media platforms are as refreshing as the eyesight enhancing carrot juice they offer on arrival. Walking in feels like an experience in itself, the boutique store is colourful and cool, a world away from the rows and rows of flimsy looking frames set into white wash walls that we have become used to.
While KITE doubtlessly offer a bespoke service, with frames starting from £99, it's hard to say they are catering to all; your gran may just want a new pair of reading glasses after she lost her old ones down the back of the couch. But KITE is not looking to displace the big chains, merely provide a modern, British made alternative, with an aesthetically pleasing approach.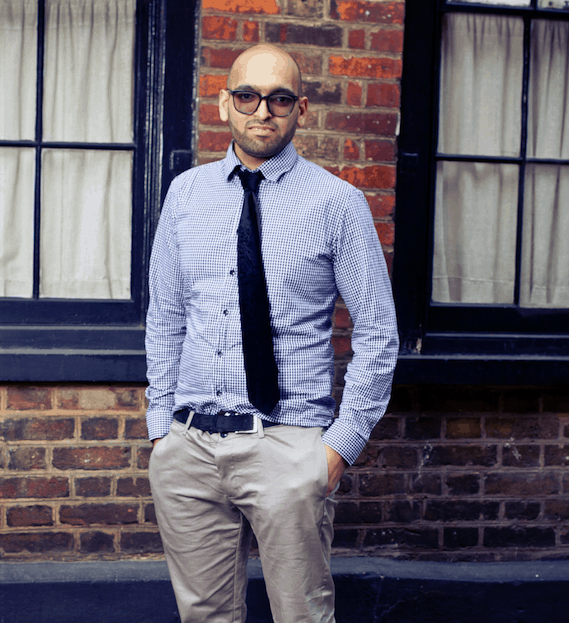 KITE co-founder Asad Hamir
This new approach stems from the background of the three men behind KITE. John Foden and Christopher Bell are both design strategists, while Asad Hamir is a successful entrepreneur with optometry in his blood, with 27 opticians in his family before him. Disillusioned by the stale, sales-driven service of high-street opticians, their collective ethos is to give eyewear its mojo back. Asad Hamir explained to Retail Futures that, "we wanted to bring colour to the industry, breathing some fresh air into the experience in store. We've thrown away the boring opticians experience and created a fun, immersive glasses buying experience."
At the moment, glasses are cool. The slightest hint of needing a prescription and we're off eying up the designer Tom Ford or Persol frames we've seen our favourite celebs wearing. With the current demand, there seems to be no reason for the supply being a stagnant and sterile experience, and this is what KITE are trying to change.
Asad also explained the story behind the name: "If you think of a KITE, its very product design focused, despite how beautiful they can get, they don't fly unless there is a real design focus. And the same thing applies to our glasses."
The glasses themselves are encouragingly British made and the brands ideas come from their Shoreditch offices, while the specs themselves use precision German ZEISS lenses and the thermo-moulded acetate frames made by industry leaders Mazzuchelli come in 31 different colours, with additional Italian flair.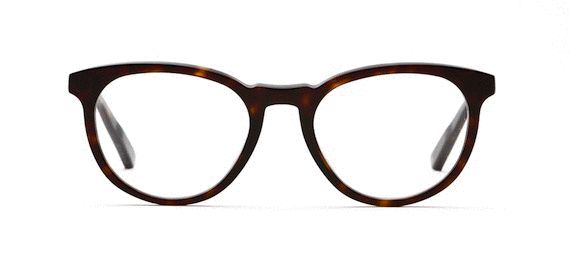 British design, Italian flair, German precision
While boutiques with similar flair and refinement can be found internationally in the States, Japan and Europe, they are only just finding their way in the UK market mainly through eyewear pop-up stores. In London, KITE are leading the charge.
The Mykita store in Berlin, for example, has a minimalist design. Its neon-lit, clean visual aesthetic exudes elegance but lacks the openness and warmth offered by KITE. At KITE, there is no pressure to purchase, no fear factor.
KITE are hoping to expand over the next 12 months, with new stores planned in the West End. As they succeed, no doubt this will start to impact on Britain's optical retail experience.
Images courtesy of: www.kitegb.com