Pop Up Stores
The Best Holiday Pop-Ups of 2022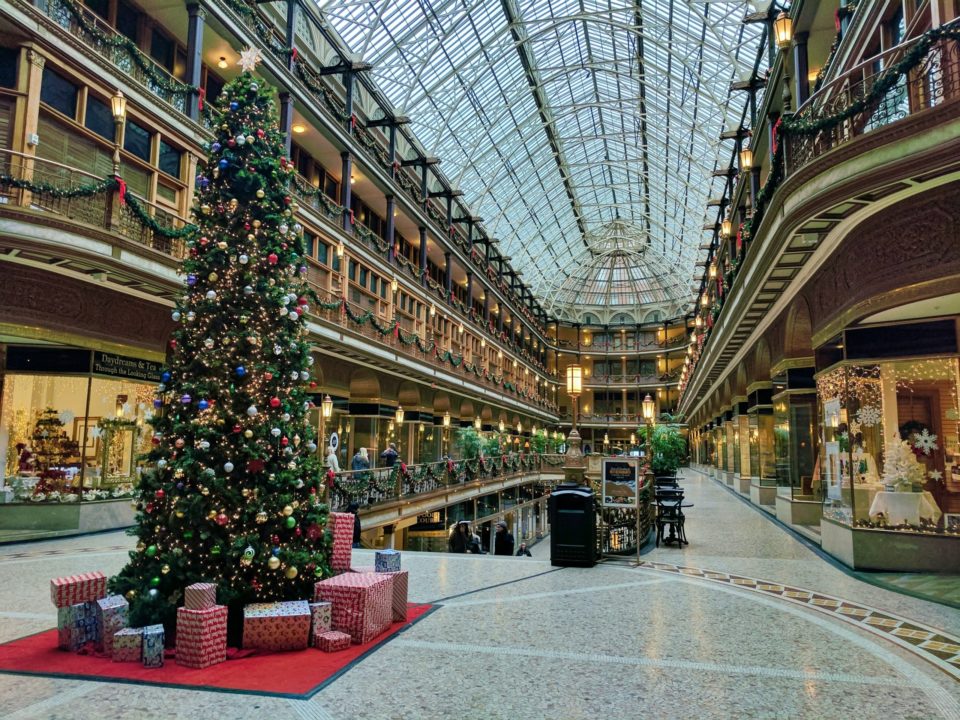 It is the festive season in retail, and brands are pulling out all the stops to entertain and attract customers this Christmas. Not only in their permanent spaces, but also through an incredible array of holiday pop-up shops and experiences.
We've found live window shopping, exclusive prizes, sustainable concepts, party themes, and Italian luxury amongst the best pop-ups this month.
Here are our favourite pop-up stores for winter 2022.
Cult Beauty, London
Cult Beauty launched House of Thrills, a pop-up in London's Soho, for 2 days this December. The cosmetics retailer offered exclusive deals from popular brands like Charlotte Tilbury, ESPA and Glow Recipe, as well as gift bags for the first 60 visitors and an advent calendar competition.
Events were also the theme here, with visitors able to book specialist masterclasses and sessions such as makeovers with Charlotte Tilbury, facials from FaceGym, hair sessions with Drybar and even making a festive wreath. Customers could additionally choose to rent a designer party outfit from By Rotation or find their special seasonal scent with Jo Loves.
Kujten, Paris
Luxury cashmere brand Kujten has opened in the iconic Parisian department store La Samaritaine for the holiday season. The pop-up features an enormous Christmas tree decked in gold, matching a disco themed interior with golden touches throughout. Customers can purchase white and gold hats and jumpers, part of a special collection just for the store, as well as other items like bags, bandanas and vests.
Open until 5 January 2023, visitors have a chance to get their purchases customised with embroidery and, additionally, take part in a food experience, with bakery Dalloyau's Kujten-themed galette des rois available for tasting.
TalkShopLive / Front Runner, New York
A new take on window shopping from retailing platform TalkShopLive, in collaboration with immersive technology company Front Runner, is happening in New York this December. Shoppers wandering around New York will be able to see a world first live retail campaign in a variety of shop windows.
Content featuring Gloria Estefan, Dolly Parton, Shania Twain, Drew Barrymore and many others will stream continuously allowing customers to discover new items. QR codes will be available for visitors to scan so they can purchase products immediately while watching the livestreams. TalkShopLive hopes that this will better help to fuse physical and digital shopping activities.
ASOS, UK
Across various cities in the UK, fashion retailer ASOS launched pop-up shops for Black Friday with an exciting free event. The public had the opportunity to win special items from a claw machine, which included beauty products, ASOS clothing and merchandise, and gift cards worth £1,000.
Any visitors who took part were provided with a free tote bag and those who also had the ASOS app received a free coffee.
00.thestore, London
A sustainable pop-up was opened by 00.thestore this month, offering a selection of events as well as eco-friendly clothing, beauty, décor and accessories until 22 December. The pop-up concept is nudging shoppers to make more sustainable choices by showcasing items from 85 companies, such as Birdsong, Kloris, Damson Madder and House of Sunny. Additionally, these products are offered at an online store, which comes with a sustainable delivery option.
A number of special activities are also available for visitors to book, including terrarium creation, mindfulness sessions, plant care workshops and other events, such as panel discussions with activists and influencers from the sustainability arena.
Dolce&Gabbana, London
As part of Covent Garden's Christmas celebrations, Dolce&Gabbana has opened a Holiday Market pop-up in the Piazza. Decorated with a strong Sicilian theme, the boutique will offer Dolce&Gabbana's range of pret-a-porter fashion, Italian culinary treats, home and lifestyle products, and a unique t-shirt with a London design.
The brand has also rolled out the Italian look to Covent Garden's swing bench, to allow those Instagram shoppers to snap a photo with a dramatic festive backdrop.
Kate Spade, London
The party season was very much in swing at the Kate Spade pop-up in Soho, London, which opened for a 4-day stint in November. The store was decked out in a Christmas disco theme, with tinsel on the walls, a dance room, and vending machine filled with alcohol.
Visitors were also able to purchase retro sweets and had an opportunity to find mystery wins in a special locker that contained accessories, handbags and vouchers.
JD Sports/Snap, London
JD Sports teamed up with AR tech company Snap Inc to turn JD's Oxford Street store front into an AR version of a claw machine arcade game.
The free 'JD ARcade' experience was unlocked by shoppers scanning the Snapcode on the store window or using the Scan function on the Snap Camera. They could then play an AR version of the claw grabber game featured in JD's Christmas TV ads.
Players had the opportunity to win a prize by sharing their top score with JD's social media accounts.
The activation is a great example of how physical space can be used to trigger digital experiences.
Fifteen Percent Pledge, New York
This fantastic pop-up aims to help shoppers commit at least 15% of their spending over the holidays to Black-owned brands and businesses.
Hosted by not-for-profit Fifteen Percent Pledge, which was founded in 2020 by Aurora James to tackle social and financial inequality, the pop-up is packed with gift ideas in every category from beauty to home to fashion.
Open until 15th January 2023, the pop-up forms part of Fifteen Percent Pledge's holiday campaign, in collaboration with Citi, alongside an online gift guide. It's a great way to help shoppers discover Black-owned businesses that they may not find elsewhere.
Pleasing Holiday Shop, London
This holiday pop-up from the Harry Styles owned beauty brand is a pastel dream. For die-hard fans, it's also a way to buy pieces from past collections and to customise their own nail polish sets.
What's really interesting is the partnership with American Express which gives those with an AMEX card early access to the space each day. In addition, these customers can secure a complimentary nail polish and tote bag if they use their American Express Card to buy something.
One product that is guaranteed to be sought after is the Pleasing Park Blanket which can only be purchased by AMEX Cardmembers.
VIP access isn't something we see often in pop-up spaces, but this collaboration may open the door for more brands to offer exclusive access and opportunities to select parts of their customer base.
Lush Lounge, London
Handmade cosmetics brand Lush took a different approach to most with its 'holiday' pop-up.
For a short time, the 'Lush Lounge' at Westfield London acted as a quiet space for tired shoppers to take a break and relax. They could get free hand and arm massages, engage in an audio/scent 'shower' experience, enjoy colouring in gift-wrap, and select a poem based on their mood courtesy of The Poetry Pharmacy. Lush also provided a station with products for visitors to freshen up.
A mood-based bath bomb projection experience and gallery display of 'me time' moments created a relaxing backdrop for the Lounge.
Boots/Clearpay, London
Another festive pop-up at the Westfield London shopping centre came courtesy of Boots and Clearpay.
Running from the 16th to the 23rd of December, the 'Beauty Unwrapped' pop-up featured three zones – a concierge with the chance to 'spin to win' beauty prizes, a festive nail art station, and a festive glam station with mirrors and beauty products.
Visitors could also scan a special QR code to get £5 off a £10 minimum spend at Boots' Westfield store – if they paid with Clearpay.
It's not the first time we've seen a payments company team up with a retailer for a pop-up (Klarna and Shein is just one example), suggesting physical retail is still a strong marketing channel.
Shein, London
Talking of Shein, the fast fashion company also had a festive London pop-up for 2022.
Running for two-days, the pop-up was focused around Shein's favourite seasonal pieces. Customers could try on and buy different clothing, as well as explore Shein's makeup collection SheGlam.
The barcode on every item of clothing could also be scanned by customers who wanted to order online, for example if an item wasn't available in their size.
A free hot chocolate station and manicure bar, which featured a machine for printing designs straight onto nails, added something extra to the experience. What's more, customers could stand on a platform which turned them 360 degrees and record a short video clip of themselves.
As an online-first brand, Shein is always thinking digitally and this shows in the omnichannel and content capture elements of this pop-up.
Save the Children 'Jazz Your Jumper', London
The Christmas jumper has become a staple of the festive season. For charity Save the Children, its annual Christmas Jumper days are also a major fundraising event.
For 2022, Save the Children teamed up with Thrift+ for a two-day 'Jazz Your Jumper' pop-up at Westfield London. Pop star Alexandra Burke was on hand for the store launch.
Visitors could have their jumper professionally upcycled with bespoke Christmas designs. Those who didn't have a jumper to bring in could choose a secondhand one from a range provided by Thrift+.
It was a very on-brand pop-up for both Save the Children and Thrift+ in that it encouraged visitors to take part in Christmas Jumper Day but in a more sustainable way by not buying something new.
Our retail safaris don't just take you into the best stores in your chosen city – we'll also show you the best pop-ups taking place. Book today.