Interviews
Listening to the customer: how Sonos developed its retail stores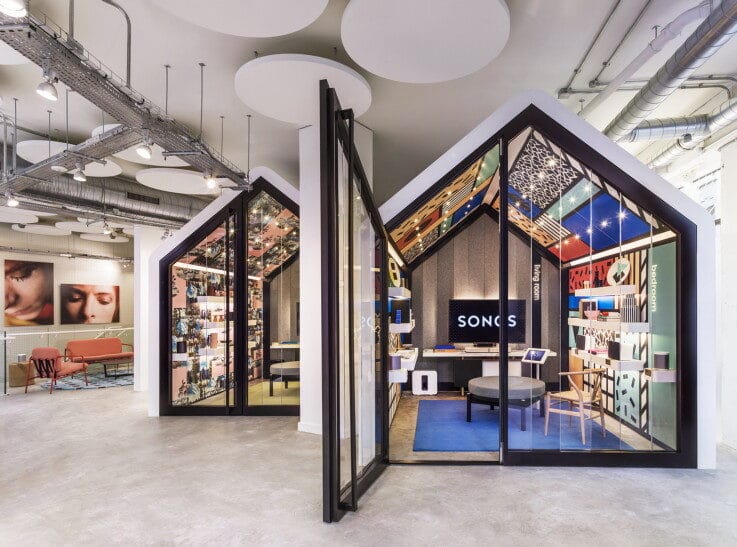 If you're into sound, you've probably heard of Sonos. A home sound system for the modern day, the company has become one of the biggest brand names in the industry. It also does things a bit differently when it comes to retail. This has seen the company launch its own branded stores in order to give customers the best possible way to experience its products.
Jamie Coomber, Sonos' UK Marketing Director, talks us through this strategy, what the brand has learnt from its retail activities and how they fit in with its customers buying journeys:
Can you describe Sonos in a nutshell?
Sonos is a home sound system that uses WiFi connected smart speakers and simple control to fill every room of your home with incredible sound. We offer the best way to stream music and listen to audio out loud at home.
Who is the typical customer?
Anyone that loves listening to music and appreciates culture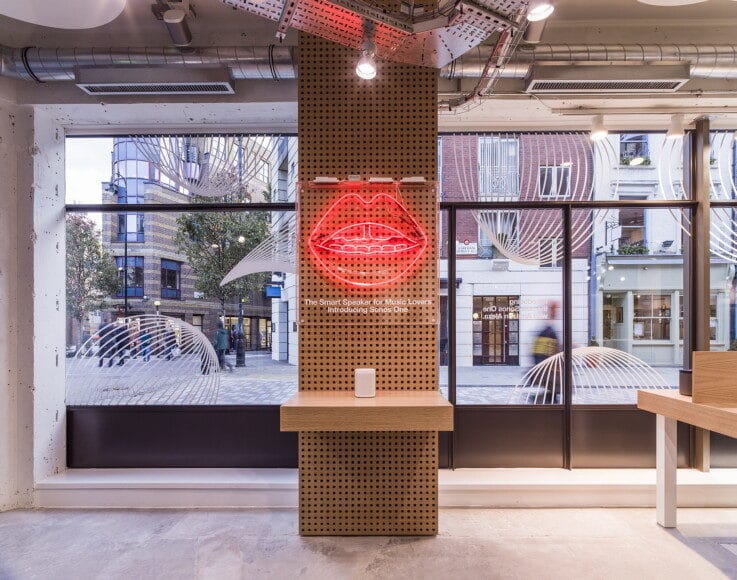 What did you learn from the now closed Sonos Studio?
We're really proud of what we achieved with Sonos Studio. It opened the door to many of our most valued relationships in the creative community and shaped some of the experiences we manifest today – particularly those that have connected with home-based experiences. Sonos Studio was an incubator that allowed us to explore a more inclusive worldwide strategy that resonates with our customer's interests today.
What worked or didn't work?
We've always been committed to exploring innovative ways to bring people closer to a better listening experience. Taking what we've learnt from previous projects has allowed us to focus our resources on building programmes that allow more music lovers to experience Sonos as a Home Sound System, whilst educating them on software capabilities such as voice control and Trueplay tuning.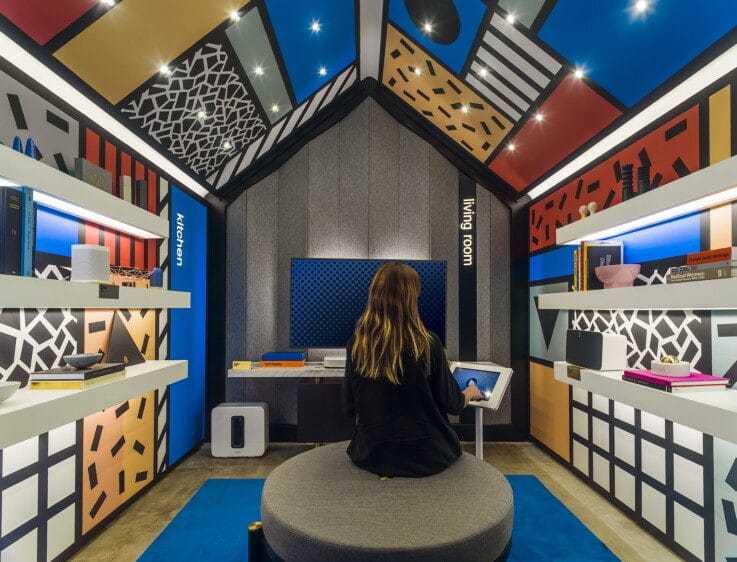 How has this impacted the development of the other physical spaces?
Originally three years ago we developed a full-scale store model in Carson, CA. The first iteration didn't deliver on the sound quality and multi-room experience we were looking for, and guests weren't given the appropriate place to test the software on their terms. As a result, we demolished the first iteration and created a second and final prototype of the retail store.
This prototype expanded on the elements that didn't come to life in the first attempt. The Sonos listening rooms (which you can now experience in NYC and London) also went through five or six rounds of prototyping before the final version launched in 2016. The development of this was overseen by Giles Martin, our Sound Experience Leader.
Having a prototype for almost two years is largely unheard of in the retail space, but it demonstrates Sonos' level of patience and commitment to getting our store right. This commitment mirrors Sonos' meticulous attention to detail when it comes to our products.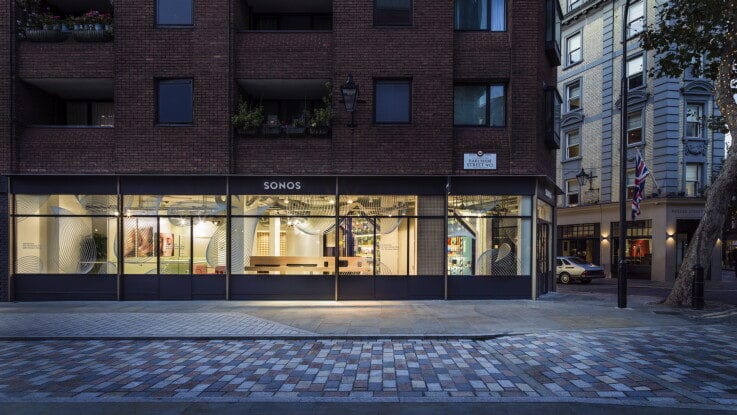 The new London store borrows from the New York space's design – how was this developed?
We're still testing and learning. But our vision is simple — empower people to listen better and make listening a valued experience again. Just like our products, the floor plan and innovative design of our store are dedicated to giving our visitors the opportunity to listen to music as it should sound.
We want to provide customers with an immersive way to experience our products, but also create and provide a physical space for music lovers to experience music as it should sound; learn from our expert team of Sonos representatives about our product range; and bring home the highest quality sound to fill every room in their home with the music they love. The Sonos concept store is an opportunity to bring the Sonos experience to visitors in London so they can interact first-hand.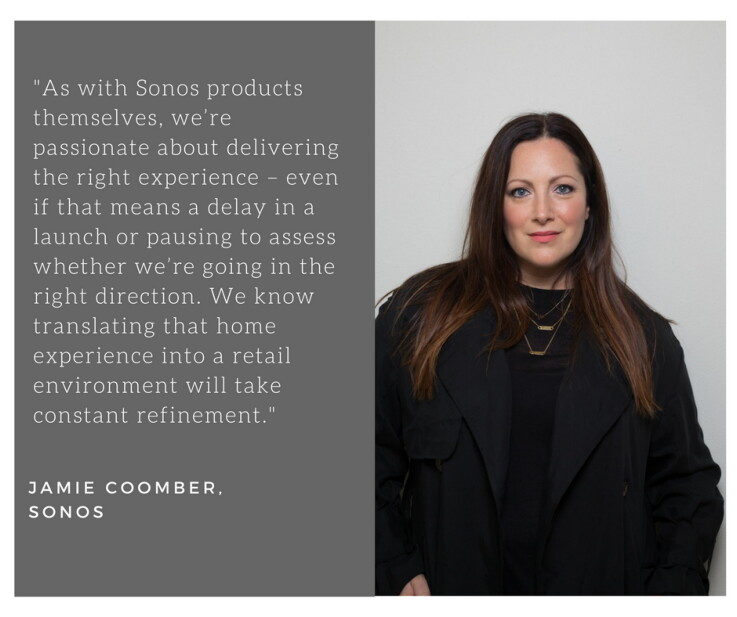 Are there any notable differences between the stores?
Each space has a very different layout in the floor plans, so there is a unique feel to each store. For example, in New York there are seven Listening Rooms, whereas in London we have two with a downstairs area for cultural activities such as listening events, talks, screenings etc. However, some differences are the aesthetics and the way the products are displayed.
Do customers typically convert when visiting? What is the average buying journey?
Our goal is to engage visitors with personalised, interactive experiences to learn more about and explore our products. We believe as customers discover Sonos products and the music experiences they provide they will take the next step to purchase. We're profitable, growing, and focused on creating amazing experiences for our customers.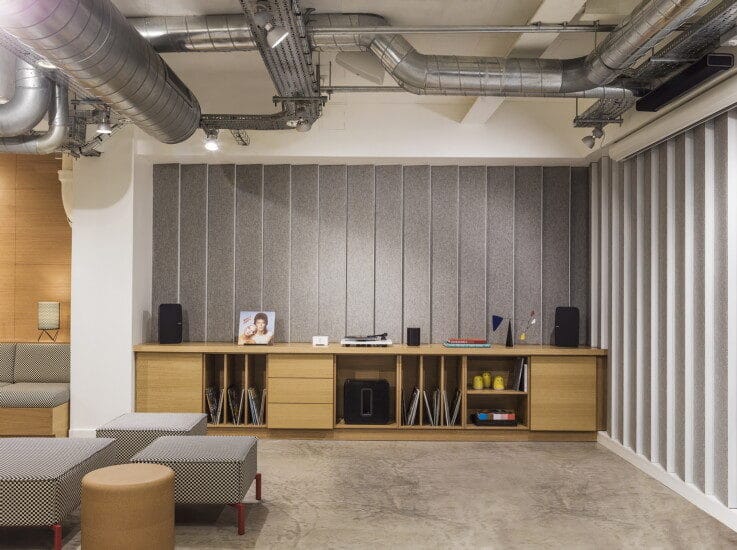 Did you have any concerns when developing the retail business model? How did you address those?
Opening retail stores have been in the works for several years, and we're excited to see it become a reality. We do have an annual lease for the London store giving us flexibility to extend our time in the space as we explore better ways to deliver a great customer experience. As with Sonos products themselves, we're passionate about delivering the right experience – even if that means a delay in a launch or pausing to assess whether we're going in the right direction. So yes, we did have challenges and identified many opportunities along the way, all of which brought us to the concept people will experience in store today. We know translating that home experience into a retail environment will take constant refinement.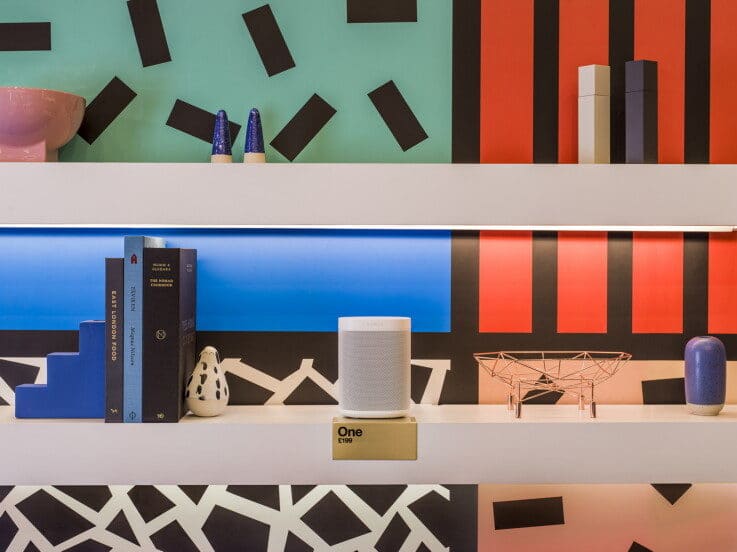 How important is experience in retail now? How do you see this developing in the future?
Given the nature of our product experience, our primary goal here was simple – replicate the home listening environment at retail. That feels very different to other tech retailers. We have less than 10 products and want to show people how they can come to life in their home.
We aim to deliver a personalised, immersive sound experience, not just a path to purchase (there are no boxes on our shelves). We want people to find the best way to listen to music out loud that suits their individualised home needs – they will have total control to play their own music in the store and discover how Sonos would work for them in their own home.
In terms of the future of retail, this is something we're still understanding, we know our customers use word of mouth to advocate our products (most likely having first experienced in a friend's home) and are more likely to buy online, but they also want the first-hand experience, so they can test out in person first before they purchase. With smart interactive technology such as Sonos personalised interaction and immersive experience with customers will still be fundamental in retail success.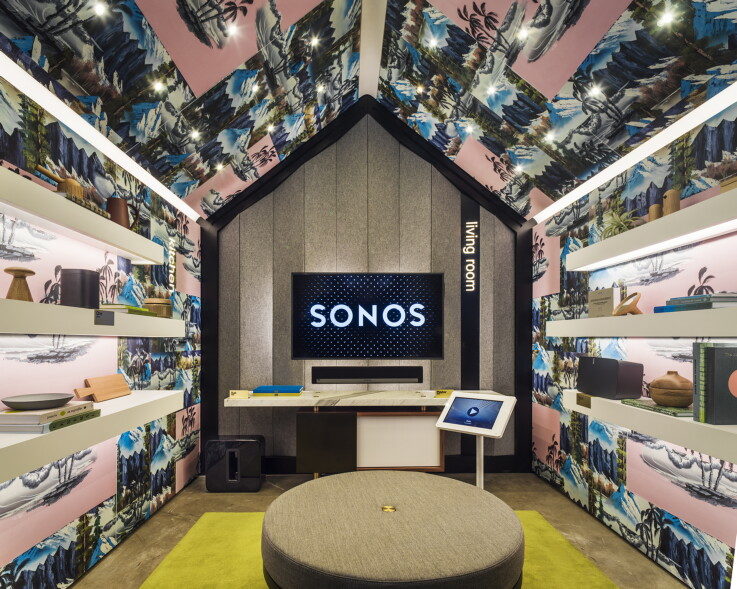 What's next for Sonos and retail?
We're launching our second European store in Berlin this year and we're focused on building the Sonos sound platform for the connected home. We're working with the most innovative companies in the world, including Amazon, Spotify, Google, Apple, and more to create the ultimate sound experience at home.
All images courtesy of Sonos