London
The Best New Retail in London – June 2023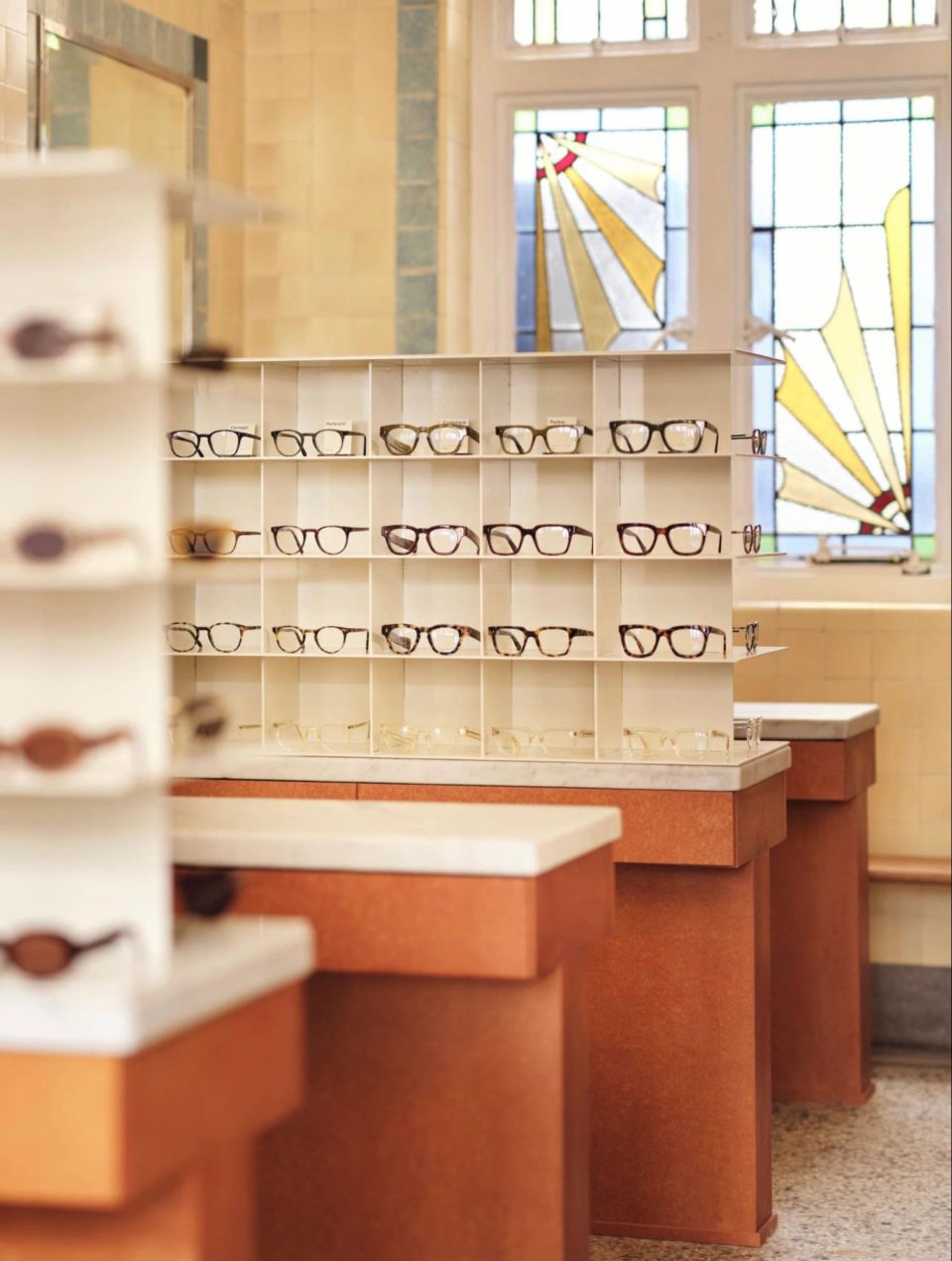 Retailers are continuing the trend of blending in with communities and making use of localisation to bring individuality to each of their stores.
This month is no different, with these new London stores preserving the original architecture of buildings, showcasing local artists, hosting workshops and partnering with community groups.
We discovered an "urban meadow", eyewear inspired by stained glass windows, art about Battersea Power Station, as well as a number of events and special curations.
Start taking notes now for the best new retail spaces we found in London this month.
Cubitts, Hackney
Broadway Market has a new entrant with Cubitts, the eyeglass retailer, taking over the old F. Cooke & Sons store.
The brand has kept many facets of the original building intact, including the window advertising eel pies and mash! The store also includes vintage objects from the archives of F. Cooke & Sons as well as the original stained glass window.
Connecting with the local East London community, Cubitts has reached out to a number of businesses, such as Artwords Bookshop for a specially curated selection of books to borrow, and illustrator Alec Doherty, who designed a spectacles cloth.
There is also a new range of glasses inspired by the location, including Orwell, named after George Orwell who lived close by, and Starburst, which resembles the stained glass of the store.
Zara, Westfield Stratford City
Fashion brand Zara has expanded its Westfield Stratford City store by adding another floor, creating one of its largest sites.
The new floor incorporates a number of innovative digital elements to offer an omnichannel journey for customers. Features include a collection area that is fully automated and uses a robotic arm, and two points for collecting online shopping with the ability to handle almost 3,000 orders.
The store also includes an area for customers to get their clothing repaired and another space to take donations of old and worn clothing. The Zara app seamlessly connects with the store, allowing the booking of changing rooms and checking store stock.
EE Studio, Westfield White City
EE has created a bold new flagship store called The EE Studio, in Westfield, hoping to help customers understand how they can use technology and connectivity in their homes.
The store makes use of themed zones designed to appeal to a range of different shoppers and needs. Visitors arrive at the Welcome Zone to a digital display that informs them of upcoming events and new collections, and a QR code designed to introduce them to the experiences in the store.
Customers can then choose from the Digital Spa, for technology enabled meditations and sensory immersion to help their wellbeing; Base Camp, a seated area for relaxing, speaking to EE experts, or holding workshops; The Stage, for learning new skills, visiting pop-ups and attending events; along with Tech Live and the Gaming Zone, for the latest technology and a gaming hub.
L'Estrange, King's Cross
A new space in Coal Drops Yard aims to connect people and nature through an interesting new retail design from menswear retailer L'Estrange.
The space uses "biophilic" design principles which are inspired by the pull of the natural world to humans, and aims to create a calm atmosphere. The main feature is The Meadow, developed by Lottie Delamain, a display of dried flowers and other plants that infuse the interior with a delicate scent. The calming effects of nature also continue into the fitting rooms, which play relaxing forest sounds recorded by The SAFE Project.
Customers can choose from a carefully selected collection of clothing, as well as furniture from Fred Rigby, made from sustainable wood collected by Fallen & Felled. L'Estrange aims to ensure the longevity of its pieces, offering free repairs for customers. The store also provides a space, the Cabinet of Curiosities, for other sustainable brands, such as perfumer Haeckels and designer Argot Studio.
Youth To The People, Spitalfields Market
Vegan skincare brand Youth To The People (YTTP) has opened its first store in the UK, called The London Youth Gallery.
The brand sees the space as more than a retail store, but also as a place to connect with the local community and activists. Visitors to the store can take part in a Skin Session with YTTP health coaches and receive advice on creating their own personal skincare routine.
The store will also hold many community events and installations, with French artists Obvious creating a special artwork for the space. The London Youth Gallery was launched with a series of panel events with beauty experts and the store founders to discuss a range of issues like sustainable beauty, inclusion and the future of beauty.
Apple, Battersea Power Station
Battersea Power Station is fast becoming one of the most desirable locations for new stores, and this month sees the arrival of Apple to the space.
The store has been built with accessibility and sustainability at the forefront, and is run on renewable energy. There are also Apple staff available to not only give advice on products, but to help with customisation, engraving, trading in and getting set up with a new Apple device. Customers can enjoy free education with the Today at Apple workshops, which include special art and photography sessions for imagining the power station.
The launch was celebrated with special live performances from local artists JGrrey and Kwaye, and the work of eight emerging artists, focused on Battersea Power Station, through a local partnership with Battersea Arts Centre and Curated Makers. For the rest of the summer, local families can also take part in an Apple Camp session to design inventions using Apple software.
Hollister, Soho
Hollister has updated its look to appeal to teenagers and Gen Z with its latest store in London.
Parting ways with the dimmer aesthetic of its older stores, the new look is lighter, warmer and more inviting, combining blue and white colours with natural woods. Shoppers can expect to find the Hollister range across women's and men's clothing, and accessories. Gilly Hicks, its lingerie and athletic brand, is also available here.
Customers can purchase online and collect in-store, and there are also options to order from the store and have delivery on the same day.
The store was launched with a special event for customers, where they could purchase Jasmin Sehra designed cargo pants and have them personalised.
Get the inside scoop on the retail trends that you need to prepare for with a deep dive report into your sector.