New York
The Best New Retail in London – October 2023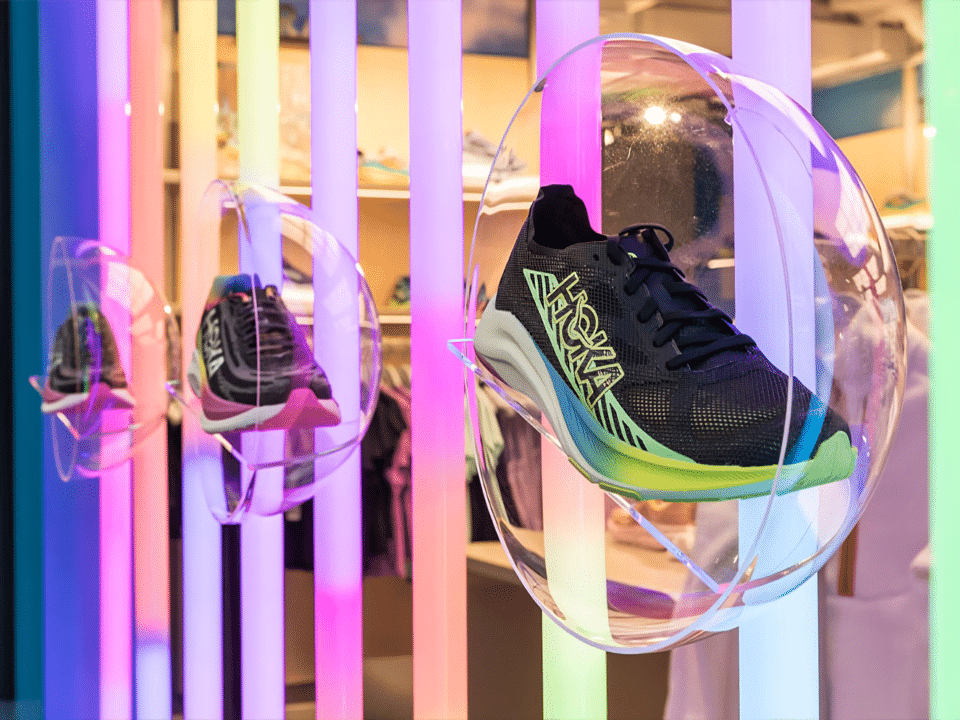 London remains a pivotal location for retailers, with two brands this month choosing the capital for their EMEA launches.
Athletic brands continue to tap into London's sport community, with two footwear and one basketball retailer launching new stores. We also saw the arrival of brands who have built their popularity on social media through the unboxing of Blind Boxes.
Finally, luxury clothing brands also make an appearance, with striking store designs and a denim boutique.
Check out what's happening in the UK capital this month with our list of best new retail stores.
Kurt Geiger, Oxford Street
A colourful new flagship has burst onto London's most famous street from luxury retailer Kurt Geiger.
The store is a celebration of its location, London, which is spelt out across mosaic tiles. The original space is industrial concrete, which makes the Kurt Geiger signature rainbow products and design stand out even more.
Large rainbow coloured panels of glass are situated throughout the store as a modern take on stained glass windows. A rainbow floral pattern spreads from wall to ceiling and matching fabric is used for the seating area. Finally, Kind by Design, the brand's charitable organisation for young designers, is etched into the stone work outside.
MINISO, Shaftesbury Avenue
Lifestyle brand Miniso has launched a new mini store in Chinatown – its smallest one so far.
The brand is popular on TikTok for its Blind Boxes, which contain a surprise selection of collectible figures and toys, including some from other well-known brands like Minions and Sanrio. Customers can also purchase other toys and accessories including the latest Miniso collections.
The opening was celebrated with a live performance from a drummer and an appearance from the Miniso mascot, PenPen. There were also special gift bags available for any customers buying items in-store.
Bouncewear, Shoreditch
Fresh from the success of its pop-up store, basketball brand Bouncewear has launched its latest store in London.
Basketball is growing in popularity in the UK and much of Europe, leading to new investment and development in the sport. Bouncewear is hoping to meet the needs of basketball players in the UK with its selection of basketball clothing and footwear. It offers products from well-known basketball brands such as Nike, Adidas and Jordan.
New Balance, Westfield Stratford City
Westfield Stratford City sees the arrival of a new retail concept from athletic footwear brand New Balance.
The store has a stripped back feel to not overwhelm with choice, but instead provides a thoughtfully curated selection of products, aimed at young athletes and influencers. There is a seating area that allows customers to relax and seek inspiration from their surroundings.
Each item has information on how it was made, who made it, and how the design was conceived, to allow customers to learn more about the products and help them feel more connected with the brand.
Paul & Shark, Regent Street
A new flagship has been launched from menswear retailer Paul & Shark.
The store has an elegant and light feel, with polished wood and blue touches throughout. A large mirrored wall accompanies the stairs, giving the appearance of a sparkling waterfall. Sustainability remains a key commitment for the brand, using existing products and recycled materials to decorate and design the store.
LEDs and digital displays feature ambassador Pierce Brosnan and his son, Paris, in the latest clothing collection. Customers can also get their clothing personalised at the new customisation area.
Paige, Kings Road
Denim brand Paige has launched its first (and largest!) store in the UK, located in Chelsea.
The store has an elegant boutique feel, with black metal fixtures juxtaposed against white walls and wood, alongside arched windows.
The store includes Paige's selection of denim, clothing and other accessories, and its latest collection. There is also a luxurious VIP lounge for customers to relax and obtain styling advice. Clothing alterations are also available.
Hoka, Covent Garden
Another London first is a new store from athletic footwear brand Hoka.
The store is designed to be a community hub and connect with runners and other athletes in London. The store stocks a variety of shoes and customers can also use Safesize, a special 3D scanning technology that can help them find the perfect fit.
There are recycling services available, with the brand partnering with JogOn, and athletes and coaches to ask for advice on training and nutrition. A range of classes and events will be held for customers to attend, such as yoga classes and wellness events, talks and panel discussions and even a running club.
It's never too early to get started on your 2024 retail strategy. Book a London retail safari to visit spaces that will help your brand rethink what's possible.