Interviews
Why All Retailers Should Be Considering an Online Marketplace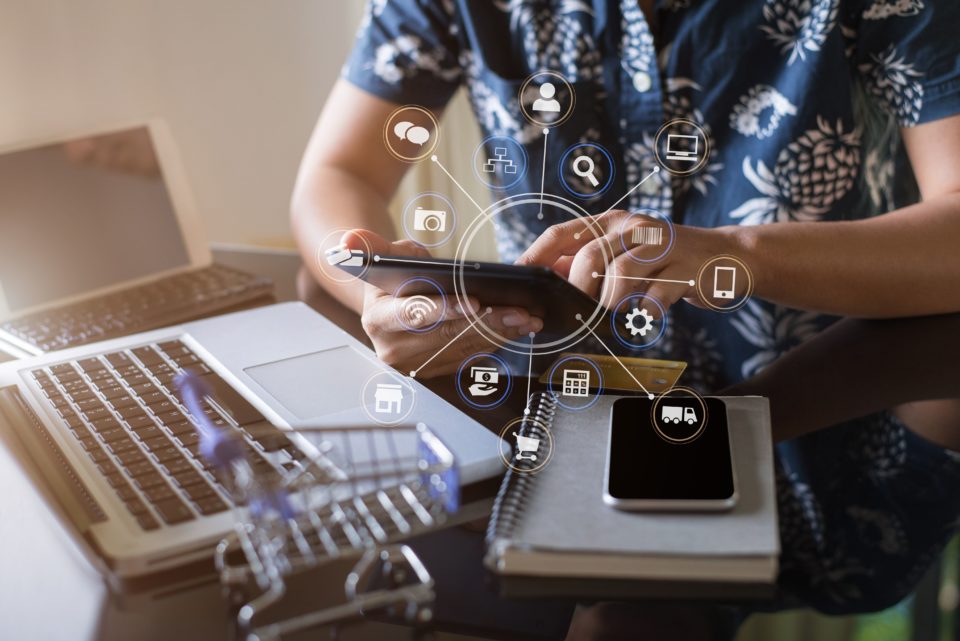 If you think your website has e-commerce covered, then it's time to think again.
Customers are increasingly turning to online marketplaces to find what they want to buy, both in B2C and B2B.
An online marketplace, whether as an operator or as a seller on one, can increase your range, customer base and sales. It's all about getting your strategy right.
We spoke to Daniel Kassman, Director of Business, Marketplace at modern commerce specialists Avensia for an expert's perspective on the power of online marketplaces and what retailers need to know to create their own successful marketplace.
Daniel Kassman, Director of Business, Marketplace, Avensia
What do online marketplaces offer retailers?
For many retailers, the most common use case for launching an online marketplace is range expansion.
The most successful marketplace operators are very skilled in moving product groups from their own inventory to the marketplace, depending on how well the product group is selling, how the margins are performing, and the trends in the markets.
Some retailers are actually using their marketplace as a sort of laboratory, so as soon as they see a new trend they can move fast and risk-free. If the product group is performing well, they can take that product group into their own inventory.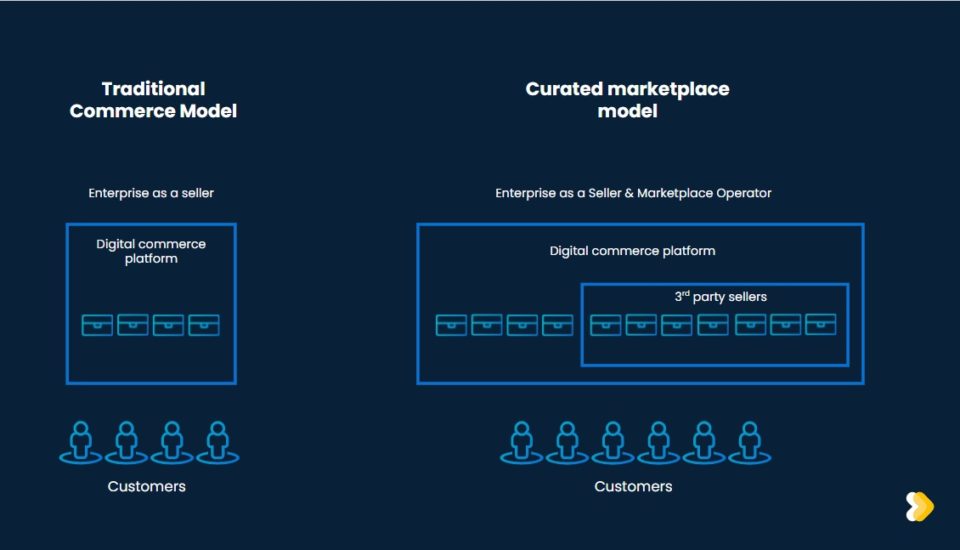 How do you help retailers with their marketplace plans?
My role is focused on the strategic work that you do before you launch an online marketplace, thinking about the value proposition that you want to bring to the network of sellers that you're going to connect with and why your customers would need a marketplace.
It's important to focus on the right activities during the first year. You want to launch a minimal viable product. You want to set up the right team and focus them on a few specific tasks. You want to find the right sellers based on how you want the seller to perform. You want to have a set of KPIs and create the business processes around onboarding.
I previously worked for a consumer electronics retailer that has been around for almost 100 years. They do their business in the way that they've always done – buying a shop and selling from it.
Then someone thought that we should start a marketplace, but they didn't have buy-in from all the parts of the organisation. They thought it was just a technical implementation.
It was a very long journey to learn the mechanics of this network and what triggers a seller to come onboard to a marketplace. And what it takes to convince a customer to buy products that are actually not sold from the retailer itself.
These are the types of things I help marketplace operators get right. We can also help marketplaces to do the integration work with whatever platform they choose to work with.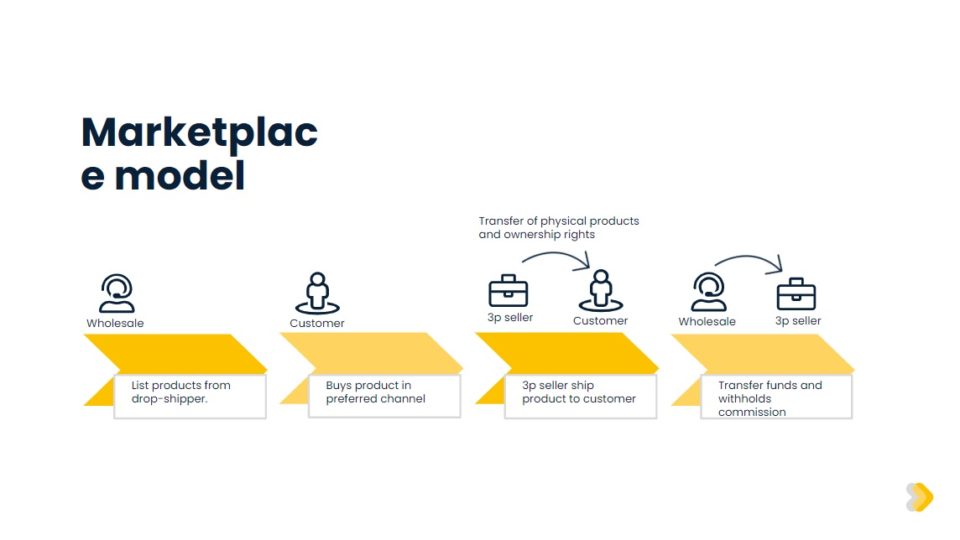 Why is now a good time for retailers to launch an online marketplace?
Operators of online marketplaces have been outperforming traditional e-commerce for quite a few years now.
However, those numbers include the really huge players in North America and China who have been around for 15 or 20 years and built their own platforms. The threshold for building your own platform is quite high because the investment is huge, and you need a very large tech team just to maintain it.
In the last couple of years though, there have been new SAAS solutions that, for just a fraction of the cost, you can use to build your own marketplace. This tech change makes it possible for new players to start marketplaces that are profitable without needing a huge number of sellers.
As a retailer, you're used to focusing on the value that you bring to the end customer. As a marketplace operator, you also need to bring value to the sellers on your marketplace, because if you don't they will not come to your marketplace.
If they don't come, you will not attract more customers and you will not get the wheel effect of networking.
What are some things retailers need to be aware of when creating an online marketplace?
One of the key things is to have everyone on board across all parts of the organisation. It's usually a big strategic shift for a retailer to start a marketplace operation and it touches on almost all parts of the business.
You need to be very meticulous with the product strategy in the beginning so that the marketplace team knows what kind of products they're going to onboard and that those products correspond to your brand.
If you're a fashion retailer, you don't want to onboard something that's not fashion as the products won't sell unless you acquire that traffic.
In a regular marketplace model, where the retailer does not sell the products directly, you also need to be very clear on who is selling the product.
There are some hybrid versions where you onboard the sellers like a marketplace, but you do it in a drop shipping way where you actually buy the product from the seller and you as a retailer are the one that is responsible towards the customer.
This does mean you will have higher costs on the customer support side, for instance, because you are actually responsible for the products and the returns will have to be handled by you.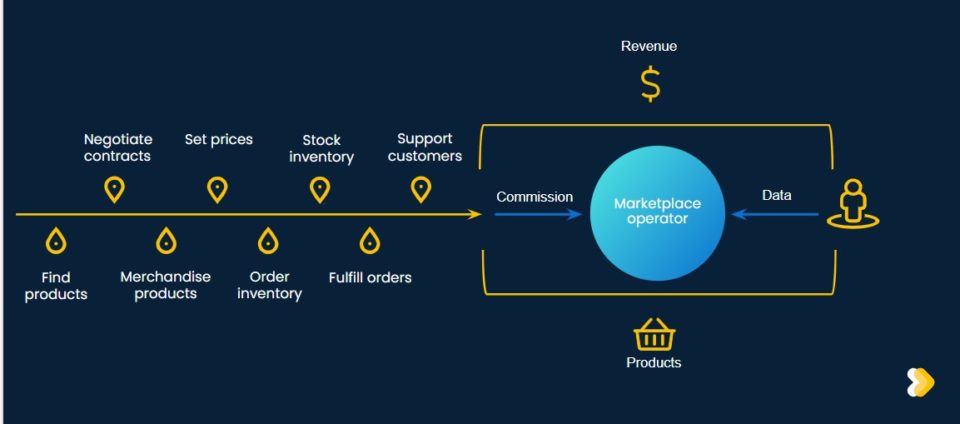 Is there a particular type of retailer that should be considering a marketplace?
I think all retailers should consider a marketplace, either creating their own or selling on one.
You need to find something to bring to the table in order to create your own marketplace. If you find something, it doesn't matter if you're small or big, you need to monetise that.
The most common value that marketplaces offer to sellers is traffic. If you don't have a lot of traffic on your site, you need to find another value to bring to the table. For example, you might have logistics capacity in your warehouse that your sellers could use.
If you have considered all the possibilities and you have concluded that you don't have a strong enough value proposition to create your own marketplace, you should evaluate selling your products on someone else's marketplace.
Then the focus is on finding marketplaces that specifically suit your business needs. Perhaps that's international expansion or you find a marketplace that has a specific segment in the market that you can't attract to your own stores. Perhaps you have a specific part of your assortment that you want to put on a specific marketplace.
Are there any examples of best-in-class marketplaces that you can share?
One is a French retailer called Nature & Decouvertes.
They sell products that are nature related in many different categories such as garden decorations, jewellery, books, baby and outdoor. They've operated a marketplace for a few years.
Besides extending their range, they also managed to use the marketplace to really enhance the customer experience besides just having a huge assortment. They included services in their marketplace such as workshops, nature walks and other activities.
They have a presence across all of France, so you can choose which part of the country you're in and find local services.
They're a brilliant example of enhancing the customer experience through a marketplace. For example, they sell telescopes but can also offer customers an online course in astronomy via a partner.
It very much feels like they're bringing the brand to life through all these different activities. The brand is more about what you do than what you buy.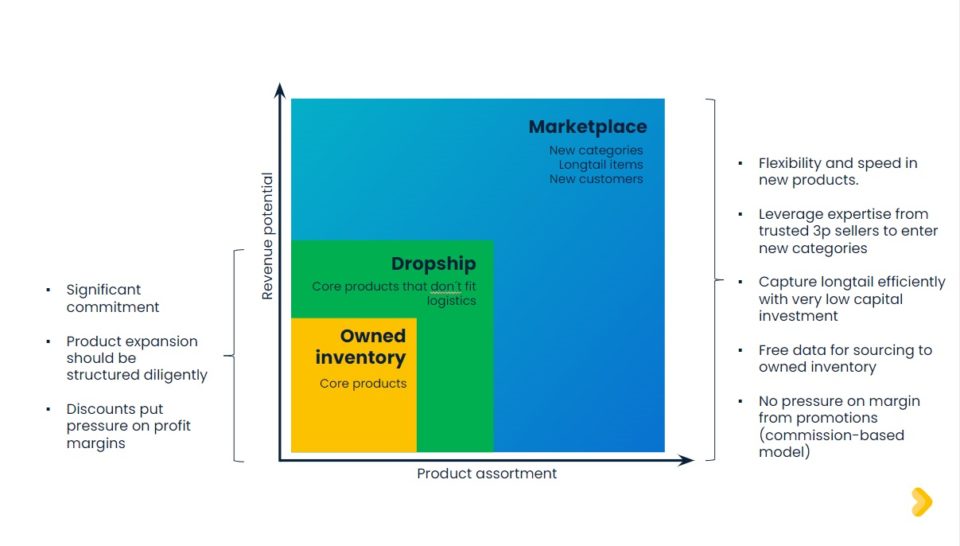 Are there any marketplace trends that retailers should be aware of?
The B2B trend is the big one as most of the B2B players are not fully digitised yet.
I think some of them are going to skip a few steps and go straight to a marketplace model because there's a generational shift going on in the purchasing departments. The new generation are used to buying online. They don't need the traditional sales team to make a purchase. They also expect wider assortments and better availability, which is something that the marketplace model can bring to the table.
There are a lot of companies who prefer to see what other companies are doing before they take the plunge, but actually this is a space where there is real first mover advantage because it's all about that relationship.
Is there anything else retailers should know about online marketplaces?
Omnichannel should be in the roadmap somewhere. Even just for simple things like being able to do returns in the store, it's vital to have that experience for the customer.
It doesn't have to be right away, but you need to have capability in the backend to implement that functionality.
There is a B2B fresh food wholesaler in France called Turner Price which sells to restaurants and hotels. They have big warehouse stores where they sell their products.
They have implemented a marketplace for complementary items. They added huge touchscreens in the stores to support the salespeople to access their inventory and the marketplace inventory and order it straight to the customer's address.
If you're looking for tips for getting started with a marketplace, or want to talk through your marketplace project, do get in touch with Daniel.