Tokyo
The Best New Retail in Tokyo – October 2023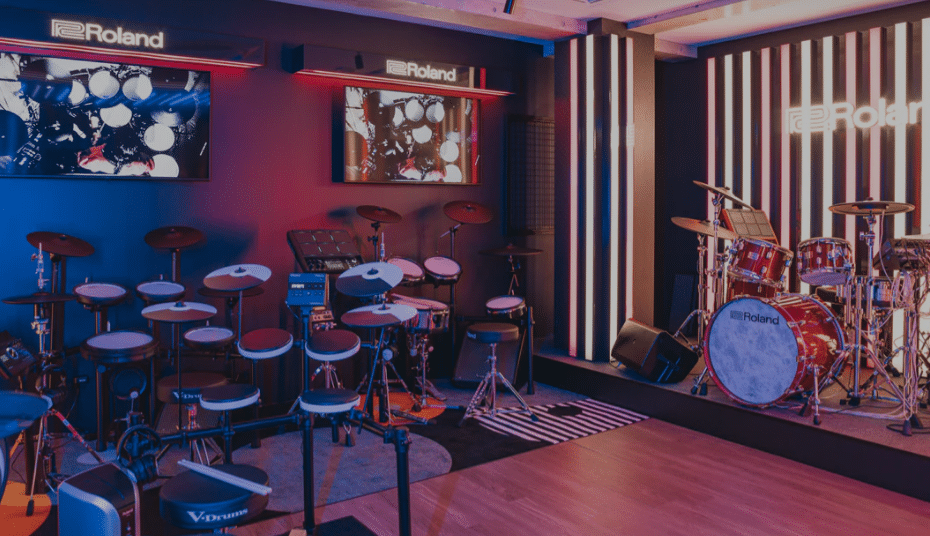 Luxury retailers have been busy in Tokyo this month, with many of the most interesting store designs we found coming from this section of the market.
Artistry and design feature strongly amongst these stores, with artwork commissioned for exteriors and interiors elevating them against typical retail offerings, particularly in areas like Ginza, a popular location for luxury retail.
Japanese culture is also an influence as stores continue to adapt their branding and designs to fit in with their location and surroundings.
Read on to find out the best retail we found in Tokyo this October.
Roland, Harajuku
An immersive new store for musicians has launched in Tokyo from digital music company Roland.
The store spans three floors and stocks all of Roland's music products. On the first floor, customers can find a variety of wind instruments and synthesisers, as well as DJ-related items, accessories and Roland branded clothing.
The second floor contains a variety of full sized digital pianos, while visitors looking for band equipment can find drums and guitars on the third floor. The store also offers a Demo on Demand service for an individual experience for shoppers, provided by Roland store experts. Personalised lighting and audio are available so that customers can tailor their experience in-store.
Tiffany, Ginza
A stunning artistic renovation on luxury jeweller Tiffany's flagship store has recently made waves in Tokyo.
Iconic artist Damien Hurst has taken on an enormous project, hand-painting 292 panels with petals in pink, green, red and white, adorned on two trees, against a blue sky. This design continues inside the store, complementing the light, airy space and fixtures.
Shoppers can also view items from the Tiffany designers Elsa Peretti and Jean Schlumberger, and relax in a private salon.
Boucheron, Ginza
Luxury French jeweller Boucheron has launched its second biggest store this month in Ginza.
The store was launched with a digital ribbon cutting ceremony, using an animation, and three new Boucheron pieces. The theme of the store emphasises the natural, combining elements of French and Japanese culture. This includes an ivy mosaic that forms a pathway through the store for visitors to follow.
As well as jewellery collections like the Nature Triomphante and Animaux de Collection, the store will also display archival jewellery, including a rare piece from the 1800s.
The first floor contains a VIP area with Japanese furniture and plants for customers to relax. Bridal jewellery can be found on the second floor, which has been inspired by Japanese wedding customs, and contains a digital wishing tree for couples to wish on.
Polène, Omotesand Avenue
Another French brand arriving in Tokyo this month is prestigious leather brand Polène, marking its first store in Asia.
The store features Japanese artwork and is inspired by nature, with a staircase that looks like water, and hand lacquered dark tables and seating that resemble giant stones.
A bespoke glass table that looks like large sheets of ice displays the brand's jewellery collection. Customers can also find leather bags dotted throughout the shelves, bathed in warm light.
Barbour, Daikanyama
The first Tokyo flagship from Barbour, a British outerwear company, has launched in the Shibuya-ku region.
To celebrate the launch and the brand's 40th anniversary, Barbour released a special edition version of its Beaufort jacket, complete with engraved buttons and a 40 patch.
Customers are also able to get Barbour items they buy in-store personalised or decorated with embroidery. Additionally, the store is hosting five jackets from the brand's Re-Loved collection, which showcases pre-loved jackets.
Bulgari, Omotesando
A new concept store from luxury jewellery brand Bulgari has launched in Tokyo, influenced by the brand's home of Italy.
The store is yellow both inside and out, to represent the sunset in Rome, with the interior also reflecting Roman architecture. Customers are able to browse Bulgari's collection of watches and jewellery, but additionally, accessories such as wallets and bags.
The launch was celebrated wit
Enjoy our new store round-ups? Get an overview of the spaces changing the game in your target market with a custom trend report.