US
The Best New Retail in the US – September 2023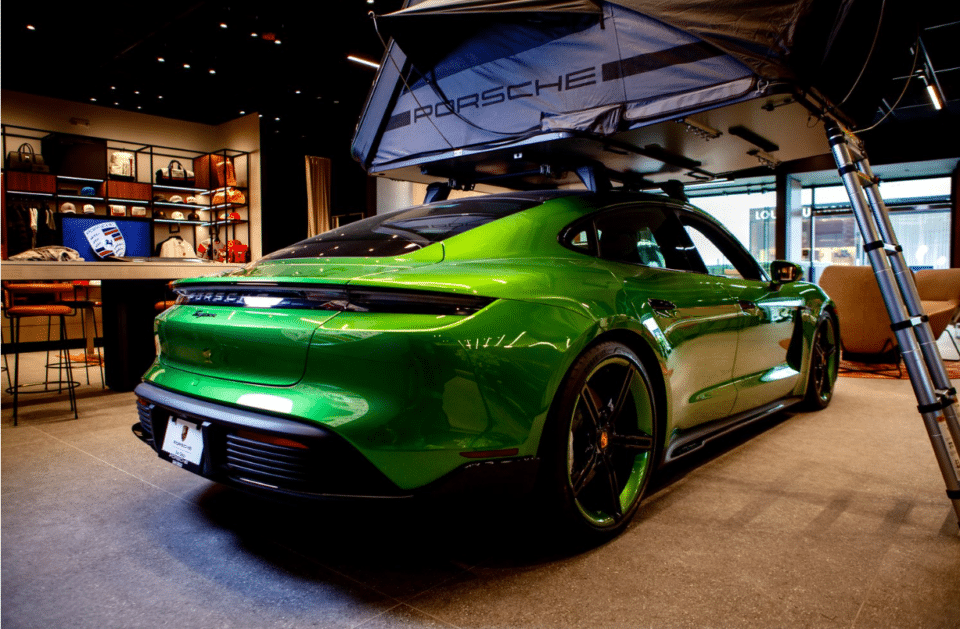 If you're after retail inspiration, you cannot go wrong with exploring what US retailers are doing with their spaces across the country.
The small-format store is a key feature this month, with large retailers creating these spaces to be more accessible and closer to customers.
Localisation continues to be key for retailers as they partner with brands that they know will be of interest to their customer base, and offer special events and launches that demonstrate their knowledge of the community.
Read on for the latest and best new retail happening in the US.
Porsche, San Diego
Luxury car brand Porsche has launched a new concept store, Porsche Studio, in collaboration with car service company Holman.
The space has the feel of a boutique designed around cars, where the focus is on a high level customer experience. Customers have access to a dedicated member of staff to guide them through the purchasing journey. There are also Porsche Pros available who can share expert insights on the entire Porsche range.
A Fitting Lounge lets customers choose personalisation options, explore ranges and order their new car. Porsche Design clothing, sunglasses, luggage and other lifestyle accessories are also available for customers to browse. Finally, there is a bar with luxury snacks and local coffees for visitors to relax at.
Dior Men, Miami
Designer retailer Dior has opened a new Dior Men store in the Design District of Miami.
The space was designed by Thomas Trum and takes inspiration from the colours of the Design District itself. The store features artwork from Gioele Amaro and Elias Sime, amongst others.
Customers can find the full range of Dior Men clothing on the first floor, along with other lifestyle goods such as accessories and Gem Dior jewellery. The space also has two salons for VIPs located on the second floor.
Macy's, Boston
Macy's small-format concept sees its first opening in Boston this month. The brand also plans to open further stores in Las Vegas and San Diego later this year.
The space is about offering a more curated and localised experience, with a blend of well-known brands like Levi's and Calvin Klein, alongside Macy's brands INC and Bar III. Macy's is also collaborating with local brands to create distinctive pop-ups and events for shoppers.
The Trend Pavilion showcases the latest trends and fashion in a range of categories and brands to help customers find their exact style. The fitting areas are also more inviting and comforting, with areas to relax, take selfies and make use of Macy's Styling Carts to find other trending fashion.
IKEA, Arlington
The small-format store concept is popular this month, with IKEA opening its latest one in Arlington.
This Plan and Order Point space lets customers browse items in-store and book consultation and planning for design projects. The store is designed to be more accessible and convenient, with access to the Metro or Metrobus.
Items cannot be purchased in-store, but instead IKEA arranges home delivery for convenience, making it easier for those travelling without a car. Customers can also arrange in-person appointments via the special local store page on the IKEA website.
Fjällräven, Palo Alto
Outdoor brand Fjällräven has opened a new store in Palo Alto this month.
The store stocks the clothing and outdoor equipment which the brand is synonymous with, but customers will also be able to access some unique services. They can take their items in to be repaired and also get their clothing tailored. Custom backpack fitting is available to ensure those long treks are as comfortable as possible.
The launch of the store was celebrated with a series of events, including a nature walk from the store to Heritage Park with Libby DeLana, the brand's creative director. Nature Unplugged also hosted a special workshop on improving wellbeing by spending time in nature. Other events and educational experiences will feature at the store in future.
Foxtrot, Austin
Convenience store brand Foxtrot is opening stores in unusual spaces, launching its latest site in Austin's City Hall and planning to open another at The University of Texas.
The space was designed by Magic Architecture and looks more upscale than a traditional convenience store, with artisan signs and a spacious patio. The launch included a special wine pour event, and customers using the Foxtrot mobile app were able to claim a free tote bag.
Customers can choose from an array of foods and drinks at the all-day café, including tacos, salads and coffees. These items can be eaten on site, as a takeaway or ordered for delivery. The store is also partnering with local businesses and offering products from Bola Pizza and Lick Honest Ice Creams.
Want more than just a snapshot of the inspirational retail trends happening in your target market? Talk to us about our specialist reports, which will give you the facts straight – no fluff.