China
The Best New Retail in China – November 2023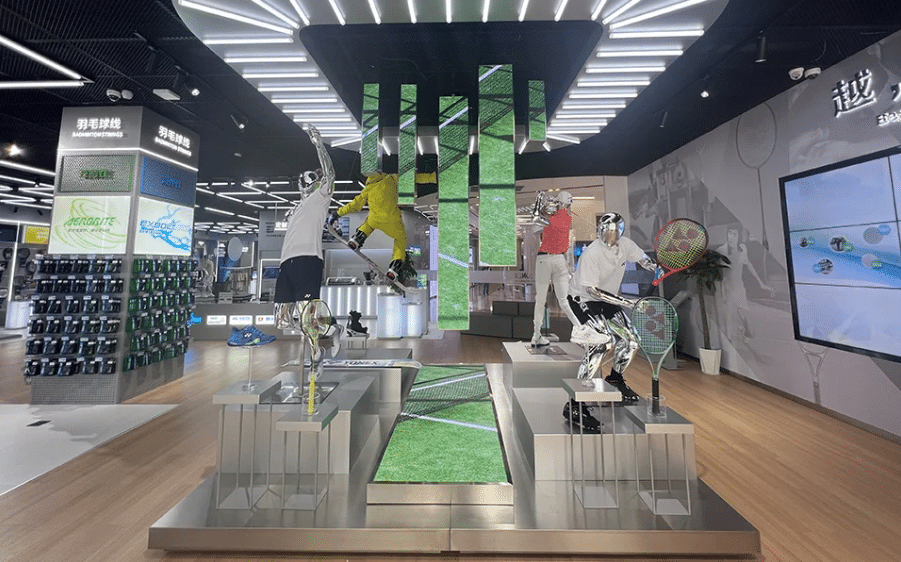 China has a hugely diverse range of stores and this month's finds are no different.
Stores are incorporating digital test elements to help customers try out sport equipment and vehicles. There are also stores using local knowledge and traditional architecture to reflect their location, while others include concept elements like cafes.
Outdoors seems to be a growing area of interest for Chinese shoppers, which is reflected in fashion and car trends amongst stores.
See what the biggest trends are in Chinese retail with our selection of new stores this month.
Yonex Shanghai Showroom, Shanghai
Sports equipment brand Yonex has launched its first showroom in one of China's main shopping sites.
The store is designed to offer an immersive experience to customers, with a digital court for testing out its range of items, blending physical actions with virtual images. The space tells the story of Yonex and its products, helping visitors to find out more about the range.
There is also an array of personalisation available for shoes and clothing, and a customised racquet stringing service delivered by a specialist team. The brand is also hoping the store can function as a hub, for hosting events, live shopping and famous athletes.
ENG, Beijing
Fashion retailer ENG has launched its new flagship in the Chaoyang district, an area with a newly revamped shopping space.
The store incorporates traditional Chinese architecture and is decorated with semi-opaque paper, with items sparsely dotted throughout. The colour scheme is monochrome to draw more attention to the products rather than the space itself.
The store features clothing from up-and-coming and established global brands, such as Mugler, Blumarine, Knwls, and more. Many of these brands are part of the continuing Y2K fashion trend and are not typically stocked in Chinese fashion stores.
Maison Margiela, Changsha
A new concept store has arrived in Changsha from designer fashion brand Maison Margiela.
The space has been designed by a studio in the Netherlands to look like a chic and airy boutique with light coloured wood and an installation of lamps. Shoppers can expect to find the full Maison Margiela range, including ready-to-wear, shoes and other accessories.
The store is also capitalising on the coffee boom in China with the inclusion of a concept café. The Margiela cafes are very popular across China, with huge numbers of people posting about the spaces on social media.
Études, Shenzhen
Shenzhen sees the arrival of a pop-up store from fashion brand Études.
The design incorporates a motif seen in all Études stores which is steel in a grid formation, along with other industrial elements like aluminium and concrete, and the brand's key colour of vivid blue.
Customers visiting the space can expect to find the range of clothing offered by the brand, but there will also be specially curated collections of records and photography books. Additionally, the brand hopes to offer a series of collaborations at the store with other artists.
Freshippo Premier, Shanghai
Grocery brand Freshippo has launched a new high end store in Shanghai.
The store will balance its stock between domestic and imported goods, including Hema, its own brand, and local goods directly from Shanghai. Customers visiting the store will have the opportunity to test products and can additionally make use of a WeChat programme to speed up checkout.
The opening coincided with the Mid-Autumn Festival and offered customers Shanghai specialities like crabs.
Ford Beyond, Chongqing
Automotive brand Ford has opened its very first concept store, Ford Beyond, in Chongqing.
The store is themed around the outdoors, featuring the Ford Ranger and Ford Bronco prominently throughout the space. Customers can also purchase Ford merchandise, specifically designed for the outdoors.
There are also experiential elements included such as test drives that can be customised for off-road. Shoppers can also get their Ford modified and repaired, and join a community club for Ford fans.
National Geographic, Nanjing
Deji Plaza, a fashionable shopping centre, sees a new store opening from National Geographic.
Hoping to appeal to fashion enthusiasts and the urbancore trend that is popular in China at the moment, the store features a range of environmentally friendly clothing. The opening was celebrated with a collection of gifts, such as soft toys, clothing and camping furniture.
The space features photography from National Geographic archives across the walls. Shoppers can also visit the BASE Outdoors & Café to find out more about camping supplies and how they can be used to make coffee.
Be a retail leader not a follower in 2024. Book a bespoke retail safari and open up your retail team to new possibilities.