London
The Best New Retail Openings in London – March 2023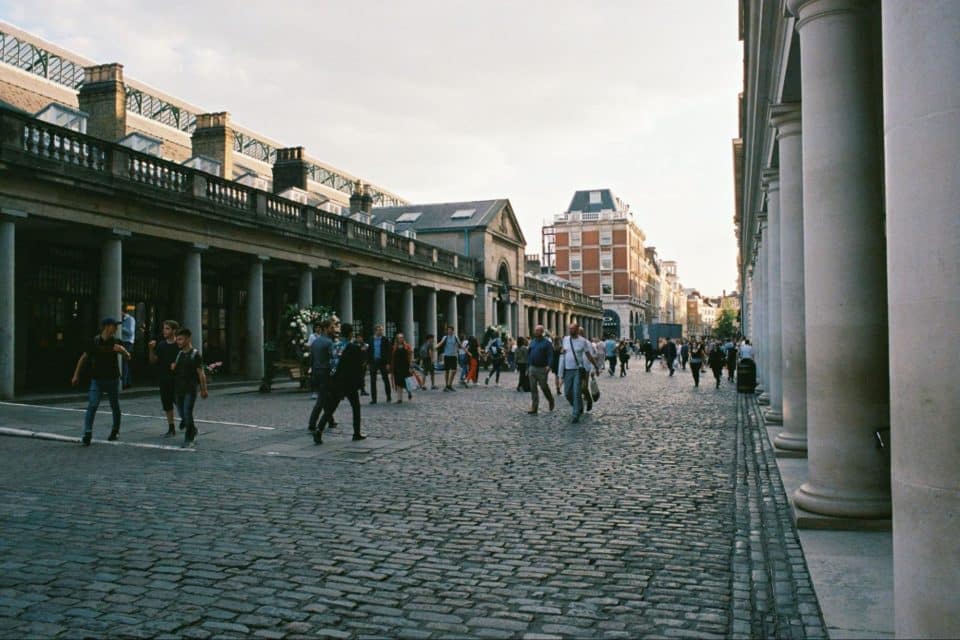 Community and localisation are once again the big themes for this month's pick of new London stores, along with brands making their spaces a hub for all things, from shopping to classes to workouts.
We've found a supermarket forging its way into the world of IoT, a splashy celeb-studded beauty store launch, and a soon to be launched pop-up for shoe swapping.
Read on to find out more about our top six new stores in London.
Kavanagh's, Belsize Park
The first grocery store to be 'fully powered' by IoT tech in the UK is Kavanagh's Budgens in Belsize Park. The brand was looking for solutions to improve efficiency and manage stock, and turned to SES-imagotag for help in turning Kavanagh's into a fully digital store.
The digital elements include the shelf displays, which no longer need to waste paper or staff time replacing tickets every week, freeing up staff to serve customers. The brand claims that they have had an increase in sales of 130% as customers also find the digital displays to be useful for their purchasing needs.
Kavanagh's hopes to include more data that customers may find helpful in future, such as sustainability ratings and store offers.
Completedworks, Regent's Park
Aided by a fund from the Fashion Trust, sustainable jewellery and homewares brand Completedworks has taken over two floors of a former pub in Marylebone to launch its new store. The space includes a studio, showroom and workshop, and has been designed by Hollie Bowden, who conceived of the area as an ideas laboratory.
The décor and colouring helps to showcase Completedworks' unusual pieces at their best. Customers like purchasing in spaces like these with Completedworks noting that it feels more intimate and allows for visitors to buy bespoke items too.
Completedworks hopes to use the showroom to hold free classes, such as pottery, ikebana and sustainable cuisine.
Sephora, Westfield White City
Westfield White City saw the opening of the first physical store from returning-to-the-UK beauty retailer Sephora.
The brand has made a name for itself with its popular app and online store, and the opening was attended by UK stars such as Gemma Collins, Bimini Bon-Boulash, Leomie Anderson, with a performance by the reformed Sugababes. There were also makeup masterclasses during the week from brands like The Inkey List and Huda Beauty.
The store will not only include the brands that Sephora has become known for online but also includes a Beauty Hub for treatments from Sephora and other experts. Customers will also find a Lip Bar, Benefit Brow Bar, and personalisation services for engraving perfumes and gift wrapping.
eBay Swap 'Em Out, Soho
After another recent successful pop- up with Morley's chicken shop, eBay is back with one devoted to "sneakerheads"; a community built around collecting rare trainers. This exclusive, ticketed event will open on 25 March to allow enthusiastic trainer fans to swap their trainers for a new pair worth up to double their value.
There will be experts on hand to check the authenticity of the trainers brought in by customers, which must be worth over £100 in value in order to take part.
Attendees will also have the opportunity to win prizes, such as a pair of Jordan 4 KAWS, and attend an afterparty with DJs and other live entertainment.
Peloton, Covent Garden
Sports retailer Peloton has launched a new store adjoining the existing Peloton Studio in Covent Garden. Customers and fitness aficionados can purchase items from Peloton's collection, including exclusive London merchandise.
A grab-and-go area offers juices and snacks for workouts, and a new community hub will be the space for events like panels and meet and greets. The launch included a pop-up from custom embroidery brand, Sarangua.
B&Q Local, Camden
DIY retailer B&Q has opened a new store concept in Camden. This store is the first under the B&Q Local label, with another planned for Palmers Green, depending on the success of the new small-format concept.
Customers will be able to find DIY essentials in a high street location, aiding convenience so that shoppers do not have to travel to out of town warehouses. Click and collect will also be offered to ensure that customers have access to over 30,000 products.