Luxury Stores
The Best New Retail Openings in New York – April 2023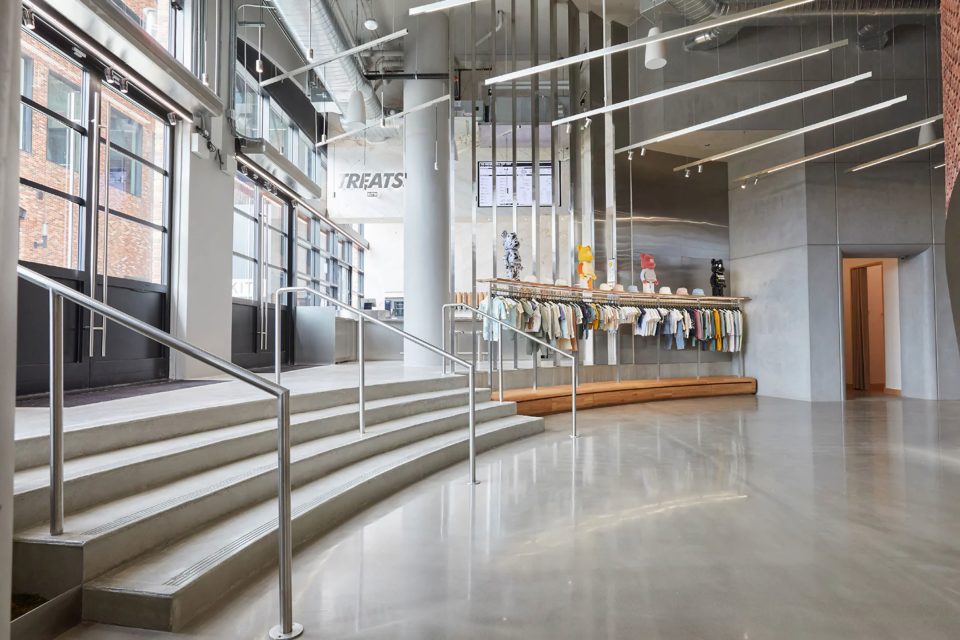 There is a lot of variety in the retail stores of New York this month, from inclusive stores to brand collaborations, demonstrating that physical retail still has some tricks up its sleeve.
Stores are continuing to look back to their heritage, with fashion and homeware brands digging back through their archives for store designs and displays. There is also a supermarket that is trying to help customers on the go have a more efficient in-store experience, and finally, a fashion brand championing inclusive retail.
Read on for the top new store openings that we found in New York.
Universal Standard, SoHo
Following a series of successful pop-ups around the country with customers driving for hours to visit, fashion retailer Universal Standard has opened its first physical site in New York, as an extended pop-up.
Many larger sized fashion brands exist only online meaning that customers are missing out on physical store experiences, such as being able to walk in, find an item in their size and try it on. Universal Standard has created a physical fashion space that is inclusive for women of all sizes from 00-40. Customers can also book an appointment to get personal styling advice.
The store is offering a new range, The Foundation Collection, of luxury layered fashion items, and is hoping to expand to accessories and footwear in future.
ShopRite, Elmsford
An innovative new department is the focus at the latest ShopRite store in Elmsford. The store has changed the traditional supermarket layout with a new Fresh to Table section that groups products together under three meal types: Prep & Eat, Heat & Eat and Grab & Eat, for ready-to-cook, ready-to-serve and ready-to-eat respectively.
The brand hopes that this will create a focal area for those customers wanting to purchase items for one meal, with digital ordering available for shoppers who want to collect. The store also includes a range of other departments from flowers to seafood, with the option to use self-checkout or order online.
Gucci, Meatpacking District
A retro infused Gucci store taking inspiration from the architecture of Florence has opened in the Meatpacking District in New York. The store incorporates 70s inspired designs using vintage furniture, mirrors and green carpets, as well as historical Gucci fabrics in the dressing rooms, in a commitment to sustainability.
This retro and environmental thinking is also reflected in the selection of goods available. As well as items from Gucci's latest ready-to-wear collection, customers can find second-hand items alongside. There is also a focus on travel with the Valigeria range, as well as a VIP area.
Sferra, Flatiron
Luxury bed linen brand Sferra has launched its first flagship in New York City which is where the brand was originally founded 130 years ago.
The site is a beautiful light and airy townhouse in an Italian style which is a nod to the Sferra heritage. The focus is on an experiential retail format that allows the shopper to see items such as bedding, rugs and other products displayed within rooms, as opposed to shelves and racks. The space also acts as a museum display for items from the brand's archives and will include exclusive collections available only in-store.
There is also a B2B element to the store in the form of a private studio for interior designers to work or meet with clients.
The Brooklyn Circus, SoHo
The Brooklyn Circus has opened its second NYC location to date. The new SoHo site is known as The Space and adopts a unique gallery-style approach.
Alongside The Brooklyn Circus' fashion lines, The Space plays host to a rotating array of products and designers from within the brand's Global Village network. It will also stock certain pieces from Brooklyn Circus' collaborative collections, such as its recent partnership with Gap.
The site acts as a place of discovery for consumers to meet the brand and its network, as well as a base for music and art events. The Space also plays a key role in Brooklyn Circus founder Ouigi Theodore's 100-Year Plan for the brand and its community.
Kith, Brooklyn
Lifestyle brand Kith has launched an impressive new flagship in Williamsburg, designed by founder Ronnie Fieg.
The store contains an enormous, custom-built wooden dome, with archways that display clothing and footwear, creating a minimalist feel. The design incorporates elements of other Kith stores but altered to fit within the new location.
The launch was celebrated with a collaboration between Kith, Adidas Originals and Clarks Originals on a new style trainer, incorporating elements from all three brands. Customers can also enjoy items from the new Kith Treats café including Build Your Own Menu and other exclusive products.
Don't just visit the stores of New York – discover what makes them work with a NYC retail trend tour.