Retail openings
The best New York store openings: February 2019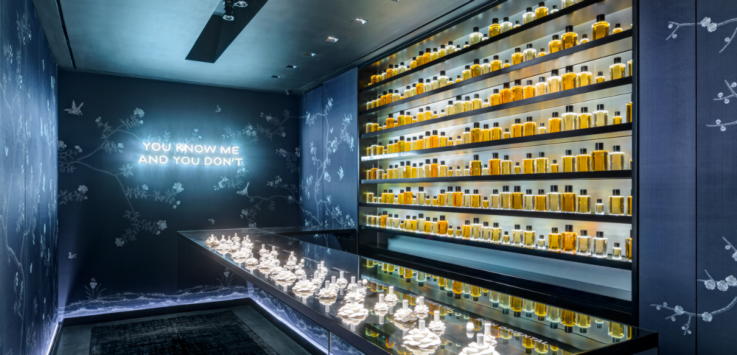 There are always new discoveries to be made in New York so we're back again this month to see what's new in this retail mecca. Find out about the latest must-know openings in our retail roundup for February.
Zola
Imagine being able to plan your entire wedding under one roof? The wedding company Zola has opened a new store in the Flatiron district that does exactly that. It has been designed specifically with busy millennials in mind and you can register and plan your wedding in under an hour, should you be limited on time.
Otherwise you can relax in the lounge to ponder all things wedding-related. It covers everything from building your wedding website to creating the perfect playlist in the in-store listening booths. You can take inspiration from other happy customers or meet with an advisor for a more personal touch. Couples can pre-book appointments or attend weekly events in the store.
Intersect by Lexus
Although branded experience stores are not new to the car industry, there is certainly something different about the new Intersect by Lexus space in New York's Meatpacking district. Here you are invited to learn what it is like to be a Lexus owner. Although there is not a Lexus car in sight, they pay homage to their product with a parts wall and spindle grille.
However, the main focus is on creating an engaging space that will keep customers coming back for more. Not only is there a coffee shop but also a fine dining restaurant with an ever-changing menu, plus a retail store and gallery space. Customers can leave with memories of the delicious meal they had at Lexus – which is definitely a new direction for a car business.
Showfields
It would be hard not to mention the launch of the self-professed 'most interesting store in the world'. Showfields has opened up in New York and promises to create a fresh retail experience for both customers and brands. It is a store like no other, housed in a historic building in Noho. It has curated a fresh list of brands – offering bricks and mortar exposure for many of them for the very first time.
Importantly, it's an affordable way for the brands to showcase their products and a great way for customers to be introduced to brands that they may not have been aware of. Showfields wants a physical experience in an increasingly digital world and to blend online with offline. It certainly promises great things.
Camp
Ben Kaufman, the Chief Marketing Officer at Buzzfeed has opened up Camp in the Flatiron district. It's designed like your average neighbourhood general store, but it's filled with toys, apparel and gifts. Its aim is to blur the lines between retail and experience with a calendar of activities for the whole family.
But even more excitingly, they have a secret door which transports you to 'summer camp' where you can find a whole host of incredibly imaginative experiences designed just for kids. For starters, there's a musical dock, controlled by your feet that creates ripples in a virtual lake when you walk on it.
There is also a theatre where events are programmed for children of all ages. And that's not forgetting the dance hall, arts and crafts, all manner of toys to play with and basketball areas. Finally, you can't leave without a visit to the Milk Bar for an ice-cream sundae. It's a truly inventive, experiential retail store.
Starbucks Roastery
Starbucks has opened its first Roastery in the Meatpacking District of New York, following in the footsteps of its roasteries in Seattle, Shanghai and Milan. The Roastery is designed to be a cosy hub for coffee fanatics. The interior is far removed from the brand's regular coffee shops, with warm lighting and copper features. The immersive experience means you can get up close and personal with baristas, roasters and mixologists from one of the several different bars.
This isn't all just for show though. The store is also the largest roasting plant of its kind in Manhattan and will roast more than 1.5 million pounds of coffee each year. The beans will be used in-store as well as being shipped to Starbucks' other stores. As a nod to the historic Meatpacking District, bags of coffee beans make their way from the cellar via hooks on a conveyor belt to mimic how the butchers in the area operate.
Claus Porto
Luxury Portuguese beauty and fragrance company Claus Porto has opened a new store in Manhattan's Nolita neighbourhood. The 131-year old store has gone back to its roots with this space but is incorporating lots of Portuguese-inspired features to display the brand's heritage.
Tacklebox Architecture created the space to look like an alleyway which runs the length of the store. The tiled facade references the historic Casa dos Bicos in Lisbon and is milled from Portuguese cork. The vaulted design is also representative of the São Bento train station in Porto. The washbasin in the store is carved from the same block of marble as is used in the brand's flagship store in Porto.
Rally Rd
An app that lets people trade shares of blue chip cars has opened the doors to its first permanent showroom below its headquarters in Soho. Rally Rd will display different cars that anyone can walk in and buy shares of.
For many, the thought of owning a classic car such as the ones on display here is a distant dream but this way they are able to be part of something and make an investment at the same time. It is also a great way to learn more about the car. It is all done via a mobile app and shares can be purchased for as little as $8.25.
Atelier Beauté Chanel
Chanel's brand new beauty concept store and space has just opened in Soho. Atelier Beauté Chanel is all about personalisation and guests are invited to discover and play through a range of interactive stations. On entering the store you are given a locker to keep your belongings in so you are free to browse the displays and participate in all the space has to offer. And you can forget shopping carts; instead you create an online profile on your smartphone so that you can keep track of products you like as you make your way around the store, and book future appointments.
The perfume bar is especially exciting. You enter through a black door by appointment only, where you are blindfolded and encouraged to try different scents without the influence of design or packaging. Your favourite scents can be saved through the mobile website. The site will then reveal the names of your choices so you can place an order. There is also a makeup station and skincare counter, both of which encourage you to slow down and immerse yourself in the experience. And for fans of the selfie, you can enter the Coco Lab to experiment with the most popular products and beauty accessories.
Discover more innovative new retail spaces like these on your very own New York retail safari. Get in touch to find out more.