New York
The Best of New York Retail Openings February 2017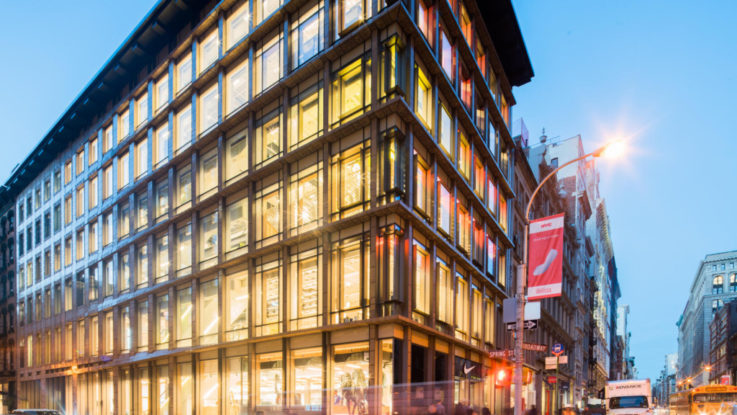 It's the highly anticipated month of New York Fashion Week, meaning the city is buzzing with lavish parties, daring fashion and most importantly brand new store openings in the city. We've rounded up the best New York retail openings for your reading pleasure below.
Nike
One of the most exciting openings for New York since we last posted was the grand opening of Nike's five-story, multi-sport, 55,000-square-foot retail experience which opened in New York's SoHo neighbourhood. In the hope of combining Nike's digital and physical platforms, the store offers personalisation services, product customisation as swell as exclusive trial spaces where customers can actually test products out while testing their capability for running a marathon or training.
Described as a 'personal sport experience', the store aims to 'elevate every athlete's potential' and offer them in-store experts, digital trials and a personalised shopping experience. With this in mind, technology is obviously at the forefront of the store. From 3D-printed decorations to a Kinect-powered basketball court, the store is filled with ways to engage with the Nike consumer. Large touchscreens that allow you to either buy products or call for help line the walls and Apple Pay has been fully integrated for a seamless shopping experience. This is certainly a retail model to watch for future developments.
Simone Rocha
After a hugely successful store opening in London, Simone Rocha has opened the doors to her first New York store on Wooster Street in SoHo. With brand narrative at the heart the store has been designed to convey the Simone Rocha message as soon as you set foot inside the calm and airy space. For the brand, it's important for customers to feel as though they are entering a story and becoming part of a lifestyle. Rocha has played on the creative element of her brand with fabric window installations; slightly mismatched chandeliers by Los Angeles-based artist Pae White; Perspex display cases, all with a feminine colour selection and fitting with the Simone Rocha narrative. As she did with her London opening, Rocha has created an exclusive limited edition book to accompany the store for those who might not be able to tap into the clothing range just yet – clever lady!
John Hardy
Artisan Jewellers, John Hardy have opened their debut US flagship and Artisan in Residence Workshop in the heart of Soho – a very popular location on this month's retail openings. Inspired by the brand's Ubud, Bali workshop and studio, the Soho flagship offers a full sensory experience as it incorporates curated sights, sounds, smells to reflect the brand's Balinese heritage. Displays are made from locally sourced and sustainable materials, such as hammered gold and black walnut, and tuberose flows through the store.
A highlight for the flagship is a second floor Artisan in Residence Workshop, which has been recreated to mimic the brand's Bali workshop and will host installations, talks and exhibits.
Foot Locker
Another sports opening for this month comes from Foot Locker with another addition to their mission to drive more footfall though their brick and mortar stores. Opening in Times Square, the two-storey, 17,000-square-foot space is the second location in the area, just a short walk away from it's New York flagship. While most would be deterred by this close proximity, Foot Locker are embracing the intimacy by defining the area as a 'sneaker culture marketplace', aiming to bring those who love sneakers together in one area. The new store boasts several shop-in-shops including the basketball-themed House of Hoops, Puma Lab, Adidas The Foundation, Timberland Legends Club, Converse Prime and New Balance's NB Unite. The company's new women's focused retail initiative, Six:02 also takes pride of place, having never had a permanent home in a New York store before.
Kylie Jenner Pop-Up
While we have been keeping pop-ups to a minimum on the retail opening posts, we couldn't steer clear of the youngest Kardashian's impending pop-up while researching and thought we'd pop it in for a little lesson on how social and lifestyle can really help you create a huge buzz. Opening today in New York's SoHo neighbourhood, to coincide with New York fashion week, the store will feature a Lip Kit wall feature as well as limited edition products as well as a not-so-secret surprise from Miss Jenner herself.