Brand Focus
The World's 50 Most Innovative Retailers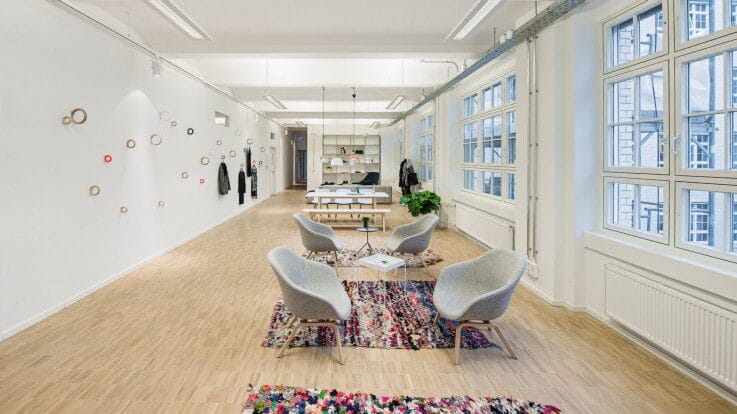 From promises of a retail apocalypse to e-commerce brands making the leap from digital to physical, the retail sector is undergoing a period of change.
With new technologies on the rise and retailers having to work harder than ever to make their mark, we take a look at some of the brands staying ahead of the curve (in no particular order), from the inevitable mention of Amazon to some you may have not yet heard of.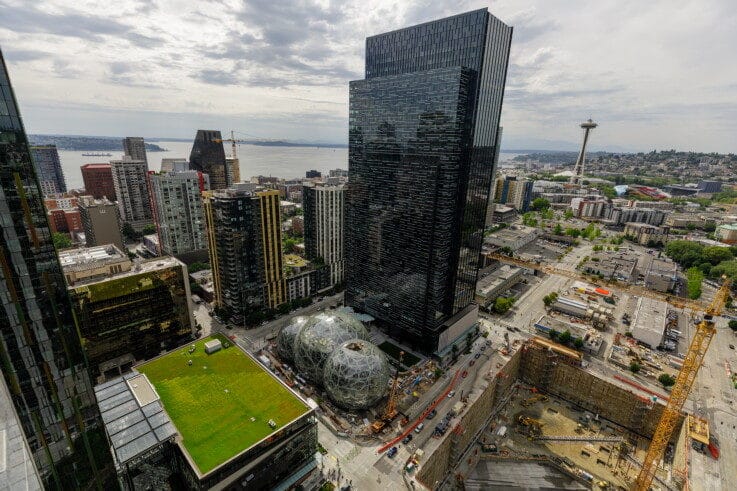 Image credit: Amazon
1. Amazon
You don't have to venture far to find a retail headline discussing the strength of Amazon. From data-driven solutions to its much-discussed Amazon Go concept, Amazon's place at the top of this list is well-deserved.
2. Sephora
Back in 2015, beauty brand Sephora launched its Innovation Lab as a place to build, test and develop new consumer experiences. Not only did the opening of the Lab mark a new phase for Sephora but since then has introduced innovations such as letting consumers try make-up on virtually via AR.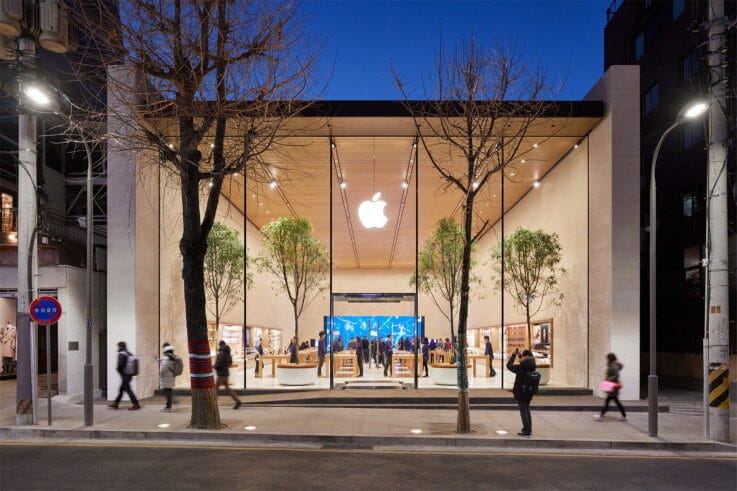 Image credit: Apple
3. Apple
Whether it's the consistent release of products that revolutionise the way consumers interact with technology or in-store innovations surrounding payment, Apple's recent valuation at over $900 billion is just one of the reasons it is an obvious addition to any list of innovative retailers.
4. Warby Parker
Back in 2016, the Wall Street Journal estimated that Warby Parker was making an impressive $3,000 per square foot. From opening stores that look like bookstores to bringing expertly trained employees equipped with consumer data into their spaces, this eyewear company is a true innovator when it comes to retail.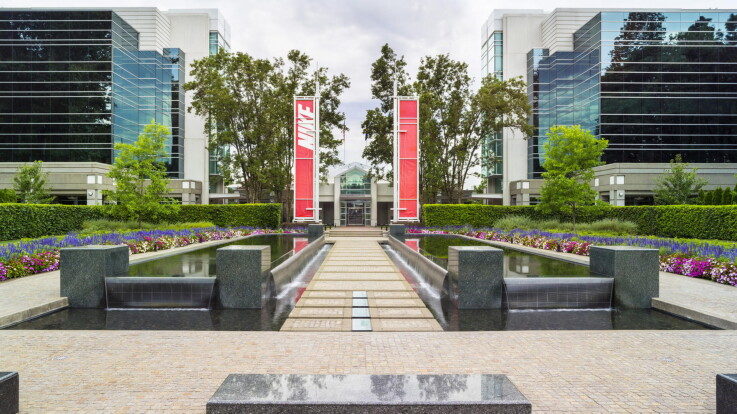 Image credit: Nike
5. Nike
Known as much for its campaigns that champion diversity to its innovations in product design, Nike is a company that's long been revolutionising retail. Just a quick glance at the Innovation hub on its website shows the brand is experimenting with new materials, production processes and connected online platforms.
6. Casa Perfect
Earlier this year, Casa Perfect opened its second location in the previous dwelling of Elvis Presley. Its first location, nestled in a private home designed by David Hyun in the Hollywood Hills, is just as idyllic. Designed to be a 100% private experience for the brand's clients, the openings are said to be a new breed of showroom. By offering a curated and private space in which everything is for sale creates a unique and unrivalled retail experience.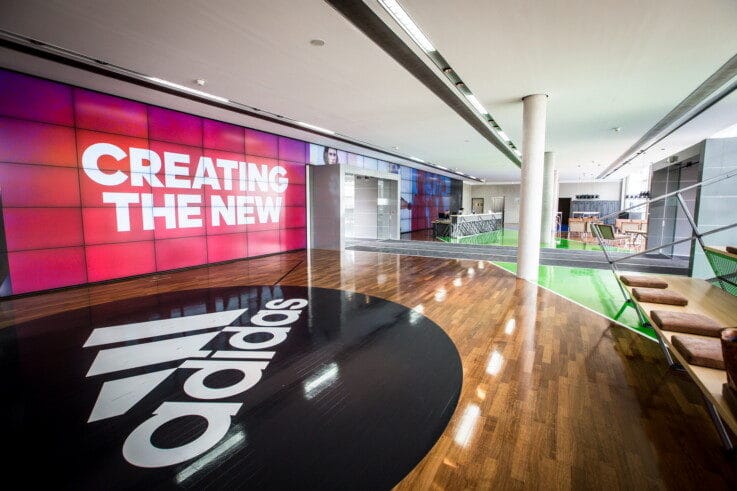 Image credit: Adidas
7. adidas
If there's one brand that knows how to combine innovative technology with standout sportswear design, it's adidas. Not only has the brand developed new materials that enhance performance and decrease environmental impact but with its Speedfactory, managed to revolutionise the entire production process in one go.
8. Brandless
Describing itself as 'a group of thinkers, eaters, doers and lovers of life with big dreams about changing the world', it's clear Brandless is a company with big ambition. Launched just last year it removed BrandTax, or the hidden cost you would pay for any other brand, in the creation of high-quality, non-GMO products that only cost a couple of dollars.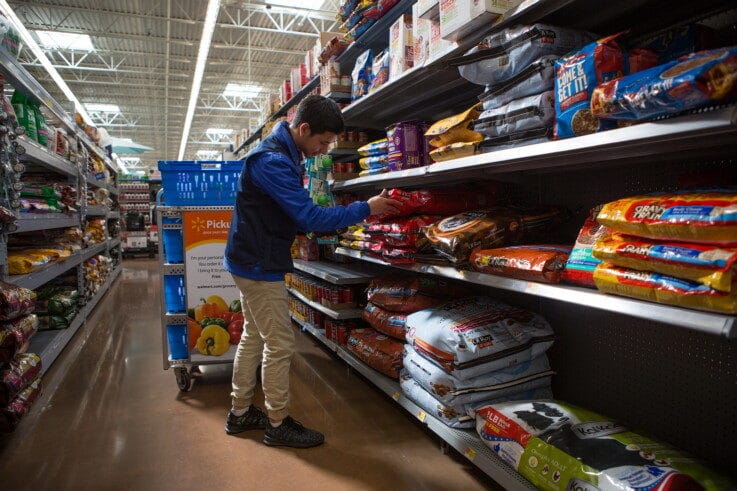 Image credit: Walmart
9. Walmart
Over 50 years ago Walmart's founder Sam Walton stated that "to succeed in this world, you have to change all the time". When you look at what Walmart has achieved since then, you could easily say it's succeeded. Only this month the brand announced that it would be spending $200m in 2018 on new store improvements and innovations, from mobile scan-and-go technology to pick-up towers, in Florida alone.
10. Everlane
Having recently opened its first physical store, fashion retailer Everlane is a brand that has won the approval of consumers through its approach to radical transparency. Dedicated to letting its customers know exactly how much its clothes cost to produce, it reveals the true cost behind all of its products, from materials and labour to their final transportation.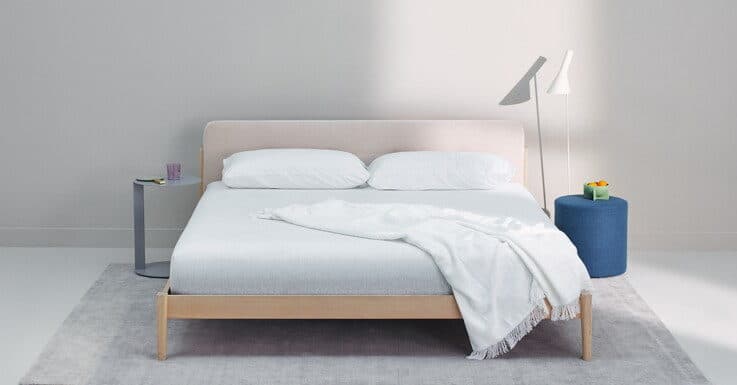 Image credit: Casper
11. Casper
Launched in 2014, Casper is a company that has revolutionised the way in which consumers purchase mattresses online. Having just made the leap from online-only to brick-and-mortar, its new store features six miniature bedrooms where consumers can sample the products.
12. Olay
Olay is another brand innovating the beauty landscape. Its Skin Advisor is a notable example and through deep-learning can determine a consumer's skin age, what is most contributing to that age and a list of personalised product recommendations from a single selfie.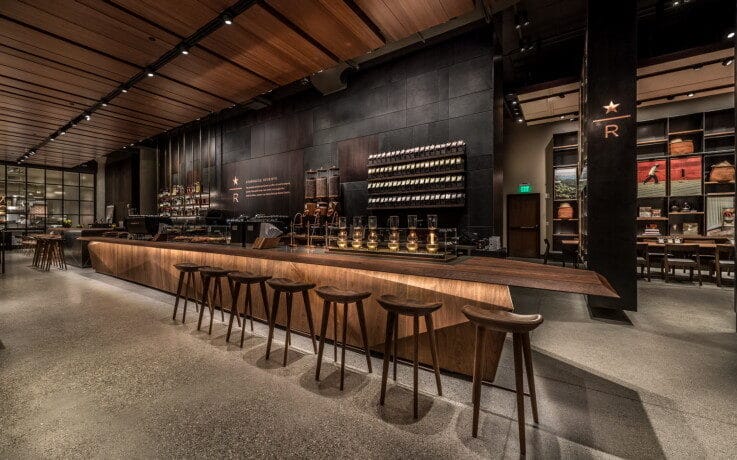 Image credit: Starbucks
13. Starbucks
In recent years Starbucks has become a staple of many a high street. While the coffee is clearly a hit with consumers, it's the brand's tech innovations that have made this company a standout success. In 2011, it launched its mobile payment system before Apple's Apple Pay and, in doing so, built an effective loyalty scheme and order-ahead system too.
14. Jeep
Last year, Jeep showed that car-selling isn't restricted to the roads with the launch of its Jeep Compass app. Using AR developed by Accenture, the app allowed consumers to walk around and look inside the new Jeep Compass model before it was physically available in the showroom. Not only did the app also allow customers to customise their virtual vehicle, but doors could be opened and the car would move in relation to how the user moved around it.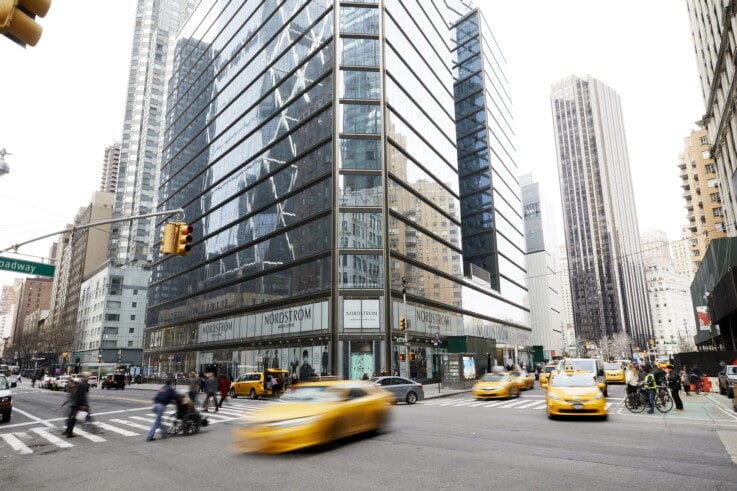 Image credit: Nordstrom
15. Nordstrom
Nordstrom has developed a number of innovations and ideas to keep ahead of the competition. One recent example is its Nordstrom Local concept. Without any inventory at all, it is dedicated to services such as tailoring and personal styling that complement online and local orders.
16. Bonobos
Given the fact Bonobos was bought by Walmart for over $300 million last year, Bonobos is definitely onto something in the way it goes about retail innovation. Its most notable contribution was the launch of its Guideshops, dedicated to finding the perfect fit with a knowledgable stylist. On finding a perfect size within the inventory-free store, orders are placed and shipped directly to the consumer's home.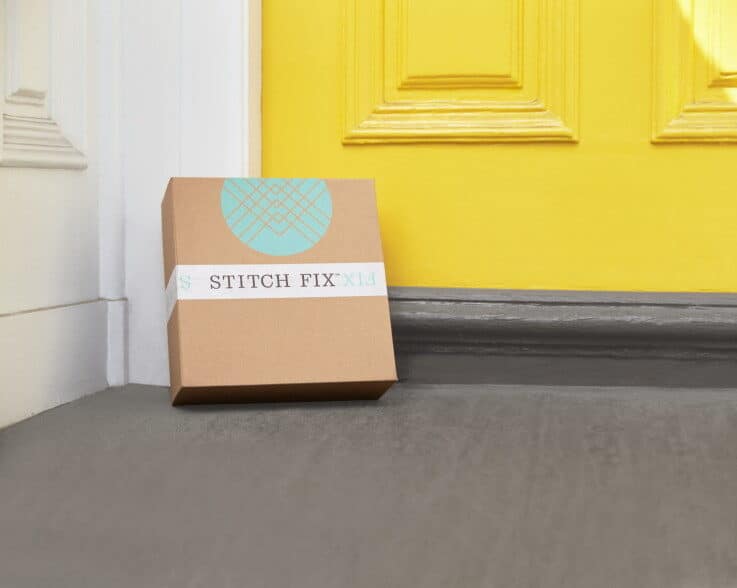 Image credit: Stitch Fix
17. Stitch Fix
As an e-commerce subscription company with 2.2 million users, Stitch Fix is described as 'your own personal stylist' and provides consumers with pieces based on their personal preferences. Working with a number of deep-learning algorithms, the brand's success comes from its ability to turn rich data into actionable opportunities.
18. Levi's
Levi's is another fashion brand that has launched several innovations to help keep it one step ahead of the competition. Last year it unveiled the Levi's Virtual Stylist chatbot to ensure shoppers found the products that were right for them. In terms of design too, it released the Commuter Trucker Jacket with Google as the first commercially sold wearable-tech garment.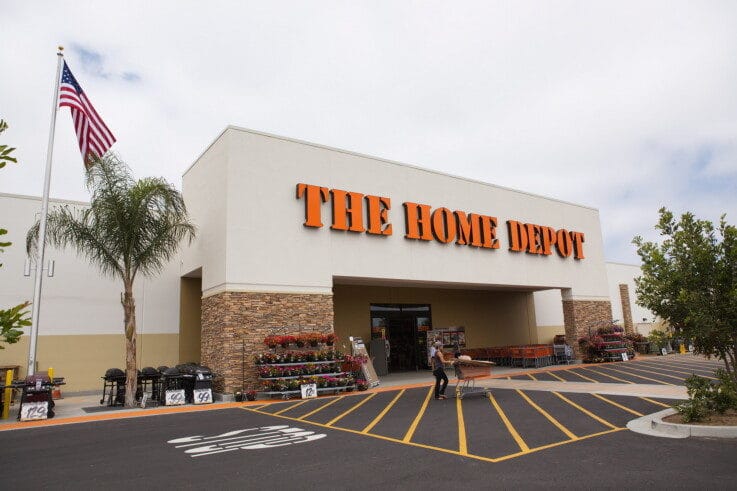 Image credit: Home Depot
19. Home Depot
Home Depot is a brand that's embraced the challenge of retail innovation and has released a number of new user tools as a result. Its mobile app allows consumers to utilise AR technology to place virtual items into the real world via their phone. Plus, in-store GPS navigation helps shoppers reach their desired product via the easiest and quickest route.
20. Rent The Runway
Dedicated to building a 'closetless future', Rent The Runway is a fashion company powered by technology and a 'unique reverse-logistics operation'. By allowing consumers to rent luxury fashion pieces, the brand is not just redefining the idea of access over ownership but the retail landscape as a whole.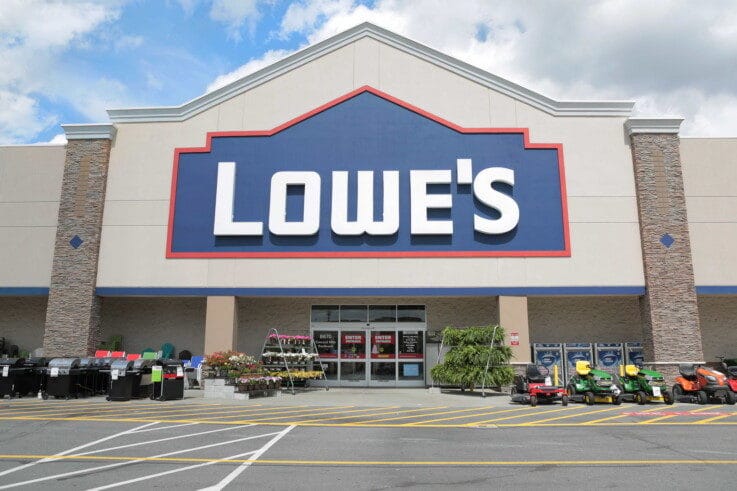 Image credit: Lowe's
21. Lowe's
In an interview with Digital Trends, Kyle Nel, executive director of Lowe's Innovation Lab, stated that the Lab hires science fiction writers to better optimise the brand's future. Not only has the lab produced the Holoroom How-To as a VR tool teaching consumers how to do home renovations, but has introduced LoweBots, or robots that lead consumers to products they're looking for.
22. Ulta Beauty
Ulta Beauty is a company known for its impact on retail. Not only has it optimised its supply chain to ensure stock is replenished in each store seamlessly and demand is forecasted accurately, but its loyalty program consists of 24.5 million members that make up 90% of the company's sales.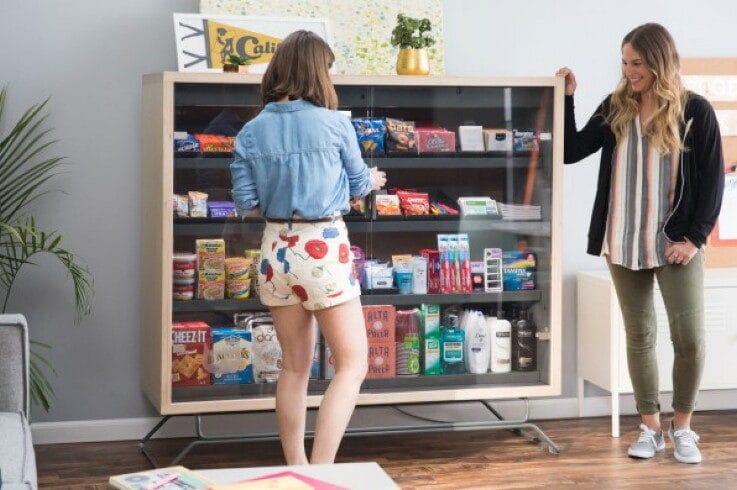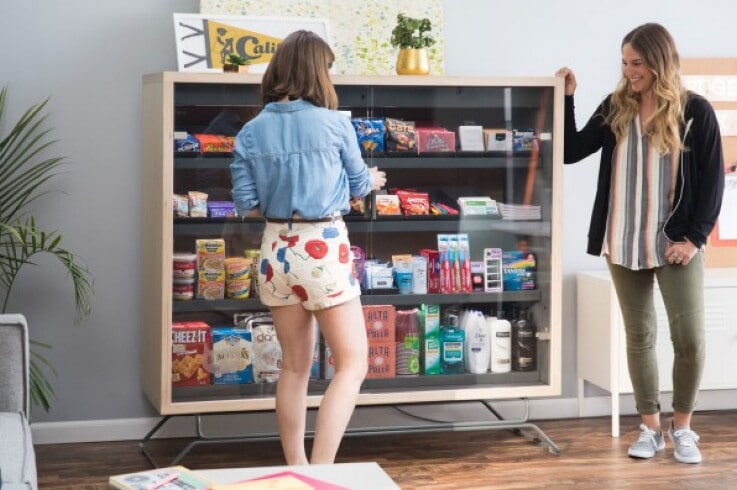 Image credit: Bodega
23. Bodega
By using both computer vision systems and AI, Bodega is an autonomous store bringing relevant essentials to places where people need them. In a gym it might sell protein bars and at a university campus stationery. It works through a dedicated app, where users open the mini-store with a three-digit passcode and take the item they want before their account is charged automatically. With cameras tracking every move, stock demand and replenishment can become optimised over time.
24. Dyson
When it comes to product design, Dyson has long been celebrated for its engineering innovation. When it comes to retail specifically, that innovation is just as prevalent. Its UK Dyson Demo Experience, opened in London in 2016, is one example, and is equipped with a vacuum cleaner demo area and hair salon so consumers can test all its products first-hand. The concept had now been launched in other markets as well.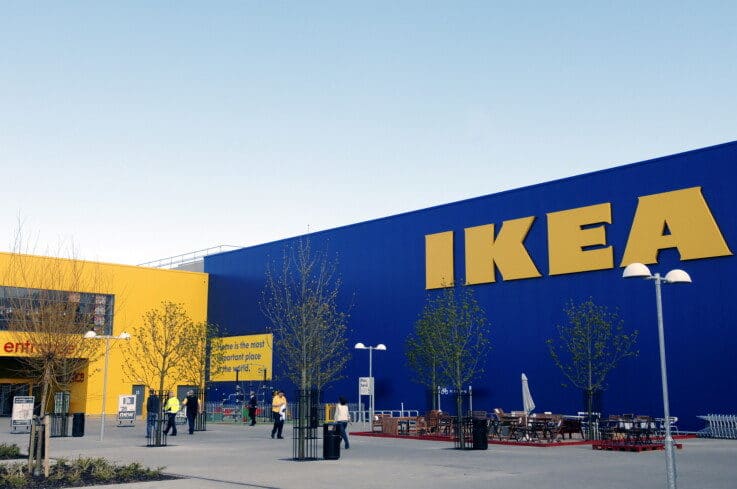 Image credit: IKEA
25. IKEA
IKEA is another brand well-versed in the production of disruptive ideas and innovations. Pulling in a total of $45 billion in sales annually, the company known for its flat-pack furniture has harnessed AR and VR to optimise the path to purchase. It has also developed new 'click' assembly technology that means furniture can be assembled up to 80% faster.
26. WAH Nails
Sharmadean Reid has done a lot with WAH Nails since she launched it in 2009. Not only has she created an incredibly loyal community of people through events and passionate support of women, but also looks to tech to heighten the overall retail experience. Recently, the brand launched WAH Nails Virtual Reality Designer, an app that uses VR so consumers can experiment with different digital nail designs.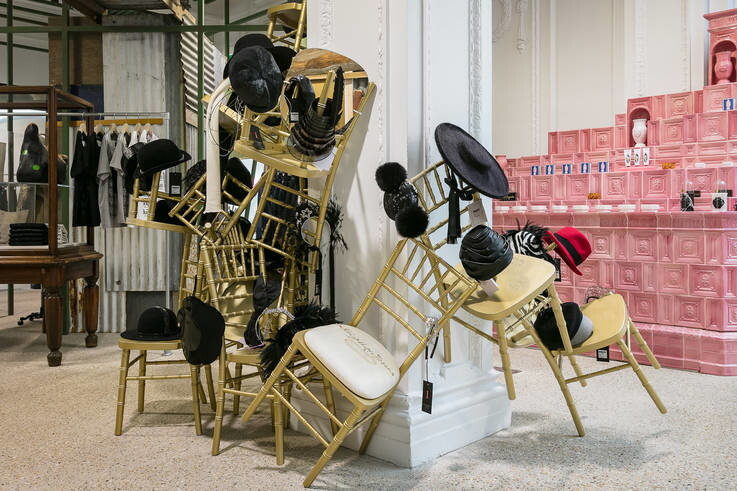 Image credit: Dover Street Market
27. Dover Street Market
Dover Street Market has become known as a true staple within the contemporary luxury fashion market. With the interior of the space designed and curated by Comme des Garcons' Rei Kawakubo, shopping in the space is akin to visiting an art gallery and is packed with an ever-shifting display of pop-ups, collaborations and hard-to-find designers.
28. ZOZOTOWN
There are lots of consumer pain points. When it comes to fashion, fit is one that's incredibly well-known. ZOZOTOWN, Japan's largest online fashion website, seems to think it has a solution for that with its ZOZOSUIT, a body measurement suit made available to pre-order at the end of last year. By wearing the smart suit and connecting it with a dedicated app, customer fit data can be applied to available stock when purchasing products to ensure returns become a thing of the past.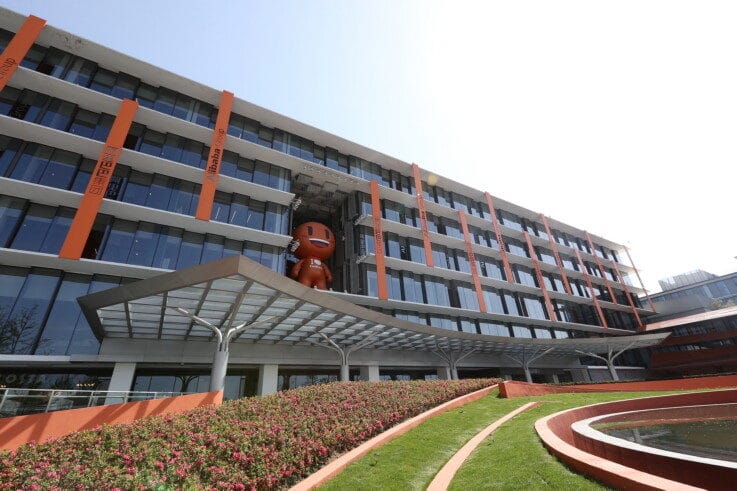 Image credit: Alibaba
29. Alibaba
As China's biggest and most successful e-commerce company, Alibaba is at the forefront of retail innovation. As a result, the company has developed everything from chatbots to its own online payments system Alipay. On Singles Day alone, the company is so successful it is said to process 175,000 transactions a second at peak periods.
30. Kroger
As one of the largest supermarket chains in the US, Kroger is no stranger when it comes to looking to technology to optimise the in-store experience. As well as introducing cameras and sensors to monitor consumer footfall, it began rolling out Kroger Edge, a technology that displays price and nutritional information on digital shelves, at the beginning of this year.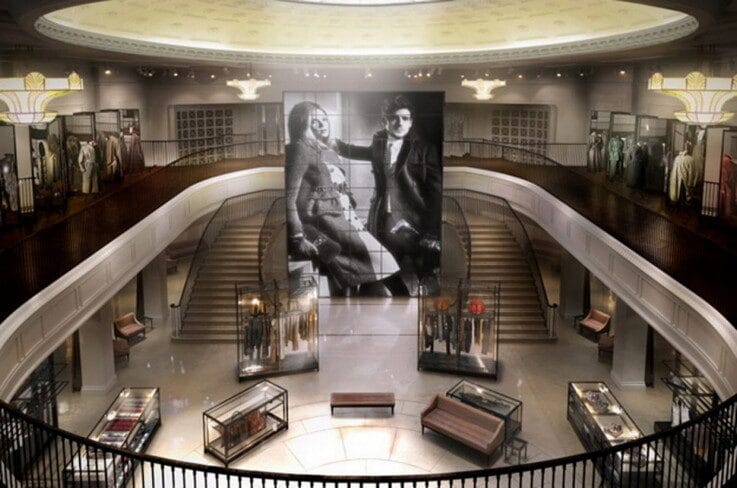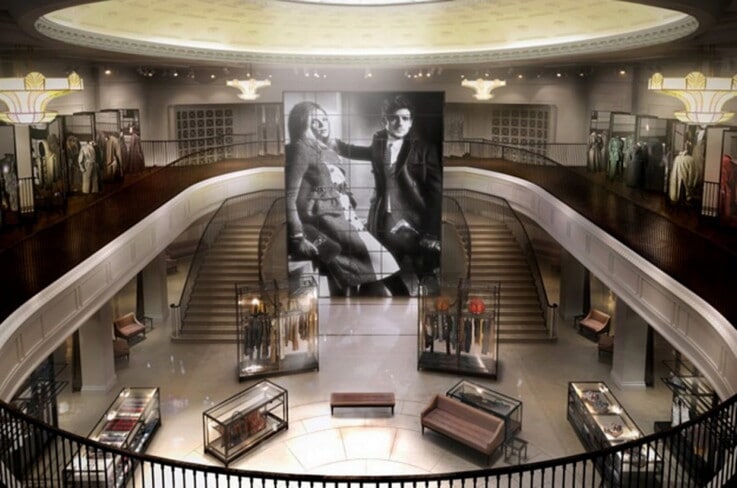 Image credit: Burberry
31.Burberry
Particularly when it comes to fashion brands, Burberry has a healthy reputation of keeping ahead of the technology curve. Not only was it the first brand to launch a branded Apple Music channel with which to showcase up-and-coming talent, but it was the first luxury brand to sell through Twitter's Buy Now program. Even in-store the innovation continues, with digital screens, RFID chips and live-streams all present.
32. Topshop
Another retailer betting big on innovation, Topshop also launched an innovation lab in 2016. Opened in partnership with L Marks, it wanted to bring wearable technology to consumers at an affordable price. Alongside that, who could forget its VR waterslide last summer and its hugely successful Stranger Things partnership earlier this year?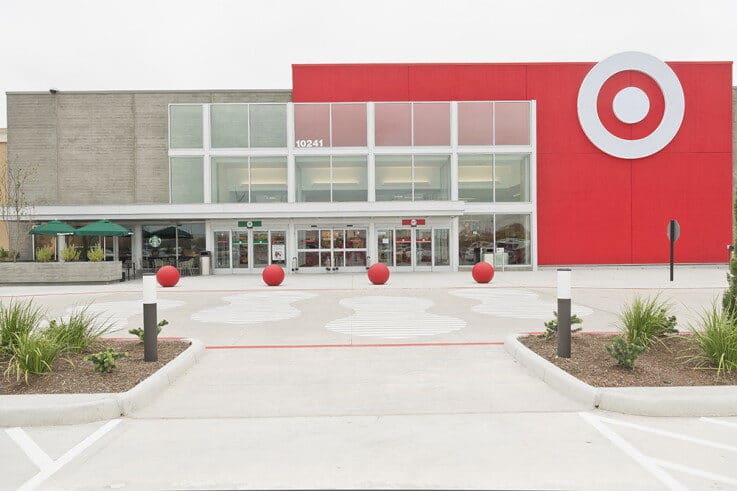 Image credit: Target
33. Target
As a huge retailer with 1,892 stores and 39 distribution centres in the US, Target is a brand well-versed in retail innovation. This was particularly notable last year when the brand partnered with BCG Digital Ventures to develop a 14-week 'innovation sprint' to explore new ways of taking Target to the next level for consumers.
34. Gucci
As far as traditional luxury fashion brands go, being innovative and staying ahead of the competition can be a challenge. For Gucci and its appointment of Alessandro Michele as creative director that couldn't be more wrong. Not only has Michele shifted the actual design ethos surrounding Gucci but has used social media and digital tools to bring the brand to a whole new level.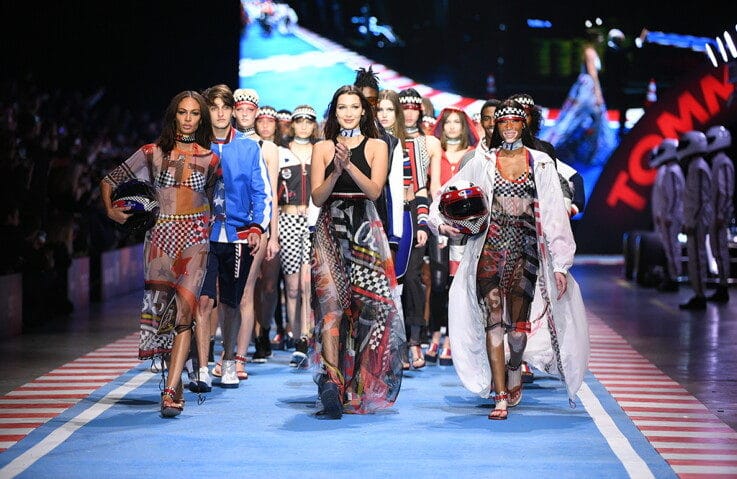 Image credit: Tommy Hilfiger
35. Tommy Hilfiger
From AI to chatbots, Tommy Hilfiger is another fashion retailer championing innovation. The brand's TOMMYNOW initiative, consisting of a huge physical event for consumers to involve themselves with, resulted in a 60% increase in sell-through and 900% increase in web traffic. Its See Now Buy Now integration on its e-commerce channels is often held in high regard.
36. MINI
When it comes to the business of selling cars, MINI takes an interesting approach. Not only has the brand launched its own fashion collection to better connect with consumers but just this month the BMW Group also announced that it would be launching an all-inclusive subscription service to give its customers better access to vehicles.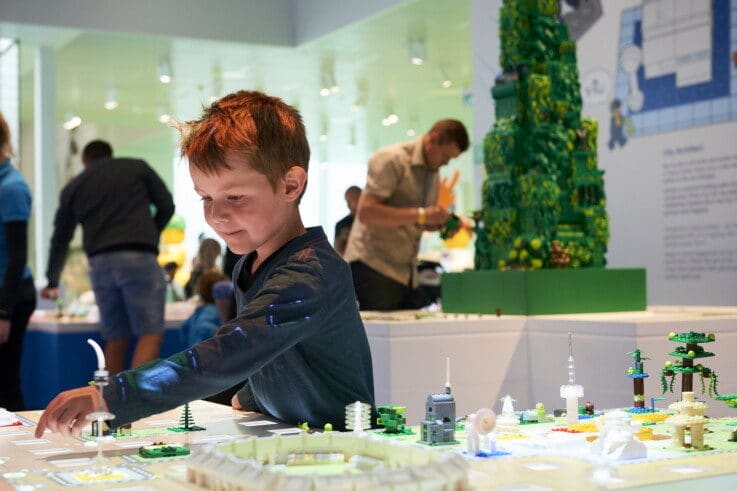 Image credit: LEGO
37. Lego
Lego's reputation has gone from strength to strength. It has launched a number of innovative initiatives. Lego Boost is one example and lets children bring their Lego designs to life through app-based coding. Lego Life is another. This social network allows young people to express their creativity in a safe, digital environment.
38. ThredUP
ThredUP is the world's largest online market for secondhand clothes and, given that the secondhand fashion market is worth $220 billion, there's no wonder it's been such a success. Using technology to create a platform akin to purchasing clothes that are brand new, the site has given secondhand shopping an entirely new perspective.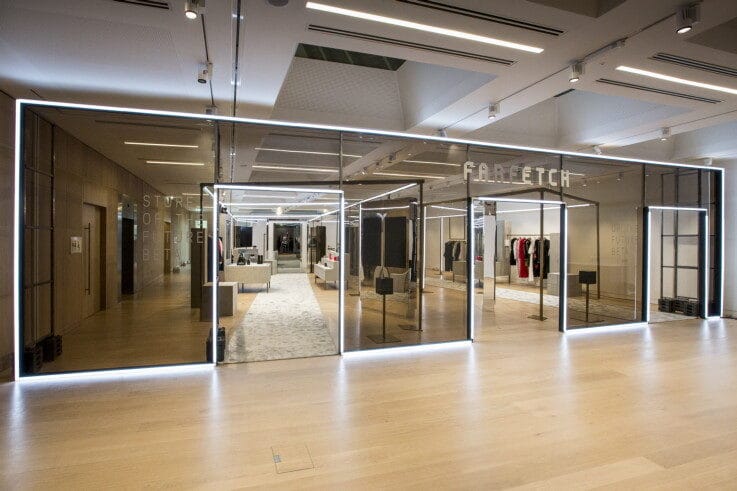 Image credit: Farfetch
39. Farfetch
As a luxury e-commerce retailer, Farfetch connects consumers in 190 countries to more than 500 international boutiques. While there are a number of innovations launched by the brand it was last year's Store of the Future that caught the industry's attention by using data-driven technology to bridge a seamless gap between the online and offline worlds.
40. Zara
As one of the leading high street retailers, Zara has been making waves when it comes to innovation. The brand recently launched a click-and-collect pop-up in Westfield dedicated to online orders and, only this month, the brand introduced AR to its offering through the launch of a new app. By pointing their phone camera to mannequins in-store or Zara store windows, users can see the products come to life before going through to purchase.

Image credit: Ocado
41. Ocado
Online supermarket Ocado is well-known for its optimisation of order fulfilment and stock replenishment. Not only has the retailer developed a system that can fulfil a 50-item order in less than five minutes, but it is now making its forward-thinking available to other retailers through The Ocado Smart Platform.
42. Glossier
You don't have to venture far into the beauty industry to hear about Glossier. Since it was founded in 2014, the cult brand has amassed quite the following. When it comes to physical retail specifically, its success lies in bringing its incredibly active presence on social media to an offline setting and creating an environment that feels more like an Instagrammable gallery than your typical busy beauty store.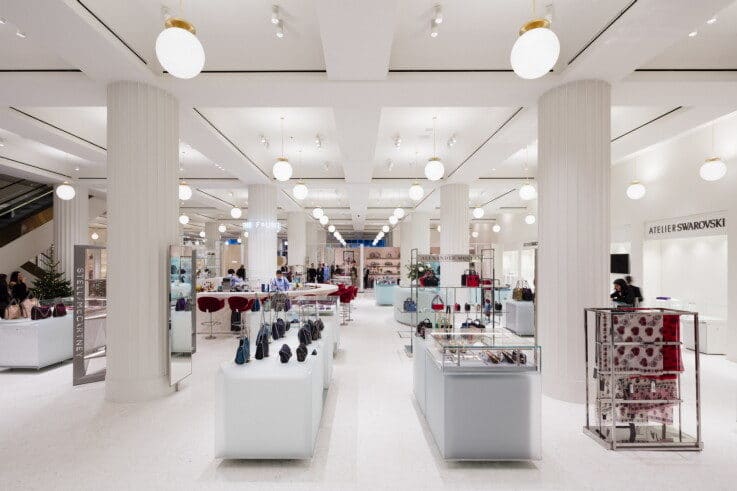 Image credit: Selfridges
43. Selfridges
While many retail headlines hail the Retail Apocalypse and particularly the death of the department store, Selfridges seems to be able to remain on top. From its shoppable iOS app that allows customers to receive personalised recommendations, editorial content and shoppable Instagram feeds, to its never-ending rotation of exhibitions and events, Selfridges is testament to the fact that the department store is far from dead.
44. Lululemon
There's no denying it: athleisure is big business. Not only is Lululemon one of the brands leading the athleisure revolution but it has managed to create a fiercely loyal community in the process.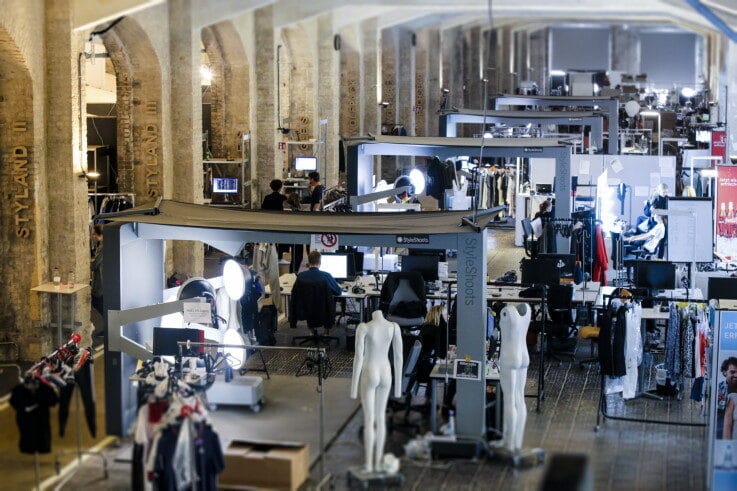 Image credit: Zalando
45. Zalando
As Europe's leading online fashion platform, Zalando ships products from 2,000 brands to consumers in 15 different countries. With a vision to create an interconnected fashion industry, Zalando allows fashion partners to take control of their order fulfilment. In 2016, it started a pilot project that saw a brick-and-mortar store connect with the online Zalando platform.
46. L'Oreal
As a leading brand of cosmetics, L'Oreal has long experimented with different ways it can disrupt the retail sector. As a result, it has created apps that allow consumers to virtually try on make-up and Le Teint Particulier Custom Made Foundation via Lancome, a patented technology that precisely matches an individual's unique skin tone to create customised foundation at the point of sale.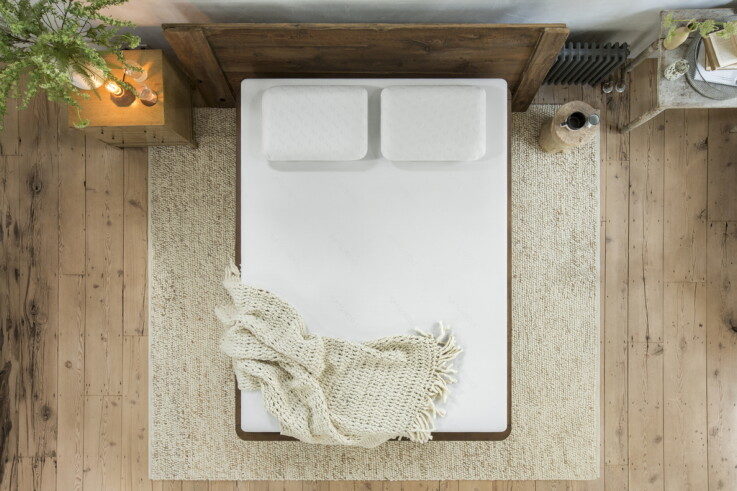 Image credit: Tuft and Needle
47. Tuft and Needle
As the saying goes: 'If you can't beat them, join them'. That's exactly what mattress retailer Tuft and Needle has done with the opening of its showroom in partnership with Amazon. The company, which reportedly generate a quarter of its sales through Amazon, opened the space in Amazon's hometown of Seattle equipped with technology such as Amazon Echo devices. Customers who ordered at the new store and were Prime members would also receive one-day shipping.
48. MatchesFashion.com
At over 30 years old and with revenue as high as $255 million in 2016, MatchesFashion.com is well versed in what's hit and what's miss in retail. Since its beginnings the brand has launched Style Social, a feed where shoppers can buy from images posted to Instagram and Twitter with the #MatchesFashion hashtag. It has also made the move to bricks-and-mortar with a six floor London-based townhouse for various events and showcases.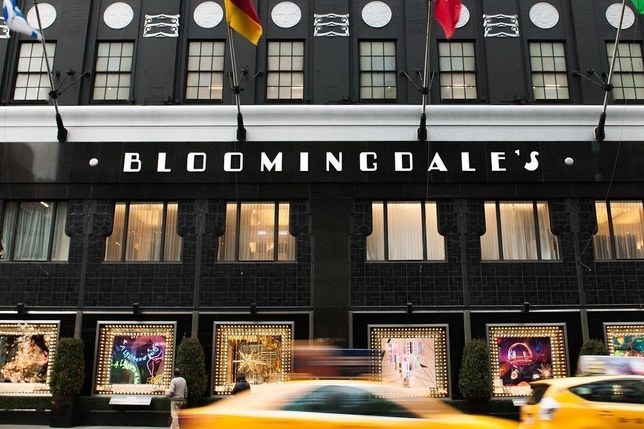 Image credit: Bloomingdales
49. Bloomingdales
Another retailer proving that the department store is far from dead is Bloomingdales. Through its Glowhaus initiative launched last year, the store selected 30 beauty brands and 800 new products (all under $100) to appeal to the Millennial demographic.
50. Rebecca Minkoff
Whether it's live-streaming in virtual reality, creating fitting rooms that tripled expected clothing sales with its seamless introduction of digital innovation, or creating handbags that are IoT-enabled, Rebecca Minkoff is a designer that truly understand the results of fusing fashion with technology.
Why do some retail innovations not take off? Find out and what this means for future innovation.
If you want more content like this, or to keep up with the latest retail trends, click here to join our community.