Retail
Unmanned, automated retail – is it the future?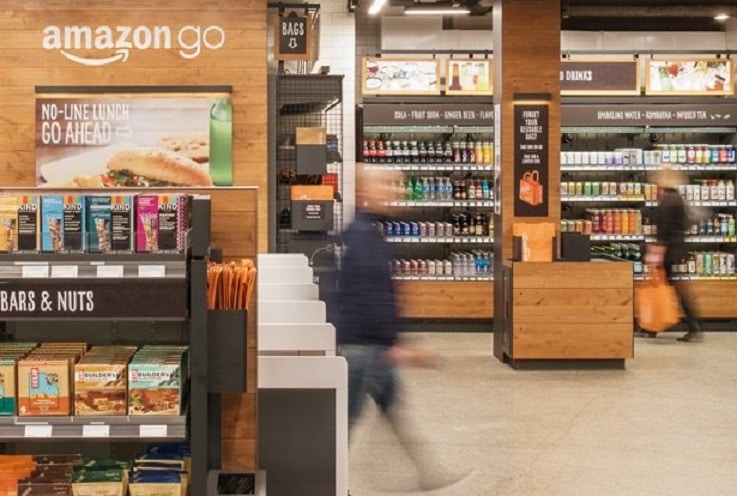 Let us start by saying automated retail is not new. We've all used it. That vending machine you got a packet of crisps and a can of Coke from when you were a kid? Automated retail. We didn't go around calling it that then but that's what it was.
So, it's not new then. But the pace and scale of automated retail is picking up. Amazon Go saw to that. While the idea that you can walk into a store, pick what you want to buy and then walk out again – without any interaction with staff or a checkout – and be automatically charged for your purchases is a bit mad, it's taken deep root in the industry. It's making us think about the way we interact with a store, not just a vending machine, and that's exciting.
As a result, automated retail is now a broad area including everything from vending machines to unmanned kiosks to unattended grocery stores. In all cases though it sees the customer self-serving in a retail environment that is typically unmanned. That provides a lot of scope for innovation – and growth.
Or so they say. A report on Kiosk and Retail by USA Technologies and PYMNTS.com predicts that the interactive kiosk sector in the US will be worth more than $1 billion by 2020. It says it has already grown from $533.37 million in 2013 to $716.97 million in 2016. Research and Markets thinks that the automated kiosk market (as it sees it) will be worth $34 billion by 2023.
Interesting figures for sure, but is automated retail really going to change how we shop? How fast is the sector moving? How far has it gone already? Find the answers to all this and more in our look at the some of the best examples of automated retail today.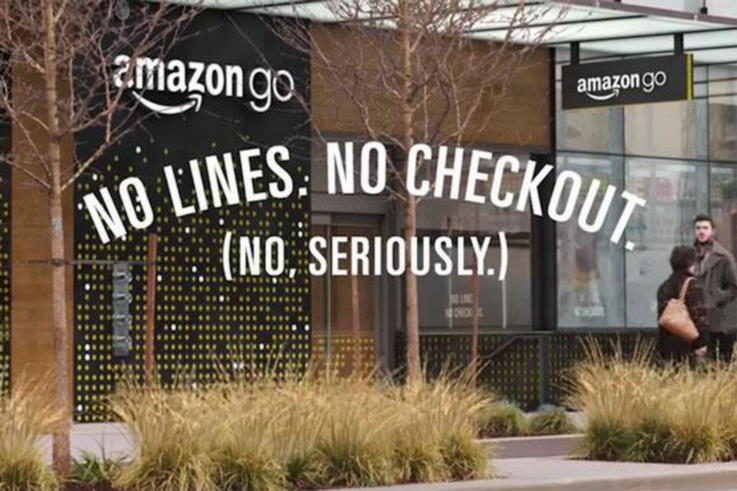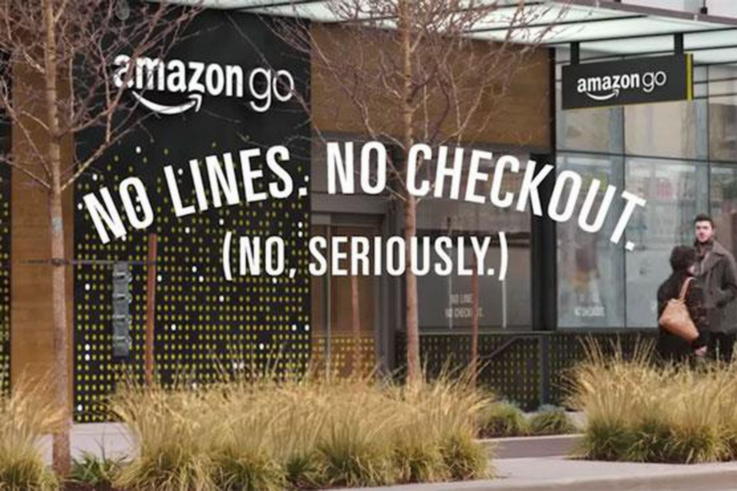 Image courtesy of Amazon
Amazon Go
Let's start with the one you know. Amazon announced its Go concept way back at the end of 2016, although it was only in January of this year that it became open to the public. In between the company spent over a year testing the tech on its staff in Seattle.
The "Just Walk Out" idea allows customers to enter a store by checking in with their smartphone. They can then browse and add items to their basket as in any grocery store. Every time they pick something up, put it in their basket, or put it back a combination of AI, computer vision and sensors tracks the movements. When they are done shopping they just walk out of the store and Amazon automatically takes payment for the items they took. It's a really cool idea that Amazon has brought to life in a convincing way.
Apart from stirring up a whole lot of press, Amazon Go is the benchmark that many are holding automated retail up to. The company clearly sees value in it as it is planning more Go stores in Chicago and San Francisco. It's worth noting here that aside from Whole Foods, Amazon doesn't have a network of existing stores like many retailers. Therefore, a series of automated convenience stores gives it an interesting foothold within the industry.
BingoBox
BingoBox's unmanned convenience stores first appeared in China last summer as a collaboration between Auchan and Bingo Fresh, although it claims to have been trialled since August 2016 – making it older than Amazon Go.
Customers enter the store by scanning a QR code on the door with their smartphone. Once ready to pay, they place their chosen items on a checkout counter that uses image recognition to identify them and calculate the cost.
Payment is taken via Alipay or WeChat. Customers must scan another QR code to leave the store, which opens once a camera has checked all items have been paid for. While it seems like there's a few more hoops than Amazon's Go model, we love the integration of a human support line via video link should you have a problem.
There are now more than 300 BingoBox locations in 30 cities across China and growing. Another cool element of the concept is that BingoBox's are mobile which means they can be located wherever the owner wants – and in theory means they could be moved around.
Tao Café
Alibaba is one of the world's biggest forces in retail so it's no surprise that it too has entered into the unmanned retail arena. Last year it launched Tao Café in Hangzhou where Alibaba is headquartered.
To enter the space shoppers have to scan a QR code with their Taobao app. They can then shop from a range of merchandise with cameras and sensors tracking what they choose. Once they are ready to pay they walk through a series of two exit scanners which checks their purchases and automatically takes payment from their Alipay account.
Users can also order and pay for drinks and snacks via a facial-recognition system that automatically identifies them and takes the payment. Real life humans still prepare the orders though.
As with a number of these companies, Alibaba is able to offer this seamless journey thanks to its ownership of key components, such as the payment mechanism, and heavy smartphone integration. Knowing Alibaba, Tao Café won't be the last of its activities in automated retail and we're excited to see where it takes the idea next.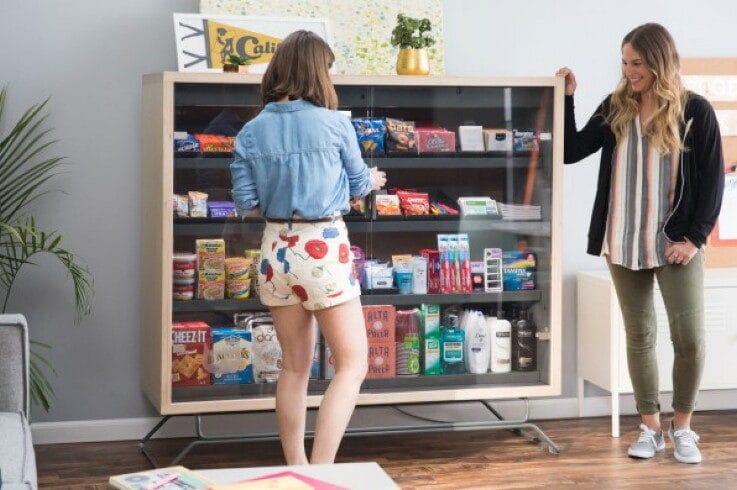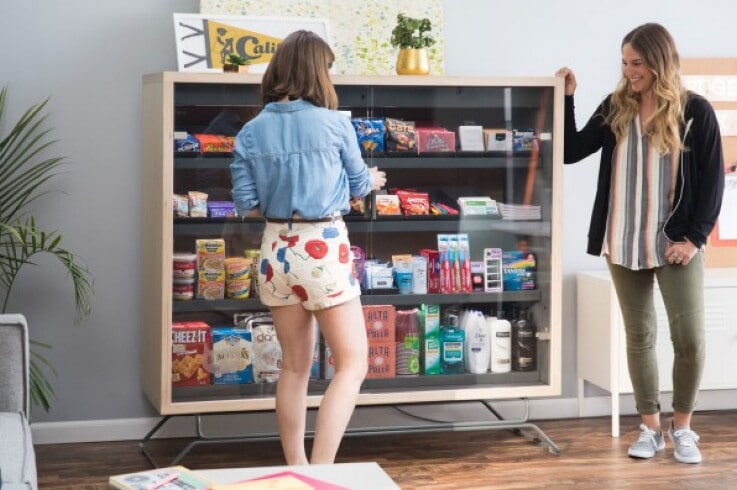 Image credit: Stockwell
Stockwell (Bodega)
Last year automated retail start-up Bodega ruffled plenty of feathers, mostly because of its choice of name. But its take on the automated retail idea is an interesting one. Essentially a more modern vending machine, Bodega deploys pantry boxes containing essential non-perishable food and homeware items in communal locations like gyms, office buildings and lobbies.
Customers who want to buy something can open the box by using the Bodega app on their smartphone. A series of cameras inside track what they take out, the cost of which is then automatically charged to their account. The boxes are supposed to learn from what products are bought so that the assortment can be improved over time. In theory this means every Bodega should have a different product mix based on the community it is serving. We like how simple but effective the idea is.
Almost a year on the Bodega dream is still alive but the name isn't. The company is now known as Stockwell in response to all the upset it caused by calling itself Bodega in the first place. It's unclear how many Stockwell boxes are actually in action at present, but the website suggests that the company is working on a number of improvements. Watch this space.
Auchan Minute
Not content on just working on BingoBox, last year Auchan also launched its own unmanned convenience store concept – Auchan Minute.
The small-format stores have the look of a shipping container and stock around 500 different convenience food and drink products. Customers use the WeChat app to enter the store by scanning a QR code which identifies them. As they shop they use the app to scan the barcodes of the products, which adds them to a virtual cart. They then pay via WeChat Pay or Alipay, confirming that the virtual cart matches the amount billed.
Clearly Auchan sees a lot of opportunity in automated retail. Its integration with popular services like WeChat makes the experience as frictionless as possible – an important element of convenience shopping.
EasyGo
There's no doubt that China is driving the boom in automated retail. EasyGo is another of the country's unmanned convenience retail examples which uses the WeChat social media platform to deliver its service.
Using the WeChat app customers scan a QR code to gain access to the store. All of the products have an RFID tag which lets the system identify what a customer is carrying when they enter the payment area. The total bill automatically appears in WeChat and once customers have paid (via WeChat Wallet) the door opens to let them leave.
Currently there are around 100 EasyGo shops in action across China. Building on the success of these stores, EasyGo is now looking at partnerships with other companies like Four Seas Group. It also was a supporting partner on Tencent's We Life unmanned pop-up earlier this year. It seems there's plenty of opportunity for enabling companies like EasyGo to help others move into automated retail.
Moby Mart
Moby Mart was another automated retail idea to be born last year. This one takes the idea of BingoBox and puts it in an autonomous, self-driving vehicle that travels to customers. Created in partnership by Wheelys, Hefei University of Technology and Himalafy, the Moby Mart has been in beta testing since summer 2017.
Customers can find their closest Moby Mart via the accompanying app, which they also use to open the door. If they wish to buy something they scan the barcode via the app and are then automatically charged for the items when they leave. The store currently stocks a range of convenience goods, but customers can also order other items for collection from it.
At the moment Moby Mart is still being driven by people, but the aim is to make it fully self-driving in the future, so it can come to customers. Which would be pretty cool. There are also plans for it to use drones to make deliveries and be able to notify warehouses when it needs refilling.
F5 Future Store
F5 Future Store is an unmanned convenience store with a difference. There aren't any products inside for customers to pick up. Instead they order and pay for products via their smartphone or the in-store terminal. The products are then dispensed from the back-end via machines.
What's more customers can also order hot and fresh food and drinks, which are also prepared by machines behind-the-scenes. Imagine being able to walk into your favourite coffee store any time of the night, order a drink and then leave without anyone having to be there. Crazy right? That's what F5 Future Store shows could be happening. The space even cleans itself apparently and customers can order in advance for pick-up.
Bianlifeng
Bianlifeng is a Chinese start-up which operates a chain of unmanned convenience stores called Convenience +. The spaces are QR code and mobile payment enabled like many of the other examples on this list, which enables them to not need staffing.
How Bianlifeng differentiates itself is by selling high-quality imported goods, which customers may not be able to readily get elsewhere. It also enables customers to order ahead of time online and then pick-up in store at a time that suits them.
We really like the idea of click-and-collect going 24/7 via automated retail spaces such as Bianlifeng. It's the sort of service we expect to be baked into these sorts of stores as standard in the future.
Take Go
This partnership between Hangzhou Wahaha Group and DeepBlue Technology has big aspirations. Apparently, they plan to open 100,000 of these unmanned spaces across China in the next three years, with dreams of having a million within a decade. Clearly they see the demand.
The store itself uses a hand scanner to recognise customer palm prints and allow them to enter. It then automatically charges them for any items they wish to buy.
However, Take Go reportedly only allows one customer in at a time due to limits in the camera technology. This type of challenge is one of the main things holding automated retail back and one that will be being tackled for some time.
7-Eleven Signature
A slightly different take on the unmanned retail store is 7-Eleven Signature. Set in the Lotte World Tower in South Korea, the space used a palm scanning technology called HandPay to let customers inside.
They could then shop the store as they would a normal 7-Eleven. When it came time to pay a combination of a 360-degree scanning system for product identification and another palm scan ensured their account was charged correctly. The system requires customers to have linked their biometric hand scan to their Lotte credit card ahead of time.
The space only ran as a beta experiment for Lotte staff for a few months last year, so we can't necessarily expect a mass roll-out. But it shows the variety of options that automated retail has when it comes to payments and access security.
Suning Biu
Another new entrant to the market last year, Biu is the name of a series of five unmanned automated retail stores from Chinese retailer Suning. The stores use Suning's own finance app to allow customers to enter them by using the facial recognition function. The product range is a mix of electronics, sporting goods and groceries.
Customers are free to browse and pick the products they want to buy. Once they have made their selection they walk towards the exit where the system uses facial recognition to identify the customer and RFID tags to see which products they have and then charges their account accordingly.
What's interesting about Biu is that its use of facial recognition allows it to make product suggestions to customers based on what they have bought in the past. These products may not be stocked in the space but can still be bought there for delivery to the customers home. It's a really smart idea for up-selling and personalisation from a small space.
JD.ID X-mart
Last year JD.com began experimenting with different automated retail models at its Beijing headquarters. Now it has opened a new unmanned store in Indonesia called JD.ID X-mart.
A combination of QR code and facial recognition tech lets the customer into the space. They are then tracked via cameras as they shop, with RFID tags keeping track of which products they have picked up. They are then automatically charged for anything they leave with.
Unlike a lot of these automated retail examples, JD.ID X-mart sells fashion, apparel, beauty and consumer goods. It's a different area to the traditional grocery convenience idea but shows how automated retail can be applied to other sectors. We're really keen to see how different bits of the industry tackle the automated retail idea.
Inokyo
A new contender to the automated retail market, Inokyo opened its first prototype store in Mountain View, California in August. Currently for beta users only, the space sells a mix of snacks, drinks and bath products. The store itself is accessible during opening hours.
When you arrive you have to scan a QR code in the Inokyo app to start shopping. Everything you pick and up and put back is tracked by cameras. The cameras also use facial, body shape and clothing recognition to attribute items to certain shoppers (which means you shouldn't get charged for someone else's goods). You then scan the QR code again to pay and leave.
Although the process is unmanned (there's even a button in the app to report an over-charge), Inokyo plans to have a member of staff in the space to help users and to make sure everyone scans in and out. The company is also planning to use the data from its beta users to determine future product assortments and even its business model. It is unknown yet whether it will operate its own automated stores in the future, license the tech to other brands or something else.
Zippin
Zippin is another US automated retail concept launched in August. Located in San Francisco, it is running an open beta with anyone able to try out the space if they download the accompanying app. Like Amazon Go, Zippin uses a combination of in-shelf weight sensors and overhead cameras to track when items are picked up and put back.
Shoppers are tracked based on body type and clothing rather than facial recognition. Customers enter into the shopping area via the familiar method of scanning an QR code form the Zippin app. When they leave the system calculates the value of the items they took and automatically bills them.
Its currently very small scale with just a few chilled cabinets for drinks and shelves of snacks, but the plan it to expand it to 500 feet in the coming months. The space is a prototype for Zippin's technology which it aims to sell to other retailers. The company says that clients would be required to buy and install the cameras and sensors, with Zippin making money off a monthly fee for using its tracking technology.
Standard Market
Standard Cognition is one of the few automated retail tech providers to have actually made a deal to put its system into stores. By mid 2020 it will be in more than 3000 stores owned by Japan's Paltac Corporation. In the meantime though the company has launched a demo store, Standard Market, in San Francisco.
The space stocks the expected range of convenience and home essentials. It's open to the public but with limited hours at the moment. Tech-wise it only uses an array of cameras and image recognition software to track the items that customers pick up, put back and put in their basket. The system needs to be taught to recognise each item sold in the store, but this takes a matter of minutes. Once shoppers are done the cost od their basket is calculated and they pay via the Standard Cognition app.
Long-term Standard Cognition plans to be a provider of tech, with customers paying a monthly fee for access to its service, rather than operate its own stores. Standard Market is all about having a space for the company to show what it can do to potential customers as well as refine the tech through real-life customer interactions.
Watasale
Watasale is India's first fully-automated unmanned store. Based in Kochi, its tech works the same as many of the other systems being trialled around the world. Customers download the accompanying app and swipe its QR code to enter the space. They can then browse the array of grocery and convenience items for sale and choose what they want to buy. The system automatically tracks what they take and charges them accordingly when they leave the space.
The project is currently a pilot, but is expected to be expanded to other locations around the country as well. The company behind the tech, Nayasale Retail Pvt Ltd, believes that its system will allow stores to be installed in all sorts of new places. it is interesting to think about how the unmanned concept could shake up what we consider retail to be.
The best of the rest
It's impossible to list all of the experiments taking place in automated retail (not least because of all the vending machines out there), but here's a few other it's worth being aware of.
First up is Naraffar. It's widely considered to be the frontrunner to the unmanned automated convenience stores that Amazon Go and BingoBox have made big news.
Opened in January 2016, the store is based in a tiny town in Sweden called Viken. It lets customers access the store any time of the day or night by using an app to unlock the door. They can then take whatever goods they want, scan them and make the payment. Although it's on a much smaller scale, you can see how this fits in with the other examples. Plus, Naraffar is also behind the new Moby Mart concept so this is an area it is clearly committed to.
Vicki is a super-smart new take on the vending machine. Created by ViaTouch Media it uses facial recognition and sensors to give customers access to goods and to track what has been taken from the machine. It also supports a wide range of payment options. The tech builds on the company's previous smart vending machine concept Lisa.
Finally, we have to quickly mention Hema, Alibaba's cashless supermarket chain. It's not a fully automated retail system by any means, but customers can checkout using their mobile app or one of Hema's facial recognition kiosks without the need for any staff intervention. There's loads of other cool elements to the stores as well, but it shows how automated retail is creeping into everyday stores too.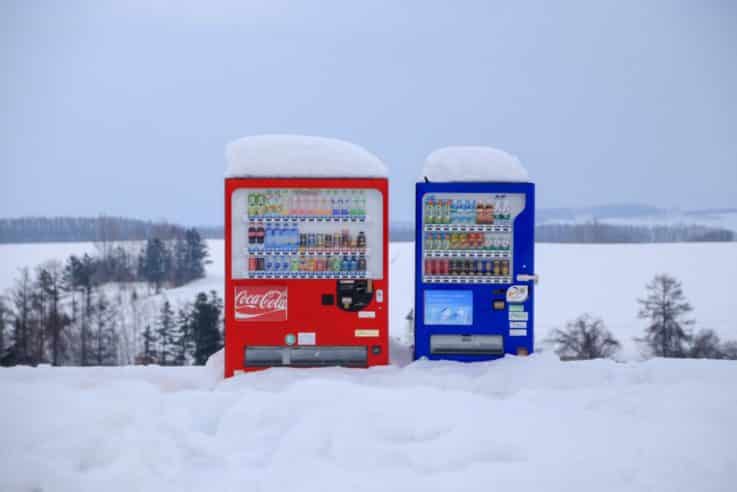 What's next for automated retail?
This is just the beginning. Microsoft has announced that it is working on its own Amazon Go-style tech and rumours suggest it may partner with Walmart to deliver it. While Walmart hasn't yet announced any plans for fully automated stores, it has been flirting with this sort of tech via its scan-and-pay app experiment.
There are also plenty of start-up companies promising to bring Amazon's take on automated retail to retailers who want the tech, but don't have Amazon's development budget. It's likely we'll see more and more of these types of deals coming to the market soon. Plus other brands dipping their toe into automated retail via apps that let customer scan and pay for their shopping without the need for staff input.
The big question is what is driving automated retail and is it a good thing? These types of retail experiences do offer a certain level of convenience to customers which is appreciated in today's busy world. They also provide a channel for retailers to gather data on customer habits and behaviours which can improve their other stores and inventory mix.
At the same time there is a danger that many retailers are exploring unattended technologies to cut down on staffing costs. There is also the ongoing challenge of theft, although this is an issue that retailers already have, and how automated retail can cope in real-life busy shopping situations. If you have 50 people picking things off the shelf at the same time are you really able to track that?
Automated retail also has to pick its targets. There's a reason that most of the real-life use cases are currently in the convenience sector. It goes without saying that most of these unmanned stores are available to access 24/7. It makes sense to make grabbing a sandwich or a drink or some late-night milk as easy and convenient as possible. It also lets retailers make sales in locations and at times that they couldn't otherwise like a train platform or late-night car park.
But in luxury, for example, people are paying for a service as well as a product. They expect interaction with a member of staff. They do not expect to have to do it all themselves.
Perhaps one of the best ways that automated retail can help the industry is to free up staff for other things during the day, and then help retailers make additional sales out-of-hours. If customers can self-serve for their quick transactions and staff aren't required to stand about and man a till, then they can focus on helping customers with issues, giving them advice and just make the whole experience a little less alien, and a bit more human.
This article was updated on 12th October 2018.
How have these 16 retail tech start-ups managed to get mass expert backing? Find out here.
Want to go straight to the hottest retail technologies, latest disruptive thinking and simplest new ways to lower costs and boost sales? Transform your team's thinking using Insider Trends' little black book. Find out how here.