Paris
What trends are shaping retail in Paris?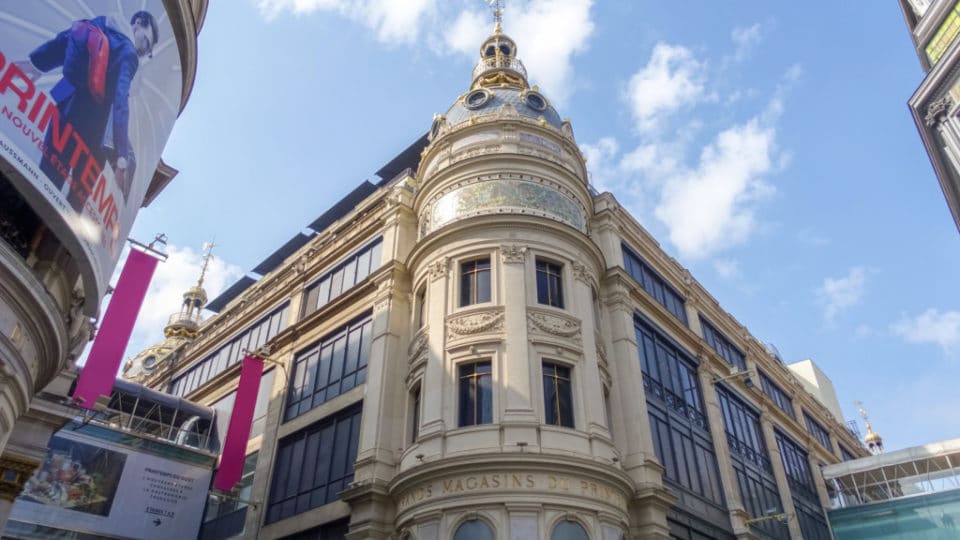 Paris is not just the city of romance, but also one of wonderful retail. From long-established names to concept stores to up-and-coming faces, we love the vibrant mix of spaces on offer. Within them, a wealth of different retail trends are playing out – trends that may well shape the future of shopping everywhere.
What are they? Find out in this whistle-stop seated retail safari – or if you want to see them for yourself get in touch about booking your unique Paris retail safari.
Tech-enabled experiences
Like many major cities for retail, Parisian stores are increasingly embracing tech for its ability to remove customer pain points and to inject some excitement into experiences.
One store shows exactly how tech can be used to great effect by offering installations that encourage play using its devices. This includes a slow-mo studio which invites you to throw confetti in the air or blow pinwheels, films it in slow motion and displays the footage. If you input your email address the clips will be sent to you. This opens up a channel for further communication with the brand.
Customers can also try an in-store ski simulation, VR snowboard experience or interactive game which is controlled by a phone. The space is all about spending time with the brand, rather than buying. By letting customers engage in this way they help convince themselves of the products' merits, which is a far more valuable inducement to buy.
The in-store tech is also used to help customers self-serve via exciting new display interfaces. You can find out about a phone by holding your hand over a sensor to control the screen. Another display contains real phones with a touchscreen overlay in front which can be moved along to show captions about each product. It means that customers don't have to wait around for a member of staff to be free to learn about what's on offer – a move that could be the difference between them staying in the store or getting fed-up and leaving.
At an apparel store we saw tech being used to speed up the buying process while also adding in a touch of theatre. Customers can browse the brand's entire range of products from digital terminals. If they see something they like, it is delivered to them from the stock room by a series of pipes and capsules.
The process means that staff don't have to spend time going to and from the stock room to fetch things. It frees them up to spend more time helping customers in a productive fashion. There's also a sense that some people may well visit the store just for the experience of seeing their goods whooshing through pipes.
Another store is also using tech to free staff from traditional tasks. As you enter the space you are given a bag, which you can fill with sticks of product as you walk around the space. These sticks form an eye-catching wall display, which also automatically refills itself each time one is removed. This means the space always looks lovely and fully stocked without requiring staff to constantly be restocking.
Although each stick is not very high value, they all have an RFID tag. This means that when you are done shopping you simply put the bag in a unit which calculates the cost by reading the tags and takes payment. It's a nice, slick system that saves any scanning or unpacking of baskets and repacking of bags. Customers are able to manage the whole process without staff intervention if they wish, meaning staff can concentrate on those who want product information and guidance.
Useful tech was the focus for a furniture and homewares store we visited. The light and airy space, with in-store café, acts as a showroom for the brand's products. With physical display space limited, the complete range can also be seen via a clever wall display.
What makes the experience really neat is the use of NFC product tags and an in-store tablet system. Customers can compile a personal wish, or shopping, list by tapping the tablet against the product tag of anything they're interested in. This can then be emailed to themselves for later.
The fact that the tech works seamlessly, as well as not being overly complicated or intrusive, makes this a really effective system. The email function helps to create a line of communication between the brand and the customer. As large purchases like furniture are usually not spur-of-the-moment things, the ability to build a relationship is very important here.
Reimagining of beauty retail
If you think Paris, you think beauty. With such a great reputation, it's no surprise that retailers are finding all sorts of interesting ways to feed shoppers demand for the best products and experiences.
For one department store this has meant updating the retail experience to incorporate co-created content between brands and customers. By displaying this on screens they make it easier for customers to relate, as opposed to some polished advert.
Content is also being created in-store thanks to an Instagram-friendly aesthetic which encourages customers to snap photos as they shop. A series of in-store services and a detox café sees the store approaching beauty from all sorts of different angles. It's not just about the products you buy, but what you put inside you and do to yourself that makes a difference.
The space also offers a nice way to experience products, particularly perfume. A series of interactive perfume displays sees glass containers being used to capture scents which customers can then lift to smell. Another uses dispensers that evoke the shape of flowers to encourage customers to smell before they buy.
At another point customers can fill their own perfume bottle. With sustainability a major concern, the ability to reuse packaging is an attractive one. It goes hand-in-hand as well with the move towards personalisation. If you have spent money on an amazing personal perfume bottle, you want to be able to use it again and again.
Another space also strives to use interaction to connect with customers. The discovery-based design uses experiential basins to help shoppers find out more about the products. By getting to experience them, they're more likely to sell themselves on why they need to own them.
Staff also dish out free hand massages, which give them the opportunity to talk about the merits of the products and build a rapport with the customer. Even if they don't buy then and there, the fact that they will be able to smell the hand cream on their skin for hours after is a powerful inducement to come back. A large in-store café helps to encourage customers to spend more time in the space.
One of our favourite spaces, and one of the busiest, belongs to a DIY make-up brand that provides all of the ingredients to make your own tailored products. A recipe guide explains the different types of ingredients needed, with customers able to select from different options in scents, colours, materials, as per their own needs. They can then mix them together to make the product. The options for each specific product are displayed in a group together to make it easy for customers to navigate the process.
Some of the ingredients are so fresh they have to be stored in the fridge. It taps into this idea of sustainability and knowing where the products you use come from. When you make your own make-up you have control. You know everything single element that went into it and where it came from.
The space also has an in-store studio area from class and events. This can be seen as you shop, which helps to add interest and theatre into the space. A wall-mounted iPad lets shoppers find out more info or register for upcoming classes.
Low-tech experiences
While we appreciate a well-thought out bit of in-store tech, some of our favourite Paris spaces are on the decidedly low-tech side. Instead they use experiences, value-added services and great design to perfectly align themselves with their target customer.
One such pharmacy space has been designed to give customers plenty of reasons to drop in on a regular basis. Up front is a hand sanitiser and hand lotion dispenser if you're just after a quick refresh. You can wrap your gift purchases using the free in-store station, drop-off your laundry and dry cleaning or even just get a freshly-squeezed orange juice or a coffee for a bargain price.
With lots of brands on offer, the store helps guide customers in their shopping by providing cute cards with descriptions of products. There is even a space to do your make-up and a customer bathroom in the back, which is an unusual sight in such a small footprint space. The in-store services continue with a keyholder where Airbnb owners can leave their keys for guests to pick up.
All of these little touches mean the store is providing more of a public service than just selling goods. The reason you go in may change day-to-day, depending on whether you want a coffee or need to stock up on something, but by being able to cater to most needs the store ensures repeat traffic.
Services were also a top priority at a large phone store. Recognising that not everyone who visits will already be a customer, there is an in-store machine where you can buy a local sim card. This helps to bring people into the space and of course once they're using the brand's service, they may decide to become customers back home.
There is also a FAQ style board with information on all of the brand's services. You simply tear off the sheet for the ones you're interested in and it directs you to a part of the store or a link. It's a very low-tech but effective way of communicating with customers, without bombarding them with leaflets they don't want.
We also came across one of the most elegant low-tech spaces we've seen for a while. A department store for a younger generation, this brand uses cool graphics, visual merchandising and installations to create a space you want to spend time in. In-store vending machines, arcade games, selfie machines and table football mean it is sought out by its target market as a hang-out place.
It's all refreshingly unpretentious – it feels like it belongs to the customers. A series of in-store events also helps to drive footfall. Once people are in the space, they're exposed to 250+ brands, from big to small, which makes them sure to find something for them. With such a comprehensive range and great aesthetic, the space ensures that there's nowhere else they'd rather go.
Another low-tech store actually puts the retail element to the side. Owned by a sportswear brand, the majority of the space is a massive, functional gym and a café. You can buy some products in the front, but really it's about positioning the brand as an active part of the community it serves.
It doesn't just sell you products for your workout, it walks the walk by giving you a space to use them in. It makes you feel as though the products must be better than other options out there because the brand understands what you do in them. Aside from physical marketing, the space also serves as another revenue stream for the brand as it is able to charge good money for classes.
Magical visual merchandising
When it comes to visual merchandising Parisian retailers are a step ahead of many of their counterparts. Stores aren't just beautiful though, but functional.
For one space personalisation was a focus throughout. From getting a lipstick monogrammed to a shop-in-shop that personalises any object with artwork, customers are able to make their mark on almost anything they buy. It's this level of customisation that marks the store out as something different. This service also creates plenty of great visual merchandising and interest throughout the space.
In another high-end store, incredible woven room visual merchandising creates a real wow factor. It also has a practical purpose in encouraging people to explore by creating smaller spaces where product can be beautifully arranged. It makes the vastness of the actual space feel less intimidating, as well as making for some great social media publicity via photos.
The brand also communicates the high-end nature of its products by offering a series of small accessories made from the offcuts of other products. When materials are this high-end, they should not be wasted and by using them in this way the brand ensures it profits as much as possible from its investment.
One store we visited uses books to create a stunning backdrop for everything else on display. It's a real wonderland space that seems tailor-made for Instagram exposure. It's also a fairly inexpensive form of visual merchandising as the books could be picked up second-hand for little money. But when in place they provide a real shot of colour and interest compared to your standard fashion boutique.
At another high-end store the brand makes use of the natural architecture by displaying its products in an environment akin to a home. The different product ranges are grouped into themed rooms, such as a workshop for leather goods, or a fancy drawing room for formalwear.
A courtyard café both gives customers a reason to spend longer with the brand, and a place for those who may not be able to afford to buy its product to interact with it. The space can also be used for events, which doubles its value.
Catering to the luxury audience when you sell childrenswear is not always easy, but one store we visited manages it in spades. This is largely down to its brilliant visual merchandising which places a perfect little wooden house in the store. Acting as a fancy version of a play house, it reminds everyone of the brand's target audience from the moment you enter the space.
Interested in finding out more?
There's so much more to Paris than one post could ever hold. Explore stores like these, and more, on a Paris retail safari tailored specifically to your needs and interests. Get in touch to find out more.