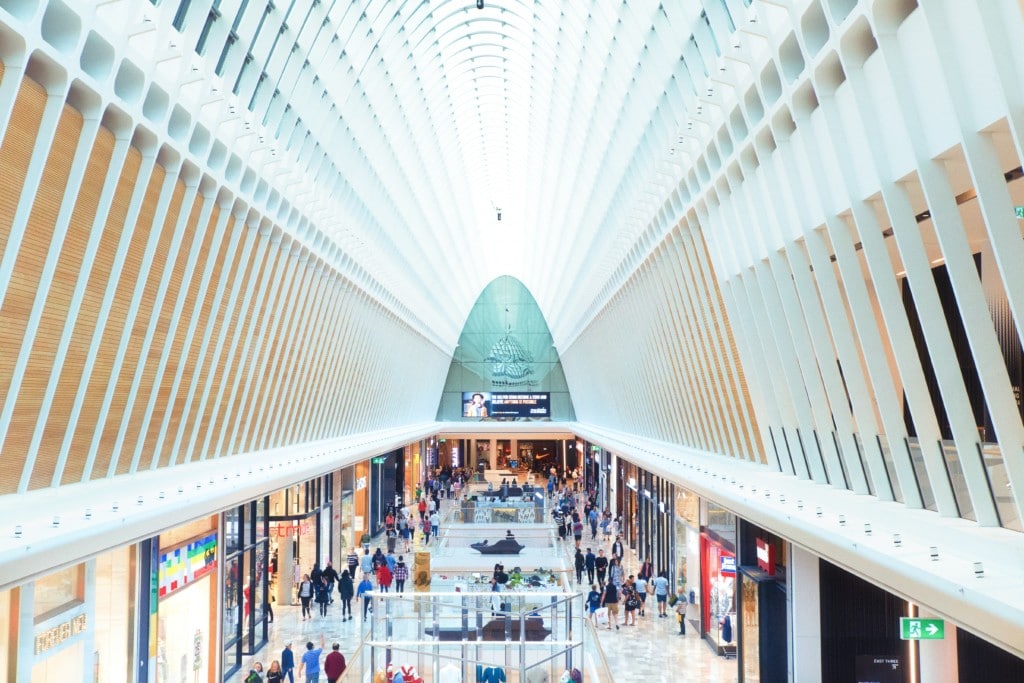 A place where you can get whatever you're looking for across multiple brands and sectors. What does that remind you of? Amazon maybe? Or expanding beyond that – how about the internet as a whole?
It's also the principle that the mall (or shopping centre if you like) was built on. Somewhere you could go to and shop all of the best brands, discover something new, have something to eat and socialise with friends. Now we can do all of this online (including getting food sent to us).
This change in consumer habits, coupled with the closing of stores by various prominent mall stalwarts, has prompted a lot of screaming from media that the 'mall is dead' or of 'the shopping centre apocalypse'.
It's true to say that not every location will necessarily survive. The International Council of Shopping Centres (ICSC) reports that 20% of shopping malls in the US generate over 72% of all mall sales. That means there's a lot of centres competing over a small segment of the market.
In the US in particular there's such a shopping mall culture that you've got various properties around the same location competing for the same business at a time when we're visiting shopping centres less. Then there's the fact that some shopping centres just won't be able to weather the loss of their big anchor tenants.
But as with most other areas of retail, there's a future for the mall still. The successful spaces of the future are places people want to visit. They give people a reason to be there – and if they're spending their time somewhere, they're usually spending money too.
Here's how those with their head in the game are transforming their properties into the shopping centres of the future:
Unbeatable experiences
If you're tired of hearing the word 'experience' then we don't blame you. As with omnichannel before it, experience has become one of the most overused phrases in retail. But we feel validated in using it here.
In a world where we can now all shop for whatever we want instantly from a laptop or smartphone, there isn't a need to go to the shopping centre anymore. Even discovery and inspiration has been facilitated via the internet.
Shopping malls have come round to this idea. They know they need to offer something that you can't ignore and you can't just get through a screen. This is why we're seeing an increase in entertainment-based experiences in shopping centres. And we're not just talking about the cinema.
At the extreme end is the proposed supermall American Dream Miami, which will span over 6 million sq ft. A large proportion of that will be given over to entertainment that is more Disneyland than shopping centre including an amusement park, water park and indoor ski slope. The development banks on the experiences drawing people in and then shopping while they're there. If it works at Disneyland, perhaps it can work at the mall.
Music has become another staple of shopping centre experiences. Westfield's Century City shopping mall in LA has created a 18,000 sq ft outdoor space that it can use for live music and other events. Meanwhile, the Mall at Partridge Creek in Detroit has outdoor concerts multiple nights a week, as well as a community park.
At certain shopping malls you can now find Instagram areas or virtual reality experiences that help draw people in or keep them around for longer. Pop-ups have also become a mainstay letting customers discover new brands and retailers keep offering something new for each visit. This approach works even better if you can bring in the sort of hot new digital-first brands that already have a buzz about them.
Some brands are looking at capitalising on people's fear of missing out with limited-time offers and events. This can be anything from a special flavour of drink for a new season to a one-off party in-store. It's an approach that ties in well with the immediacy of social media.
Experiences don't have to be big and costly though. They can also be focused around convenience. This might include taking a vacant unit and turning it into a central click-and-collect point with fitting rooms so customers can pick up, try on and return clothes all in one go.
Niche offerings
You may think that shopping malls are too big to cater to niches, but the truth is brands do it all the time. Niches can be as big or small as you like, but by creating a location that is built around and interest of way of life could help shopping centres maintain relevancy in the future.
Interestingly a new mall development in Dubai is focusing on a large-scale offering tailored to a certain niche. In this case it's sports. As such, the entire development, which has an area equivalent to 12 football pitches, will only house sports related brands, events and activities. It's something of a gamble, but by making itself a destination for sports Sport Society may benefit hugely from attracting a committed customer base.
In a similar fashion, the 286,000 sq ft Life Time Center in Boston, has reinvented itself as a wellness and fitness-focused shopping centre. You can go to the gym, take a class, visit the medical centre, go to the spa, have a beauty treatment, eat the latest healthy foods and more all in one location.
For those who take wellness seriously it's easy to spend a whole day there. It's not about visiting just to shop, but to access the services that you use on a regular basis. That means regular repeat visits.
Luxury is another niche that offers big opportunities. At 450,000 sq ft, the open-air Miami shopping centre Bal Harbour Shops is one of the most successful shopping centres in the world. It manages this by focusing on serving the well-off. It's not only located in a wealthy neighbourhood, but it attracts customers with money to burn from all over the world.
While some malls are struggling to retain tenants, and fill the spaces they leave behind, Bal Harbour has a waiting list of top-end luxury brands who want to be part of it. No wonder it has a multi-million dollar 340,000 sq ft expansion underway.
New models
One way we're seeing shopping centres adapt to changes in shopping habits is by trialling new models. Perhaps the biggest of these is the curation of dedicated pop-up style spaces in malls that host a revolving range of brands.
Although Neighborhood Goods' model is more department store at present than shopping centre, it could easily be integrated into a mall space. Based in Texas, the space hosts an ever-changing line-up of pop-up brands and experiences.The brands are able to curate their pocket of space, but its Neighborhood Goods that provides all the fit-out, staff and tech.
Speaking of which, there's a partner app that shoppers can use to find out more about brands, message staff, have products brought to them to try and buy. The store also has a communal area with events, installations, a bar and restaurant, which help bring people in and keep them around. Neighborhood Goods is now expanding into New York so it seems there's some substance to the set-up.
It's not the only company trying this approach. Fourpost is a store-within-a-store offering at Mall of America in Minneapolis, the US's largest mall. Brands can rent space within the unit on a monthly basis. As with Neighborhood Goods, the brands regularly rotate to ensure there's always something new for customers to explore. The brands get Wi-Fi, POS and fixtures built in to make it as easy as possible to open.
Then there's landlord Macerich's BrandBox idea. Launched in Washington DC, it's a way for the company to make use of empty units by dividing them into mini stores. The space has modular walls so that it can accommodate anything from two to seven or more brands depending on the size of space they need.
Each brand takes space for six to 12 months, which means there's new names coming in each year from start-ups to established names wanting to test a new idea or market. BrandBox provides all the fixtures, marketing and tech like RFID tags and foot traffic tracking. Macerich intends to roll out the idea to its other mall locations as well.
HiO, The Gathering Shops, The Edit at Roosevelt Field and more all operate a variation of the same model. At the new Hudson Yards development in New York, the shopping mall is dedicating a whole floor to up-and-coming online brands looking to move into physical. Unlike a lot of pop-up based models, the spaces are larger and have longer leases, which allows brands to invest more into their stores.
Tech-powered
Tech might be changing how we shop online, but for many of the biggest malls it's also becoming important to their physical spaces. This ranges from basic customer convenience like Wi-Fi and mobile charging spaces to tech that helps with discovery or ties in with the centre's ecommerce offering.
Whereas once the time and cost involved in innovation may have been offputting, but now shopping centres are often better off with a low-investment and iterative approach. You don't have to get it right first time. It's better just to create a minimal viable product and see if it solves a problem or serves a customer need before you go any further. You can always improve and build on it later if so.
It's not just about the centre's operations though. Some mall owners are working to empower their tenants with better tech capabilities as well. OneMarket, from Westfield, is one example of this. It's developed various products, including engagement and ci-marketing, that retailers can then implement. The benefit of this is that the systems all play nicely together and there's a consistency for customers across the retailers in the centre.
For a company like Alibaba Group, which has a huge multi-strand business ecosystem, offering a single tech-platform makes sense. The company's first shopping centre, More Mall in China, uses its Alipay payment service across all of brands inside and its logistics network to facilitate deliveries. It's an example of how a joined-up approach can make shopping at malls as seamless as possible.
More reasons to visit
If current trends tell us anything it's that the malls of the future won't be retail first. They will be community spaces with residential, hotels, offices and co-working spaces, health and beauty services, gyms, food and drink, events, entertainment and – yes – retail.
We may see services moving into them as well such as banks, doctors, dry cleaners, dentists, child care and more. These are the sorts of things that we access semi-regularly on a need-to basis, whereas retail is more want driven.
A mixed approach isn't going to be a nice to have, but a need to have. According to GlobalData malls that offer more by way of services and experiences get more frequent visits and shoppers spend nearly three time more in them.
It's something that Turkish developer Yaromir Steiner is banking on with his plans to turn a mall in Ohio's Columbus into a full-on town. He pictures a place where you can live, go to work, shop, eat and go out. It's an approach that does away with the traditional definition of the shopping mall. Instead of going to a centre, you're already there and retail is all around you.
Location may also have a part to play in the success of these ventures. Columbus has been chosen because it's considered to be a perfect mini test environment in terms of population and make-up. But other shopping malls are using their location in other ways. Oculus at the new World Trade Center in New York is a shopping mall, but it's also a transport hub serving the nearby office buildings. As such more than 50,000 commuters pass through it every day, not to mention tourists, and with this footfall comes the likelihood of increased sales.
Is the future the same as the past?
It may be hard to imagine given the situation in some shopping centres, but actually it seems that the future of the mall is the same as its past. That is to say they're about spaces for communities to come together.
Once upon a time that might have meant kids visiting the mall to see friends and wander the shops because there was no alternative. Now we have those alternatives, but the shopping mall can still be a place for people to come together. It just has to offer something new ways of facilitating that.
Most malls have a lot going for them in terms of being well-located real estate with good transport links, ample parking and more. Essentially they're not hard to get to. The thing now is to decide what is the best use of these spaces overall.
This means no longer solely focusing on selling to visitors. Shopping centres need to become cultural hotspots, community-serving and genuinely useful. With the right mix of services, experiences and retail – which serves the community they're located in – malls can regain their relevancy.
Find out more about what will make tomorrow's successful shopping centre in our free report on the future of retail space, in partnership with ICSC. Want all of our best insights? Book your future of retail presentation today and we'll tell you everything you need to know to get ahead.