Strategy
25 Top Quietly Innovative Retailers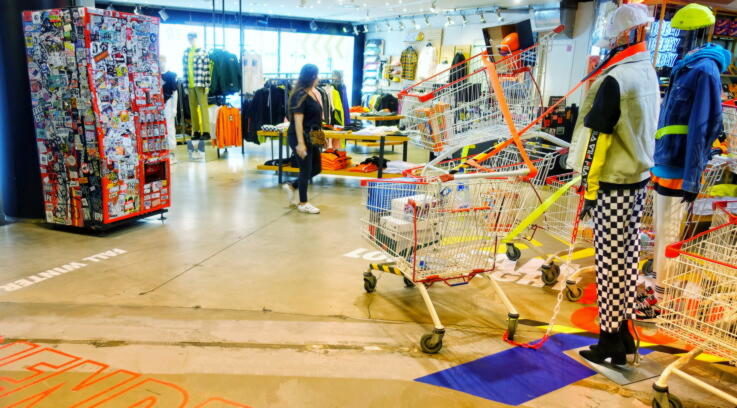 The retail landscape has changed, and companies are constantly having to reinvent themselves or come up with new ideas and innovations to attract more customers into stores.
Many of these innovations are well known and make headlines immediately in the retail world – often launched by exciting start-ups or heavyweight brands like Nike or Amazon.
But lots of great retailers continue to introduce innovative concepts and pioneering customer experiences that fly under the retail radar.
We asked our retail consultants to share 25 top quietly innovative retailers who they think deserve some recognition – and why you should be inspired by them.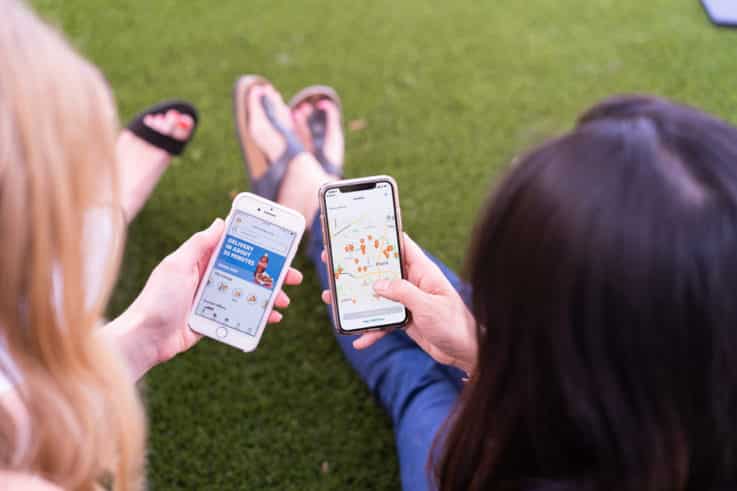 Image credit: 7-Eleven
1. 7-Eleven delivers to wherever you are
The huge global convenience chain 7-Eleven introduced a surprisingly ground-breaking service last year through its 7NOW app. The so-called 7NOW Pins delivery service allows customers to order various items like food, beverages or household goods, and have them delivered to a range of nearby 'pins' located in places like parks, beaches and entertainment venues.
These are locations that traditionally wouldn't be served by online delivery as they don't have a specific home or business address attached to them. They're also places where people congregate and that means the opportunity to sell to them. Afterall, no-one wants to break off their beach day to do a snack run if they can help it.
With that in mind, delivery via 7NOW takes no more than 30 minutes. It's a really interesting example of the kind of premium services large retailers can implement because of their vast store networks.
2. Alepa uses a chatbot to take local stock requests
Alepa is a chain of corner shop stores in Finland that's using smart tech to deliver a brilliant benefit to its local customers.
Its newly built chatbot, powered by Facebook Messenger, allows customers to request specific items to be stocked in their nearest Alepa store. Once requested, the items arrive within 24 hours. The service means that every store starts to become a little different to the other in reflection of the local community it serves. Alepa also learns about what its customers want which can feed into its overall business.
Smartly, Alepa uses digital screens to advertise the new products that have arrived – and references the person who requested them. Independent shops around the world are known to take informal requests from customers, and this is an example of a bigger retailer using tech to offer that same, localised benefit.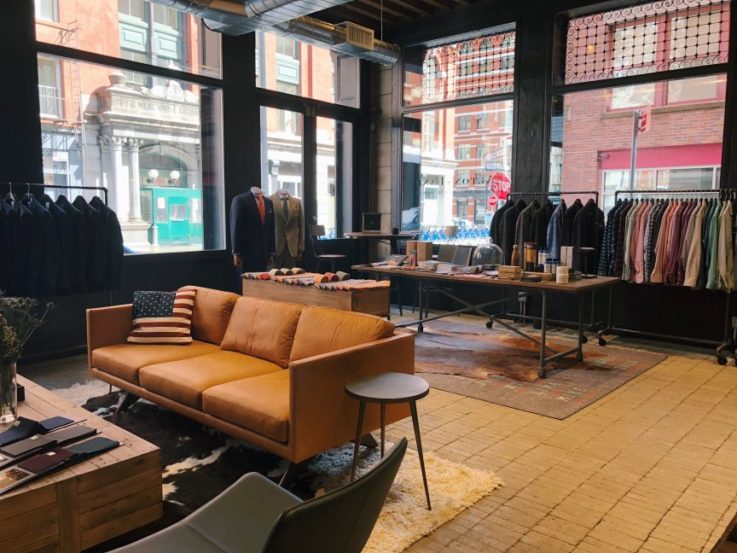 Image credit: Alton Lane
3. Alton Lane uses tech to deliver service
Alton Lane is a small men's tailor in the US that offers a high-end made-to-measure service for its well-heeled clients. But there's a twist to its story.
It now also offers in-store body scanners that can take detailed measurements in a matter of seconds. This means customers who don't have time for a slow, relaxed tailoring experience can be served quickly but with the same high-quality end product.
It's a great example of the fact that tech is best used in physical retail when it solves a meaningful customer problem.
4. Argos continues to lead click and collect
UK-based Argos' entire business has transformed over the years. It was once a struggling retailer with lots of large stores that were suffering from dwindling footfall. But through embracing omnichannel and connecting all of its inventory to online channels, it's become the click and collect leader in the UK.
Today, its 'Fast Track' service is probably the easiest way of buying everyday items. Customers ordering Fast Track eligible products online can pick them up at dedicated counters in-store for free. The aim is to help speed up the process for those in a hurry. It's also testament to what is possible when all of a company's stock is digitally linked.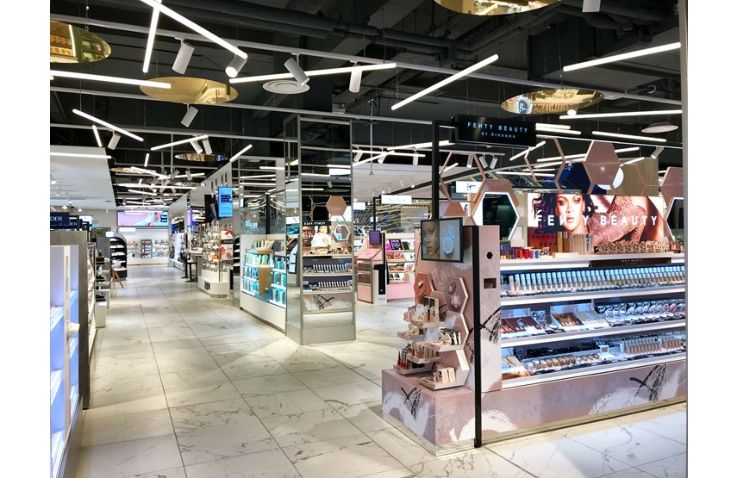 Image credit: Boots
5. Boots reimagines high street health and beauty retail
Boots' revamped Covent Garden store looks nothing like any other Boots store that has gone before it. The space is focused on beauty and wellness as those categories continue to thrive offline. The entrance to the store looks more like the entrance to a luxury department store with rows of high-end beauty brands featured in glitzy displays. Some feature technology-enabled elements which add to the store's discovery angle.
Packed with eco-friendly brands, wellness products and a beauty kitchen – which offers refillable toiletries – it's also targeting high street sustainability. It also offers a water refill point, which gives shoppers a reason to drop into the store whenever they're passing. Boots has also rethought the pharmacy with a mix of fast services like express pickup lanes and slow services like comfy seating and extra consultation space.
This is a test space for other stores across the UK to learn from – and it's hoped it can breathe new life into high street formats.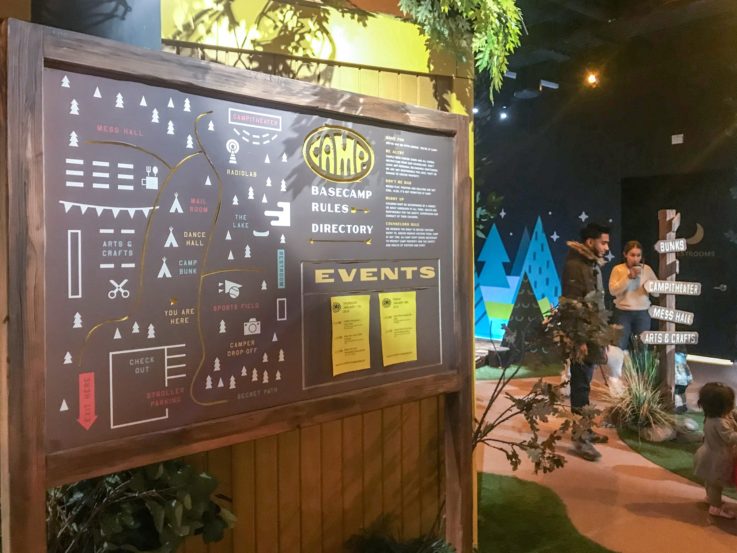 Image credit: Insider Trends
6. Camp turns the store into the ultimate children's playground
Camp has become world-renowned for the design of its 'family experience store' in NYC. On first entering it appears to be a fairly ordinary toy store – but it's hiding an amazing secret. Guests are invited to push open a secret door that leads through to an enormous, interactive play area.
Here kids can play with all the best and newest toys and enjoy all kinds of children's events and experiences. The theme of the space regularly changes which means there's always something new for returning customers as well.
From music to magic and huge takeovers by toy brands, Camp has realised that the experiential trend is especially important in toy retailing. The latter also indicates how retailers can create new revenue models from their stores as Camp sells brands the opportunity to sponsor the space. It also makes money from the events held there. In that sense, it's the experience that Camp has created that is more valuable than the retail component.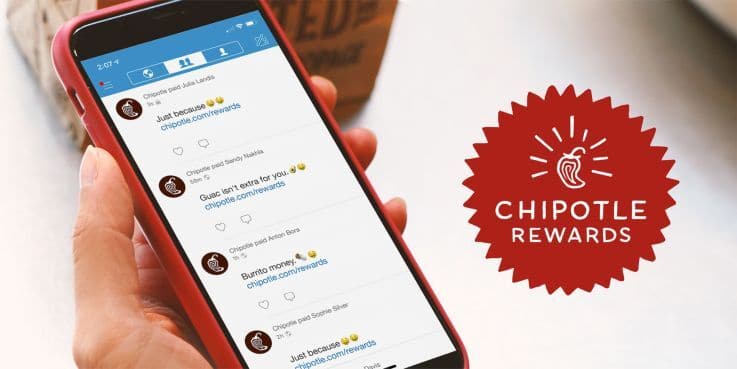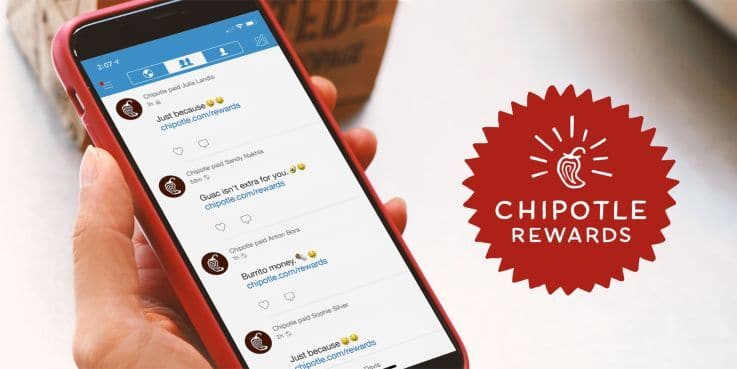 Image credit: Chipotle
7. Chipotle nails digital loyalty
Chipotle has very smartly worked out that when executed well apps can be transformative for building loyalty. It decided to partner with Venmo – a payment app – when it launched its loyalty programme 'Chipotle Rewards'.
To celebrate the launch it made the unusual move of giving away nearly $250,000 across four days to tens of thousands of customers. This not only created a buzz, but got Chipotle trending in the App store, which then led to it quickly acquiring one million loyalty app members.
It now has 8.5 million members and it says those members spend more than non-members, which makes that initial marketing cost seem fully justifiable. The company is also continuing to build on the programme with the recent launch of the new Guac Mode, which offered extra benefits in recognition of Chipotle Rewards' first anniversary.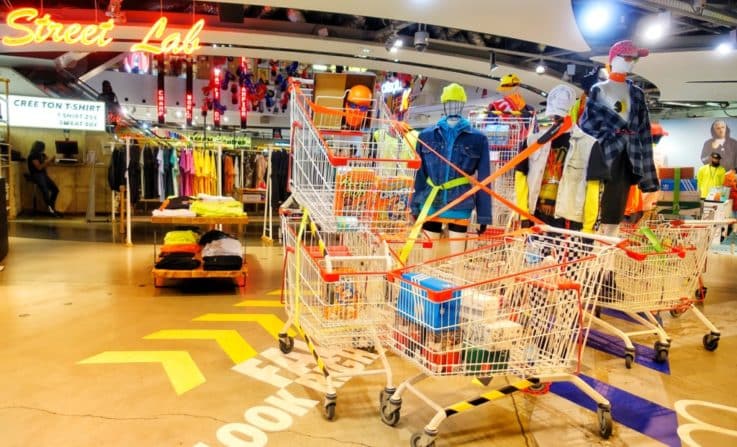 Image credit: Insider Trends
8. Citadium gets experience right
Department stores have had a bad time in recent years. While plenty is said about the need to update the department store model for today's customers, not many get it right.
Paris' Citadium is one of the rare examples of successful department store retailing today. Its youth-focused department store focuses on experiential offerings for its target audience. Everywhere you look there is something genuinely fun to experience.
Retro arcade games, table football, selfie machines, gumball machines, live events and high-end DJs are all a regular part of the mix – and that mix constantly changes. The fact customers actually come here for experiences is testament to its success to date.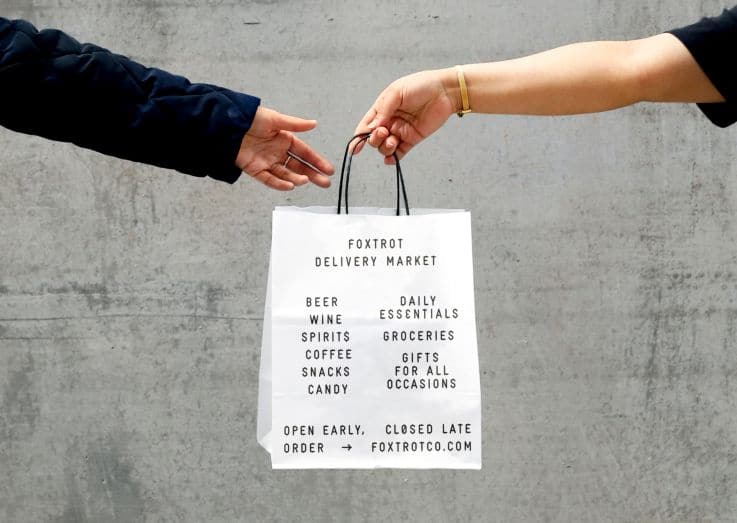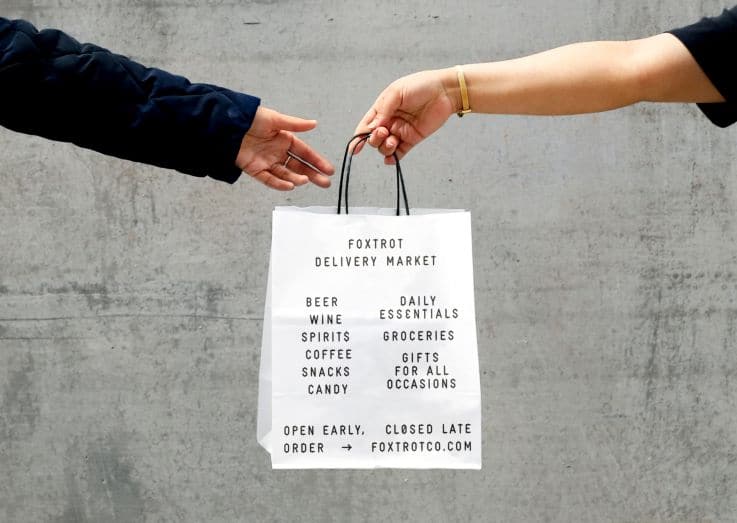 Image credit: Foxtrot
9. Foxtrot uses online orders to improve stock efficiency
Foxtrot is a chain of Chicago-based convenience stores that's using data in a brilliant and pragmatic way. It offers 1-hour delivery to local customers in certain areas – which is an excellent service in itself. But it actually uses data from these orders to constantly inform what it stocks within its local stores. By doing so, Foxtrot improves stock efficiency and decreases waste.
Foxtrot also uses customer information to inform services such as recently offering on-demand same day delivery of Valentine's day flowers. The company introduces new products to its stores every month, based on new trends and what customers are likely to be looking for, as well as stocking local products to give each store a point of difference.
It's a simple and ingenious strategy that shows how an ecosystem approach can help retailers to get to know their customers better and anticipate their needs.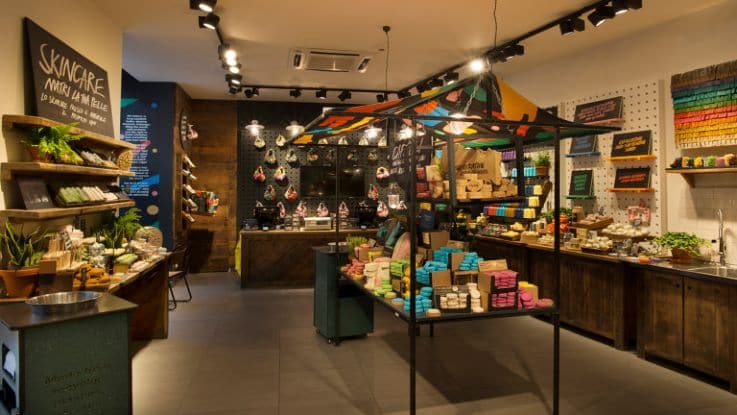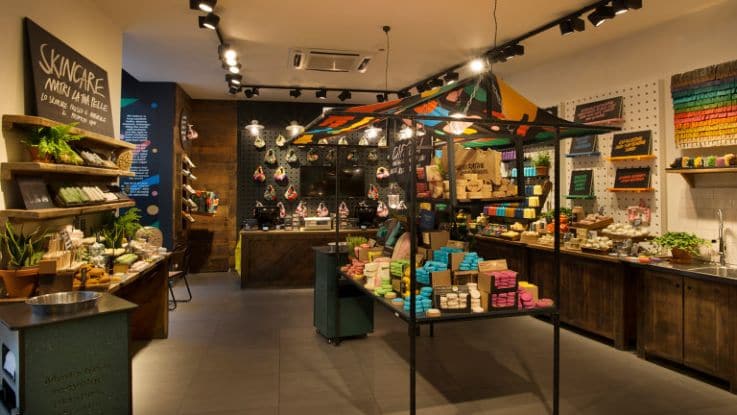 Image credit: Lush
10. Lush 'Naked' leads the way for packaging-free cosmetics
Lush has established a hard-earned reputation for being one of the most ethical and green cosmetics companies around. But the Naked store concepts took those credentials to the next level – and in a very simple way.
The Naked stores, in Manchester, Berlin and Milan, offer products without any packaging whatsoever – which was a first for a major cosmetics brand. In a time when so many retailers are focused on how to reduce or reform their packaging approach, nothing makes a bigger statement than no packaging at all.
The company is able to achieve this by combining the physical stores with its Lush Lens app. Customers can point their phone at a product and the app will recognise it and provide information on its use, ingredients and other useful content like videos of it in action. It's a great way to minimise waste, while still providing customers with what they need to make an informed decision.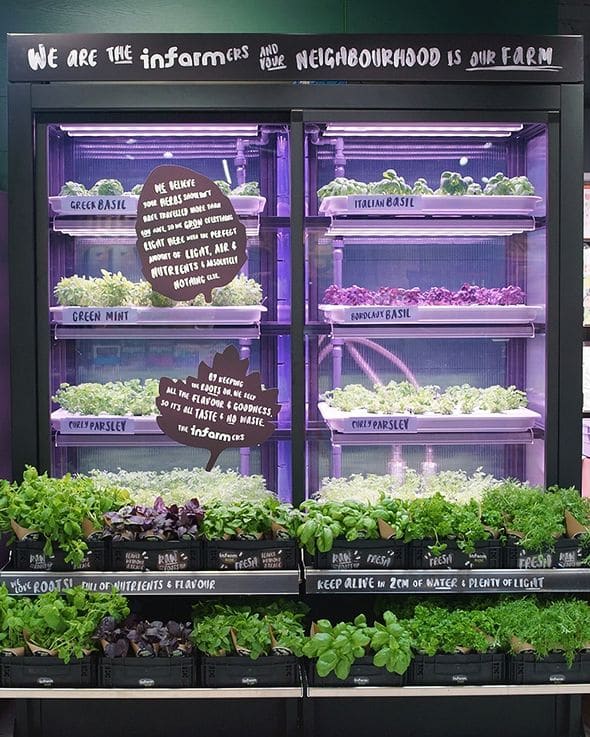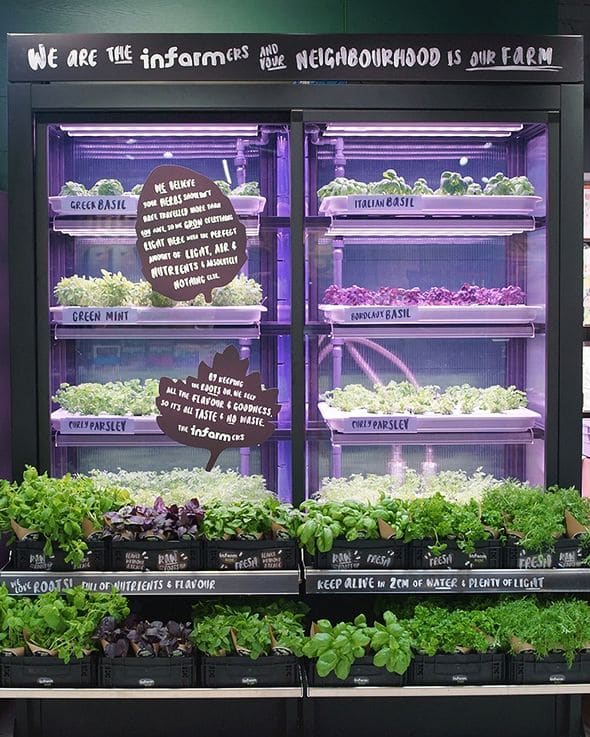 Image credit: Marks & Spencer
11. Marks & Spencer brings the supply chain in-store
Marks & Spencer has quietly taken many positive sustainable and ethical steps over the last decade – but the urban farming concept it has introduced in seven London stores is a bigger, bolder move.
In partnership with Infarm, these stores now use vertical farming and IOT technology to grow selected herbs on the premises. The locations were chosen for being stores where herbs were in especially high demand. The technique also uses 95% less water making it a more sustainable option.
At present, the herbs are harvested by InFarm staff rather than customers, but we could see that changing in the future. In the meantime, customers know exactly where and how their products were grown, and the distance from farm to store is non-existent.
The partnership offers an interesting solution to supply chain and localised production challenges. It may be that we see this expand in the future to bring other fresh products to urban customers locally.
12. Patagonia takes an active stance on sustainability
Tonnes of brands are desperately trying to improve their green credentials with innovations throughout their supply chains. But how many are really ready to lead and create change in the world?
Patagonia is one of those brands. Sustainability is at the heart of its business in everything from supply chains to the materials used in its products. Nearly 70% of its products already used recycled materials and Patagonia wants to up this to 100% by 2025.
Since 1986 it has donated at least 1% of annual sales to environmental causes, which shows its commitment to sustainability isn't just a passing fad. It regularly hosts climate change workshops and activist events in an attempt to support and build relationships with causes that matter. Many of its stores feature signage encouraging people to attend these events and it's a simple but vital way of showing that it's a retailer trying to do more for the planet.
Last year the company was named a UN Champion of the Earth – the UN's top environmental honour – which shows how well recognised its work is in this area.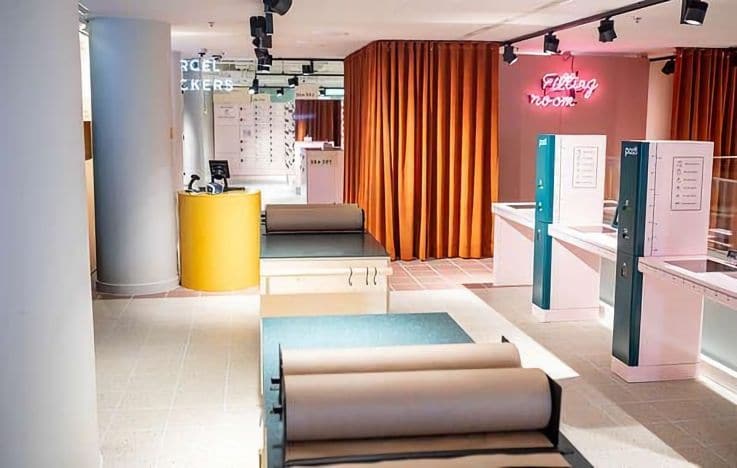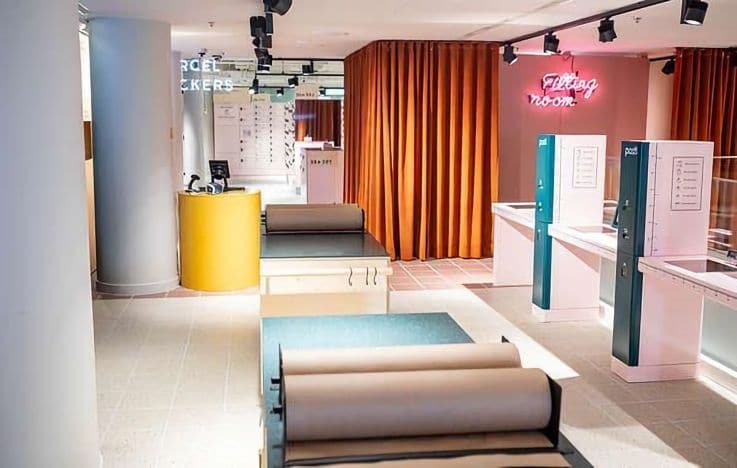 Image credit: Posti
13. Posti creates the ultimate parcel pick-up space
Finnish postal company Posti has opened a parcel pick-up space called Box that offers so much more to customers than they could imagine.
As well as holding 600 beautifully designed lockers for pick-ups, it includes sleek looking fitting rooms for customers to try on their purchases there and then. It's far more like a luxury retail space than a pick-up point with tasteful seating areas, a coffee station, and an area for online retailers to feature their newest products for sale.
There's also a dedicated recycling area as well as everything customers need, from boxes to tape, to return their items. This is a space that has really thought of everything when it comes to the ecommerce experience. It also offers a glimpse of a new direction for logistics companies.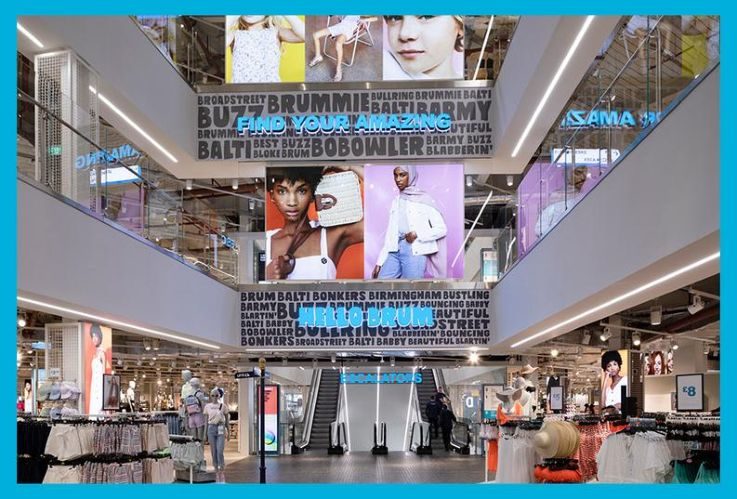 Image credit: Primark
14. Primark brings experiential retail to the mass market
Primark's enormous stores in Manchester and Birmingham (the Birmingham store is the largest clothing store in the world) are statements from a brand that thinks the future of physical retail is bright. While most people might associate Primark with cramming its spaces full of cheap products, these stores are packed with experiences.
From multiple food areas and a nail and beauty bar to dedicated Disney, Friends and Harry Potter experience areas, these stores are about engagement. The approach borders more on a new type of department store than traditional retailer.
With some of the highest footfall in the UK, the stores are living proof that fast fashion can be slowed down too. Primark is giving people multiple reasons to visit and given the price of its products it's likely that most people who go in pick up a few bits along the way.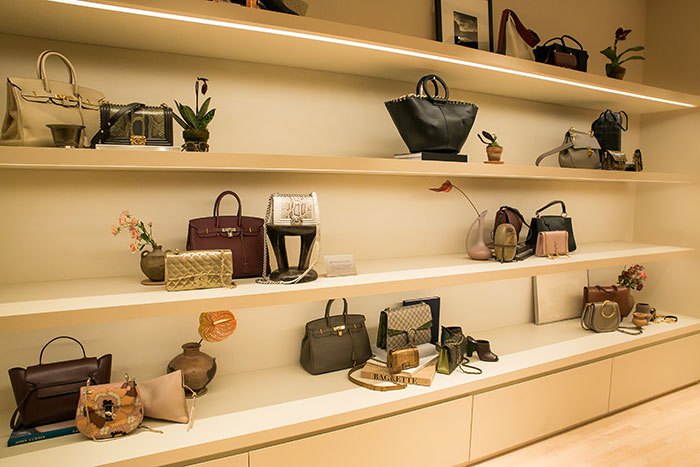 Image credit: The RealReal
15. The RealReal revolutionises second-hand luxury clothing
The RealReal is a US-based, mostly online provider of second-hand luxury clothing, but over recent years it's opened several physical stores too. It's now become the world's largest marketplace for authenticated luxury consignment, and it's changed the way consumers think about pre-owned clothing.
Its store in Soho, New York, for example, to the untrained eye appears as glamorous as any luxury clothing store. The look and feel of the store helps to remove any stigma customers might have about shopping second-hand, while also offering a sense of the experience of shopping in a luxury store.
Perception is a huge part of the luxury industry and The RealReal is able to carry this into the second-hand market. This is significant for an industry that must do more to encourage the reuse of clothing and an end to fast fashion.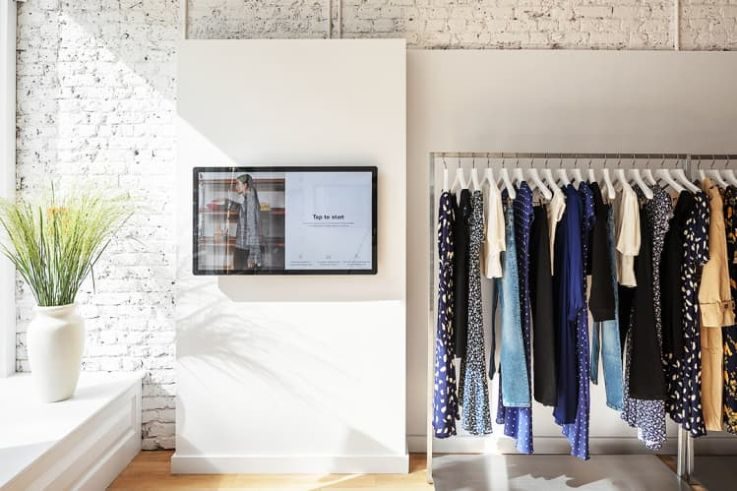 Image credit: Reformation
16. Reformation transforms the fitting room experience
Reformation is a US fashion brand that's growing rapidly. A big reason for its popularity is the ingenious design of its stores – and in particular its fitting rooms.
It only displays one of each of any item in the store which makes it easy for customers to identify the pieces they like. Shoppers use the in-store screens to browse collections and pick their sizes. Once chosen, staff are alerted and those items appear in a fitting room.
Once in the fitting room, tablets allow the customer to order different sizes, colours or items to be brought to them – there's no wandering about half-dressed. Not only does this improve the customer experience, but it improves the look and feel of these stores too – with less stock, the spaces feel large, open and inviting.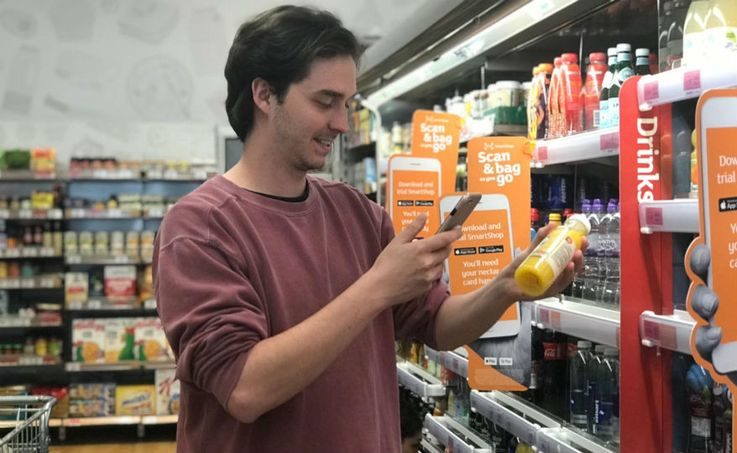 Image credit: Sainsbury's
17. Sainsbury's leads the way for till-free UK shopping
With dozens of automated checkout concepts in China and Amazon Go growing in the US, the UK had been a little slow to react to the cashierless trend. But last year, Sainsbury's successfully trialled the UK's first example.
Located in Holborn, London, customers simply had to download an app, scan items as they shopped the store, and scan a QR code as they left. Payment was taken automatically without the need to queue or talk to a member of staff.
The trial ultimately revealed that some customers weren't ready for this new type of shopping experience, prompting Sainsbury's to add some tills back into the store. However, the data gathered is hugely valuable to Sainsbury's and the pay by app is now available in nine London stores. It's likely we'll see this rolled out more and more as a complement to current services, which will help to drive the necessary shift in customer behaviour.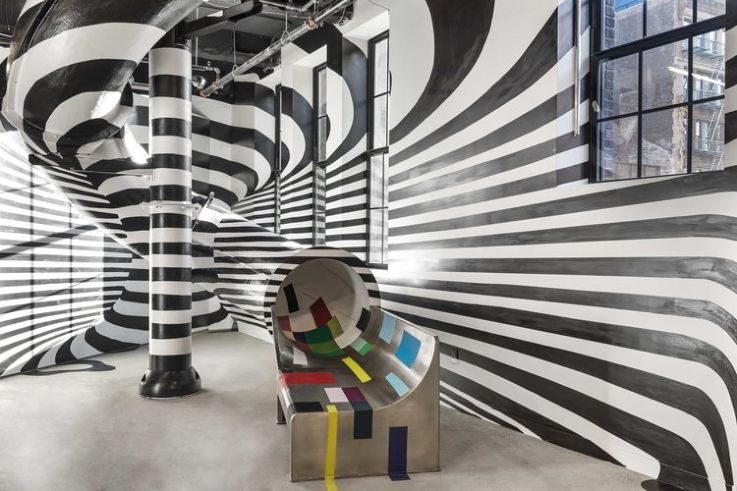 Image credit: Showfields
18. Showfields shows the future of department stores
As well as being a much-hyped and hugely enjoyable retail experience, Showfields in New York might just have given us a clue as to how department stores can thrive in the future.
At the heart of Showfields' concept space is a simple model that sees retailers pay to be in the space – chargeable as a monthly fee. The retailers then keep all of their sales. Showfields not only provides the space but various support including a point-of-sale solution and staff if needed. Online-only brands or companies wanting to trial a new product or idea can do so easily without having to go down the normal route of getting into physical stores.
What's more, Showfields also launched an additional experience called House of Showfields. This interactive, immersive installation/retail experience sees customers exploring different rooms and interacting with actors in order to try out and learn about products. It's a completely different approach to department store retailing, but exactly the kind of thinking needed to bring customers in the door.
19. Stance makes self-checkout easier than anyone else
Self-checkouts and cashierless stores are hardly new retail trends, but it continues to feel like very few retailers have totally solved the puzzle. Stance, however, has quietly deployed a cashierless self-checkout function in some of its stores that might just be the simplest and slickest example we've seen.
All you need to do is type a short URL into your smartphone, scan a product, and you'll be prompted to pay with your linked mobile pay account. No apps, no cameras and no sensors – that's all you need to do. It's a great example of how a simple approach can help to drive wider adoption. The cost for the brand is lower and the level of effort required from the customer is also lower (i.e. not having to download an app or sign up to something).
20. Tesco responds to customer transparency demands
Consumers are increasingly eager for brands to be more transparent. In fact, many surveys have suggested that brand transparency will influence customer buying decisions. But in reality, few brands are especially transparent about what they do, and how they do it.
That makes a simple action Tesco took in late 2018 all the more impressive: it became the first major UK retailer to publish all of its packaging data. In a world packed with big claims but very little detail, this was a bold, honest and well-received move. It helps customers to better engage with the brand and it means that ongoing improvements to packaging can actually be measured against the published data.
Being transparent can be scary for brands because it's unlikely that they're doing everything perfectly right now. That said, by engaging with customers and talking about where they are at they can then take steps to improve things going forward.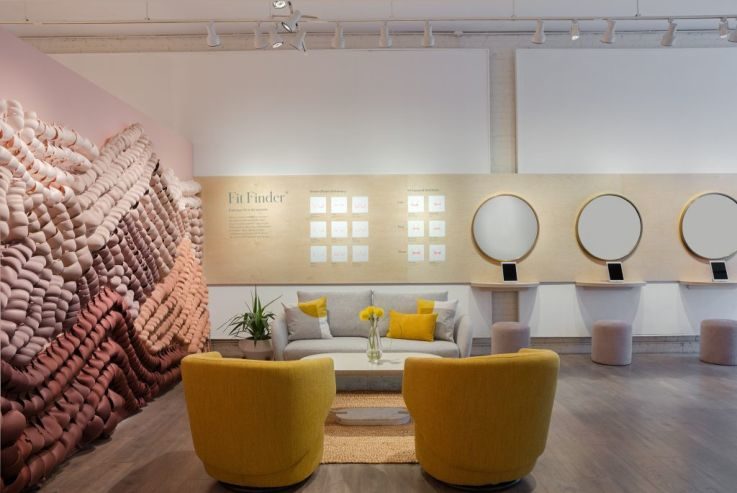 Image credit: Thirdlove
21. Thirdlove takes personalised fitting to another level
Previously an online-only brand known for its highly innovative 'Fit Finder' quiz, ThirdLove has launched a store in Soho, New York, that elevates the experience of bra fitting. Combining the online quiz with in-store expert staff, customers get a luxury, and highly personalised experience.
The resulting fit can be one of 78 sizes, so customers are assured of getting a size that truly suits them. The concierge style check-in desk and lush fitting rooms all add to what is a truly exceptional retail experience.
ThirdLove is also using the space to gather data that it can use to develop its operations. It can actually see how what the Fit Finder quiz suggests matches up with the reality of wearing the bra, which means it can improve the recommendations for customer buying online.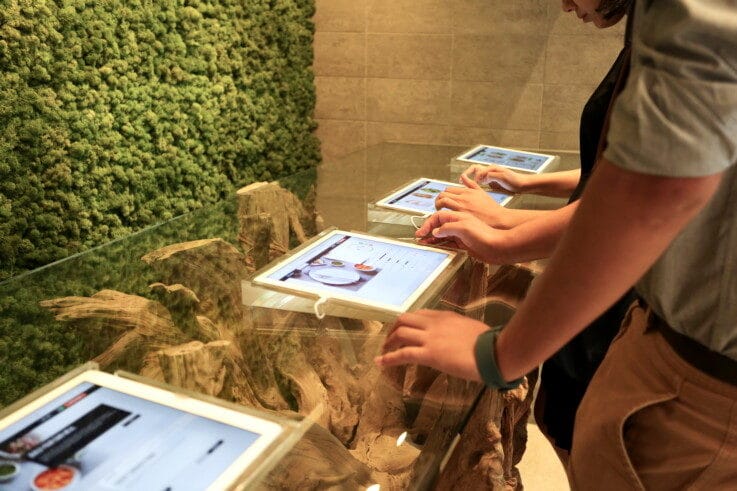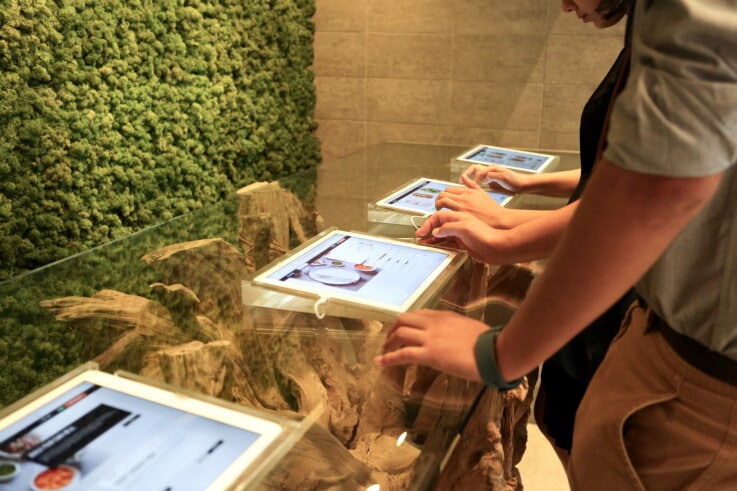 Image credit: Vita Mojo
22. Vita Mojo personalises fast food
Vita Mojo is a small chain of London-based healthy fast food. But what's notable about it is how it allows customers to personalise what they eat. This can be done on iPads by varying the amount of calories or certain ingredients you'd like in a dish.
But remarkably, it can also be done by sending off your DNA for testing to allow Vita Mojo to personalise dishes for you on a regular basis. As a result, Vita Mojo claims it knows customers better than they know themselves. It just goes to show that when customer data is used for a useful purpose, even the most personal data will willingly be given away.
23. Waitrose brings refillables to the mass market
Refillable cereals, pulses, nuts and more have become very common at cool independent grocers and hip health food stores. But for a while, refillables struggled to hit the mass market. That was until Waitrose introduced them at several stores which brought the concept to a far bigger audience.
The 'Waitrose Unpacked' initiative also introduced a 'borrow a box' scheme, where customers paid a £5 deposit for a container they needed to return. It isn't a ground-breaking concept – but it was great to see it adopted by a household name. It also shows how important it is for retailers to stay on top of what customers want and to deliver where possible.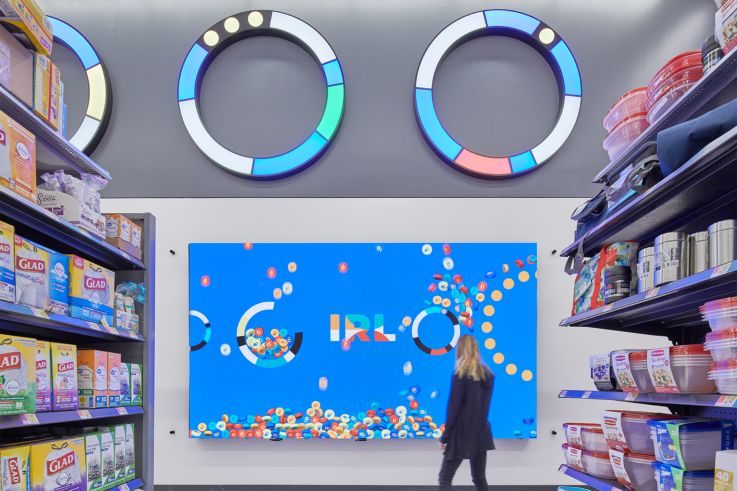 Image credit: Walmart
24. Walmart's Intelligent Retail Lab tries to make AI more friendly
Walmart's Intelligent Retail Lab in New York made lots of headlines when it opened last year. Its primary goal is to collect and use data and AI in lots of smart ways to improve everything from stock efficiency to targeted, personalised advertising.
But something else that it does is really important: it features lots of signage, videos and staff all focused on telling customers about what AI is and why it's using it in the space.
This clear, transparent communication about data collection is rare, but with many consumers still uncertain about their privacy it feels like a positive and important move. It is this type of approach that might be what is needed to make customers comfortable enough to let AI be in their lives more widely.
[vimeo 345506679 w=737]
25. Walgreens makes smart use of in-store AI
Artificial Intelligence is having a huge impact on retail, but big retailers have remained cautious about how best to benefit from it within their stores. Walgreens, however, have made a big breakthrough after partnering with Chicago-based tech company Cooler Screens.
In a trial in 50 Chicago stores, Walgreens' cooler doors use sensors to detect and therefore collect all kinds of information from customers. Firstly, the doors detect what's been bought and tells staff in real time what inventory needs to be updated. But the doors can also display ads based on different specific variations such as time of day or weather conditions, and even customer gender and age.
The doors have led to increased sales so are now being rolled out across 2500 more stores throughout the US over the next couple of years. It shows the value of personalisation and context sensitive advertising in retail, which we expect to see grow in the future.