Brand Focus
31 of the World's Best Brand Homes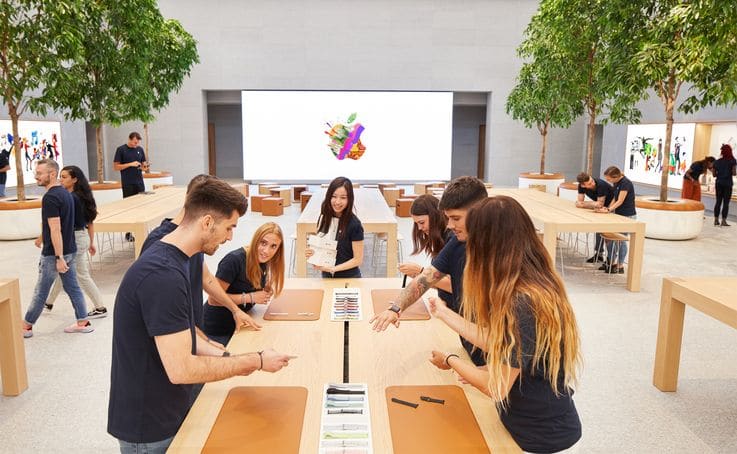 Does your favourite brand have a place to call home?
Brand homes are spaces designed to showcase brands in exciting and experiential ways, create some buzz and getting people talking. They're not necessarily about selling anything, but instead are a way of affirming, or securing, a customer's love for the brand by immersing them in its world. They're spaces to communicate what a brand is about.
It is widely known that millennials prefer to spend their money on experiences rather than products so these brand spaces are a reaction to this. Whether offering exclusive beverages, taking customers on a history trip or creating hang-out spots for like-minded people, these retailers are turning customers into brand advocates.
So here's our ultimate list of the 31 best brand homes on the planet: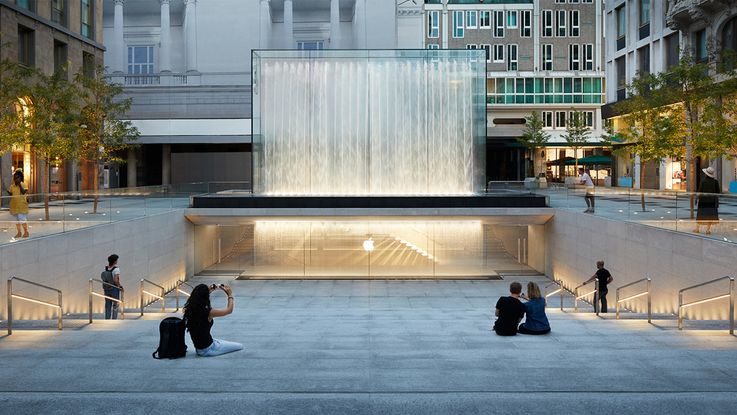 Image credit: Apple
1. Apple Piazza Liberty (Milan)
All Apple stores are brilliant communal spaces, but in Milan Apple goes even bigger. The company has opened a whole public piazza, which is accessible 24 hours a day. It contains an Apple store as expected, but the sunken entrance is hidden under a giant glass waterfall, which acts almost as a piece of art. Once you have descended the stairs and made your way inside you will find areas such as Genius Grove, The Forum and The Avenue; places where you can get support, take classes or enjoy some shopping. The space has clearly been designed for people to gather and foster community in keeping with Steve Jobs' aim to enrich people's lives.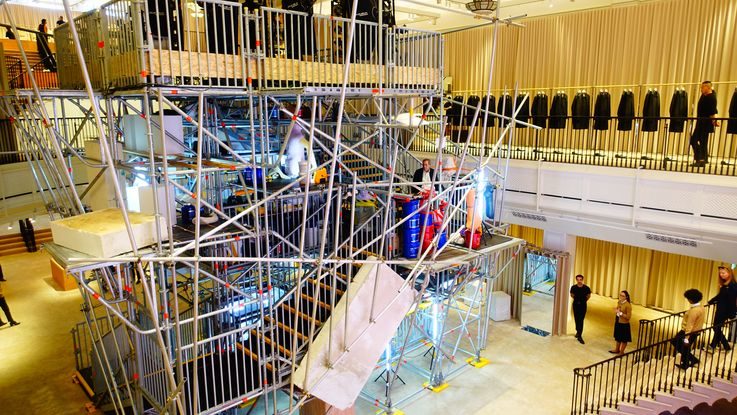 Image credit: Insider Trends
2. Burberry (London)
Burberry's recently renovated flagship store on Regent Street has a enormous art installation that has taken over the atrium of this world famous luxury store. Artist Graham Hudson has created a three-storey scaffolding design featuring 80 cameras that take 360 degree photos. The centrepiece is a robot that creates sculptures of the human body that are then displayed around the structure as art. It's this that's the focus, rather than the products on offer (of which there aren't tonnes). The building itself, an old theatre, lends itself very well to drawing large crowds. It's a wonderful example of incorporating the building's rich history with modern retail trends.
3. Burrow (New York)
Couch company Burrow has designed a store it wants you to hang out in. The retailer is enticing customers into the space with free coffee and the chance to hang out in the screening room watching Netflix all day, for free. Burrow believe that the best way for customers to interact with your product is to experience them organically. This store is an expression of 'home' in order to replicate the place where people feel their most relaxed.
There are bookshelves filled with books for you to enjoy whilst you're there, and music plays from a Sonos speaker to set the mood. You'll also find blankets to make you feel extra comfortable. It all helps customers to buy into what purchasing a Burrow couch could be like. There are also plans to allow tech companies to co-work from here so the couches are always occupied.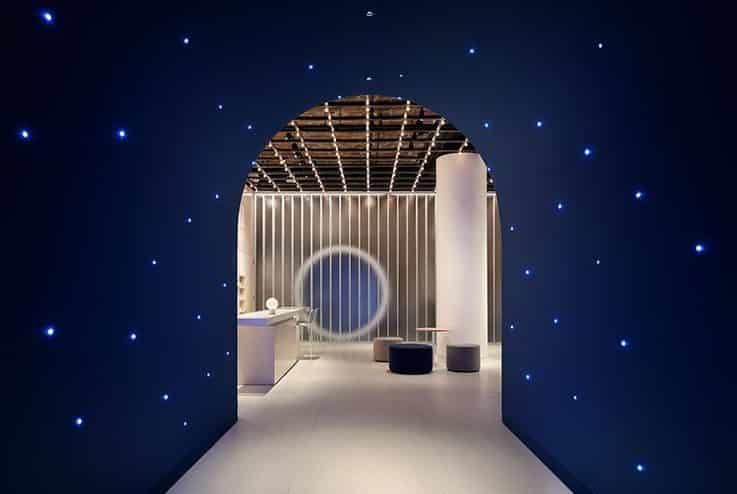 Image credit: Casper
4. Casper's The Dreamery (New York)
Mattress retailer Casper has come up with a very clever way of getting customers to test out its mattresses. In its small showroom on Broadway it's inviting people to lay down and take a nap, and it's providing the pillows and blankets too. Casper even provides pyjamas should you really want to make the most of your rest.
For $25 anyone can walk in and book out a nook – circular pods where you can draw the curtains and shut the world out – for 45 mins at a time. There are also washrooms where you can freshen up before or after your nap. What better way to sample a mattress than to take a nap on it? At the same time it perfectly communicates everything the brand is about from its aspirations to the reality of the products.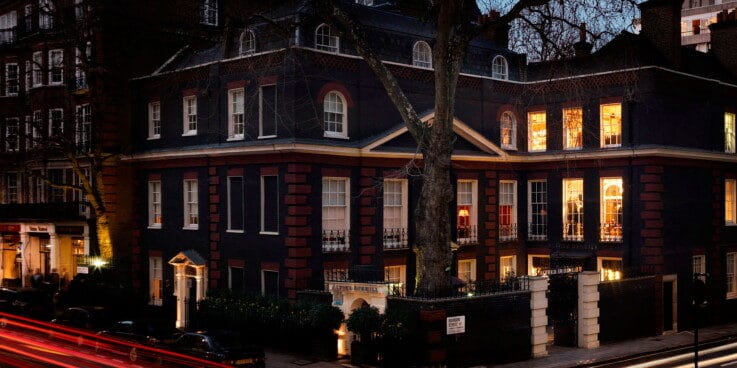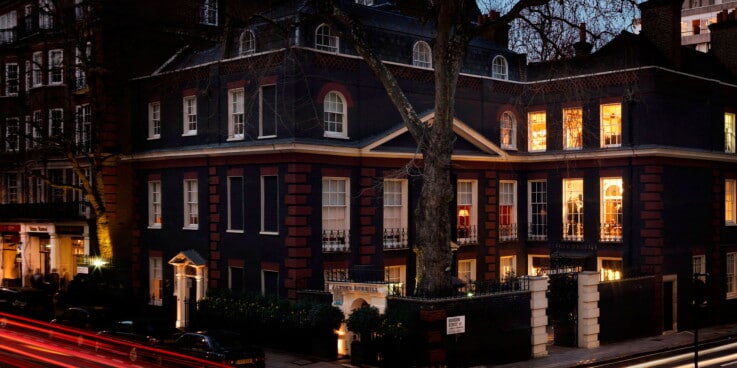 Image credit: Alfred Dunhill
5. Dunhill Bourdon House (London)
Luxury menswear brand Dunhill's space in Mayfair is more like a day spa than a traditional retail store. Hailed as a one-stop shop for the modern man this Georgian townhouse is the quintessential brand home. Inside you will find a spa and a barbers, a 12-seat screening room, a cellar bar serving food and drinks, and a humidor for smoking cigars. You can also have a beverage while you wait for your treatments.
As it is a British brand there is a focus on British heritage and Dunhill is keen to let customers know that British suppliers are used wherever possible. The space also acts as a museum for the brand; in the 'Discovery room' you can view pieces from the archive in glass cases as well as the current collection of leather goods. But this is merely a reminder of what the brand does; the focus here is on the experiences on offer. Perhaps best of all is the service, with staff who act as a brand storytellers who take you through not only the history of the brand but the iconic building, too.

Image credit: Dyson
6. Dyson Demo (NYC)
The Dyson Demo store is a fantastic example of a brand engaging with its customers in an educational and experimental way. The store has been designed by Sir James Dyson himself to create a way for customers to interact with the machines and learn more about why the brand is a world leader.
Experts are on hand to explain how the products work and suggest suitable ones for your lifestyle. Interactive demonstrations take place throughout the store because there's no better way to fall in love with a brand than to try vacuuming up a variety of dirt. There's also an opportunity to learn more about its other products with a hairstyling station and a purification room.
7. Eataly World (Bologna)
Eataly World is essentially Disneyland for foodies. Partnered with the FICO Foundation for Food Education & Sustainability and backed by four universities, there is a huge emphasis on research for food sustainability. The sprawling food market is packed full of food stands serving anything from Calabrian street food to more high end fare. There are lots of spaces to hang out and enjoy the food on offer but there's also volleyball courts and tennis courts if you're feeling more energetic.
There's an educational side to the food mall too: you can take part in culinary workshops learning how to make things like pasta and tortellini. There are also six multimedia centres designed to educate you on all things Italian food-related. The goal of Eataly World is to teach visitors the importance of eating well – and this incredible site, spread over 25 acres, is a pilgrimage for food lovers around the world.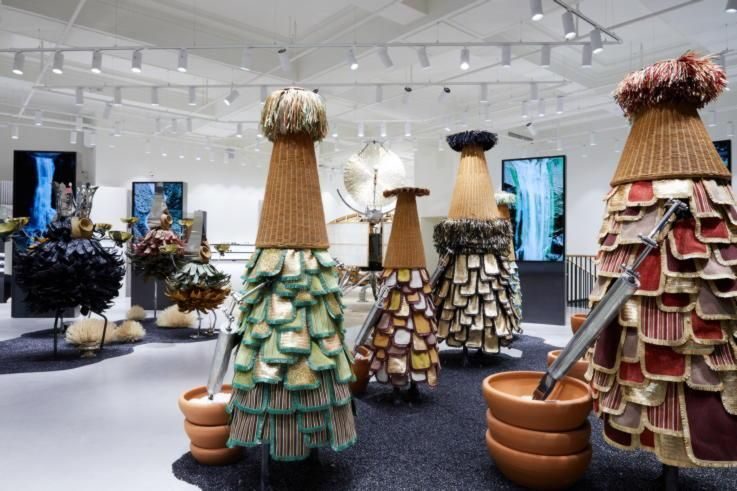 Image credit: Gentle Monster
8. Gentle Monster (London)
South Korean eyewear brand Gentle Monster is famous for its unique approach to store design. The spaces, more akin to galleries than a store, are all different creations so no two stores are the same, but they all immerse you in the brand. It's hard to pick out a single store as they are all so unique, but we particularly like London's version.
As you enter the store you can't miss the warrior aliens made from rafia, fabric and mirrored metal that jolt to life every few minutes in kung-fu like motion. The lower ground floor comes complete with an alien battlefield and for a moment you forget that you are in an optical store altogether. The Gentle Monster store experience is so memorable that you will find yourself wanting to visit all of them.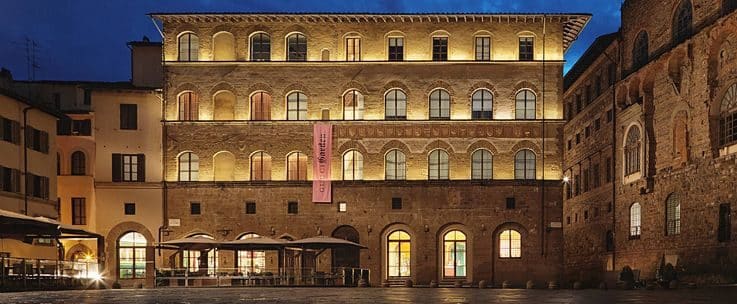 Image credit: Gucci
9. Gucci Garden (Florence)
The Gucci Garden, built on the site of the Gucci Museo, is much more than a museum for the brand. The three-storey building is home to an exhibition space, a restaurant with a Michelin star chef, and a boutique stocking exclusive merchandise. By selling Gucci products that are only available here, Gucci Garden is a destination in itself.
But the Galleria where the story of Gucci is told though installations, artwork and artefacts is the real draw. The Garden pays homage to the city of Florence and the House's history of artisan workmanship. Its a chance for die-hard fans to learn the story behind their hero, and see some things they won't see anywhere else.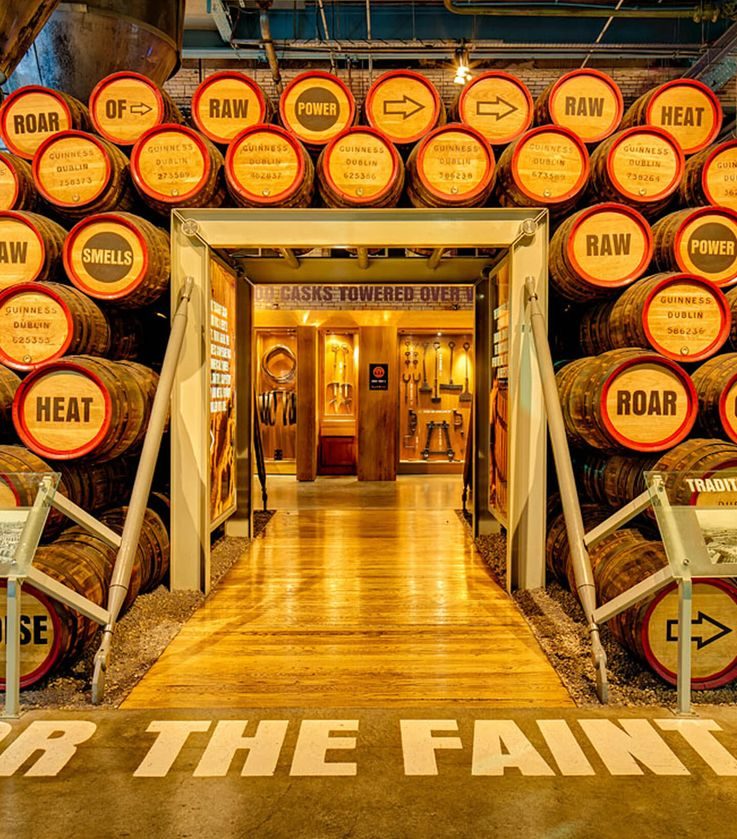 Image credit: Guinness
10. Guinness Storehouse (Dublin)
Not only is this a great example of an exceptional brand home, it was also named the top European destination in 2014. The seven-storey brewery at St James Gate Dublin is where guests can come and observe how their favourite drink is made.
The brand heritage experience takes guests on a multi-sensory journey through the brewing process that brings a new dimension to the Guinness brand. This is storytelling at its best – and it's a world-renowned tourist site for good reason.
[youtube https://www.youtube.com/watch?time_continue=1&v=L2Y4GV9LiZ8&rel=0&controls=0&showinfo=0&w=737]
11. Hipanda (Tokyo)
Chinese streetwear brand Hipanda's largest flagship store called 'Ghost House' in Omotesando is more of a gallery space than a store. The fusion of AR and physical retail has created an engaging space for visitors. By using the app visitors can access a digital treasure hunt to find characters hiding as they make their way around the space. It's very fitting for a brand that branched out into apparel after receiving a cult following from exhibiting at the V&A museum in London. By exploring the artwork on display, visitors can see where the brand came from.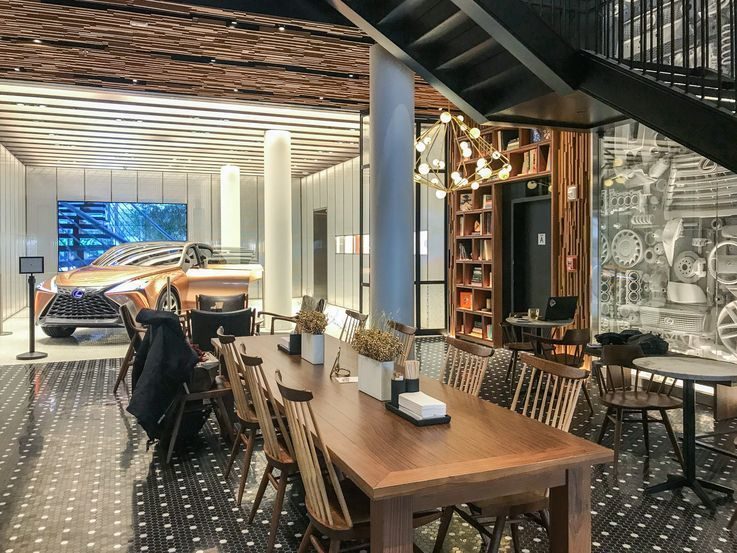 Image credit – Insider Trends
12. Intersect by Lexus (NYC)
The trend for car-free car showrooms in urban areas is increasingly common. This Lexus space in the Meatpacking district wants fans to know what owning a Lexus feels like, but without using a car to communicate it. There is a coffee shop as well as a fine dining experience, a retail store and a gallery space. A nod to the products Lexus is known for is made with a spindle and parts wall, but ultimately customers leave here with memories of delicious food and a sense of who the brand is. In many ways, brand homes are about expressing the essence of a brand – which is precisely what's happening here.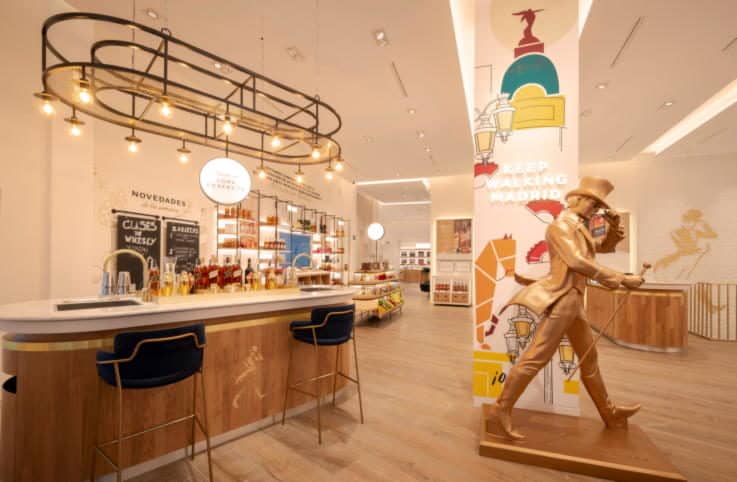 Image credit – Dalziel & Pow
13. Johnnie Walker (Madrid)
Johnnie Walker's experiential flagship store in Madrid has been designed for fans of its whiskey to learn all they can about the drink and the brand. Visitors to the store can learn the art of cocktail-making or join the tasting table where they can discover more about the flavours behind the whiskey. As with many brand homes there is the opportunity to purchase products exclusive to that store, and here whiskey connoisseurs can purchase rare and exceptional single malts. There is also a personalisation station to take away a souvenir that can be customised with bespoke engravings.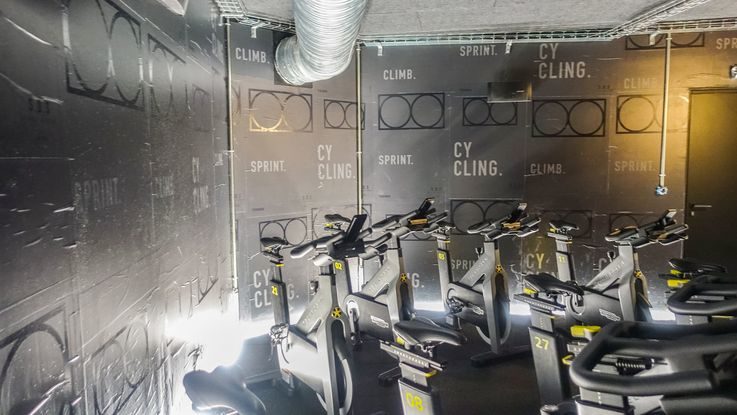 Image credit – Insider Trends
14. La Salle De Sport, Reebok (Paris)
Loosely translated as 'gym room', La Salle De Sport is a hybrid space from Reebok, made up of a gym, a store and a relaxation area. The lifestyle hub has been designed to create connections and pioneer ideas, opening up Paris to the rest of the world. It is a centre for classes, workshops and personal training in disciplines such as CrossFit, boxing, cycling, yoga and pilates. Sport and fashion come together in this space, as does art and culture. There's also a collection of classic Reebok sneakers here for those seeking them out.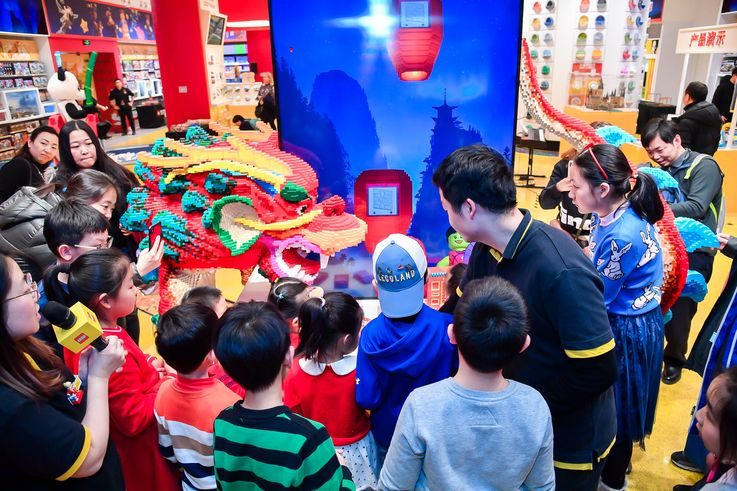 Image credit: Lego
15. Lego Store (Beijing)
The Lego Store in Wangfujing has integrated itself into the city with its large scale 3D models of local landmarks. Visitors can expect to see the Forbidden City, The Great Wall and models of guardian lions and dragons all made from Lego bricks. There are lots of hands-on experiences in-store, including the 'Dragon Lantern Experience' where customers can build customised lanterns from Lego bricks that they can then watch magically float across digital screens. The interactive experiences are a great tool for creating an emotional connection with Lego fans but it's also really good fun for visitors.
16. Leica (London)
Premium camera manufacturer Leica has a store in Mayfair that is also a gallery space. All of the products in Leica's range are on display but it's the imaging experts that are on hand to help you understand product features and photographic techniques that really makes this store stand out.
The space is also home to Leica Akademie which is the brand's photography training centre offering workshops to photographers of all levels. The courses are designed to inspire and educate a new generation of photographers, and The Akademie also offers bespoke one-to-one lessons. Plus, it displays exhibitions from celebrated photographic icons as well as up-and-coming photographers, all of which use Leica cameras of course. It's a fantastic home for photography fans to gather, connect and learn more about the brand.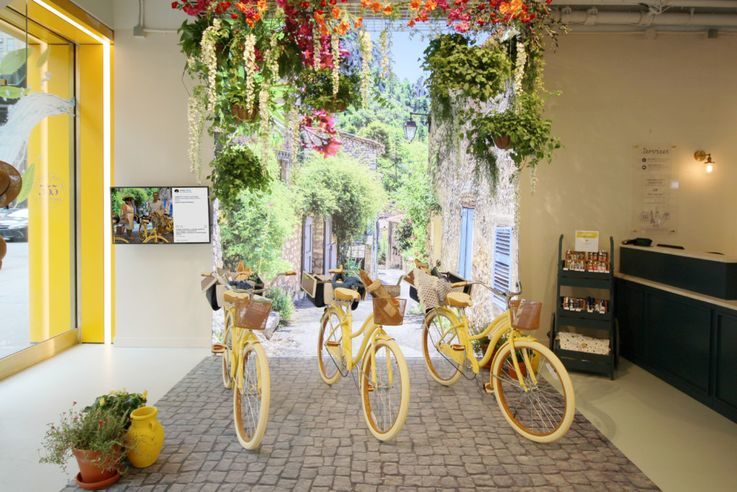 Image credit: L'Occitane en Provence
17. L'Occitane en Provence (New York)
Luxury French beauty brand L'Occitane's immersive boutique, 555, on Fifth Avenue is full of engaging, interactive touchpoints. The exceptionally pretty store has a number of features to get visitors excited about the brand. There are rain shower sinks, an interactive skincare consultation area and you can even hang out on a communal bench beneath a Mediterranean olive tree.
There are lots of rich storytelling moments and customers can explore the brand's history and signature products. The space continually changes to highlight seasonal campaigns and the design of the store encourages customer-generated content for social media. L'Occitane realise that the more Instagrammable a store is, the better.
18. Lululemon Lab (NYC)
Lululemon's store in Noho is a brilliant example of a store designed for its surroundings. The Lululemon Lab is like no other Lululemon store – for a start, the selection is very small with only limited runs of 50 garments per design. It's a great way to feel like you are buying something truly unique. There is a studio on site where the designers are making the clothes you purchase so you can literally see who has made your garment.
It's a fantastic example of brands building relationships with their city, designing clothes for city life for the people that live and work there. Designing a store in this way, with care and attention for the market you're in will generate some buzz around the brand and perhaps open it up to a whole new customer base. A small store like this is also a great way to experiment with new ideas that could spread across its retail network.
19. MAC Experience Centre (Shanghai)
The MAC Experience Centre is the result of six months of research to understand the makeup purchase behaviour of Gen Z. The data collected from this became the blueprint for the store's design. The interactive store is filled with touchscreens and mobile interfaces. Upon entering the store you are invited to scan the WeChat check-in which displays a personal greeting.
There are customised tech experiences to connect further with the brand, including trying on lipstick shades in virtual mirrors, and creating your perfect foundation via an infrared touchscreen. The entire experience has been socialised to integrate reviews, trends and influencers at each product station. It's an excellent example of a retailer using tech to create an immersive brand experience.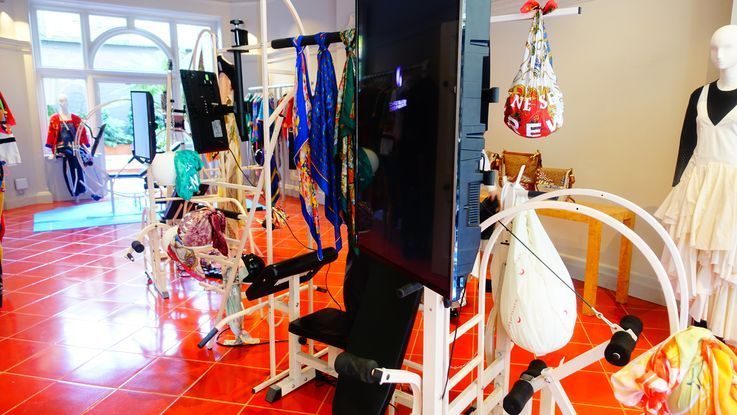 Image credit: Matchesfashion
20. Matchesfashion (London)
Luxury fashion retailer Matchesfashion has created the ultimate slow, experiential store with its 5 Carlos Place Georgian townhouse. The space in Mayfair has been built around engagement and discovery, as it hosts regular events and personal shopping services. The 'In Residence' events are a year-round calendar of trunk shows, installations, talks and dinners.
Being a digital-first brand that does the vast majority of its sales online, Matches focuses on everything online can't do – and its personal shopping service attracts high-end, loyal customers from across the globe who spend hours at a time here. This service is supported by rapid deliveries to the store from its nearby depot. Matches combine the online and offline worlds to great effect.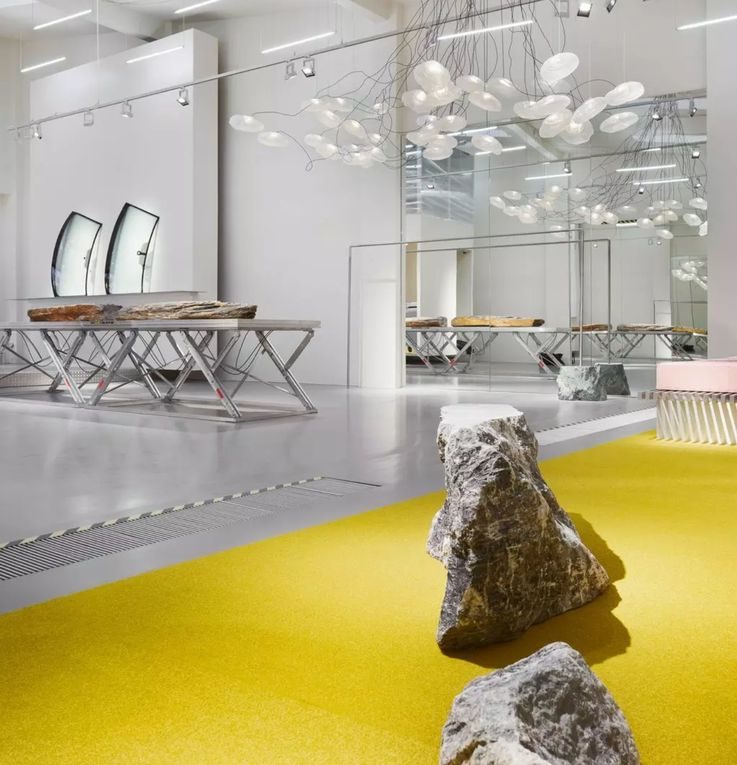 Image credit: MCM
21. MCM (Berlin)
German luxury brand MCM opened the first of its new concept stores '1976 Berlin' to offer customers an artistic and sophisticated shopping experience. The building which was formerly a garage has been redesigned in the style of a modern art gallery. The brand wanted to create a space to engage on a deeper level with the city's youth and also create a space that showcases its heritage.
There are only 20 pieces on display which are currently heritage products. Much like how a gallery changes its space when a new artist comes in, this space follows suit with new collections. It is very clear that this is not a store; it is a cultural experience and a place for creative engagement.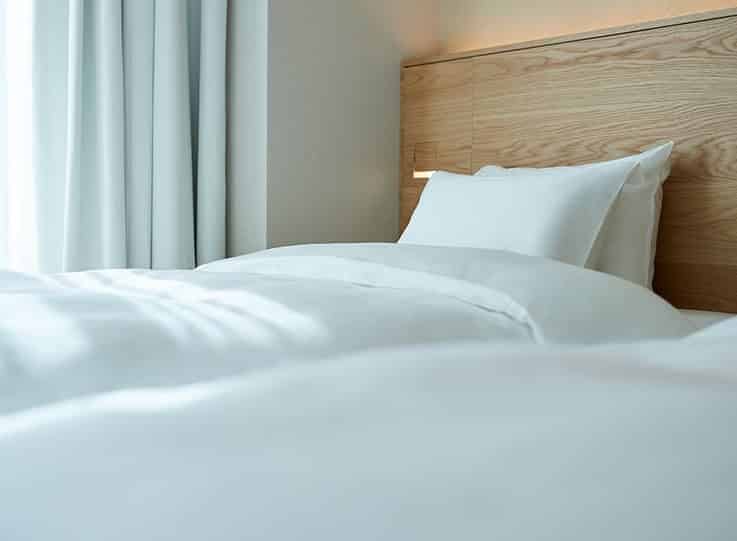 Image credit: Muji Hotel
22. Muji Hotel (Tokyo)
A hotel is a great brand home for an interiors and lifestyle brand. The Muji Hotel shares its space with the brand's global flagship store. The hotel is simple and stylish, like the brand itself, and there are 79 compact rooms furnished with items from Muji's own range. The hotel occupies floors 6 to 11 but the first five floors are made up of retail space where you can purchase anything you like from the hotel rooms.
There is also a bakery, bar and two restaurants celebrating Japanese cuisine. You can also experience Atelier Muji, an exhibition space which comprises two galleries celebrating craftsmanship and design. There is also a library where you can spend time reading books on art and design. It's a wonderful space to fully immerse yourself in everything Muji.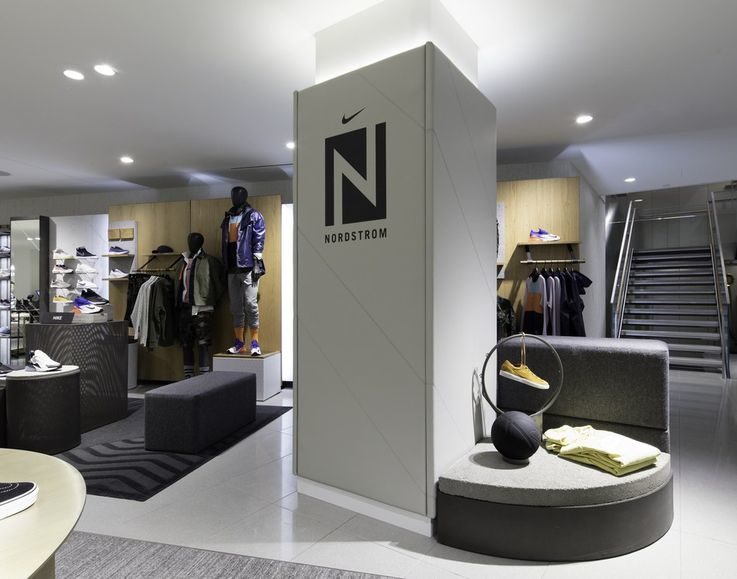 Image credit: Nordstrom
23. Nordstrom Men's (New York)
The new Nordstrom Men's store in Manhattan is shaking up the definition of a department store. There is an emphasis here on finding items you can't get elsewhere. There are exclusive collaborations and personalised fragrance experiences. There is a Levi's Tailor service too that you won't find elsewhere – where new or pre-owned jeans can be customised.
You can hang out in the Clubhouse bar and sip handcrafted cocktails or enjoy a bespoke latte in the Coffee shop. There's some fun tech too – life-size screens display digitised versions of men's suits to their exact specifications so they can 'virtually' try before they buy. And there are hints of brand storytelling: the tree sculpture 'Arctic Tree' by Seattle based artist John Grade is a nod to the retailer's roots.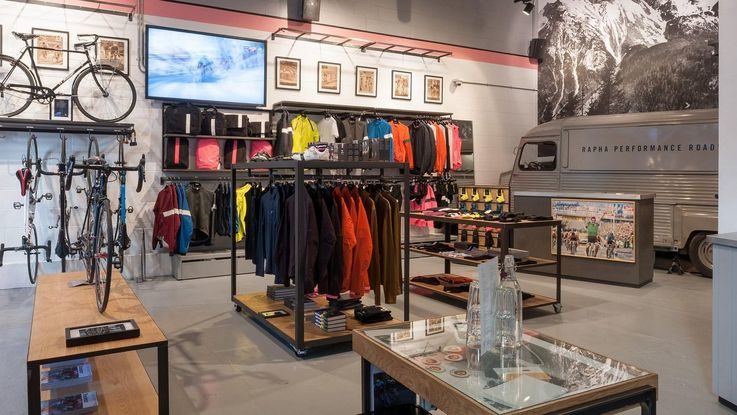 Image credit: Rapha
24. Rapha Clubhouse (London)
Rapha stores are known as Clubhouses because they are places where cycling enthusiasts come to hang out and meet other fans of the sport. Here they can watch live racing and join a programme of rides and events. They are also home to the local Rapha Cycling Club.
The Clubhouses have cafes serving good coffee and food – each cafe serves locally sourced produce and is reflective of the region it's in. Good coffee is integral to the cycling culture and the Soho store doesn't disappoint with its selection. You can still pick up cycling apparel here but most of the space is dedicated to the cafe and building a haven for the community of cyclists that visit.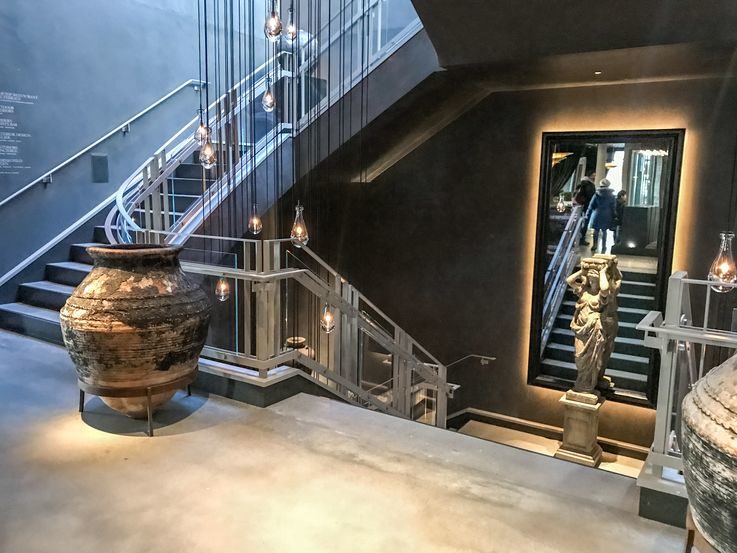 Image credit: Restoration Hardware
25. RH (NYC)
Home furnishings company Restoration Hardware's store in the Meatpacking district is a stunningly beautiful space. The six-storey building houses all of RH's businesses as well as featuring a striking art installation, a swanky rooftop restaurant, wine bar and barista bar. The hospitality offerings are destinations in themselves with tree-lined terraces and exquisite menus.
Although the store has everything you would need to furnish a home – complete with its own interior design firm on-site – the space is really more of a gallery. It's somewhere you come to get inspired and to soak up the brand. This is definitely an experience that cannot be replicated online.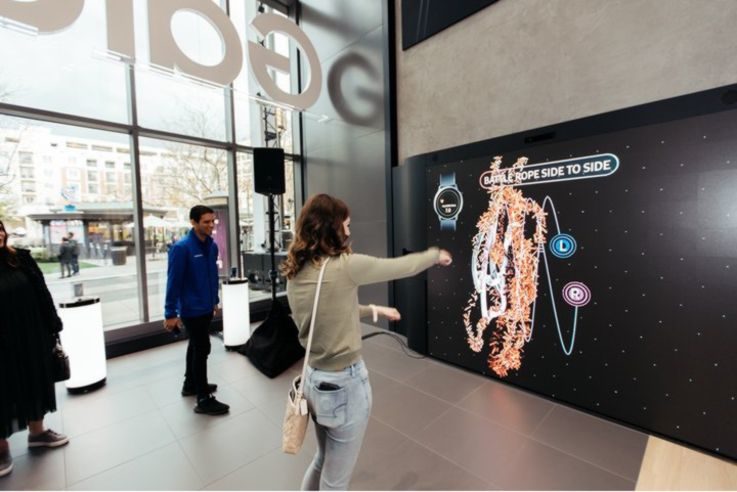 Image credit: Samsung
26. Samsung Experience Store (Los Angeles)
The new Samsung experience store in The Americana at Brand shopping complex in LA has been launched in response to customer demand for more hands-on experiences with Samsung products. In-store you will find 4k gaming lounges, 4D VR theatres and same-day repair services and technical support. Samsung has trialled experiential pop ups and its flagship in New York, Samsung 837, doesn't sell any products at all. But this new space combines everything the other stores offer all at once.
There is a lot of seating in-store and some areas are set up with smartphones and headphones, encouraging visitors to take some time out. We also discovered a personalisation station here too – where you can have your Samsung branded accessories engraved for free. The focus here is on sampling all the products that Samsung has to offer, as you will be able to find all of them in the store.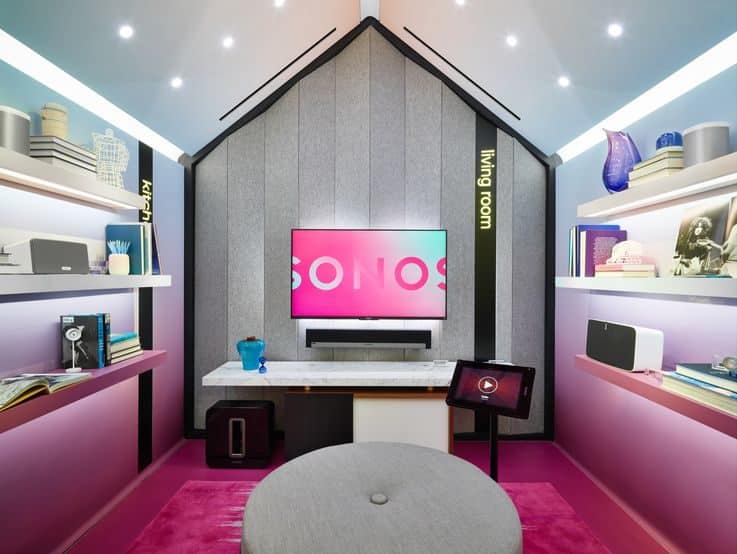 Image credit: Partners & Spade
27. Sonos (New York)
This space is all about communicating what Sonos does differently to other audio brands. This is apparent from the experience. The store features acoustically tuned 'listening rooms' that are set up in house-like structures, designed to replicate the multi-room listening experience that the brand sells. To make it even more personalised guests are able to stream their own music within the rooms.
This is an aspirational space, allowing customers to imagine themselves listening to Sonos speakers in their own apartments. Downstairs is an open-plan listening area where customers can gather to listen and enjoy. Music-themed artwork and displays constantly remind you of what Sonos' driving interest is.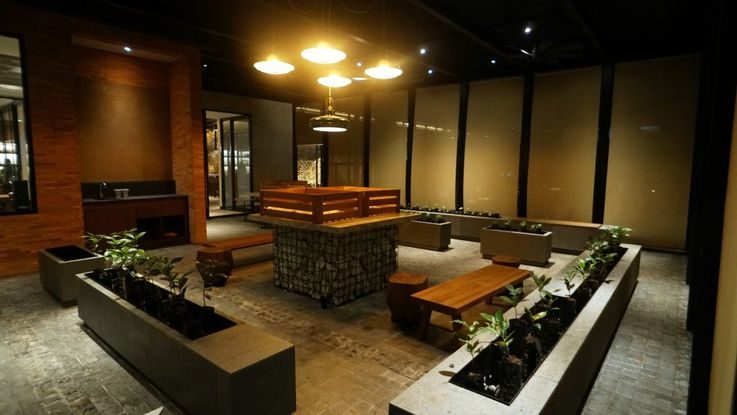 Image credit: Starbucks
28. Starbucks Dewata Coffee Sanctuary (Bali)
The Starbucks Coffee Sanctuary is so much more than a coffee shop. For a start it has been designed for tourists who by their very nature are seeking out experiences. The 20,000 sq ft Reserve store, part of Starbucks' high-end strategy which showcases the elevated reserve coffee, also has a coffee farm attached to it for visitors to explore. There is even a nursery for guests to plant seeds – here customers can learn where and how coffee beans grow, and experience taster classes. It's a great way to gain a better understanding of what goes into their cup.
The socially conscious trend of knowing how your products are sourced and produced is being demanded of retailers so it's a great idea to make the experience fun too. There are also some exclusive drinks offered at the sanctuary that are reflective of Indonesia and make customers feel like they're experiencing something truly special.
29. Sweaty Betty (London)
The Studio at No. 1 Carnaby Street is a perfect example of a brand home. It combines experiential retail, a café, hair salon, fitness studio and a relaxation area. There are lots of reasons to hang out in this inviting space but the Farm Girl cafe can be a destination in itself with healthy cocktails and 'on-message' superfood bowls.
You can also take part in some of London's hottest workouts in the basement studio. If you plan on going out after your workout they have that covered too: you can get glammed up at Duck + Dry. The space is also packed with inspiring quotes to remind customers what Sweaty Betty is all about.
30. Tiffany & Co (Tokyo)
Luxury jeweller Tiffany & Co has a new concept store in Tokyo and it's unlike any other Tiffany store. For a start it's located in an area popular for used-clothing shops and outdoor and athletic brands. Some popular features from other Tiffany stores are here, such as the perfume vending machine and the customisation bar – where customers can get their own drawings or messages engraved onto jewellery. There is also a permanent Tokyo-themed photo booth designed to engage with a much younger audience.
On the top floor you will find Japan's first Tiffany café, an American retro themed diner with hot dogs on the menu. The store is also exclusively releasing pendants engraved with the location's unique logo which you won't be able to buy anywhere else in the world. It's a much more informal and playful store than other Tiffany locations, but still communicates the world of the brand beautifully.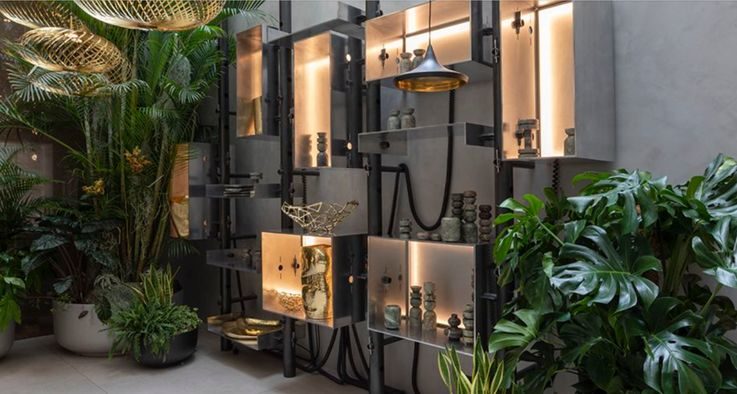 Image credit: Tom Dixon
31. Tom Dixon Restaurant (Milan)
Designer Tom Dixon has a restaurant in Milan where everything is for sale. The Manzoni restaurant is also a furniture showroom and the designer's European headquarters. Everything from the glassware to the furniture can be bought and by having the products displayed in a live setting like this it is easier to imagine how they would work in your own home.
The space has been designed so certain rooms can be used for private parties or events. By enjoying a good meal in comfortable surroundings you can start to understand a little more about the retailer. It's also the purest possible expression of the brand, given that it operates from the same building.
As you can see, some flagships are brand homes, but not all flagships are brand homes. Take a look at our 50 favourite flagship stores from around the world to see why.
Want all of our best insights? Book your future of retail presentation today and we'll tell you everything you need to know to get ahead.