Flagship Stores
33 more top retail flagship stores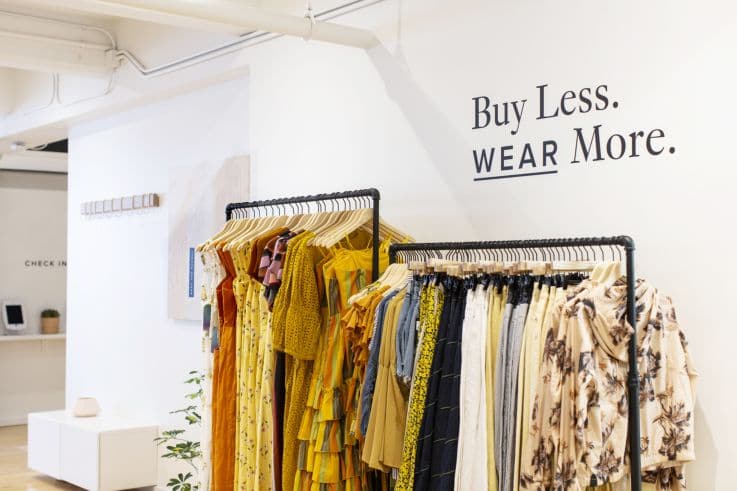 Different things can determine a flagship store: its size, its location, or perhaps its uniqueness. But whatever the reason for its flagship label you can guarantee the store will stand out from the others – whether that's through exclusive products, experiential features, exciting tech or testing out new ideas and concepts.
We've searched the globe to bring you our picks of the best flagship stores right now (and for more inspiration check out our previous top 50 flagships post):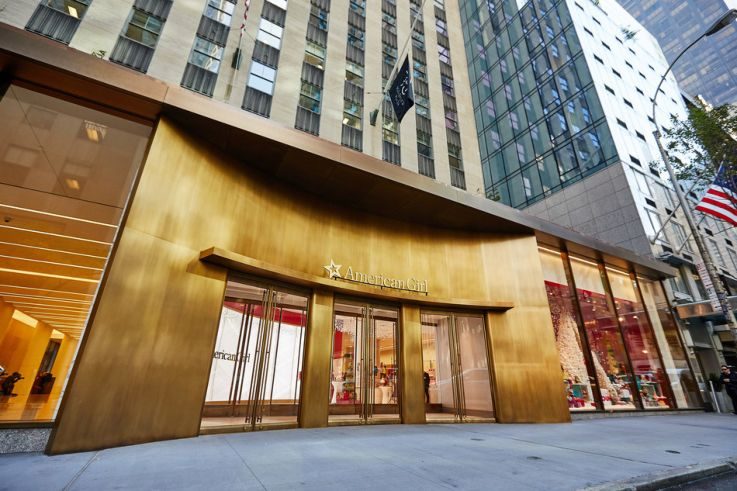 Image credit: American Girl
1. American Girl (New York)
Doll retailer American Girl has an experiential flagship in Rockefeller Plaza that beats ordinary doll shops. The flagship stocks signature Amerian Girl dolls and accessories as well as hundreds of best selling fiction and advice books. The space is packed full of innovative experiences to engage customers including the Girl and Doll Salon where girls can book appointments with their dolls for hairstyling, ear piercing and manicures.
There is also the Design Studio where girls can customise their dolls to create a one-of-a-kind doll that can't be found anywhere else, plus there's the option to select girl-size products for themselves. You can even book an appointment at the Hospital for doll repair. The Content Hub showcases the company's award winning movies and videos which helps to promote the brand further. The doll can even join guests in the on-site café where they get their own seat at the table. Private dining is also available for birthdays and special occasions – so for fans of American Girl, they have you covered.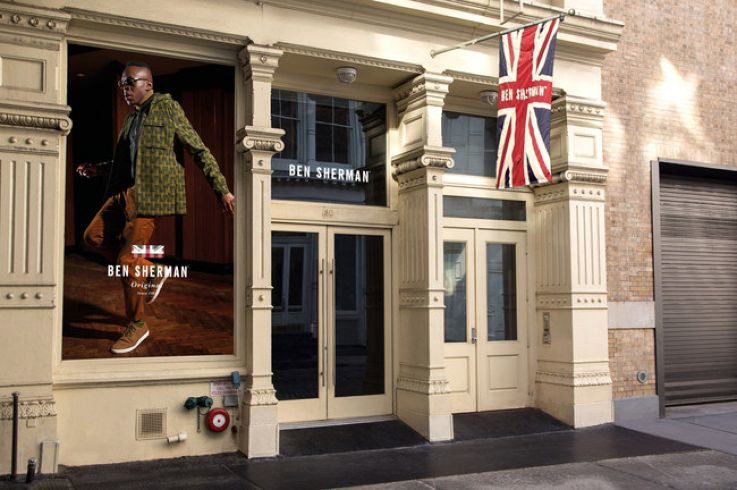 Image credit: Ben Sherman
2. Ben Sherman (London)
Ben Sherman has redesigned its flagship store on Carnaby Street to make it more inviting for customers. The brand's 'Shirt Wall' remains as a reminder of how it started out and a nod to its heritage. There is advanced point of sale technology to make transactions as efficient for the customer as possible. The brand has also announced that it will be partnering with Momentum Music Fund to showcase new music talent through live events and in-store performances. Ben Sherman has a long history with music and subculture, so it's a fantastic way of bringing the brand to life.
3. Brompton Junction (London)
Brompton Bicycle has a new flagship store in Westfield's White City location. The store's design is based on a functioning workshop and offers a range of after-sales and servicing facilities. There are trained experts on hand to offer advice so it's the place to go for cycling enthusiasts. The store is also offering its first electric bike hire scheme in the UK as well as launching a new W12 special edition model to coincide with the opening – so the retailer is ensuring that this store is a destination.
4. Builders (Boksburg, S.A)
Home improvement and building materials supplier Builders has created a store that even those who dislike DIY will want to visit. The new flagship in Boksburg caters for DIY enthusiasts and builders alike. The materials yard has been designed to get contractors in, loaded up and out as quickly and efficiently as possible.
For the homeowner there are lots of high-tech experiences such as 3D printing to create some theatre. There are digital screens throughout the store where you can browse and order online – and card readers attached so you can pay right there and then. We particularly liked the Cut Shop, where trained staff can cut pipe and cables so you can purchase the exact size you need. Builders has managed to take out the more stressful elements of this sort of shopping and enabled shoppers to feel confident that they are leaving with exactly the right items.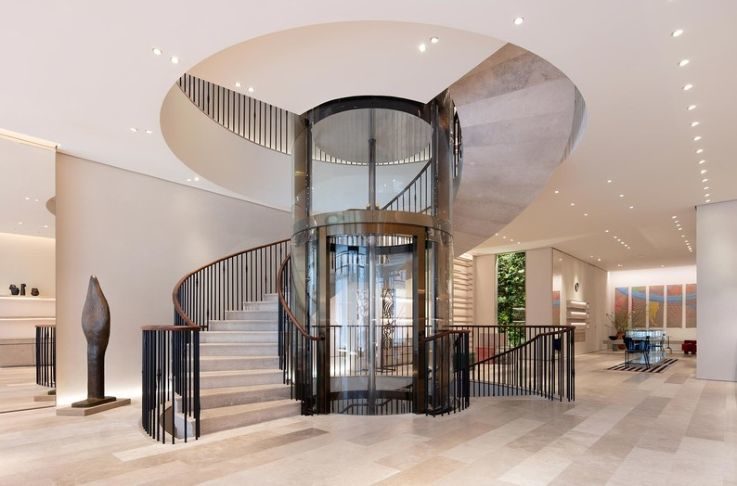 Image credit: Casa Loewe
5. Casa Loewe (London)
Casa Loewe is the high end fashion house's only store in London, located in Mayfair. Here the Spanish retailer showcases its latest collections as well as artwork and design pieces. There is a permanent pop-up space that hosts a series of art installations so visitors can treat the store like a gallery space. Art has been a common theme for the brand in its collections over recent years so this feels like a natural progression. The artworks on display include sculptures by Ernst Gamperl, photographs by Alair Gomes, and Grayson Perry's subversive "Mum and Dad" vase.
The layout of the store follows the popular apartment-style trend and helps give the space its feeling of intimacy and culture, as well as fashion. The store ties in nicely with the label's Craft Prize – a foundation for celebrating contemporary craft. The pieces within rotate over time to create a different dynamic in the store and ensure customers have something different to look at each time they return.
6. Chanel (Paris)
Parisian luxury brand Chanel's huge flagship on Rue Cambon is worthy of a mention. It combines three buildings on the street, including a 17th century convent, which cleverly knit together. The five-storey space has a central art deco staircase that the architect, Peter Marino, has designed the building around. The artworks and sculptures dotted around the space provide a unique experience for customers. The mega store epitomises luxury and is finished with metallic carpets, embroidered curtains and crystal and gold lamps. In a nod to the brand's heritage, camellias are grown at the back of the store – Coco Chanel's fetish flower.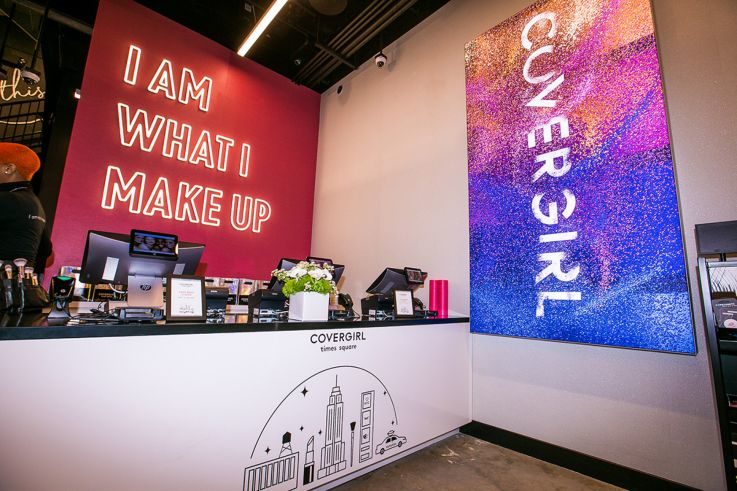 Image credit: Covergirl
7. Covergirl (New York)
Beauty retailer Covergirl's first flagship store in Times Square is immersive and innovative and a direct response to what its customers were asking for. It is the first permanent bricks-and-mortar store for Covergirl and has been designed to be a destination for fans.
An AI-powered hologram called 'Olivia' greets shoppers and can answer questions and direct them to the right places. Customers can virtually try on makeup at the AR 'glam station' and get items personalised at the customisation counter. The store is also the only place you can find its new line of merchandise. The retailer wants the store to be an experiential makeup playground where it can test out new products and in turn provide customers with unique experiences.
8. Dunhill (Tokyo)
British luxury mens clothing designer Dunhill has a new flagship in the Ginza district of Tokyo. The contemporary store is focusing on lifestyle and is home to a barbershop and bar to create luxurious experiences for its customers.
The Dunhill bar is situated on the first and second floors and serves Japanese contemporary fusion food with a British twist – a nod to the brand's heritage but also the city it resides in. Dunhill has partnered with The Barba Tokyo to offer its customers grooming, shaving and treatments all designed to elevate the experience. There is a new tailoring room for made-to-measure and bespoke services so customers can leave with purchases unique to them.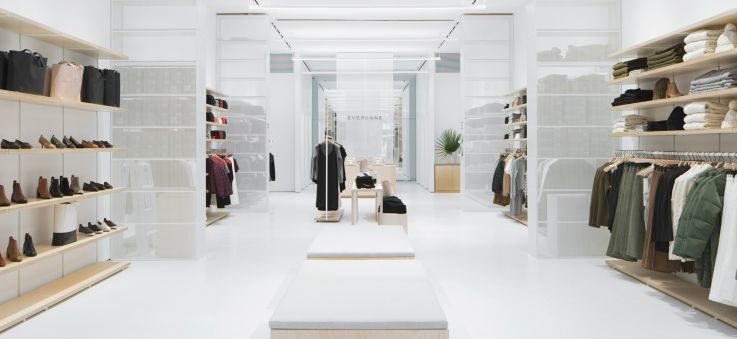 Image credit: Everlane
9. Everlane (New York)
Starting out life as an online-only business, fashion retailer Everlane has created a blueprint for flagship spaces with its Manhattan store. Using knowledge gained from a hugely successful ecommerce business, it has been able to mimic the seamlessness of online shopping in a physical store. Transactions are made easy with checkouts embedded in each of the display units. If anything is not in stock it can be ordered via an iPad.
Although tech is at the centre of Everlane's business it doesn't overwhelm the store. The space feels like a showroom; it's minimal and your eyes are drawn to the product. There's reason to linger in store too; the benches, boxed water and neighbourhood guides encourage customers to stay and hang out.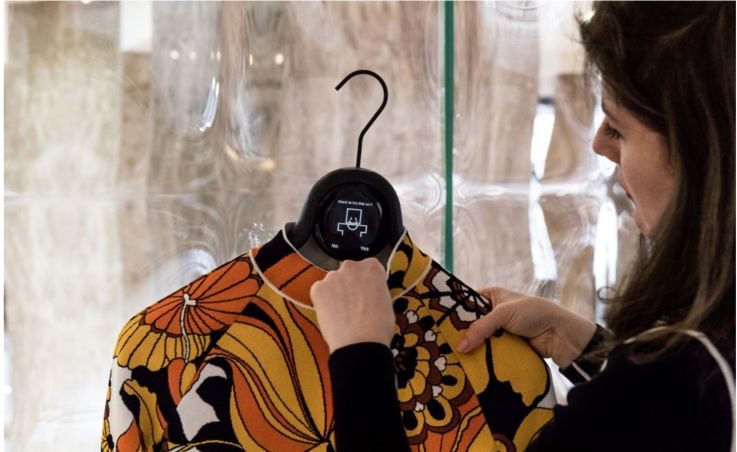 Image credit: Galeries Lafayette
10. Galeries Lafayette (Paris)
Iconic department store Galeries Lafayette has a new flagship on the famous Champs Elysées. The converted 1930s art deco bank is not only visually stunning but it's full of exciting tech and experimental features. The store has been designed to double up as an event space where it will play host to fashion shows and brand events. As you would expect, there are fantastic restaurants and cafés to rest and recharge and enjoy the surroundings.
The digitally enhanced store features a 'smart hanger' that informs customers what's available and can also be used to order particular sizes which can be sent straight to a fitting room. There is also an app that can be downloaded so the customer can build an ongoing relationship with a personal stylist once a profile has been created. It is a space where the retailer can test out new ideas and respond to emerging trends. The focus here is to ensure that the company's online and offline stores merge together to create a more seamless shopping experience for the customer.
11. H&M Home (London)
The H&M Home store on Regent Street houses the full collection of its homewares range as well as some products from other brands. The store is filled with collaborations to make the experience that much richer for its customers. There is an event space and in-store café, a florist and a customisation service for your bedding and towels.
Due to its location in the centre of London and the items you can purchase here, the store offers home delivery or the option to leave your items to collect later. You can even charge your phone whilst you browse the store. H&M has removed the everyday stresses of shopping, and instead focused on creating a fun, social and engaging space.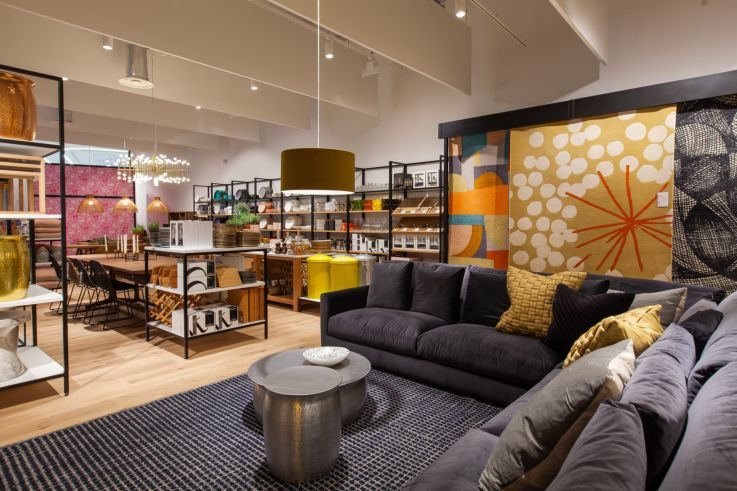 Image credit: Habitat
12. Habitat (London)
Located in Westfield White City, this is the first flagship to open in 10 years from homewares and furniture retailer Habitat. The space has been designed by Habitat's own in-house design studio and therefore by the people who know the products best.
The immersive layout helps customers to envisage what the products will look like in their own home, with a stripped back design to avoid distractions. Parts of the store have been set up as rooms within a home so you can fully imagine how your furniture could look. Habitat's online sales make up 65% of its business so this space has been cleverly designed to support that, acting as more of a showroom than a traditional store.
13. Hermès (Paris)
Parisian luxury label Hermès has reopened its store on the prestigious Avenue George V, with an expansion and an impressive fit-out. The space has been designed to resemble a Parisian apartment – each room has a unique décor complete with ornate fireplaces and herringbone parquet flooring, which is just as aspirational as the products themselves. The new addition of the bespoke menswear section offers something different with a lounge-style fitting room. As you would imagine, there are exclusive items here that you won't find in other Hermès stores.
14. Holzweiler (Oslo)
Norwegian fashion brand Holzweiler has launched a new flagship store, along with a showroom and website to match. They have all been designed by integrated design firm Snøhetta to compliment one another and create a uniform look for the brand. By integrating the online store with the physical store, Holzweiler provides customers with a seamless purchasing experience.
Upon entering the space you know the design is an intrinsic part of the store; the curved paper passage makes the customer immediately aware they're going to see something unique. The grid structure that features in a lot of the brand's garments is present throughout the store and its ecommerce site which brings it all neatly together.
15. Kenzo (Paris)
Located in the Marais district of Paris, fashion brand Kenzo has created an 'event store' that targets trend-conscious younger clients. The store has curated an edit of Kenzo clothing that you won't find in other spaces. In a bid to create something unique for its target audience, you can also purchase vintage Kenzo items here as well as the archive-inspired La Collection Memento capsule range. Like with most stores targeted at younger audiences there is a dedicated space in-store where the brand hosts exhibitions, product launches and events. It's a place where customers of the brand can gather and become fans.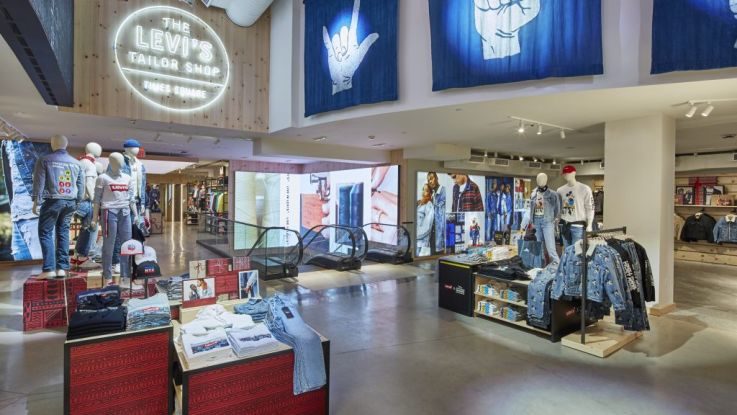 Image credit: Levi's
16. Levi's (New York)
Iconic denim brand Levi's' largest store is its flagship in Times Square. The enormous space focuses on customisation, personalisation and local New York artists. It is also home to the largest Levi's Tailor Shop where there are four on-site tailors. The opportunity to sit with a master tailor and design your own pair of exclusive Levi's seems impossible to resist.
To represent the city the brand has teamed up with featured artists – including graffiti artists and urban photographers – to create custom pieces and exclusive designs. Naturally, the store houses the largest selection of Levi's products. Conveniently the changing rooms come with a call button so you can try on as much as you like with ease. It's a great space for Levi's to tell the story of the brand and hopefully customers will take this with them when visiting other Levi's stores.
17. Lively (New York)
Lively started out as an online brand in 2016 but has opened its first physical store in SoHo. The 'Leisureé' products – a mix of ath-leisure and lingerie – only take up around 30% of the store. The rest of the space is used for events – which can be anything from hip hop classes to book launches or calligraphy, but have all been suggested by the customer. There are Instagrammable areas to hang out in and plush changing rooms with lots of seating for customers to enjoy. The concept behind the brand was to build a community for women and that is exactly what it is doing with this store.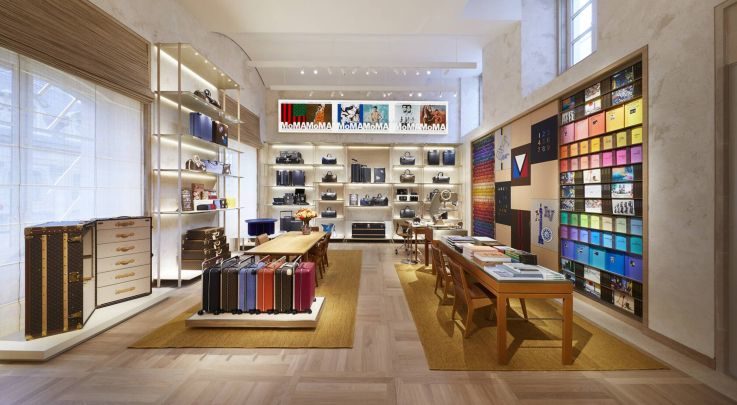 Image credit: Louis Vuitton
18. Louis Vuitton Maison Vendôme (Paris)
Place Vendôme is where luxury trunkmaker Louis Vuitton's story began. It is now the home of one of its flagship stores and the elegant space has been designed to perfection. Here you will find the full range of Louis Vuitton products including ready-to-wear, interior design and leather goods. But it is also home to some exclusive pieces that you won't find anywhere else. The full collection allows visitors to fully immerse themselves in Louis Vuitton world.
For VIP guests, there is an apartment-style area where customers can view the range in private, upholding its luxury status. There are two ateliers in-house to showcase the brand's craftsmanship and set it apart from other stores. The Atelier Rare & Exceptionnel feature allows elite clients to review noteworthy pieces that they can adapt to their own specifications, elevating this flagship to a world class store.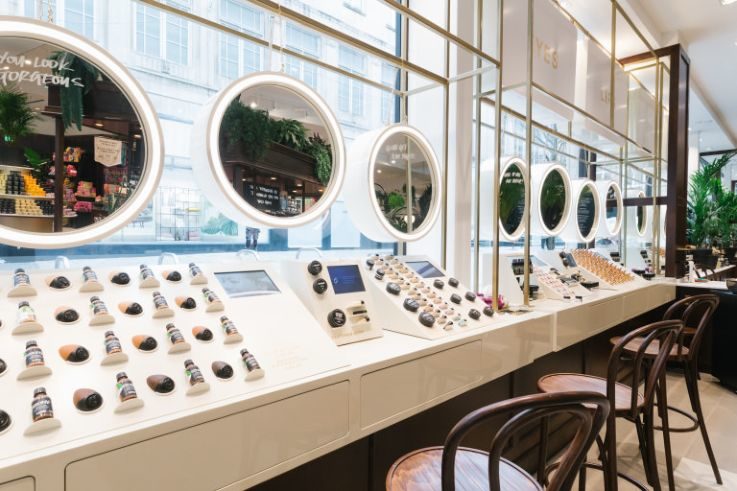 Image credit: Lush
19. Lush (Liverpool)
All natural beauty brand Lush has opened its biggest ever store in Liverpool and it comes with some really exciting in-store experiences that you'll only find here. There is a six-room spa where you can find exclusive treatments, a Hair Lab, a Perfume Library and florist that will be offering year round, locally-sourced, seasonal bouquets. There is also a vast array of site-exclusive products.
The strong customer experience focus is designed to make the store a destination in its own right. In a time where customers are on the hunt for eco-friendly products, this sustainable brand now, more than ever, has the opportunity to show customers what it's all about.
20. MEC (Toronto)
MEC, aka Mountain Equipment Co-op, has an impressive flagship store in downtown Toronto. In a time when customers are looking for experiences, this experiential space has a lot to offer. There is a climbing wall inside and, with the aid of VR technology, customers can view tents through tablets which would otherwise take up a considerable amount of space in store.
The store is seen as a community hub for local residents and offers clinics and events as well as screenings with Redbull and sessions with local artists. The community room serves as a meeting space used by local outdoor groups and environmental organisations. It is a space for like-minded individuals to connect and share places to camp and hike amongst other things. The store is carbon neutral and uses renewable energy which is important for its environmentally-conscious customers.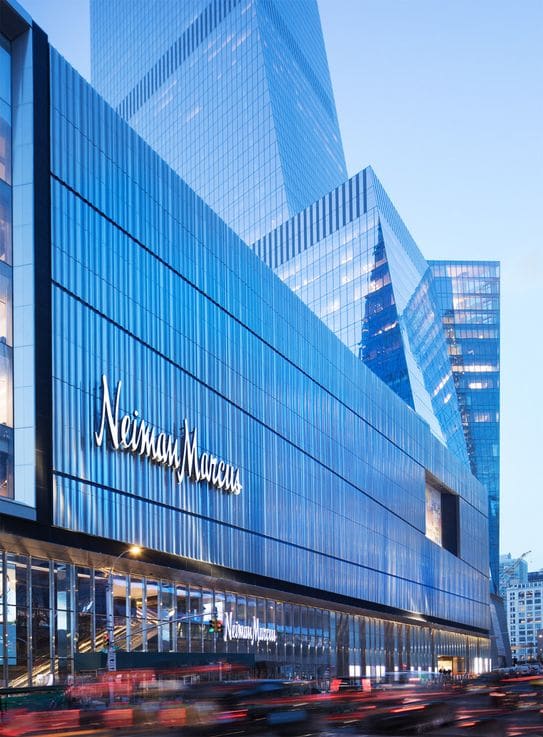 Image credit: Neiman Marcus
21. Neiman Marcus (New York)
High-end department store Neiman Marcus has opened a high-tech store in Hudson Yards for its first location in New York City. Whilst recognising the brand's history and heritage, it has adapted to the needs of the next generation of shoppers – offering physical and digital experiences not seen in other stores.
You can find digitally-enabled dressing rooms with interactive touchscreens, customisable lighting, and you can check out from the fitting room – all there to make your experience as seamless and enjoyable as possible. We particularly liked the memory mirrors you can use when purchasing sunglasses or makeup. They allow customers to save up to four looks so you can compare styles. Another fun aspect was the digital jukebox where customers can control the music playlist. The store even has a stage where you can watch live performances. We think this is just the beginning for the experiential department store.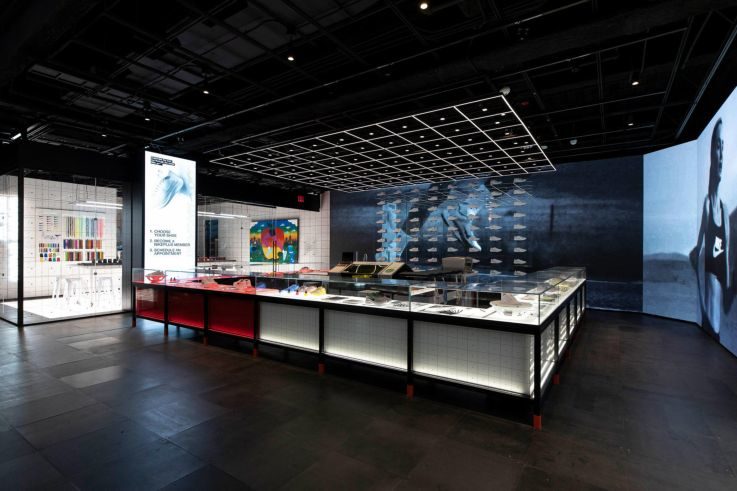 Image credit: Nike
22. Nike House of Innovation 000 (New York)
Nike's House of Innovation on 5th Avenue is a direct response to customers seeking experiences. For a start, you'll need to download the Nike app to enjoy the touchpoints in-store and get the most out of the experience. Technology plays an important role here; if you see an item you like on a mannequin then you can scan the QR code to find out what sizes and colours are in stock.
Customers can virtually shop the store through their phones. There is also instant checkout on the app, so no more waiting in line. The Customization Bar is here too, so customers can create their unique sneakers. Such a personal and responsive store not only creates theatre, but provides a better, faster and more engaging in-store experience.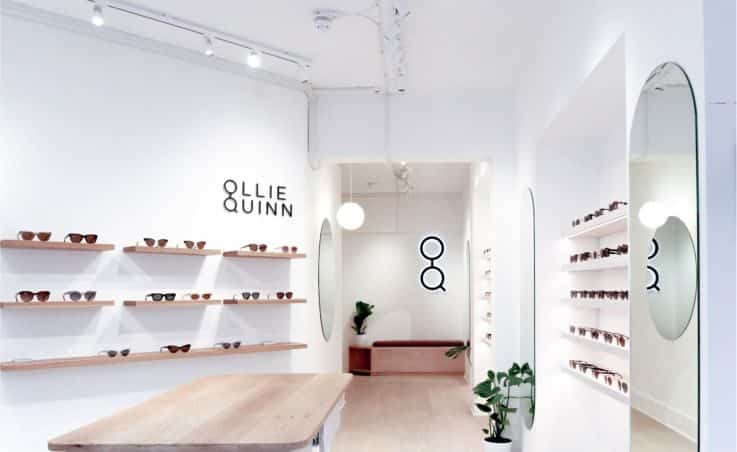 Image credit: Ollie Quinn
23. Ollie Quinn (London)
Optical and sunglasses retailer Ollie Quinn has opened a new flagship boutique in Covent Garden. The community-focused eyewear brand ensures close ties with its local community by staying connected with the creatives who live and work near the boutique. It can then collaborate by showcasing artists' work in the store and hosting a series of events.
The bespoke in-house designed eyewear is backed up by excellent customer service and a certified in-store optometrist. The store has been designed to create a laid back approach that Ollie Quinn is known for with the help of bespoke furniture from sustainably sourced oak and birch ply.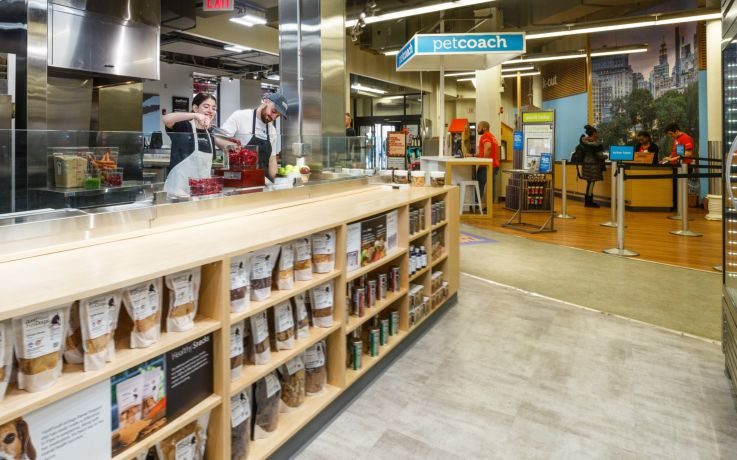 Image credit: Petco
24. Petco (New York)
The Petco flagship in New York City has been newly remodelled and now comes with a pet food kitchen. The state-of-the-art kitchen in partnership with JustFoodForDogs serves fresh, unprocessed human-grade pet food daily. Known as the health and wellness kitchen for dogs, the brand offers daily balanced meals as well as supplements and treats.
With health-conscious millennials being the largest pet-owner demographic, it stands to reason they would want the same for their pets. Petco promised to offer more nutritious food for pets and as the trend for human-grade pet food is growing, this partnership with the pet food kitchen makes this store a destination for pet owners.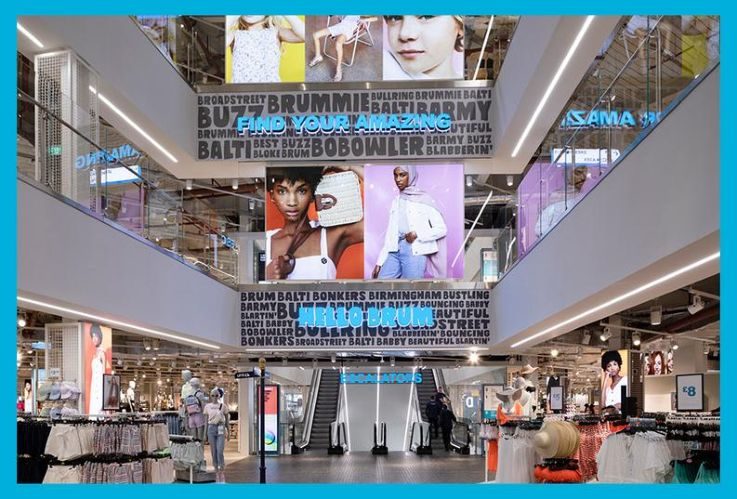 Image credit: Primark
25. Primark (Birmingham)
Fashion brand Primark has recently opened its biggest ever store in Birmingham. The megastore boasts 166,000 sq ft over five floors. It features Disney's first ever licensed café outside of its resorts and cruise ships. Other in-store experiences are a restaurant, barber and beauty chain Duck & Dry.
The store has slogans that reference the city of Birmingham and exclusive printed merchandise that are branded with the city. Primark has drawn on the successes of its Oxford Street store and re-created the Custom Lab that has proven so popular with customers. Due to the size of the store, visitors will need to spend time exploring it, so the interactive points and the places to dine will ensure that customers can stick around for longer.
26. Red Wing Shoe Company (New York)
Red Wing Shoe Company has chosen Midtown as the location of its first permanent residence in Manhattan. The store celebrates the company's 110-year-old heritage with tributes to the workers that built the city and interactive displays showing how the boots are made. There is an expert shoe-fitting and repair service to ensure that you keep your boots for longer. The store also offers a customised service to help find the best fit, tailored to your needs. This store focuses on all the things you cannot do online, ensuring the craftsmanship and heritage of the brand are celebrated.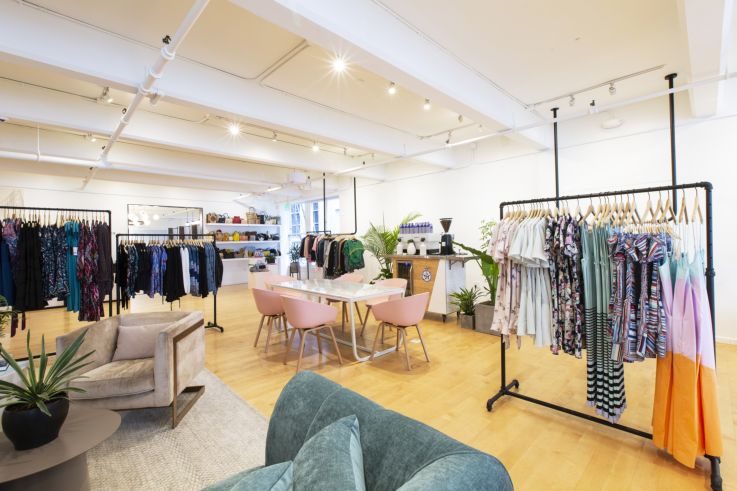 Image credit: Rent the Runway
27. Rent the Runway (San Francisco)
Online retailer Rent the Runway has a new flagship bricks-and-mortar store in Union Square. The designer dress rental service realised (through the help of data) the customer's need for a physical space. Its customer is a busy working woman so it wanted to create a space that worked for them – somewhere they can shop but also multitask.
That's where the co-working space comes in, along with the coffee cart with complimentary drinks, beauty bar and dressing rooms. There are stylists on hand to help and the store has some great tech – customers can pick up orders and return them via the app on their smartphone to make the process as quick as possible when on the go. There is an event space so the brand can build a community within the store. We think it's an awesome experiential store for its loyal customer base.
28. Skullcandy (Park City, Utah)
The Park City brand that sells headphones, earbuds and speakers recently renovated its flagship store that is attached to the retailer's HQ, which comes complete with a skate park. The brand updated its vision and its mission so it made sense to update its store to reflect that.
The store is a vehicle to showcase and illustrate product innovation in a way that wouldn't be possible with its other stockists. As well as being the first location to receive its newest products, it also sells exclusive goods such as apparel and backpacks. There is also an interactive element for customers where they can use touch screens to learn more about the products and demo the headphones, making the switch to purchasing more likely. Profits from sales go towards non-profit organisations in Park City which is a fantastic way of building a community around the brand, as well as giving something back.
29. Starbucks Reserve (Singapore)
Coffee giant Starbucks has a new Reserve flagship located in the newly remodelled Jewel Changi Airport. It is Singapore's biggest Starbucks and boasts exclusive merchandise, locally inspired food, a choice of brewing methods plus a wider selection of beans. It has also partnered with local ice cream parlour Udders to create exclusive drinks. The interior of the store is in keeping with the airport's decor so you can expect lots of plants and classic wood furnishings. The store also has an art room with paintings and murals from different parts of South East Asia to help pass the time until your flight.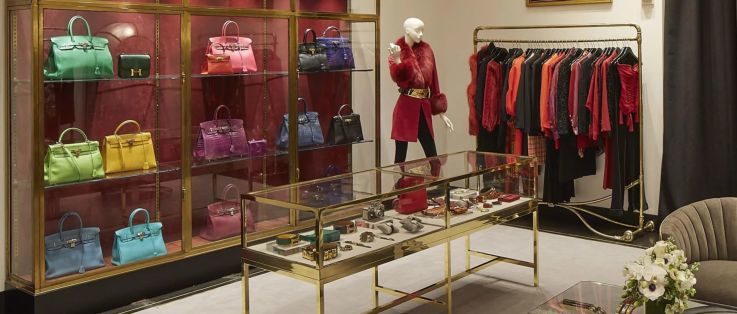 Image credit: What Goes Around Comes Around
30. What Goes Around Comes Around (New York)
Luxury fashion reseller What Goes Around Comes Around has launched a glamourous flagship in a townhouse on East 67th street. You'll find luxury and vintage accessories and clothing when you step inside. There's also a VIP styling suite so you can get some help choosing from its collection.
The townhouse, a fusion of mid-century and art deco, is the perfect setting for discovering one of the 1800 unique luxury pieces. These pieces are sourced from around the globe by the buying team specifically for this location. Each of What Goes Around Comes Around's six stores is carefully curated for each location so you don't have to worry about someone else picking up the same piece as you.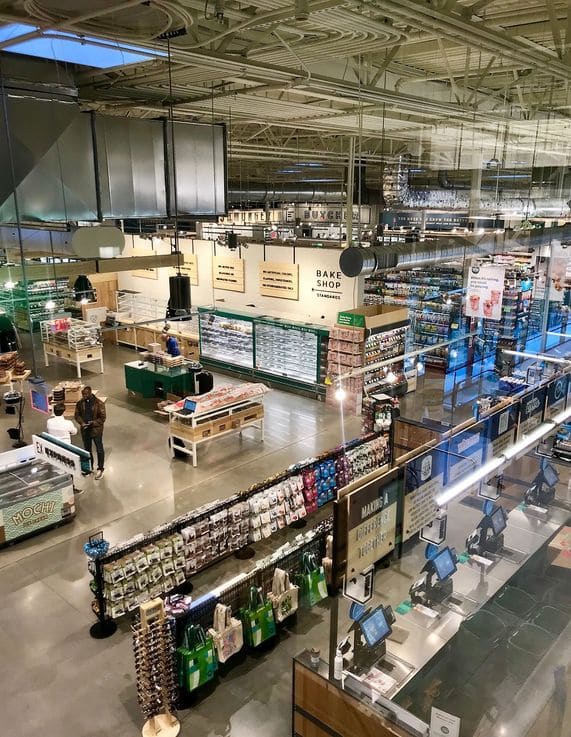 Image credit: Whole Foods
31. Whole Foods (Atlanta)
Grocery retailer Whole Foods' new Atlanta flagship is a destination store. The space features four restaurants, including a roof-top bar serving wine and beer and a food truck. There is a butcher's shop and speciality cheese counter, build-your-own-bars, self-serve sushi and pizza counters plus pop-up food stations. Paying homage to Atlanta, customers can find all their favourite southern staples here too – including soul food, cornbread and sweet yams. Essentially there is something for everyone.
The trend for selling local products is here – including speciality coffee blends from local roasters. Whole Foods has been growing its health and beauty business so the store is stocked with clean beauty products and vitamins to reflect that. The rooftop elevates the customer experience with a programme of yoga, hip hop and zumba classes as well as open mic nights, making it a hub for the community.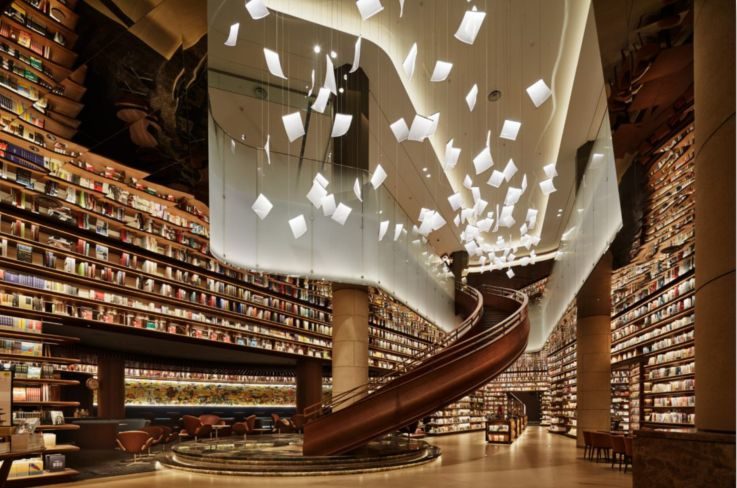 Image credit: Ikg Inc.
32. YJY Maike Centre (Xian, China)
The YJY Maike Centre book store in Xian proves that there is still a place for the physical book store. The space itself can be likened to a library and gallery space. Spanning 4500 sq m and with a focus on learning and solitude, it's clear to see why. The books play an integral role in the design of the store with 10m high bookshelves lining the entrance.
The trend for artwork in store is very prominent here with a huge centrepiece that is illuminated by lights – sheets of paper are entwined to look like they're fluttering in the wind. There is also a focus on community in this flagship too – the stage is a stone map of Xian and the surrounding area, which also doubles up as a space to host events. Another community-minded initiative is the original artwork throughout the store that has been commissioned to reflect the store's location. To ensure people stick around in store, there is 'hotel bar' on the second floor where customers and the community can socialise.
33. Zara (London)
The Zara flagship in London's Westfield Stratford store has been coined the store of the future and it's easy to see why. The pioneering digital store is super high-tech and merges online and the physical store in line with Zara's business model. By investing in advanced technology the retailer is making the customer experience as flawless as possible.
In a Zara world-first, there is a dedicated online area for purchasing and collecting online orders. There are also automated collection points where you scan the QR code or pin code on your e-receipt – your order can be delivered to you in seconds by way of a behind-the-scenes robotic arm. Other cool tech includes the interactive mirrors equipped with RFID, which can detect items held by customers and offer more information as well as outfit suggestions.