Tech
34 of the best AI Retail Applications right now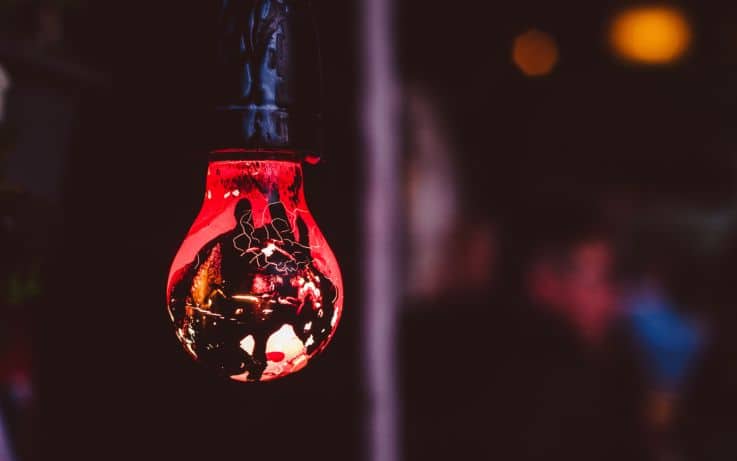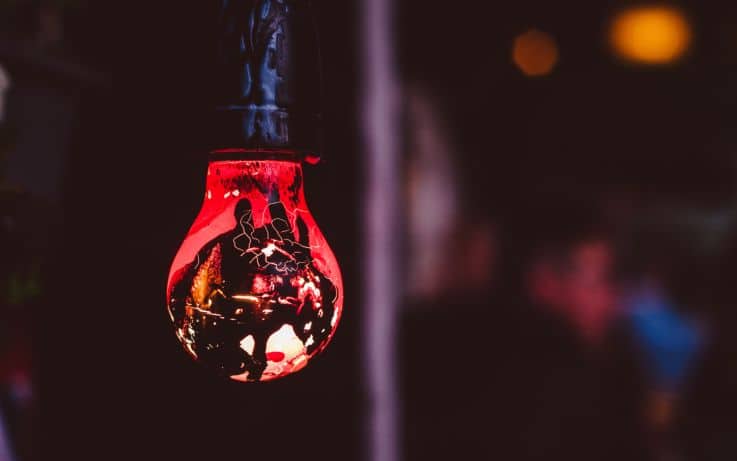 Artificial intelligence or AI is changing retail in a number of ways. Using data to transform every aspect of retail from logistics to in-store customer experiences, AI at its best can enhance the most successful and enjoyable aspects of retail, and replace or improve those aspects that just aren't working.
In this round-up, we cut through the clutter and give you an updated look at 34 of the very best examples of AI in retail right now. (And for more inspiration check out these 50 AI applications).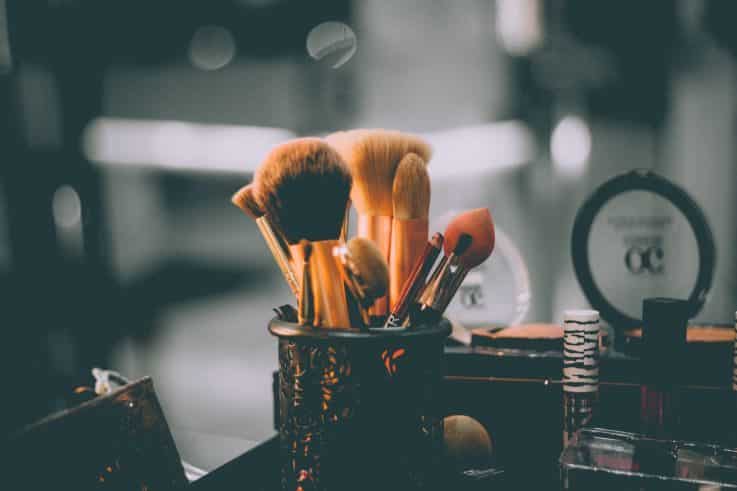 Beauty
1. L'Oreal's home makeup counter
By combining AR and Livestreaming technologies, L'Oreal is enabling its customers to have a personalised makeup counter experience in the comfort of their own home. Customers can book a live-streaming appointment with a beauty assistant and have a digital makeup session. AR allows the customers to see what shade of lipstick works for them or whether they suit a dramatic eyeshadow. It is the same personalised experience that they would receive in store – and it's driven by data collection, with all aspects of each interaction captured to improve future engagements.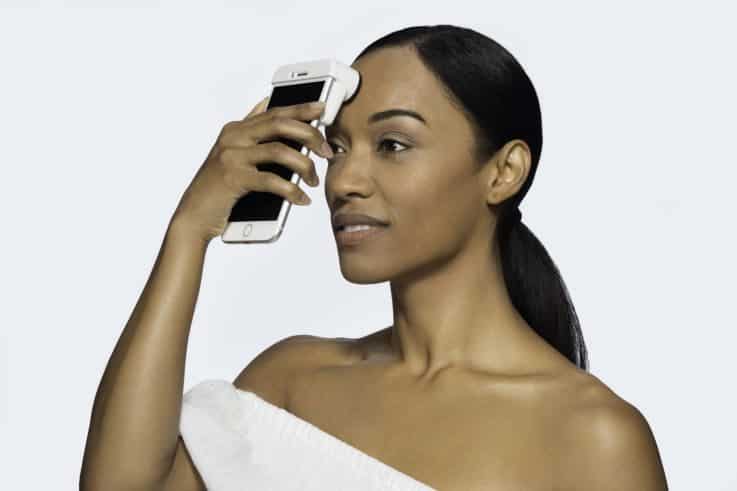 Image credit: Neutrogena
2. Neutrogena's mobile dermatologist
Neutrogena's skin360 app turns your mobile phone into a dermatologist. It involves a simple scanner tool that you connect to your phone, and the app itself. Once connected, they give you information about your skin that includes its moisture level, pores and lines. After that, you're exclusively shown Neutrogena products that suit your skin type. It's a similar innovation to scanners we've seen before – making excellent use of customer data to speed up and improve the customer experience.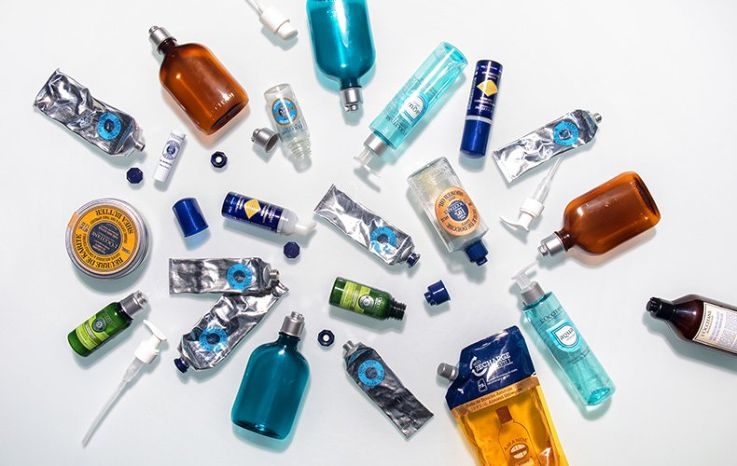 Image credit: L'Occitane
3. L'Occitane's online product recommendations
Cosmetics retailer L'Occitane en Provence has partnered with Qubit Aura, an AI-powered mobile service that suggests personalised product recommendations. The aim is for the customer to receive the same level of service online as they do in store. The data allows users to see what other customers like them went on to purchase. This level of engagement and personalisation with customers is much more likely to lead to conversions.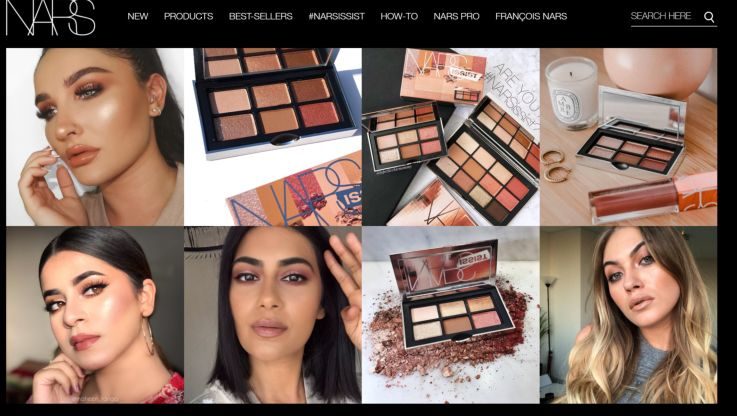 Image credit: Nars
4. Nars' upgraded beauty counter
Cosmetics retailer Nars is integrating AI and AR into its beauty counter experiences in store. Partnered with beauty AR company Perfect Corp, it lets customers try on 700 different items in order to find their perfect match. With this technology, customers are able to try on more products than ever before. Customers will also be able to send themselves photos of their try-ons which they can share on social media. This use of AI is smart because it has a functional purpose in addition to improving customer experience.
5. Ayurveda's customised beauty products
Ayurveda is one of the world's oldest holistic healing systems which is currently enjoying a worldwide resurgence. The industry is adopting AI in order to create more personalised products for its customers to ensure products are tailored for individual needs. Customers can fill out an online form with data such as allergies, medical history and ethnic background in order to create customised products. The data collected also helps to compile research to develop new products. It's a great example of using AI in product development.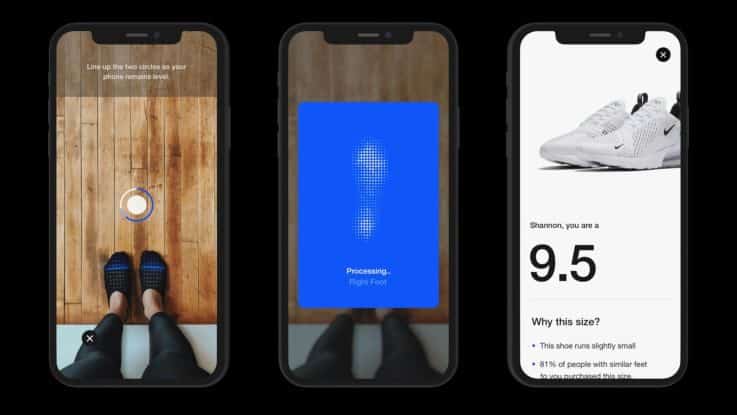 Image credit: Nike
Logistics
6. Nike's Fit App
The Nike Fit app allows customers to scan their feet with a smartphone camera to achieve 'hyper-accurate' sizing. It isn't enough to provide length and width to get an accurate fit – the AR technology uses a 13-point measuring system to map each foot's dimensions. The more people that use the app, the more data will be reported and the more accurate the app will become. This will not only mean that customers receive the right fit for them but will help reduce the number of returns for incorrectly sized shoes.
7. Zara's click and collect robots
Zara's click and collect service in store is so popular that there are often huge queues for customers to collect their orders. Once in store, customers enter a pick-up code that starts the robot moving behind the scenes. The robot then delivers it to a drop box. The automated pick-up means that customers will receive their orders much quicker and staff can be utilised elsewhere in-store where personal interaction is more useful.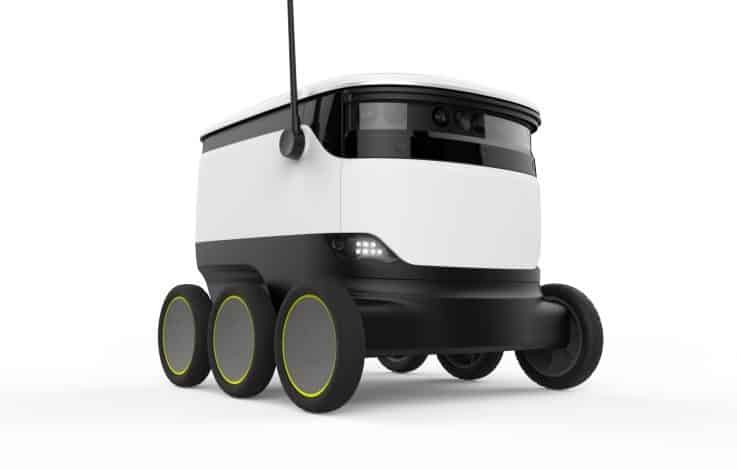 Image credit: Starship Technologies
8. Starship Technologies' pizza delivery robots
Starship Technologies have teamed up with supply chain management company Sodexo to provide college kids with food deliveries via robots. The fleet of 25 robotic couriers can deliver items from Blaze Pizza, Starbucks and Dunkin'. Users can select which food or beverages they would like via a mobile app, and drop a pin where they would like the delivery. This is just the latest partnership involving Starship – one of the pioneers of robotics in deliveries.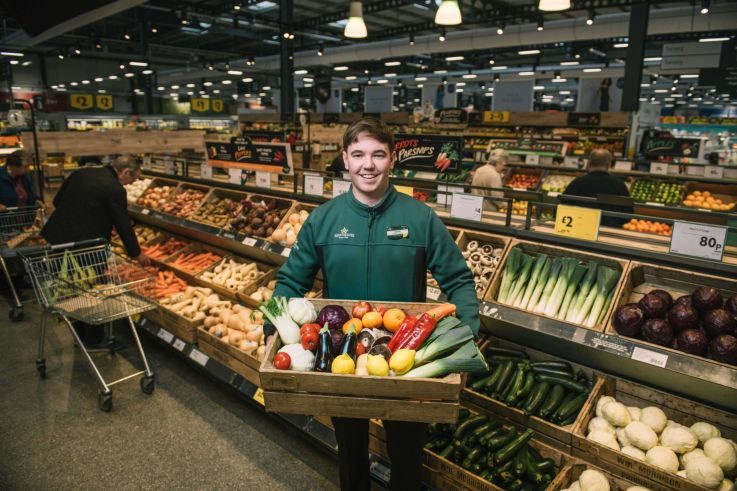 Image credit: Morrisons
9. Morrisons' stock forecasting
British supermarket Morrisons has partnered with leading AI solutions provider Blue Yonder to improve stock forecasting and replenishment. Through the use of AI, it can now accurately predict customer demand, order the right level of stock and reduce waste. This not only ensures that customers are guaranteed fresh produce and stock of their favourite items, but it saves the supermarket from incurring losses due to waste.
10. John Lewis' yield-boosting farmbots
John Lewis has begun trialling 'farmbots' that gather topographical data through built-in cameras. The small robots move autonomously and extremely efficiently, and will constantly use the information collected to build a thorough, plant-by-plant understanding of the entire site. This machine learning process has the potential to boost yields, increase farming revenues by up to 40%, and reduce costs and waste by up to 60%.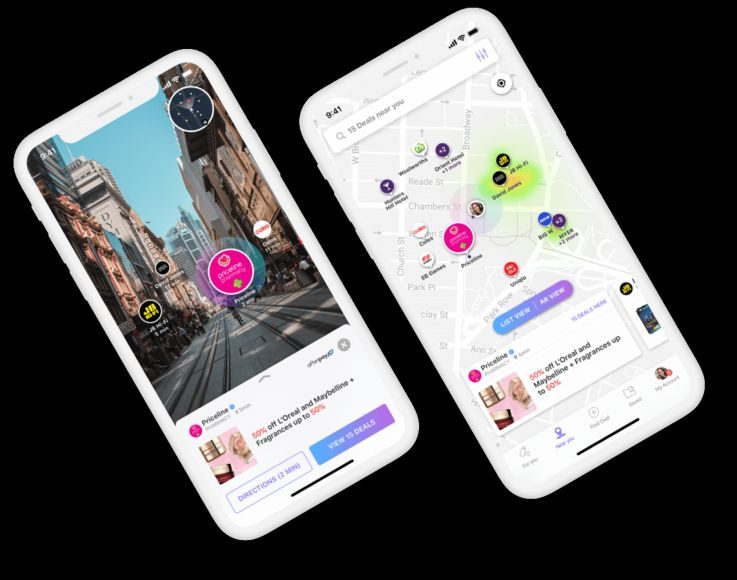 Image credit: Sweep App
Search and Inspiration
11. Sweep App's community based shopping experience
Sweep App is a community-based AR shopping experience. By using unique AI, AR and geolocation technologies, it allows users to find, claim and share deals around them. Users can shop for the best products and deals whilst helping others also using the app to make insightful purchases.
The shopping experience can be tailored by saving customers' personal preferences or sharing your current location. It benefits retailers to partner with the app too, as it will drive traffic to their online and physical stores.
12. Westfield's AI-powered pop-up
Earlier this year, Westfield London launched a trial, AI-powered pop-up store. The pop-up stocked looks based on what was trending across social media in real time. Using AI trends experts NextAtlas, it tracked data from over 400,000 innovators from around the globe to identify the biggest trends at that time. The on-hand team of stylists then sourced those items from around the Westfield shopping centre. Within the store there were screens showing live trend data to show just how up-to-date the pop-up was. This is a really exciting example of how AI could transform the shopping centre experience of the future.
13. ASOS Boards power customisation
ASOS has launched a feature for its mobile shopping app that works in the same way as Pinterest. ASOS 'Boards' use AI to separate products into categories and are entirely customisable. It's designed for those customers that like to save their items in the app to be reviewed and purchased later. Customers can organise those items and ASOS can suggest other items they might like to add. Push notifications can also be sent to customers when items on their boards are running low in stock – an excellent strategy to boost sales.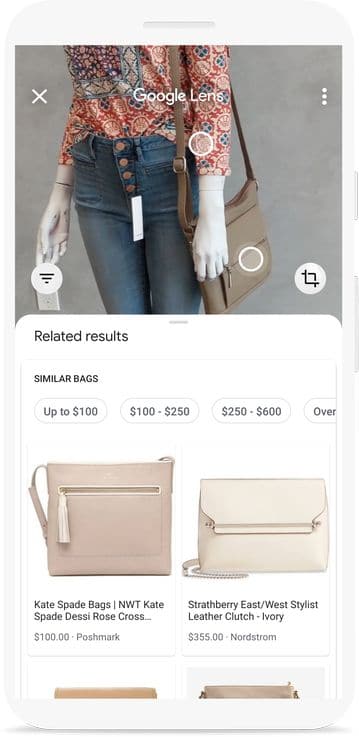 Image credit: Google
14. Google Lens enhances search
Visual search is a massive innovation for retail that can transform the way online and offline connect. Put simply, visual search technology allows customers to snap and upload a picture of a product they like, and then an AI tool recognises and identifies it and any similar items – as well as retailers that stock them. Some retailers like Tommy Hilfiger have developed their own visual recognition tools for their own products, but now, thanks to Google Lens, customers can snap, search and buy anything, anywhere.
15. DigitalBridge's 'guided design tool'
DigitalBridge is a tech-startup company that uses AI to visualise customers' home design ideas. It allows customers to select the room they want to design and from here they can choose the colour, style and placement. It will also calculate how much it will cost. It merges the roles of a contractor, designer and DIY store expert into one. Because the tool allows customers to actually create rooms and see how feasible their ideas are, it's not only inspiring but practical. Innovations like this are precisely why many retail experts believe the future of retail can be anything, anywhere.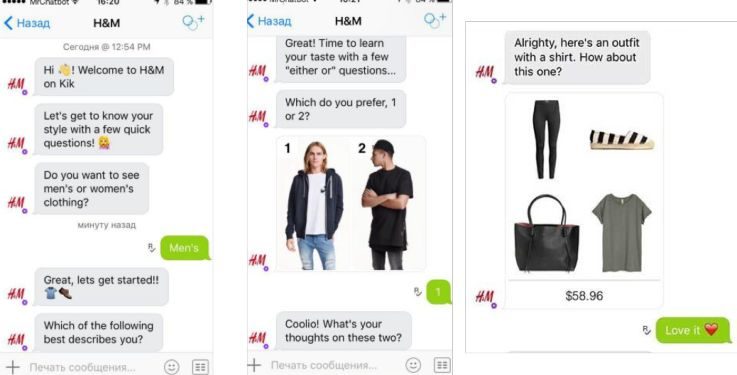 Image credit: H&M
Chatbots
16. H&M chatbot continues to thrive
H&M's chatbot has been around for a while, but thanks to constant improvements it's widely considered to be one of the very best examples. This chatbot quickly collects and utilises key customer information to make outfit suggestions – and then refines the offer according to the customer response. As a result, every chatbot engagement thereafter is improved, thanks to a constantly refined dataset. H&M's chatbot is one of the few to date that has publicly been linked to improved overall retail sales.
17. ASOS' Enki style matching service
ASOS has a chatbot called Enki that works a bit like a personal shopper. Customers can send Enki an image of an item of clothing they like and through its 'Style Match' technology, Enki will then send a list of similar items that you can 'add to shortlist' or give you other options if you select 'You might also like'. The more interaction you have with Enki, the more matches you are going to receive. Another great feature is that you can select your budget, allowing the AI to really personalise the experience in a simple and powerful way.

Image credit: Lidl
18. Lidl's Margot recommends wine
German discount supermarket chain Lidl has launched chatbot Margot to help customers find the perfect wine. It responds to queries about the wine's region, country, colour, grape or price. It also gives advice on which wines pair with which foods so customers can get the best out of their purchase. The chatbot is available through Facebook Messenger and the mobile app. It's a great way of ensuring you enjoy your wine more.
19. Tommy Hilfiger chatbot offers style advice
Tommy chatbot users can browse the latest Tommy Hilfiger collections or get a behind-the-scenes look at the latest fashion show. It uses language processing technology to reply to customer queries but it can also offer style advice and product recommendations. It gathers information on customers by asking a series of questions on their style preference. From the data received outfit suggestions are made and constantly refined with new data. This is just another tech innovation from one of the most prolific creators in fashion tech.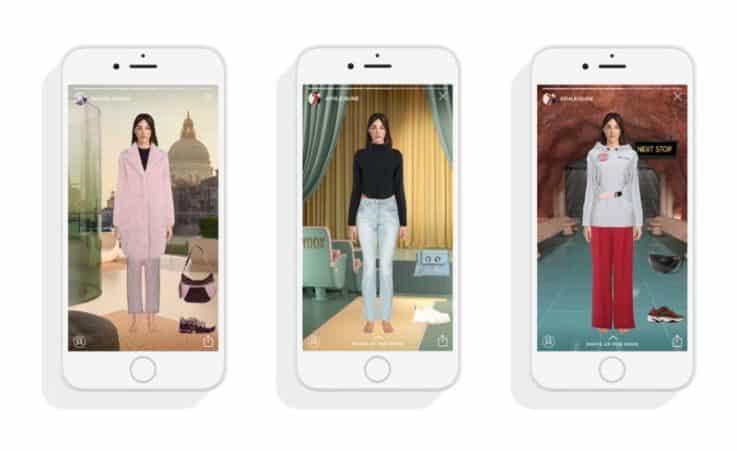 Image credit: YOOXMIRROR
Fashion
20. YooxMirror's virtual styling
Online fashion retailer Yoox has created an AI-powered virtual styling suite called YooxMirror. Its interface is a bit like Instagram stories – customers can swipe through a curated selection of products based around different themes each day. It features an avatar called Daisy who models the outfits. She can be personalised right down to your chosen skin tone. Customers are able to mix and match clothing from all of Yoox's brands to create an outfit. The finished looks can be sent straight to the checkout but if customers are not ready to purchase they can be added to their wishlist for a later date. It's a really interesting take on in-store automation.
21. American Eagle's AI-powered fitting rooms
American Eagle Outfitters is using Alia's kiosk software in several of its flagships around the United States. It allows shoppers to scan items on an iOS device and see what other sizes are available, request more sizes and styles, or receive product recommendations. All of the information can also be emailed for future purchasing. In addition, store associates receive notifications so they can quickly deliver items to the customer. The customer receives a personalised changing room experience and the company gains invaluable insight into shopper behaviours – data that's then used to refine the recommendation process.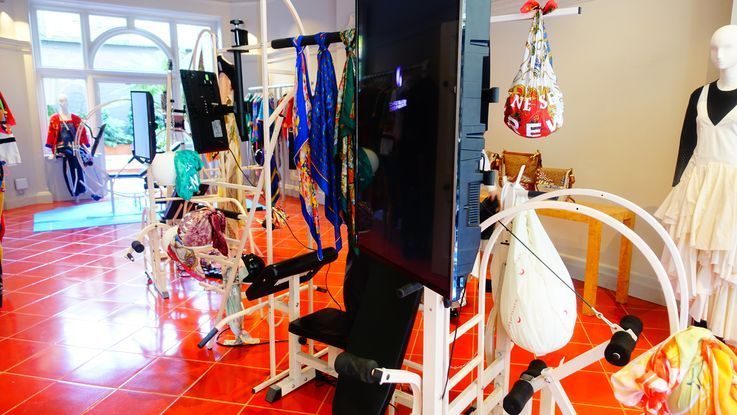 Image credit: MatchesFashion
22. Matchesfashion uses AI for VIPs
Matchesfashion.com's flagship at Carlos Place, London, works with clienteling tech provider Proximity Insight to fuel its personal styling offering. Through Proximity Insight, Matches staff are able to call up a vast amount of customer and product history to prepare before customers arrive for the long styling appointments the space is renowned for. This data helps them to curate the closet and make relevant style recommendations. It also helps them when following up or emailing about new products. It's a really good example of AI being used to improve an entirely human retail experience.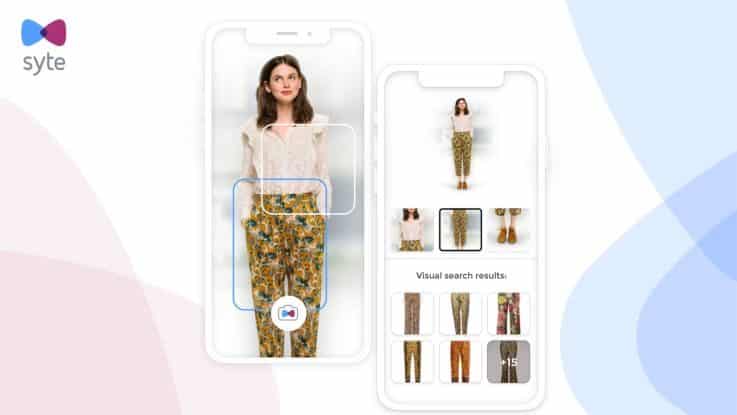 Image credit: Syte
23. Farfetch adds visual search feature
Online fashion retailer Farfetch has partnered with visual AI startup Syte to create an in-app visual search feature. The 'see it, snap it, shop it' feature helps to engage customers with style inspiration – this can be a screenshot on their phone from social media or a pic taken out and about. The app can then analyse the image and either find the exact item or something similar for users to browse and purchase. It's yet another take on the visual search theme, proving that retailers are banking on demand for visual recognition to increase in the future.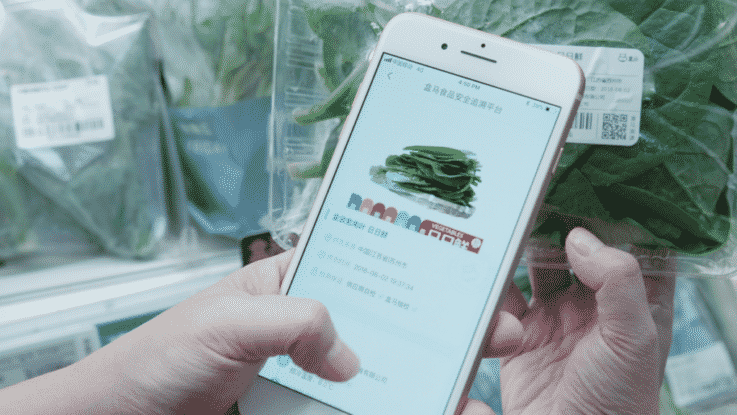 Image credit: Alibaba
Physical Retail
24. Freshippo's app-enabled self-checkout
Alibaba-owned Chinese supermarket Freshippo uses AI to track everything a customer has purchased. Customers use the app in-store to scan the items they wish to purchase and can also check-out using the app. This data is then saved so that customers can check-out more quickly in the future and even have the items delivered straight to their homes. The AI technologies used here blur the lines between online and offline retail as well as improving customer experience and the retailer's operational efficiency.
25. Mango's digital dressing room
Mango teamed up with Vodafone to create digital mirrors in its dressing rooms that allow customers to scan the clothing inside and to contact store staff directly from the mirror to request other colours and sizes. Using AI, the mirror can suggest other clothing to match what the customer has chosen. It allows Mango to have better engagement with its customers whilst they are trying on items. Importantly, it also has the benefit of updating the supply chain with constantly updated data, ensuring waste is reduced and stock efficiency is improved.
26. Bourjois' blended reality magic mirror
Global beauty company Coty has launched a blended magic mirror at its Bourjois Paris boutique. When a shopper picks up a lipstick the chosen colour will then appear on their lips, blurring the lines between reality and digital. Its benefit over purely digital magic mirrors is that by putting the physical product in shoppers hands, sales have been proven to increase. Virtual try-on also solves customer queries over testers not being available or hygiene concerns.
27. Kroger aims to give products a more meaningful shelf-life
Supermarket chain Kroger has partnered with Microsoft to create a personalised shopping experience at product level. Customers can enter the items they would like to purchase on the Kroger app and then once in store it visually flags the relevant items at the shelf so they can easily find what they need, taking advantage of personal offers. Furthermore, Microsoft's AI can predict a shopper's age and gender so ads can be customised to each specific customer subsequently. This gives Kroger and its customers two big advantages: the AI not only makes shopping quicker and more convenient, but it improves the relevance of subsequent marketing.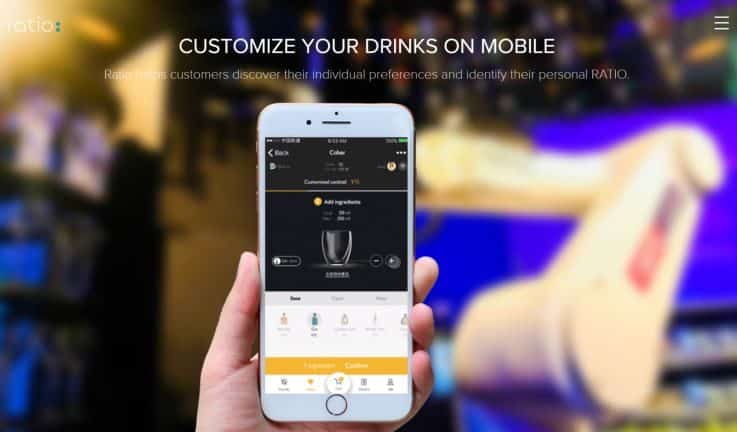 Image credit: Ratio
28. Ratio's robot coffee maker
A café called Ratio in Shanghai is using a robotic arm to prepare customers' coffee. Customers are able to order their coffee via an app on WeChat where they can request what coffee beans they would like and even the level of sweetness. Because the order is linked to the customers profile their name will always be accurate on the order. Initially customers may be lured in by the novelty of a robot, but the way it remembers and uses customer data over time means the quality and personalisation is what keeps customers coming back.
29. Valyant's 'Holly' is Alexa for fast food
Valyant AI's latest venture is 'Holly', a data-driven conversation platform for drive thrus. Holly can multi-task in a way that humans can't, telling you information faster than you can find it. It's a like-for-like replacement for a human assistant, but through automation it can handle customer orders faster and more accurately. Better still, as its founder points out, with 900,000 open fast food vacancies in the US today, Holly solves a huge problem: recruitment and retention. Holly won't leave the job to go to college, and rather than getting worse over time, she will actually perform better.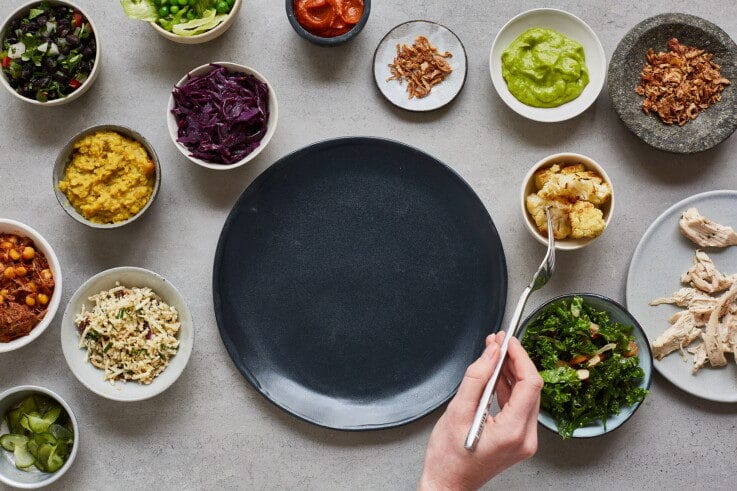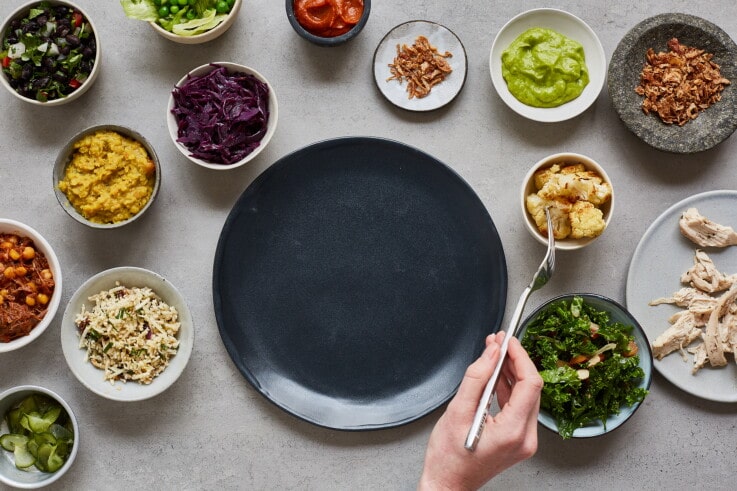 Image credit: Vita Mojo
30. Vita Mojo's personalised food
Vita Mojo is a restaurant that claims it 'knows customers better than they know themselves'. At its own outlets, it allows customers to customise their food orders through iPads, varying the amount of each ingredient they want or their calorie targets. However, those who create an account can truly personalise their dining experiences by adding various elements like fitness targets, allergies, habits – and even linking up information from wearable technology or DNA tests. When this kind of information is combined, Vita Mojo's AI can start mapping out meals for its customers that perfectly suit their dietary needs and goals. This concept is so powerful that Vita Mojo has now become a software company, offering its breakthrough technology to other businesses.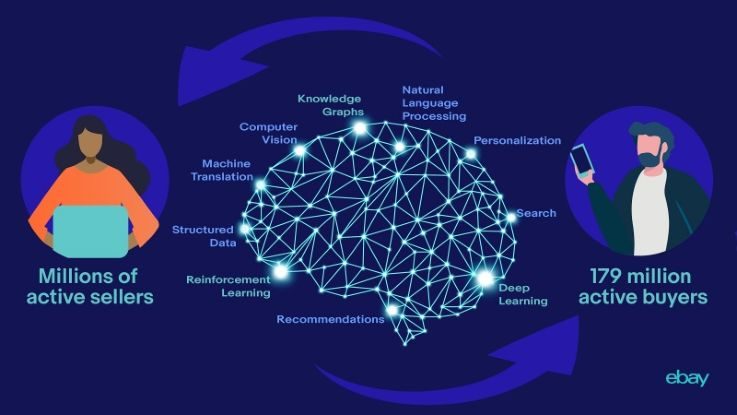 Image credit: eBay
Marketing and Communication
31. Ebay gives AI to small retailers
E-commerce platform Ebay is using machine learning to optimise pricing and selling for its customers. Through AI it can help its sellers to choose the best price for the products they are listing, and when the optimal time to list them is. It is fully integrated into the sellers' eBay experience, giving recommendations if demand shifts for a product or when certain products are trending. This is a great example of how quickly AI is being democratised – helping to improve business decisions for small retailers in addition to big ones.
32. Home Depot's machine learning
Home Depot's app is pretty pioneering, offering voice search that connects with more than 1 million items on its site, and an IKEA style augmented reality function that lets you see how items will look in your home. Now it's using machine learning, a form of AI, to help customers understand how other customers are using their home depot products. This then feeds into guides that help customers get more out of everything they buy. It's essentially AI driven marketing content – and because it's built from what other Home Depot customers do, relevance isn't an issue.
33. Walgreens' Cooler Screens
Walgreens is using digital cooler screens to track shoppers' behaviour. Using cameras, motion sensors and face detection software, it can target the advertisements on the screens in real time. Using technology from a company called Cooler Screens, the software is able to analyse your data whilst you stand in front of the screens. It looks at data such as estimated age, gender and even the weather to suggest tailored ads for you. Fully personalised ads altered in real time feels like a big leap into the future – but that future may be getting closer.
34. Lush replaces packaging
Cosmetics retailer Lush is using AI to help drive its sustainability message. The Lush Lens feature allows customers to scan the bath-bombs with their phone to get product information such as ingredients, price and even videos of what the bath bomb looks like once submerged. It means that the stores do not need to display signage and therefore reduce waste. The app uses AI and machine learning to determine what each product is with just a quick snapshot. The feature was trialled in a pop-up store with the goal of reducing plastic waste and is a great addition to the Lush Digital app.