Tech
50 Best AI Retail Applications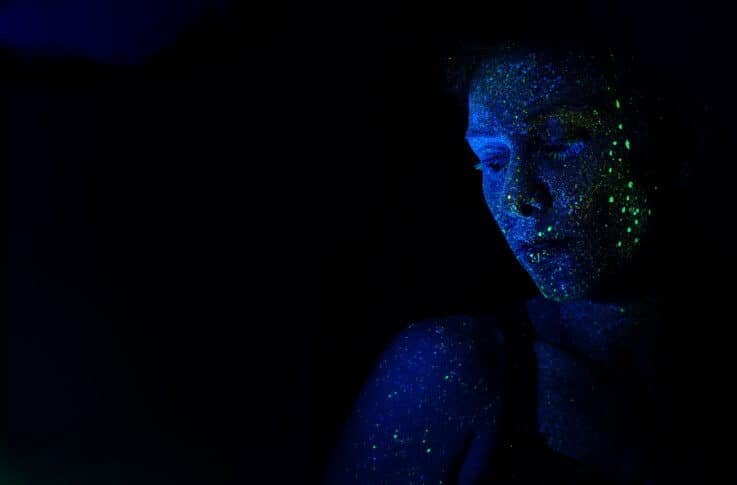 According to a study by Juniper Research, global spend on artificial intelligence or AI is expected to increase from an estimated $2 billion in 2018 to $7.3 billion per year by 2022.
Pair that with the fact that, according to PointSource, 34% of consumers will spend more money online when AI is deployed effectively, and you realise that for retailers, AI is big business.
With that in mind, we've outlined 50 ways in which retailers are putting AI into action, from personalising beauty to forecasting demand.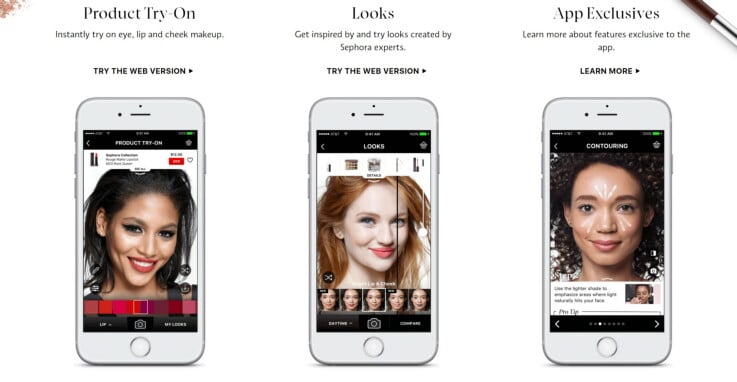 Image credit: Sephora
Beauty
1. Sephora's Virtual Artist app
While the predominant function of Sephora's Virtual Artist app is to allow beauty buyers to try on products virtually via augmented reality, the brand recently introduced a colour match tool, powered by AI. This tool determines the particular shade of a product on a photo and suggests similar products available at Sephora that the consumer can then try on and purchase.
2. Olay's Skin Advisor
If there's one sector where AI has been making a lot of noise, it's beauty. Olay's Skin Advisor is an online consultation platform that can tell the true age of a user's skin from a selfie. By using AI to both evaluate and determine problem areas, as well as the overall condition of the skin, it also provides personalised skincare routines and reports.
3. My Beauty Matches's personalised beauty
With over 170 retail partners and 300,000 products, My Beauty Matches claims to be the world's first personalised beauty product recommendation and price comparison site, and is dedicated to ramping up conversion rates and increasing basket sizes for other brands. More specifically, it uses AI to help partners including Harrods, Harvey Nichols and Bobbi Brown run hyper-targeted campaigns to people wanting personalised beauty suggestions.
4. L'Oreal's 3D hair colour app
As several of the beauty-led examples on this list have shown, AI's fusion with other technologies such as augmented reality means it is entering new territory. L'Oreal's newly announced AR hair colour app, created in partnership with Modiface, allows users to try on a new hair colour in real time. While the AR component allows customers to try on different styles digitally, it's the introduction of AI that captures the user's hair, strand by strand, to offer the most accurate look possible.
5. Function of Beauty's personalised products
Function of Beauty is a beauty start-up that lets customers create custom shampoos and conditioners based on their personal hair type and hair goals. After gleaning data from a quiz that builds an individual hair profile, determines future goals and what you want the end product to look and smell like, the brand produces an end product via AI from a possible 12 billion different ingredient combinations.
6. Proven's stand on fake reviews
Proven is a newly launched beauty brand that uses AI to provide the most personalised offering possible. Rather than sifting through products, it searches through reviews of those products to offer individual skincare routines. To date it has been reported that the brand's tool has analysed 8 million skincare product reviews in order to eliminate fake reviews, save time for consumers and offer personalised recommendations that actually matter.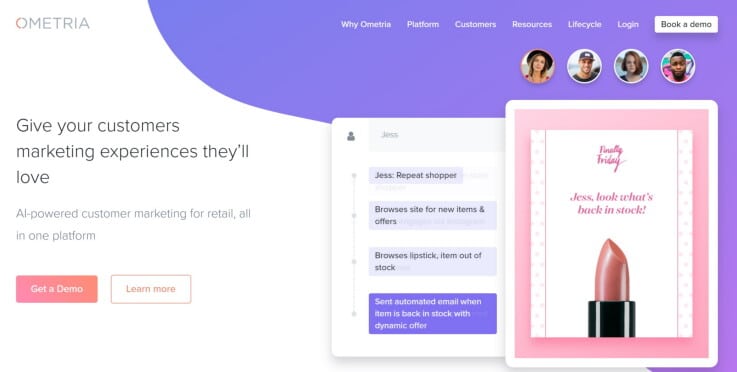 Image credit: Ometria
Marketing and Communication
7. Ometria's AI-powered marketing
With a belief that generic marketing makes brands forgettable, Ometria works to create memorable marketing experiences. It works by combining AI-powered customer data with retail-specific marketing data to create an effective strategy for brands. According to the company, Ometria was able to 'win back' 107% of furniture retailer LuxDeco's customers and increased fashion company Seraphine's email channel revenue by 60%.
8. Cosabella and Albert
In 2017, lingerie brand Cosabella announced that they would be using Albert, an AI technology, to help the brand implement a new strategy as its new digital agency. As well as identifying emerging user behaviour across various channels to deliver key insights, Albert is reported to have achieved a 336% return on ad spend, a 155% increase in direct revenue and a 37% increase in overall web sessions.
9. Zalando's AI restructure
Just last month it was announced that e-commerce giant Zalando, which employs over 14,000 people, replaced 250 marketing jobs with AI. As part of a wider restructuring of the company, it goes to show how much emphasis, particularly when it comes to marketing, that the company is putting in technology. 'Marketing will become increasingly data-based in the future,' said Rubin Ritter of Zalando's management board. 'Therefore, we need a higher number of developers and data analysts.'
10. IKEA's AI survey
While IKEA is well-known for its exploration of technology, the brand decided to explore AI in a global survey to inform the brand's future. Created with Space10, IKEA's innovation lab, it asked questions such as whether AI should be 'protective or obedient', and which gender an AI assistant should be. The results of the survey are said to be used to inform IKEA's future AI products.
11. Persado's AI-generated language
Described as 'The Marketing Language Cloud', Persado is an AI solution that uncovers and generates language for a retailer's specific audience in the hopes of driving short-term sales and long-term relationships. With a current focus on email and social media channels, marketers can use the tool to predict response rates, generate better marketing pushes and refine their brand's tone of voice.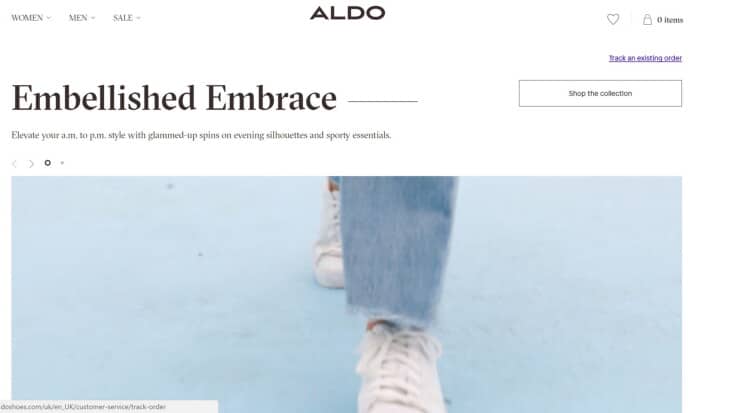 Image credit: ALDO
12. ALDO's 360 vision
As part of a collaboration with Salesforce, ALDO is utilising AI so as to better understand and engage with their customer base, with the ability to anticipate their needs and expectations and interact with them on the channel that suits them best. As a statement on the Salesforce website reads, 'Salesforce now allows ALDO to have a 360-degree vision of its customers. In the future, the company will be able to use information from Salesforce to create synergies between physical and digital channels, allowing them to interact in a fluid and personalised manner with their customers anywhere in the world.'
13. Zeta's Marketing Platform
Zeta is an AI-driven marketing platform that wants to help brands acquire, retain and grow relationships with their customers. It does so by connecting experiences across channels, building customer knowledge through data and creating discussions within a specific user community. Using the tool, Zeta claims that brands have seen twice the number of page views, four times the number of email sign-ups and a rise of 154% when it comes to email revenue.
14. Room & Board
When furniture brand Room & Board introduced Salesforce's Predictive Intelligence into its offering, the brand saw a huge 2,900% return on investment within the first year. With data gleaned from customers since 2009, the company can make informed recommendations on its website and in personalised email campaigns. 'Customers who engage with Room & Board's recommendations place web orders with 40% higher average values than those who don't. When customers view those recommendations before coming into the store, the average order value shoots up 60%,' reads a statement on Salesforce's website.
15. Satisfi Labs
Through the use of AI, Satisfi Labs gives retailers new ways to engage with their customers via branded chats. Specifically engineered to interact with numerous data sources across different online platforms, the company facilitated two million AI conversations in 2017.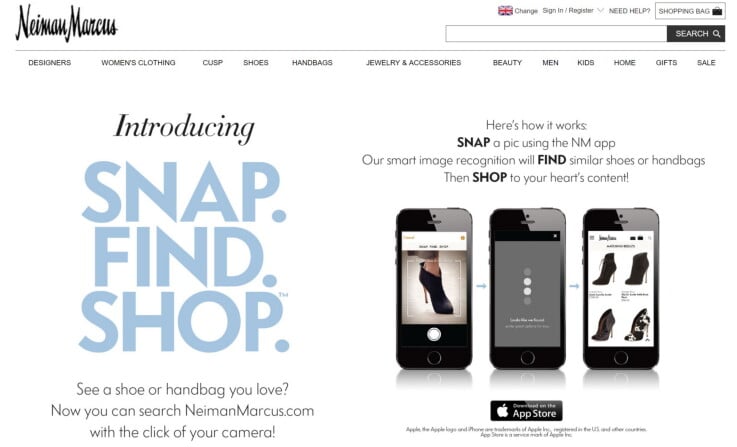 Image credit: Neiman Marcus
Search and Inspiration
16. Neiman Marcus's Snap.Find.Shop. app
Luxury department store Neiman Marcus harnessed AI to develop Snap. Find. Shop., an app that allows shoppers to search for Neiman Marcus products through photographs they take while out and about. So, for example, if a user sees a pair of shoes they like the look of, they can take a picture using the dedicated app, which will then recommend similar shoes available on the Neiman Marcus store.
17. Target's Pinterest partnership
Towards the end of last year, Target announced a partnership with Pinterest that would see it add the social media channel's visual search tool to its app and website. The result allows users to take a photograph of any product whilst out before being recommended products that are similar and available at Target. It follows the launch of Pinterest's Pinterest Lens, which wants to encourage discovery by offering suggestions from objects users point their cameras at.
18. West Elm's Pinterest Style Finder
Last year, furniture retailer West Elm unveiled its Pinterest Style Finder. By using AI, the tool scans a user's personal Pinterest boards to curate a list of products personalised to that person. It is said to be an extension of the in-store service wherein staff ask visitors for pictures as a starting point for inspiration. And, unlike some of the other AI-powered recommendation tools on this list, it goes by Pinterest boards instead of browsing history so it can really get to grips with personal tastes.
19. Knorr's Instagram integration
A couple of months back, food and drinks brand Knorr launched an AI-powered tool that scans Instagram feeds in order to recommend personalised meals. 'We're excited to be the first Instagram inspired recipe solution. Using our consumers' own posts to prompt recipes with real value and relevance we know they'll love,' says Philippa Atkinson, senior brand manager at Knorr UK and Ireland on the launch.
20. GoFind.ai's shoppable searches
With a mission to make everything you see shoppable, GoFind is a visual search engine for shopping. By using advanced AI search capabilities combined with one of the largest e-commerce catalogues, users can take a picture of a product in the real world to get shoppable branded product recommendations. Not only that, but the company offers brands user behaviour insights and the direct opportunity for monetisation.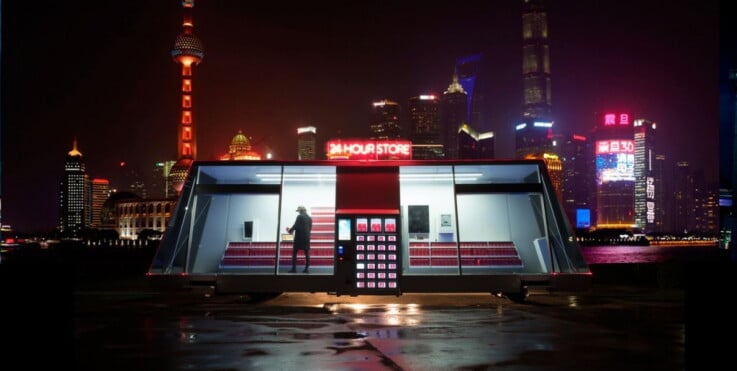 Image credit: Moby
Logistics
21. Wheelys' moveable market
Through a fusing of AI and convenience-led thinking, Wheelys' Moby Store has been hailed as the grocery store of the future. Functioning as a store on wheels, the space is open 24 hours, is both staffless and checkoutless and drives itself to warehouses to restock. It even uses AI in the creation of a digital hologram that greets visitors on entry.
22. Otto Group's inventory management
E-commerce heavyweight Otto Group utilises Blue Yonder, a cloud-based predictive machine-learning application to boost revenues, increase margins and respond to shifts in the market. As a result, not only are out-of-stock rates reduced by up to 80% and product availabilities increased tenfold, but the entire supply chain is optimised and there's less end-of-season waste.
23. Ocado's fraud detection
Only a few months ago, Ocado unveiled what is said to be the world's first AI-based fraud detection system for online grocery shopping. It has been introduced as part of the brand's Ocado Smart Platform, which is a solution developed by the brand for use by other retailers.
24. Walmart's supply chain optimisation
While Walmart is looking to AI to optimise a number of processes, from checkout-less commerce to Pick Up Towers in stores, it also recently launched a delivery programme to conquer the last mile problem. Described as being an Uber-like system, it uses data to determine who should deliver what, as well as streamline inventory management.
25. Kohl's AI investment
While Kohl's has long been known as a retailer utilising AI to better assist its consumers, the brand has recently announced that it's targeting AI as a key future initiative. Especially with the company currently in the process of strategically moving systems from dedicated data centres to Cloud Computing, it wants to use AI to streamline its operation, save costs, assist its customers and open up new investment opportunities.
26. JD.com's predictive push
In an interview with AI Business last September, Dr. Hui Cheng, head of JD.com's JD-X robotics research centre, said that JD.com is 'putting AI to practical use in every aspect of our business, from supply chain to logistics to consumer products and marketing'. While it's clear both Cheng and JD are betting big on AI's future, it's the brand's integration of AI into the supply chain that's particularly interesting. With the introduction of the technology, the brand is able to deliver over 92% of orders with same and next day delivery, can effectively predict future demand and is bringing fully-autonomous warehouses online.
27. Infor's reinvention of retail
Placing AI and analytics at the top of its strategy foundation, Infor is a company helping brands across all manner of sectors put networked analytics and AI-led experiences into practice. When that comes to retail specifically, the company is helping retailers with demand management, enterprise asset management and workforce management, to name just a few.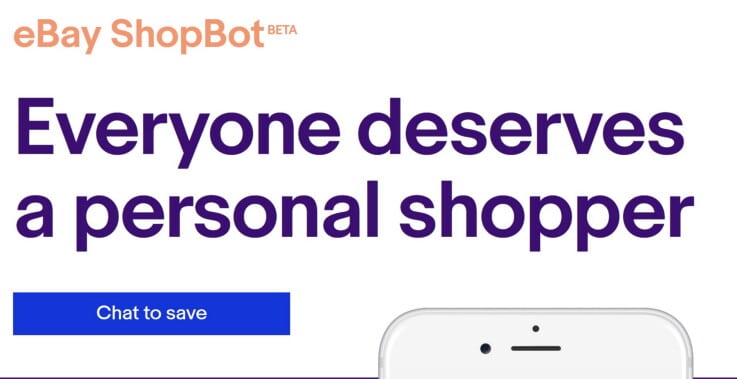 Image credit: eBay
Chatbots
28. eBay's personal shopper
Described as your own personal shopper, ShopBot is eBay's chatbot. Currently in beta-testing, the bot helps people find the best deals from eBay's often overwhelming number of listings. 'Combining AI with eBay's breadth of inventory and unique selection will enable us to create a radically better and more personal shopping experience for virtually anyone that owns a mobile phone,' reads a statement from eBay.
29. Shop Direct's Whatsapp integration
In 2016, Shop Direct became the first UK-based retailer to deliver effective customer service through a WhatsApp-style conversational user interface. Titled Very Assistant, the service was developed with IBM Watson to allow customers to find answers to questions through multiple choice within a natural chat environment.
30. North Face's product recommendation
North Face is another brand utilising AI to help consumers find the items that are right for them. As the first experience to put IBM Watson's power to the test on mobile, the app prompts a voice-activated conversation to determine what a user might need by posing a number of questions surrounding location, temperature and gender.
31. Taco Bell's Tacobot chatbot
With the launch of its Tacobot, Taco Bell became the first brand to let users order food directly through work-based messaging service Slack. By leveraging AI to facilitate orders through natural language, the chatbot talked in the witty tone of voice the brand is known for, and let users both customise and group order products. According to Taco Bell, the bot is currently in a stage of beta testing with a number of different companies.

Image credit: Levi's
32. Levi's Virtual Stylist
Launched in collaboration with Mode.ai on Facebook's Messenger app, Levi's Virtual Stylist does exactly that, and aims to put the knowledge of all the brand's in-store associates into one place. As well as offering fashion advice, it's powered by personalised fit data from True Fit and has been designed to respond to people in a conversational tone akin to in-store advice.
33. Soul Machines
Soul Machines is on a mission to humanise computing by combining the expertise of AI researchers, neuroscientists, psychologists, artists and innovative thinkers. One result to have come out of the company is AVA, or Autodesk Virtual Agent. While it works in the same way a chatbot would, offering positive customer service, its success comes in the fact that it allows consumers to interact with something that looks and feels human.
34. The GWYN Experience
To coincide with Mothers Day of 2016, 1-800-FLOWERS.COM released GWYN, or Gifts When You Need, as an AI-powered gift concierge. As well as guiding customers through their shopping experience, the system learns and refines recommendations over time. 'By using Watson, the cognitive capabilities of GWYN are enabling 1-800-FLOWERS.COM to offer a more personalised and intuitive online shopping experience, and foster new levels of brand engagement,' said Keith Mercier, retail leader at IBM Watson, who 1-800 worked with on the project.
35. Nike On Demand
In 2017, Nike launched Nike On Demand, an AI-powered assistant to help people exercise more and reach their performance goals. The tool itself harnessed data gleaned from running activity and sent personalised motivational messages so as to feel like the user was getting one-on-one training. Over the six week campaign, 22,000 messages were exchanged with Nike On Demand users, showing the potential power of getting AI right.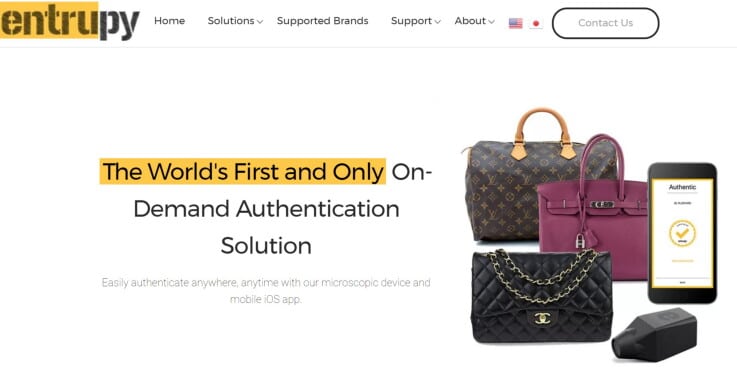 Image credit: Entrupy
Fashion
36. Entrupy's fight against counterfeits
Entrupy is an authentication system for luxury fashion products, and uses AI to determine whether a product is real or counterfeit through millions of images. According to the brand it has a success rate of 98.5%. It has been reported that Burberry, one of the most counterfeited luxury brands in the world, is using Entrupy to help take a stand against counterfeiters.
37. StitchFix's range of AI-designed garments
When you think of AI, fashion design might not be the first thing that comes to mind. That said, AI design is on the rise. StitchFix, a subscription-based fashion company, recently introduced Hybrid Designs, a collection of clothing created from consumer data. By identifying which design traits are working well at any given time, as well as any gaps in the company's inventory, the brand can design and create garments reactively to consumer opinion.
38. ThredUp's tailor-made Goody Boxes
In December of last year, online retailer ThredUp unveiled Goody Boxes, a box of secondhand garments where consumers keep what they like and return what they don't. While the initiative itself is a non-subscription, non-commitment offer, the introduction of AI means the brand remembers what the customer has chosen to return so it can tailor future boxes more closely to the customer's personal preference.
39. FINDMINE's look completion
With its automated 'Complete The Look' technology, FINDMINE fuses styling knowledge with technology to produce complete outfits around products on sale. The company reports that use of the system improves efficiency for merchandisers by 100 times.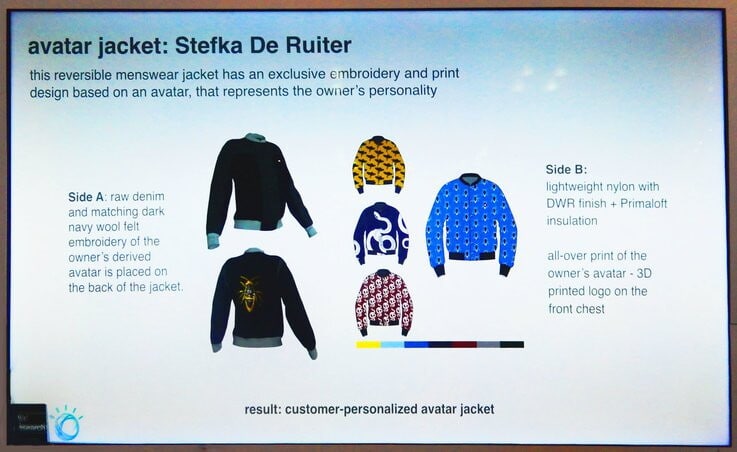 40. Tommy Hilfiger's design inspiration
Tommy Hilfiger is another company looking into the potential of AI design. At the beginning of this year, the fashion brand collaborated with IBM and The Fashion Institute of Technology (FIT) on a project named Reimagine Retail. With an aim to explore how AI can enhance design inspiration and improve manufacturing and marketing, Tommy Hilfiger's library of images and patterns provided data about key patterns and design traits from which the students created original designs.
41. Amazon's AI fashion
And, naturally, Amazon wants in on the action. Reports show that researchers at the brand are working on AI systems that both track and then react to current design trends. So far, a team at Amazon's Lab126 has developed an algorithm that creates garments based on data gleaned from vast amounts of fashion imagery.
42. Alibaba's FashionAI platform
By recognising both the details that separate different garments and the shopping habits of countless consumers, FashionAI is a new tool from online giant Alibaba that acts as a personal stylist for brick-and-mortar shoppers. The tool itself provides personalised recommendations for customers based on the items they are trying on through the item's tag.
43. Vue.AI's model generator
Last month, Vue.AI announced that it had launched the world's first AI-based human model generator. By analysing garments and automatically generating a human model based on them, the innovation is both offering the opportunity to personalise the model's appearance to the user, and helping retailers cut costs that would have otherwise gone on product photography and retouching.
44. adidas's localised designs
When adidas unveiled its Speedfactory, an innovation capable of significantly reducing the time it takes to produce sneakers and the number required to make it worthwhile, it was a game-changer for the production industry. However, with the integration of data-led innovation, it's also able to create location-specific designs. By using athlete data from consumers in different cities, the brand has made footwear tailored to conditions in cities such as London, Los Angeles and Tokyo.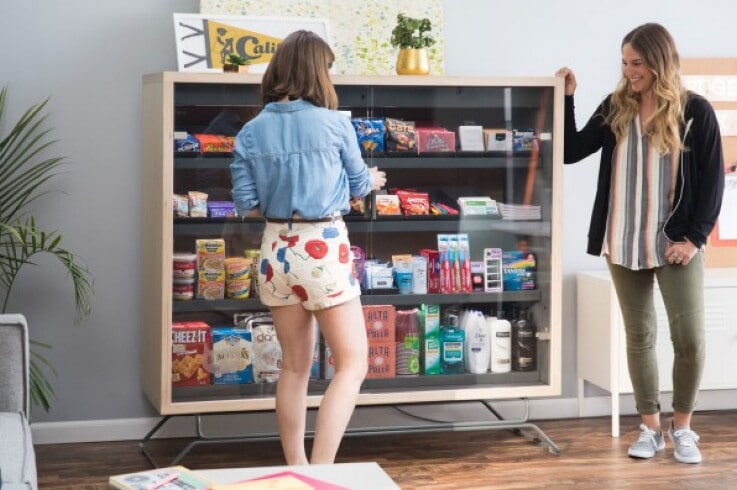 Image credit: Bodgea
Physical Retail
45. Bodega's AI-driven essentials
By using both computer vision systems and AI, Bodega is an autonomous store bringing relevant essentials to places where people need them. So in a gym it might sell protein bars and at a university campus, stationery. It works through a dedicated app, where users open the mini-store with a three-digit passcode and take the item they want before their account is charged automatically. With cameras tracking every move, stock demand and replenishment can become optimised over time.
46. Sprucebot's AI organiser
Sprucebot is a bot that wants to revolutionise the way the physical store runs. From automating administrative work, such as work shifts or helping guests book appointments, to collecting actionable feedback from consumers, it utilises AI to grow and adapt smaller businesses in all manner of ways.
47. DeepMagic's future store formats
Powered by AI, DeepMagic has developed a fully automated store format that allows merchants to run staffless stores, save costs and eliminate shrinkage without losing the essence of experience.
48. Conversica's push for sales
Described by the brand as an automated sales assistant, Conversica uses AI to not only identify potential opportunities to push sales, but ensures every lead that comes from an online source is followed up. And, as the messages sent are conversational in content, the brand states that, on average, 35% of all leads reply. Alongside that, the assistant can schedule appointments, follow up on old leads and gather customer feedback.
49. Macy's On Call app
In 2016, Macy's teamed up with IBM Watson to launch a shopping assistant powered by AI for in-store shoppers. Titled Macy's On Call, the app works to help customers get answers to questions on queries tailored to the store they're in. So, for example, it could help locate a particular product in store, or find out if an item is in stock or not. The overall goal, according to Macy's group vice president of digital media strategy, was to boost sales and free up employee time so they could focus on more complicated consumer requests.
50. Amazon Go
No list of current AI retail innovations would be complete without the mention of Amazon Go. Since the major brand announced its checkout-free, walk-out store, the internet has been abuzz with its developments. It's the activation of AI on its automated checkouts and product tracking elements though that make this a one to watch.