Retail
38 of the Best Retail Design Agencies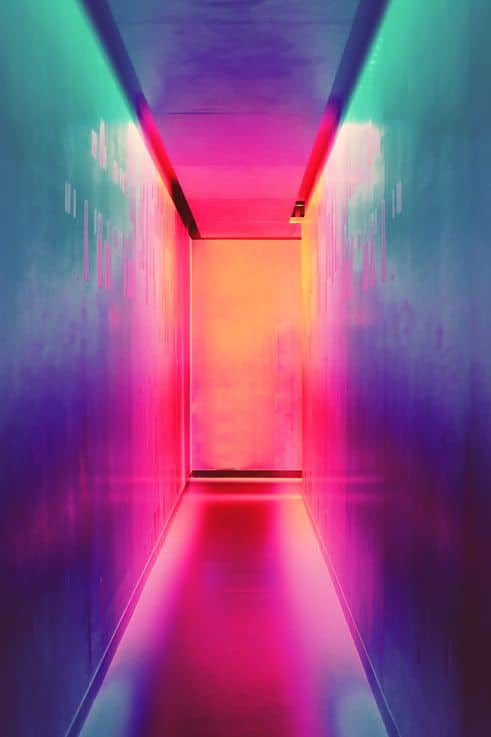 The way a store looks is just as important as what a store sells. After all, brands are increasingly opening stores where the focus isn't on sales, but on marketing, interaction and engagement. That all requires an engaging place to do it in.
Furthermore, so much more goes into the design of a store than the look and feel. In the digital age, store designers have to be up-to-date on tech and consumer trends, as well as how retail spaces interact with online channels.
Getting it right is an art form, so here's 38 retail design agencies who are doing just that (and for even more design inspiration check out our original top 50 retail design agencies roundup):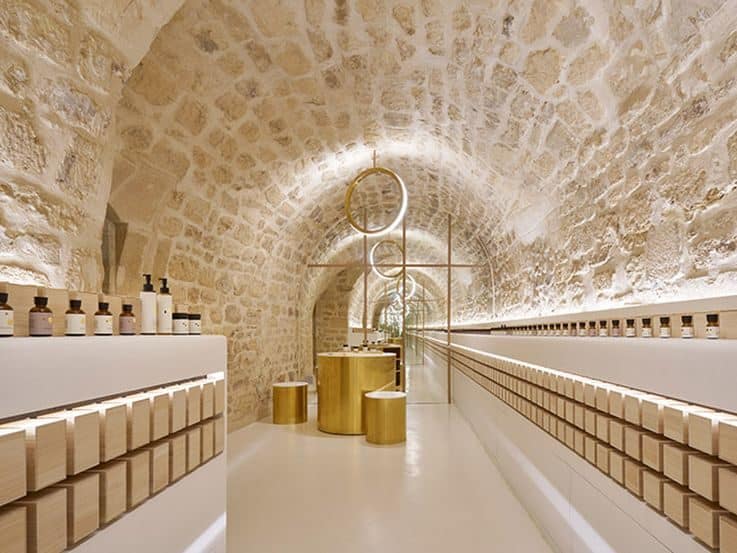 Image credit: Archiee
1. Archiee (Paris)
Parisian creative studio Archiee was founded by architects Yusuke Kinoshita and Daisuke Sekine. Its disciplines include architecture, spatial design, furniture design, graphics and web design. Recently Archiee designed the stunning interior of cosmetics brand EN's store in Paris which features curved brass partitions and vaulted stone ceilings. The company's Japanese background has influenced the design of the boutique which has taken its inspiration from the art and practice of Japanese tea ceremonies. We love how Archiee preserves the original structure of the building whilst creating an entirely original space inside.
2. Blink (Stockholm)
Blink is a retail-focused design agency that has amassed an impressive client list from all over the world. From Tesco to Absolut to Marks & Spencer, its customers choose it for its ability to create store concepts that create actual value for retailers. It's also an expert in omnichannel concepts as its project with HTH shows. It revamped the way we shop for kitchens with a space that's full of digital touches that really brings them to life, and a shopping experience that could move from store to home with ease.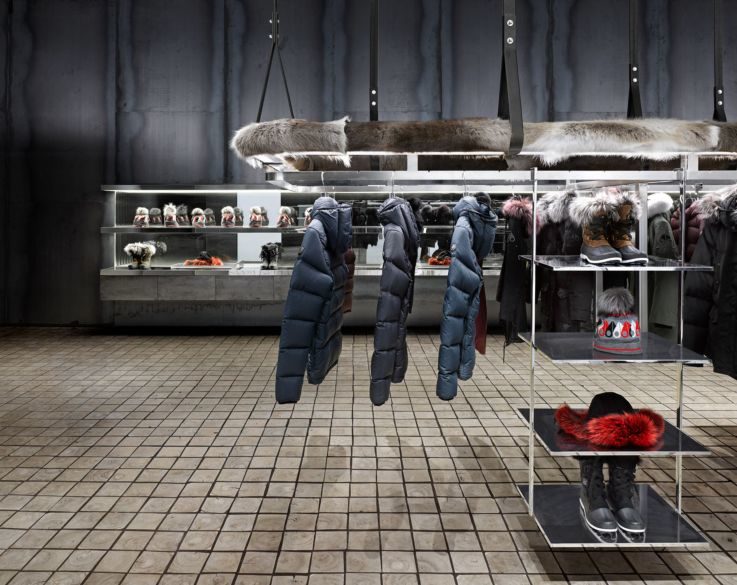 Image credit: Burdifilek
3. Burdifilek (Toronto)
Canadian design studio Burdifilek, founded by Diego Burdi and Paul Filek, creates impressive interiors for brands around the globe. It works across retail, real estate and hospitality and has created interiors for brands such as Brown Thomas, Neiman Marcus and Mackage. The firm focuses on cultural relevance when executing its design which was particularly apparent in the case of the Moose Knuckles store in Toronto. Burdifilek have really set the scene for the winter apparel store with dim lighting, black walls and caribou fur-trimmed rails all designed to evoke a Canadian winter. The materials used in its store designs helps the storytelling of the brands it works with.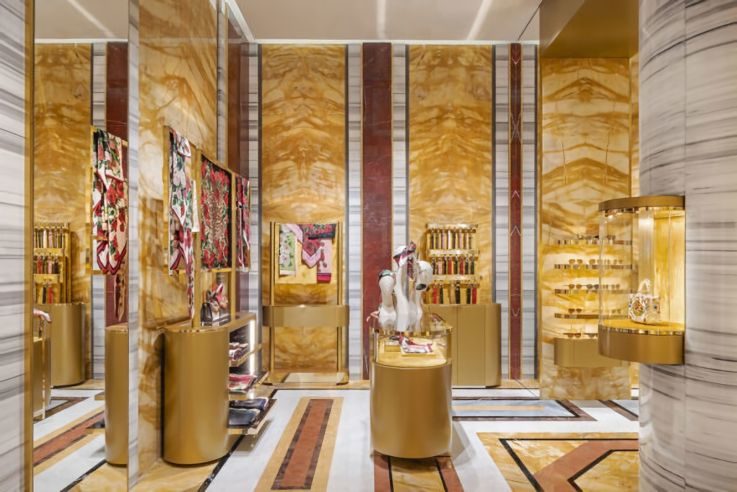 Image credit: Carbondale Design
4. Carbondale Design (Paris)
Carbondale is an architecture office based in Paris with an impressive list of clients. The progressive firm covers projects across urban, architecture and interior architecture as well as furniture design. It is particularly known for working with luxury retailers such as Louis Vuitton, Celine Tag Heuer and BMW. We like how the firm brings to life the history of the brands and their locations within its store designs. The store it has recently designed for Dolce and Gabbana in Rome uses modern materials and digitisation to draw on the baroque heritage which is representative of the brand and of the city of Rome.
5. Ciguë (Paris)
Based in Paris, Ciguë is an architecture and design studio that works across architecture and interiors, artworks and everything in between to create stories it believes in. Some of its projects include Isabel Marant stores in Paris and Seoul, Aesop boutiques in London and NYC and the Saint Laurent store at Dover Street Market in London. We love the way it has referenced Thai culture in its latest Aesop store design in Bangkok – it has featured intricate bamboo screens made by local Thai craftsmen to counterbalance globalised branding.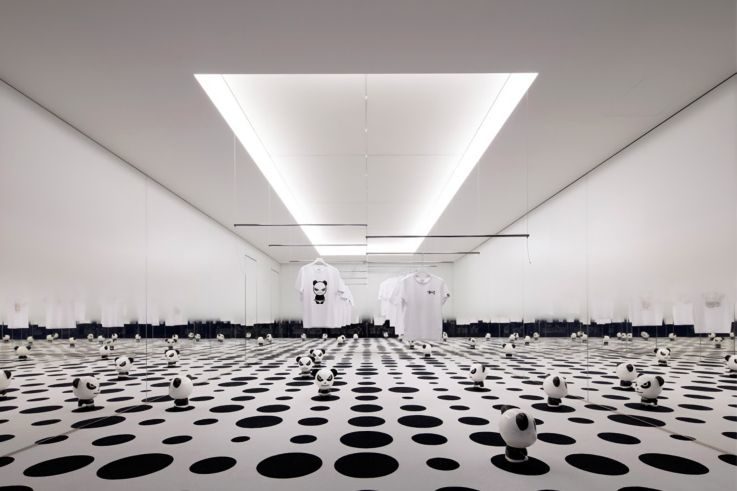 Image credit: Curiosity
6. Curiosity (Tokyo)
Multidisciplinary studio Curiosity, based in Tokyo, was created by French Designer Gwenael Nicolas. It has collaborated with a host of different luxury retailers including Louis Vuitton, Fendi and Dolce and Gabbana to name a few. It places an emphasis on the function of the space with people at the forefront of the design, as well as its aesthetic. Most recently, it has designed Hipanda's flagship store in Tokyo where digital and analogue merge. Architectural elements combine with AR to create an immersive, modern retail experience.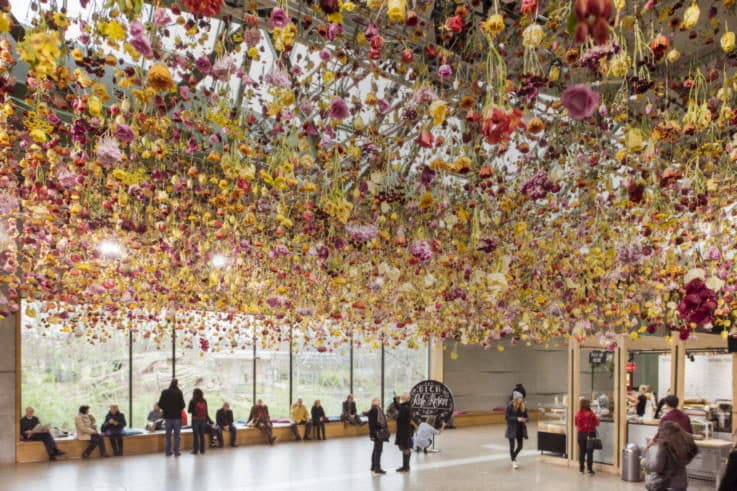 Image credit: Dan Pearlman
7. Dan Pearlman Group (Berlin)
Dan pearlman is a multidisciplinary company with a huge portfolio of retail work under its belt. Based in Berlin, but working internationally, it covers brand campaigns, spaces and strategy. It was the lead agency for the Bikini Berlin concept mall – a pop-up focused shopping centre that's become renowned for its innovative approach.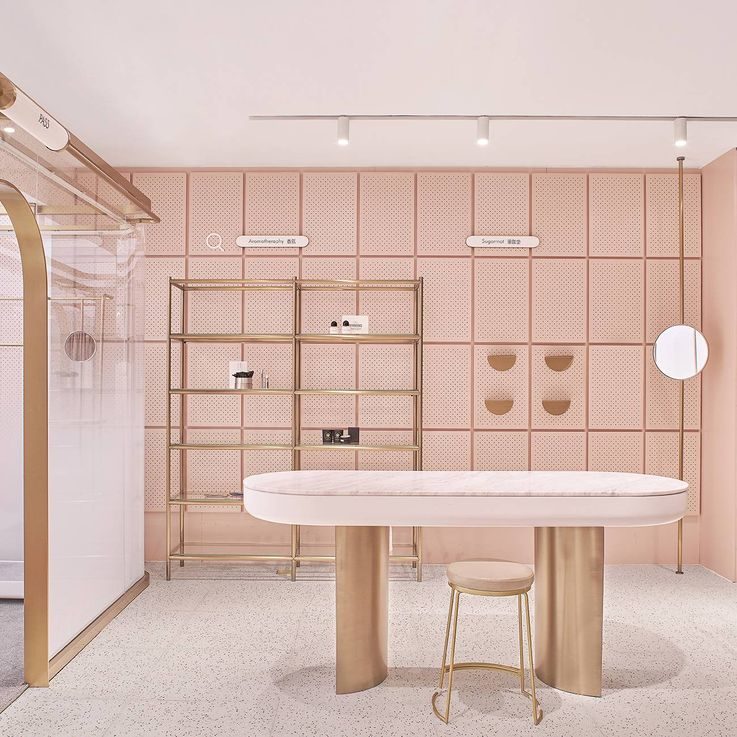 Image credit: daylab studio
8. Daylab Studio (Zhejiang)
Daylab studio is an architecture practice based in Zhejiang, China. It's best known for designing Heyshop in Shanghai, a futuristic store that merges online and offline. The minimalist design allows Heyshop to transform its stock regularly based on data, and includes seven fitting rooms through the centre of the store that can be passed through when empty. This sets the scene for an ever-changing, flexible space that is getting rave reviews for its innovative approach.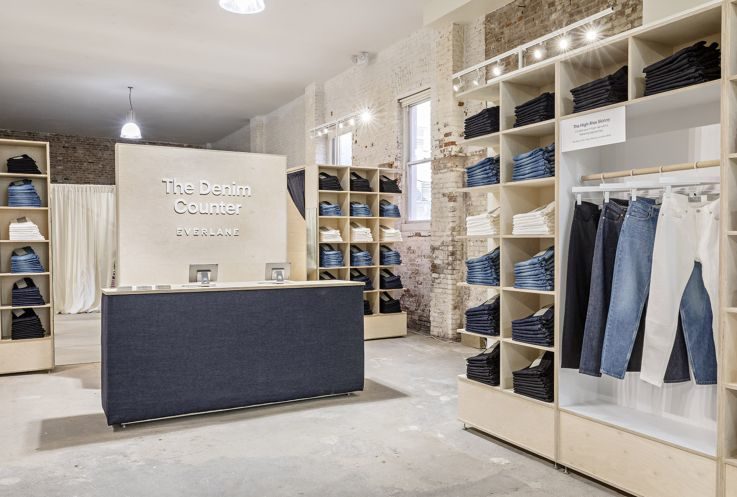 Image credit: Denton-Cardew Design

9. Denton-Cardew Design (LA)
DCD describes itself as a 'collective of creatives'. The multidisciplinary agency works across retail design, event design and brand spaces. Regularly designing for Nike, Adidas and Levi's, we love the way it brings the brand's stories to life. The Everlane Denim pop-up in NYC, designed by the team, was an excellent example of what it's renowned for in telling the story of Everlane's innovatively sustainable practices.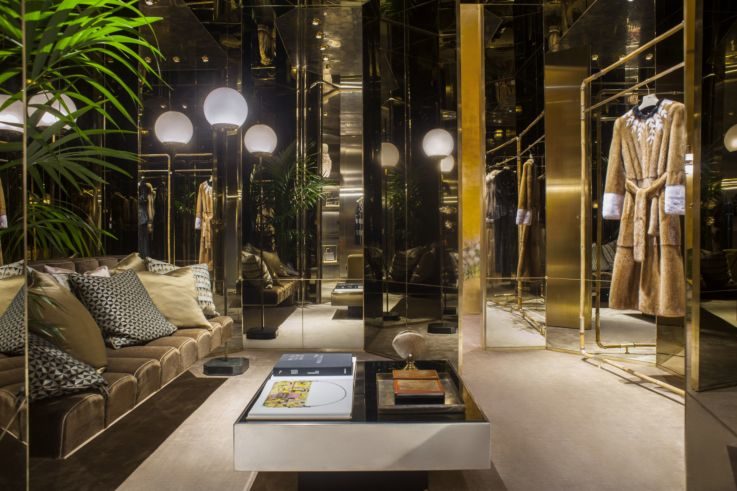 Image credit: DIMORESTUDIO
10. DIMORESTUDIO (Milan)
DIMORESTUDIO was founded in 2003 by Emiliano Salci and Britt Moran. Its designs have a distinctive look; opulence combined with a contemporary feel. It likes to mix old with new and is known for incorporating parts of the original space wherever it can. It works with brands like Hermes and Aesop and whether designing for Oliver Peoples or Fendi, its retro look is instantly recognisable. As well as designing its own furniture collection and fabrics line, it also has a space called 'Dimore Gallery' attached to the studio.
11. FormRoom (London)
FormRoom started out producing window displays for Harrods and Liberty and is now an established international retail design agency offering design, branding and strategy. Based in Shoreditch, East London, its focus is on building an authentic connection with its customers. Notably, it collaborated with Missguided on its first ever store at Westfield Stratford, creating in-store activations for the millennial customer. Its use of impactful installations to create theatre for customers is something it is renowned for.
12. Foster + Partners (International)
Foster + Partners is a global studio with headquarters in London and offices all over the world. Founded by Norman Foster in 1967, it works across sustainable architecture, urbanism and design. We love that sustainability is at the core of its work and how it pledges to make its buildings carbon neutral by 2030. Working for brands such as Apple and Asprey as well as designing the Old Spitalfields Market in London, it is recognised for its glass and steel structures. Its most recent collaboration with Apple is the transformation of the historic Washington DC Library into an Apple store. We think it's great how the historic elements of the building have remained intact whilst producing a really sleek space.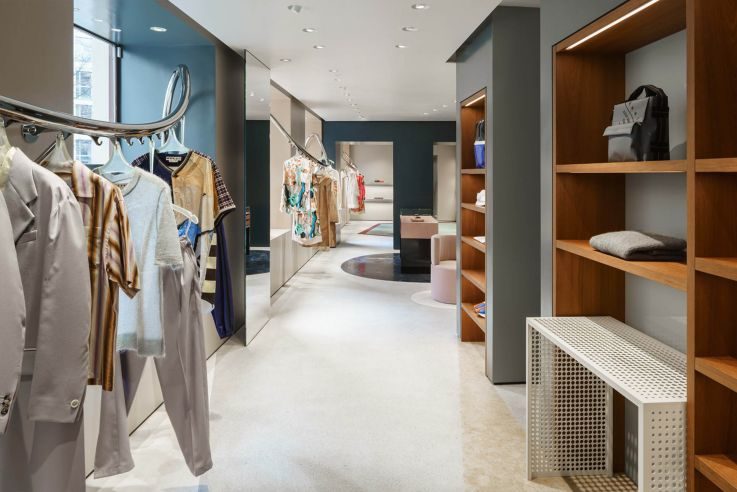 Image credit: Giraldi Associati Architetti
13. Giraldi Associati Architetti (Florence)
Established in 1997, Giraldi Associati has expanded beyond its Florence home to operate a number of branches across the globe. It works across all sorts of different industries but has a special professional partnership with the fashion industry. Its architectural philosophy is rooted in collaboration, as well as a commitment to creating unique projects based on location, culture and purpose. We love its bold store designs for Marni where colour is used to great effect as an accent.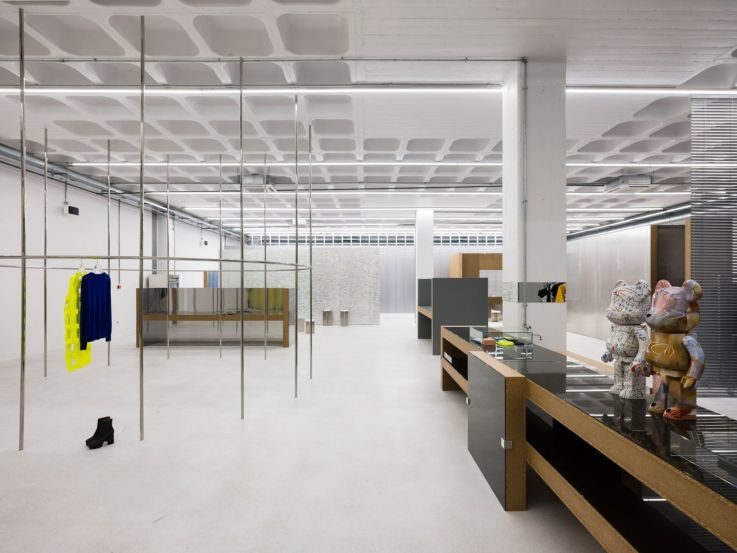 Image credit: Gonzalez-Haase AAS
14. Gonzalez-Haase AAS (Berlin)
Berlin-based studio Gonzalez-Haase ASS works across architecture, scenography and lighting. Founded in 1999, it works on keeping the interplay between light and architecture at the forefront of its designs. We're big fans of its use of raw materials and spatial concepts. Most notably its work on Tem-plate – a fashion oriented concept store – displays the flexible spatial concept that allows the store to re-curate its exhibitions every month.
15. James Plumb (London)
Creative studio James Plumb is based in South London and founded by artists James Russell and Hannah Plumb. It works across interior, event, architectural design and creative direction. It approaches interior design as art work in its own right, creating designs that are sympathetic to their locations. The recently designed Aesop store in Bath, England, is a fantastic example of this – where the architectural landscape of the city has been honoured with the use of Bath stone.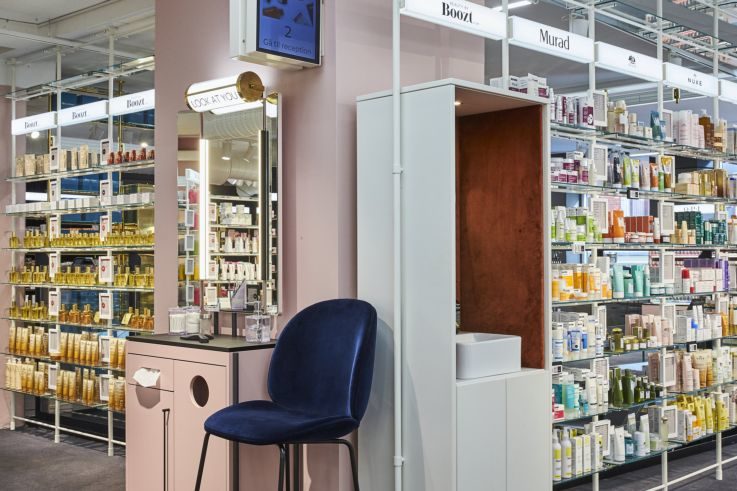 Image credit: Jensen Retail Group
16. Jensen Retail Group (Copenhagen)
Jensen Retail Group is a specialised retail design and advertising agency based in Copenhagen. It was built out of a love of shopping and the physical store remains its focus. From concept development to space planning to furniture design, Jensen helps retailers bring their brands to life. We especially like its concept for Beauty on Boozt.com's Copenhagen store where the design is particularly bold to act as a contrast to the brand's online offering.
17. Kokaistudios (Shanghai)
Founded in Venice in 2000 by Italian architects Filippo Gabbiani & Andrea Destefanis, Kokaistudios is an architecture and interior design firm. Its headquarters are now in Shanghai and it works globally. Its work incorporates the holistic craftsmanship techniques of Venice with the Asian influence of its Shanghai base. It recently designed award-winning concept store Assemble by Réel in Shanghai. The store beautifully reflects city life, taking customers on a journey through a gallery, church and skate park.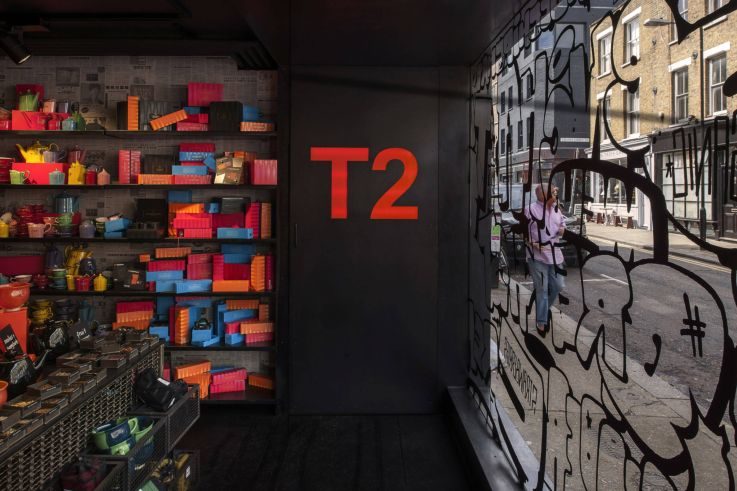 Image credit: Landini Associates
18. Landini Associates (Sydney)
Landini Associates, founded in 1993, is one of the world's leading design consultancies. It is known for 'reinventing normal' with strategically driven work that is creatively led. It works across the disciplines of strategy, interior design, tone and graphic design, amongst others. Its customers include Aldi, McDonald's and Selfridges to name a few. Based in Sydney but working globally, it has recently completed the new T2 store in Shoreditch, London which challenges the aesthetic of typical Britsh tea houses whilst celebrating the art of tea-making. We really admire its bold approach to store design.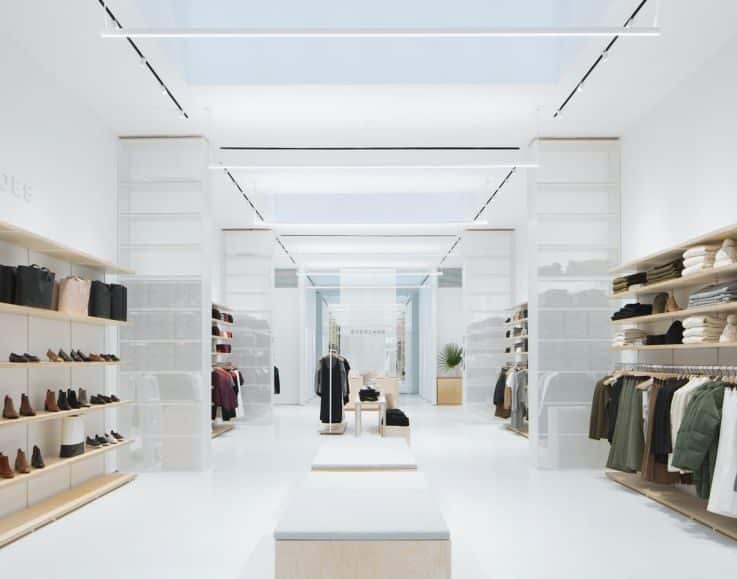 Image credit: Leong Leong
19. Leong Leong (LA/NYC)
Leong Leong is an architecture and design studio with offices in LA and NYC. Set up by brothers Christopher Leong and Dominic Leong, its design approach is to focus on new ways of interacting with each other. Its retail projects include work for Phillip Lim and Everlane's first permanent store. We love how the team have brought Everlane's online identity to life in the space and it's a great example of new ways of interacting with customers.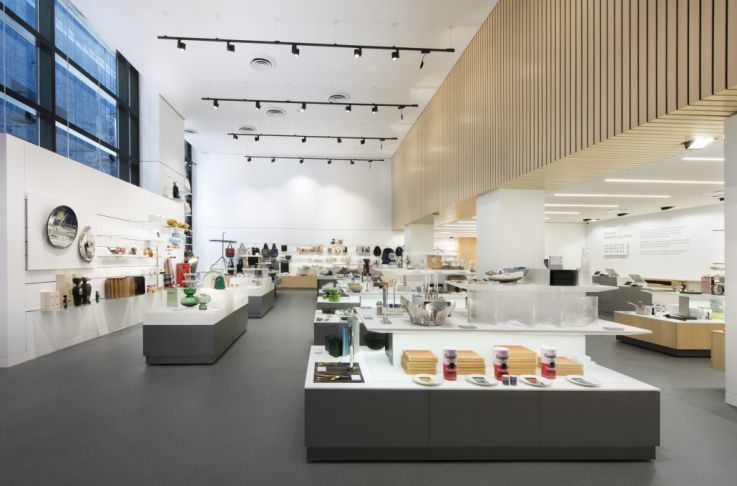 Image credit: Lumsden Design
20. Lumsden Design (London)
Lumsden create one-of-a-kind shops for the arts and culture sector. Founded by Callum Lumsden, its first project was the Warner Bros studio tour. It is now known for designing stores for galleries and museums. Recently it has designed the new MoMA store in Kyoto as well as redeveloping the one in NYC.
21. March Studio (Melbourne)
Australia-based March Studio consists of a new generation of architects. Founded in 2007 by Rodney Eggleston and Anne-Laure Cavigneaux, it focuses on technology but is passionate about traditional processes. It has worked with retailers such as Aesop, Merci Paris and Sneakerboy. We love its use of raw materials in its design, helping to create visually striking installations.
22. RDAI (Paris)
Founded in 1972, RDAI is a group of architects, interior architects and designers that are rooted in the elegant architecture of Paris. It is responsible for designing some of the most luxurious stores on some of the most renowned shopping streets in the world. It recently designed the remodelled Hermès George V store in Paris, as well as the new Hermès store in New York's Meatpacking District. It's great to see how each store takes on a different personality to suit each location, whilst keeping its very distinct style.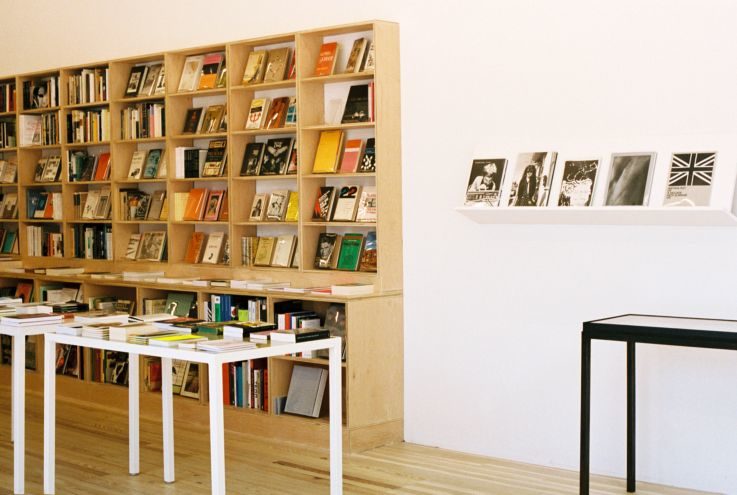 Image credit: Savvy Studio
23. Savvy Studio (New York and Mexico City)
Savvy Studio is a branding and architecture design practice with offices in New York and Mexico City. It recently designed the second location of Mast Books in New York, a much-loved bookstore known for its functionality and simplicity. The design reflects these themes, with a clean, minimalist approach and a trendy look and feel that suits its East Village location.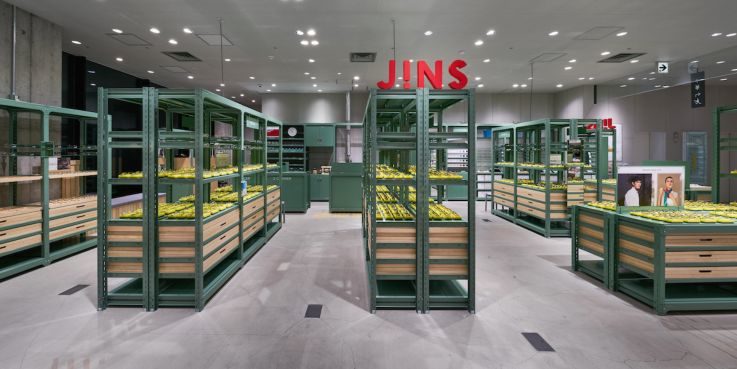 Image credit: Schemata Architects
24. Schemata Architects (Tokyo)
Schemata Architects is based in the Aoyama area of Tokyo and headed up by Jo Nagasaka. His area of expertise ranges from furniture to architecture and he works extensively in Japan as well as internationally. His work has a distinctive Japanese influence as well as a utilitarian style which can be seen in the recent design of the Jins Ginza Loft store. The use of scaffolding and timber displays was illustrated in the design of the Hay pop-up store in a Tokyo basement. We love the use of industrial materials to create beautiful interiors that really compliment the brands.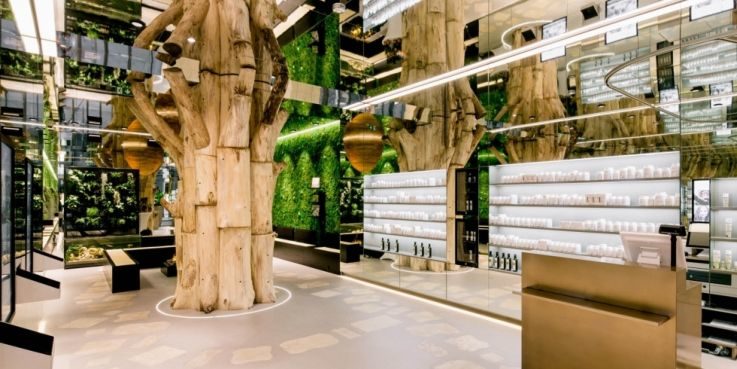 Image credit: Schwitzke
25. Schwitzke (Dusseldorf)
A passion for retail is how architecture, branding and construction agency Schwitzke describes itself. It creates retail spaces that act as brand worlds and places where experiences can take place. Its ABC of services means its concepts are always executable, as well as pushing boundaries. We love its flagship Vienna store for Biogena which uses living walls and a stunning tree sculpture to transport customers into the retailer's world.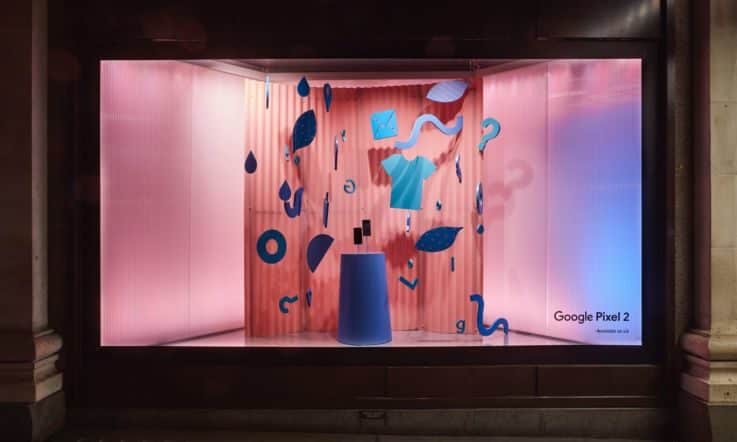 Image credit: Seen Displays
26. Seen Displays (London)
Seen Displays is a creative retail display agency based in Shoreditch, East London. It has worked on window displays for Selfridges, including the launch of the Google 'Pixel 2' smartphone and the 'Home Mini' smart speaker, as well as the Tech Pack display in London's NikeTown. We really admire how each display captures the essence of the brand. In the recent collaboration with Converse on its Renew Launch event, it used recycled materials to support the message behind the launch of the recycled line of sneakers.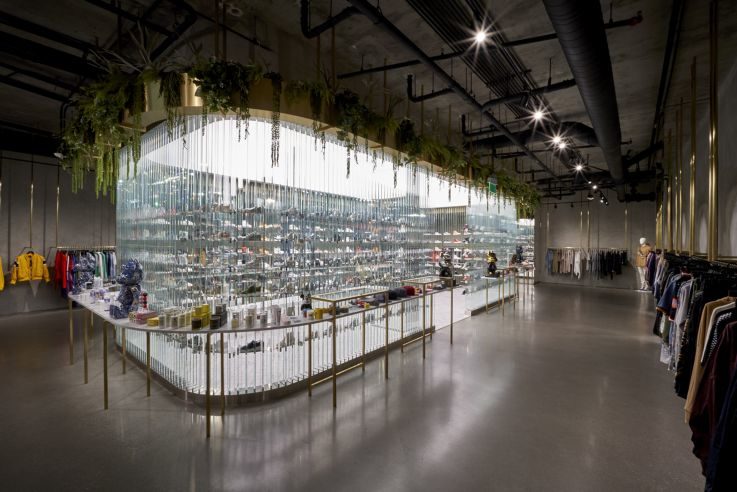 Image credit: Snarkitecture
27. Snarkitecture (New York)
Snarkitecture is a collaborative design practice based in New York. Its work consists of large-scale projects, installations and objects whilst focusing on re-imagining everyday materials. Its approach is centred around the importance of experience and engagement which we are big fans of. Some notable projects are the Kith stores in New York and LA where sneakers are used as part of the installation, and Valextra's pop-up in Milan which explores the relationship between art and architecture with an impressive outcome.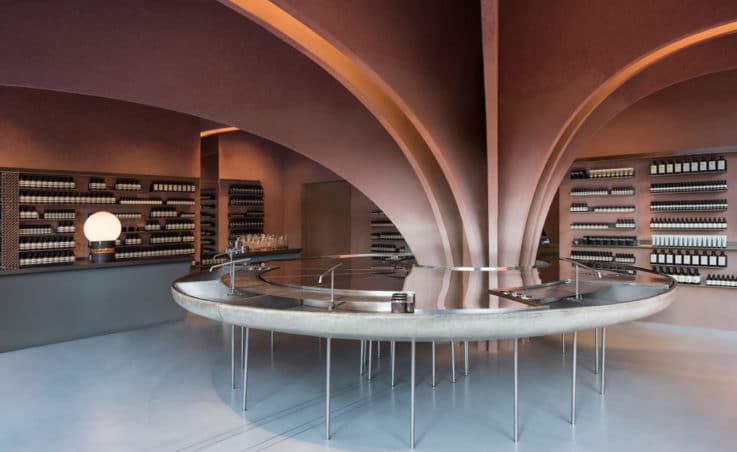 Image credit: Snøhetta
28. Snøhetta (International)
With studios in Innsbruck, San Francisco, Paris and Hong Kong as well as offices in Oslo and New York, it is safe to say that Snøhetta is an international agency. It is a collaborative architectural and landscape workshop and it provides the same care and attention to its projects no matter how big or small. Its futuristic designs always grab our attention, and mix well with contextual elements that make its spaces feel minimalist and natural. The design of the Aesop store in Duke of York Square is a particular favourite.
29. Storage Associati (Milan)
Storage Associati is an architectural design firm based in Milan. Launched in 2001 by founders Barbara Ghidoni, Marco Donati and Michele Pasini, it works across architecture, architectural design, interiors, furniture design and industrial design. We're big fans of the work it does with classical architecture, particularly the recent design of the Bally showroom in Milan with its use of luxury materials and branded lighting that paid homage to the building's dramatic history.
30. Storeage (International)
With offices in the US, Europe and Asia, Storeage is a major, global player in the world of retail design agencies. It's a multi-faceted agency, working on everything from architecture and pop-ups to digital and advertising. Recent projects include designing stores and concepts for Coca-Cola, Sonos and T-Mobile US, among others. It has a strong reputation for its flexible approach, helping brands to innovate through shop-in-shop designs, one-day pop-ups and brand activation events, as seen recently with Converse's 'One Star Motel' – the re-launch campaign for Converse One Star.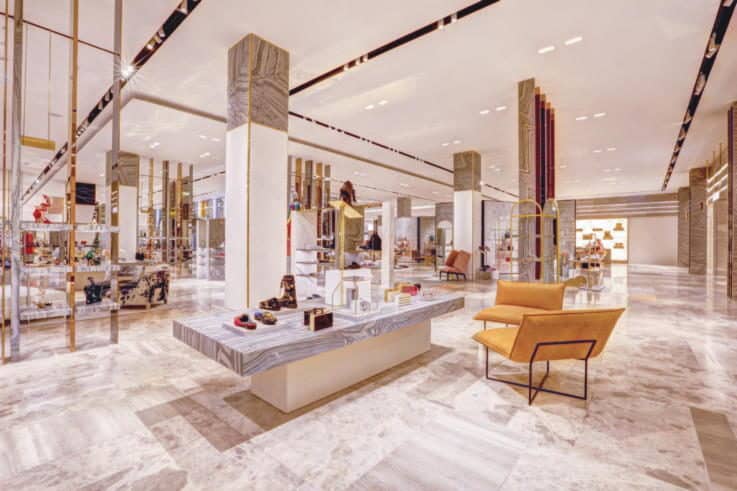 Image credit: Studio Four IV
31. Studio Four lV (London/Brighton)
Studio Four lV is a boutique design agency working out of London and Brighton and carrying out work internationally. It specialises in interior design, architecture and branding. It designs for leading luxury brands such as Harvey Nichols and Brown Thomas as well as high street giant M&S. TIt is known for blending luxurious materials with bespoke finishes but also bringing a fresh contemporary look to its designs.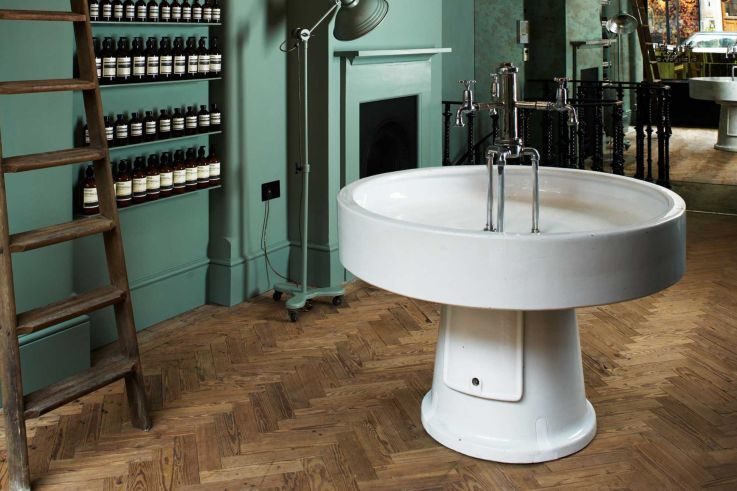 Image credit: Studioilse
32. Studioilse (London)
Studioilse, founded by Ilse Crawford and run with her multidisciplinary team, is based in Bermondsey. With a focus on human behaviour the agency has carried out projects for Aesop, Cow Shed and Anya Hindmarch to name a few. We're big fans of how it manages to translate the personality of the brands into their physical retail spaces.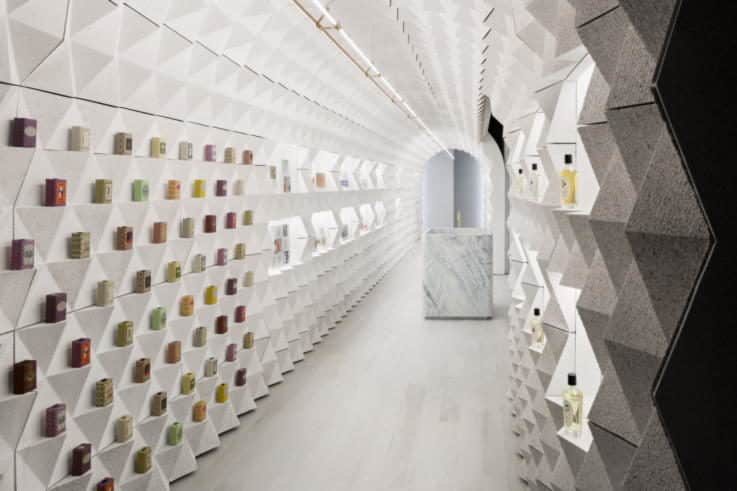 Image credit: Tacklebox Architecture
33. Tacklebox Architecture (New York)
Brooklyn-based architecture studio Tacklebox is known for creating timeless designs set within unique environments, including six of Aesop's most iconic spaces. We think it's great how it uses emerging artists and manufactures to embrace new methods of working. It also uses subtle touches to enhance brand storytelling as can be seen in the Claus Porto boutique in New York, which uses Portugese materials and craftsmanship to create an authentic setting for the retailer.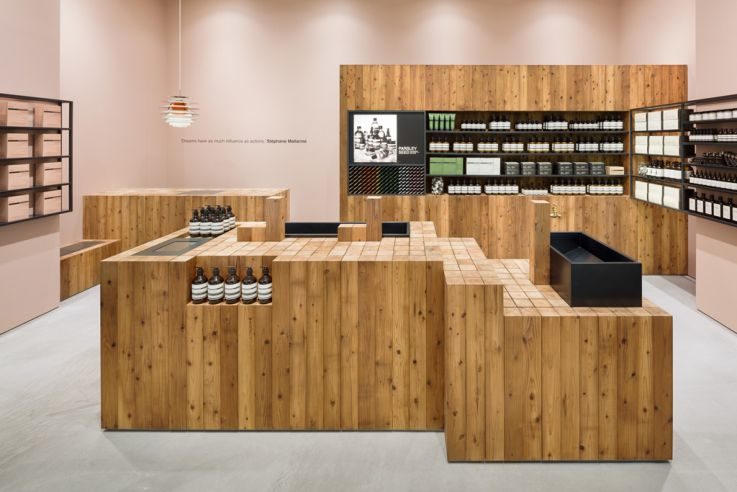 Image credit: Torafu Architects
34. Torafu Architects (Tokyo)
Torafu Architects was founded in 2004 by Suzuno Koichi and Kamura Shinya. It works across architecture design, interior design and space installation. Having designed five Aesop stores, you can see its distinctive style with a hint of similar materials used in each whilst having individual designs. We're a huge fan of the Aesop store in Osaka where Japanese cedar wood has been used to create a 'warming effect'.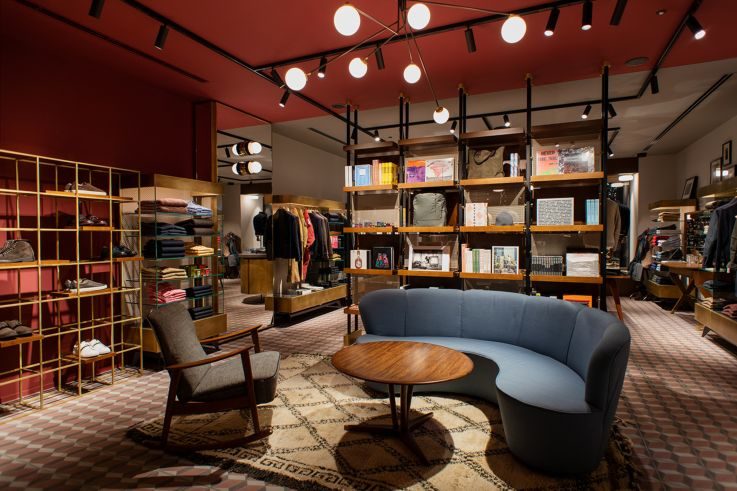 Image credit: Visual Display
35. Visual Display (Udine)
Creative company Visual Display specialises in branding and interior design. Its focus in on creating unique spaces that make people feel good – and a result want to spend time in. We're big fans of its design for Slowear Venezia's Tokyo store which furniture in a really effective way to make all sorts of focal points that encourage you to stay a while browsing. We also love the multifunction nature of the counter.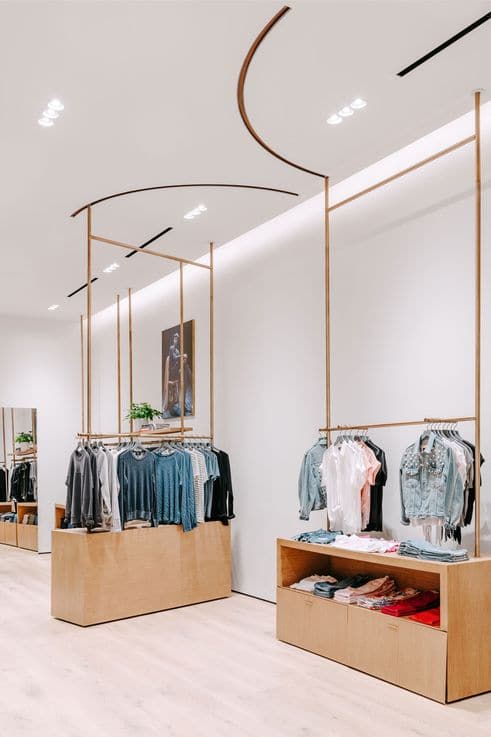 Image credit: West of West
36. West of West (LA & Portland)
West of West is an architecture and design studio operating from Portland and LA. Renowned for innovation, it recently designed 7 For All Mankind's impressive new store in LA. The design featured a denim archive on one side and a movable display system on the other, giving the retailer a powerful way to rotate and showcase its huge range of stock.
37. WorkShop (Stockholm)
Workshop is a full service retail agency established in 1979. It has offices in Stockholm, Amsterdam, Helsinki, Oslo and Copenhagen. Its services include retail concepts, communication and marketing as well as strategy and insight. The agency has worked across a number of retail pop-ups as well as window displays for Nespresso. The way it uses eye-catching designs to draw the consumer off the street is really impressive.
38. X+living (Shanghai)
Shanghai-based architectural firm X+living was founded by Li Xiang in 2011. Working across architecture and strategy Li also established a furniture brand, Xiang Casa, to ensure spatial integrity in her designs. We love how Li incorporates cultural references into her designs to honour the locations she is designing in. In a bookstore in Chengdu, China, she created a 'bamboo forest of bookshelves' and the lecture hall within the store has been designed to look like 'terraced fields'.
Find more inspirational retail design companies in our previous top 50 retail design agencies roundup. To visit innovative spaces like these yourself, get in touch to find out more about booking your own retail safari.