Tech
50 innovations from outside the retail industry that should inspire retailers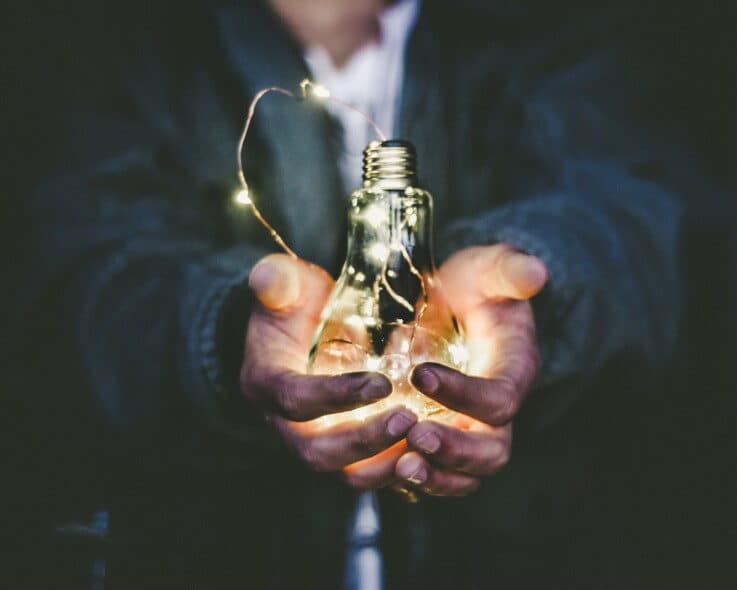 Innovations are born each day, but how to apply them is another story. In this feature we take a look at the top 50 innovations from outside the retail industry that might just shed some light on what's next for retail.
See how diverse industries from communications, hospitality, entertainment, festivals, food service and transport are harnessing new innovations and capitalising on new apps, softwares, inventions and technology – and what these might mean for retail.
1. Ori Robotic Systems by MIT
Design agency Fuseproject, in collaboration with MIT University have developed a robotic furniture system called Ori that seeks to maximise space within small-footprint city homes. The system can switch mode according to whether you are in need of a lounge space, a sleeping space or an entertaining space. As retail spaces are increasingly hybridised (but not necessarily increasing in size), such modular systems might help retailers transform their spaces from sales space to workshop space to showroom space.
2. TBH App
TBH app has been downloaded over five million times since August and has since been acquired by Facebook. Focused on Gen Z, it is an anonymous commenting app where users send messages to their friends in response to positive-answer inducing questions. An attempt to turn-around some of the negative communication that proliferates on the web, and the link between social and mental health – how will retailers start to contribute to this new movement?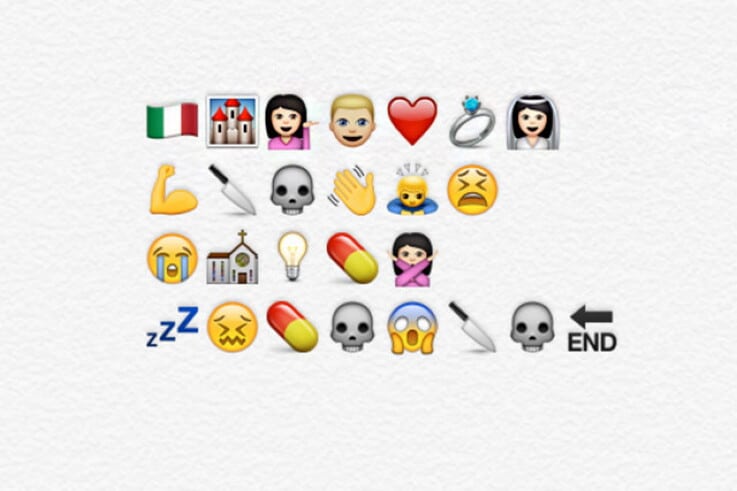 Image Credit: The story of Romeo and Juliet told in Emojis © ROH/Chris Shipman, 2015
3. Royal Opera House x Emoji Day
The Royal Opera House, London is experimenting with novel ways to reach new and younger audiences. For #WorldEmojiDay, the institution partnered with Twitter to recreate some of its most popular ballet and opera stories using emoji as the 'language'.
This evolved into a competition inviting members of the public to guess which stories were being depicted. Brands should continue to harness emoji as a legitimate form of communication, especially across international markets.
4. Estée Lauder x Google Assistant
Bespoke beauty arrives in-home in the form of Estée Lauder's Nighttime Expert App delivered via Google Assistant on the voice-activated Google Home device. Using a chat-based Q&A exchange, the app will deliver a bespoke evening skincare routine for users.
The 'exchange' culminates in a call to action driving users to store to try the Advanced Night Repair Synchronized Recovery Complex II serum for free at an Estée Lauder counter.
With debates and controversy surrounding invasive listening, any voice assistant innovations need to be handled with care. However, the technology could be deployed at choice decision-making moments where the customer may actively be soliciting advice and recommendations – empty fridges or end-of-tube beauty, could be a core time to deliver sales messages.
5. Stranger Things x Snapchat x Shazam
In a triple channel collaboration, Netflix partnered with Snapchat and UK-based music identification app Shazam to bring the new series of Stranger Things to life. Users download the app, then on 'hearing' the Strange Things theme tune, open up Snapchat to gain an 'insider' look at the Byers family living room (key characters in the story) via an AR lens. This is a great example of building your own Software-Of-Things platform that 'talk' to each other to release content or sales messages. How could you link a Spotify playlist to a shoppable ad? An interactive video with AirBnb?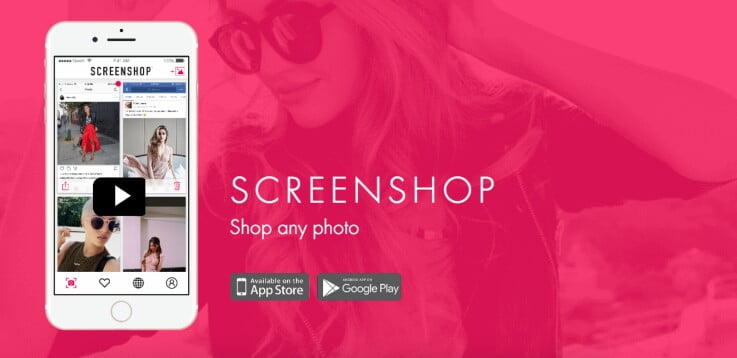 Image credit: ScreenShop
6. ScreenShop
An evolution of the increasingly popular Image Search function, on downloading the ScreenShop app, users are invited to take screenshots from any websites/ app/ social site and use them as a basis for search. The app recognises the item in the screenshot and pulls in similar items from e-tailers, across a range of price points. Asos, Topshop, Boohoo, Kanye West's Yeezy, Saks Fifth Avenue and Forever21 have already joined the service. Whilst this is already a retail application, retailers should consider upping their image search optimisation in the new year.
7. Pringles' Mr P
A new frontier in communications will be customised advertising material that targets the nuances of your audience. Pringle launched Mr P (based on the recognisable packaging character), a chatbot for Facebook Messenger that generates personalised music videos for users.
Users input details of their favourite genres of music and upload film footage of their dancing. The bot harnesses related imagery from Cloudinary to remix and create a completely unique video. As chatbots and text-based customer service takes off, 'dark social' platforms can offer engaging and 'safe' spaces for users to share more personal content.
8. Spider-Man: Homecoming x Dell
With OOH advertising at a premium, it has to work to prove its (costly) worth. Brands and retailers should continue to explore how to turn these opportunities from adverts to brand moments.
Promoting the release of Spider-Man: Homecoming in the US, Sony Pictures teamed up with Dell computers and outdoor advertising company Kinetic to create a mobile-phone based game for passers-by. Using the mobile handset as a games console (via a website), street players were invited to race Spider-Man characters up two digital billboards stacked together. Omni-channel is truly becoming 'every-channel' with web, mobile, in-store, OOH and influencers connected.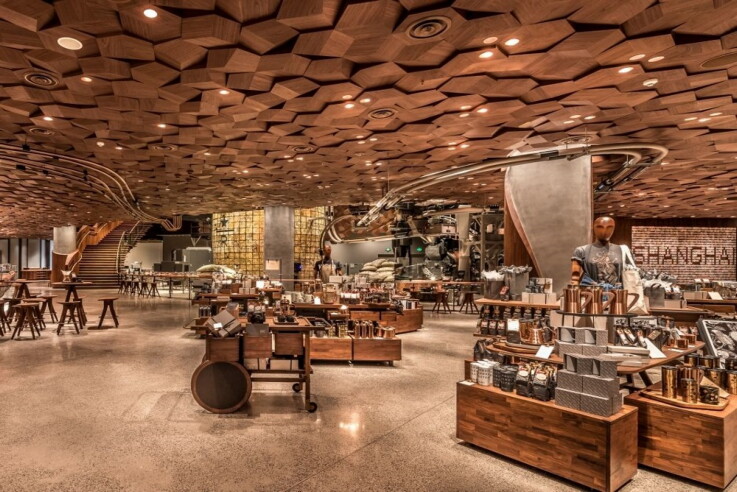 Image credit: Starbucks
9. Starbucks AR Coffee Tour
As mobile phones become more AR (Augmented Reality) compatible, we'll see retailers bring more storytelling to life through the screen. The new Shanghai Starbucks store for example will feature different hotspots in store where customers can learn more about the coffee brewing process and production through AR.
10. Facebook Facial Recognition Tech
Another innovation to consider and apply with care, Facebook is reportedly set to roll out a facial recognition technology, via store cams, that will provide sales staff with customer information from their social profiles. The intent is to create a hyper-targeted service that not only gathers information about their preferences but, 'detects' their mood as well. The technology could offer consenting customers the kind of first-name-basis care proffered to high-net-worth individuals and luxury customers.
11. Lowe Vision x Google Tango x Lenovo
How to bridge the gap between an online search and a real-life find? American homeware brand Lowe partnered with Google's AR technology, Tango to help customers navigate and find specific products in its stores.
Using the Lowe's Vision app, customers search for items on their phone, which then overlays the screen with directional arrows, pointing to the correct location in store. The technology combines camera lenses, motion tracking, area learning and depth perception to provide an accurate service. Retailers could deploy this technology to assist time-poor shoppers in quickly locating specific items.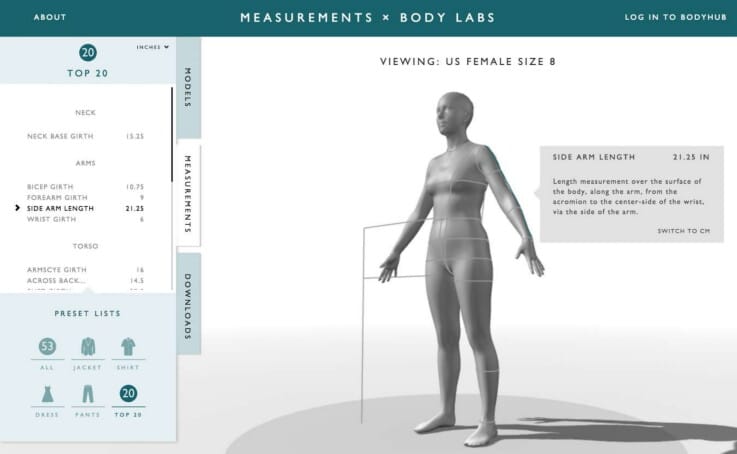 Image credit: Amazon
12. Amazon Body Labs
AI's are becoming 'stars' in their own right – and functional to boot. Following the bold casting of Lightning (of computer game Final Fantasy fame) for Louis Vuitton and Alex Hunter (of EA Sports FIFA 18 fame) for Coca Cola, we'll start to see more AI 'avatars' appear at retail.
Amazon recently acquired Body Labs, a company that creates true-to-life 3D body models that can be deployed for multiple uses wherever a 'human' stand-in is needed. This could be for advertising or perhaps size-testing – imagine if a customer could add their real dimensions to an avatar and test in real time.
13. StubHub Seat Preview
A timeless consumer anxiety and frustration is purchasing tickets to concerts and sports games with no clue of the view. StubHub is hoping to combat this through a Google Cardboard VR app that helps fans preview their seat selection before they buy. This 'honest' approach to sharing the view with the audience will result in less detractors and less negative feedback come game day. At retail, VR will help immerse customers in different scenarios – imagine being able to test run that dress at a party, in store.
14. Domino's x IFTTT
Domino's has announced a partnership with app connecting/ IOT platform IFTTT (If This Then That) to add helpful service features to the pizza ordering process. Connecting to existing smart home technology the team-up enables clever actions such as automatically turning the porch light on so the delivery person can find your home or emailing friends to come over. Considerations for retail will be how to use platforms like IFTTT to connect e-commerce services to increasingly smarter homes. The lights could change when your order is out for delivery and so on.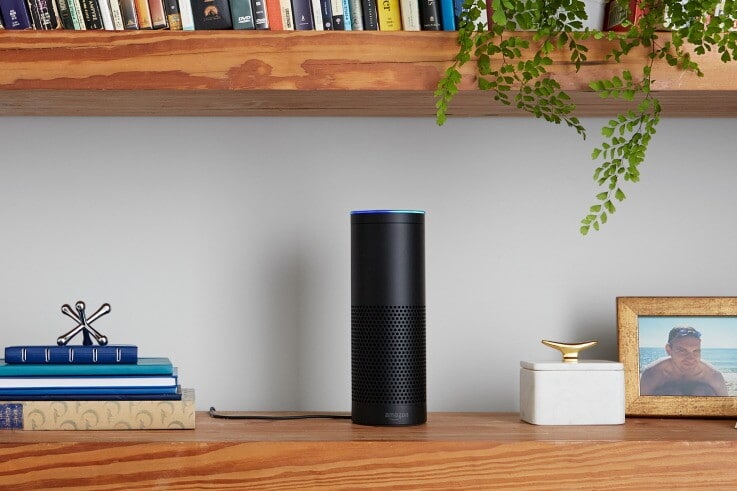 Image credit: Amazon
15. Amazon Alexa
According to Line Global and Rakuten research, the amount of consumer products bought by Amazon Echo owners increased by 6% between the second and third quarters of 2017. The upswing is particularly noticeable in FMCG and everyday items. In 2018, the development of voice-assistant apps for retail will accelerate. Functions on such apps will include re-orders, recommendations and delivery notifications.
16. Google Maps Parking Location
A functionality to connect you with e-tail and 'beacon' technologies, the latest Google Maps update includes an option to save your parking location. This feature is an extension of the automatic parking detection feature, which is operated only with the Bluetooth in your car.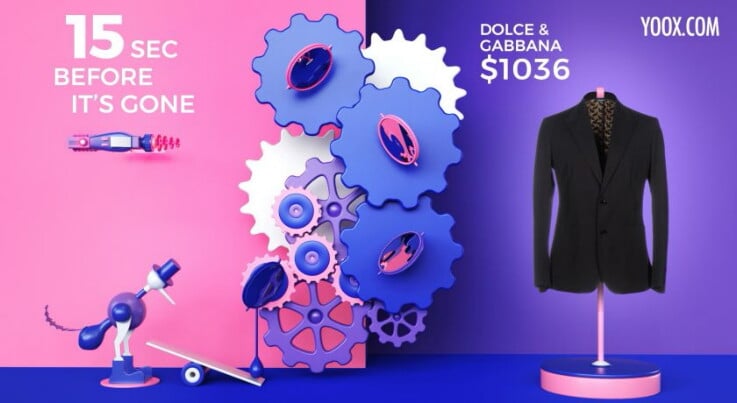 Image credit: Yoox
17. Yoox x Google Ads
In a twist of fate for the much maligned advertising banners, Stink Studios have experimented with Yoox and Google to bring shoppable preroll ads that give you 15 seconds to buy before they disappear. Stink Studios used RITA, its proprietary real-time video cloud rendering platform, to integrate each item for sale into an animated video, making each preroll ad unique. With online media spend in a state of flux, retailers can re-think ways to bring entertainment value or special offers to their ad banners.
18. New Museum Live
If a retailer isn't already streaming their quality content to audiences, they should be in 2018. As a great recent example of live-streaming in action, The New Museum in New York commemorated its 40th anniversary with a stream that invited members of the public to view the gallery's artworks from satellite locations such as Times Square, Hotel Indigo, The Sweatshop and 120 Wall Street. Ready-made technologies from Facebook Live to Instagram Live and Snapchat make it easier for retailers to get instant, international coverage of their in-store activations within a few swipes.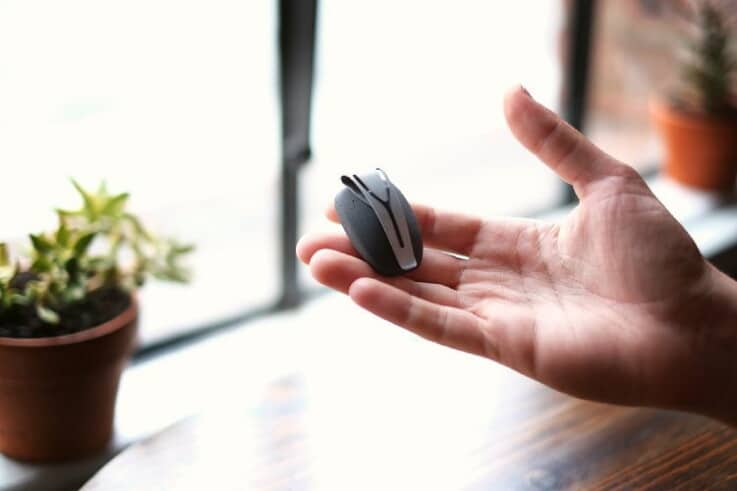 Image credit: Spire Wearable Technology
19. Spire Wearable Technology
We're beginning to see wearables detach from the body and integrate into the fabric of our lives – literally. Spire is a semi-permanent health and fitness sensor that wearers attach to exercise clothing they wear most often. It last for 1.5 years, requires no recharging, is water- and heat-resistant and machine washable. It tracks metrics such as sleep quality and heart rate supported by a smartphone app. It can't be long before these trackers evolve to collect broader streams of opt-in data including washing frequency, areas of wear-and-tear and location – offering valuable insight for retailers to respond to.
20. Ocado automated warehousing
UK-based online supermarket Ocado is optimising its order fulfilment and stock replenishment using an innovative automated warehouse technology system. Operating alongside 'real' employees, the collaborative system can currently fulfil a 50-item order in under five minutes – the equivalent of around two hours' worth of 'human time'. As delivery time is shaved close to instant (thanks to Amazon pressure), retailers will need to innovate with rapid delivery systems – check out our ShopTalk listings report here.
21. Klue App
Building on the trend towards evolving 'wearables', Klue is a solution for 'behavioural change'. The current iteration is wrapped around the wellness market. The app tracks consumption habits by monitoring hand movements and alerts the user when they need a hydration boost, when they need to report their hunger levels or even slow down if eating too fast. The app is compatible with a range of existing wearable devices. For grocery retailers, partnerships with apps like Klue will offer personalised, actionable consumer insight.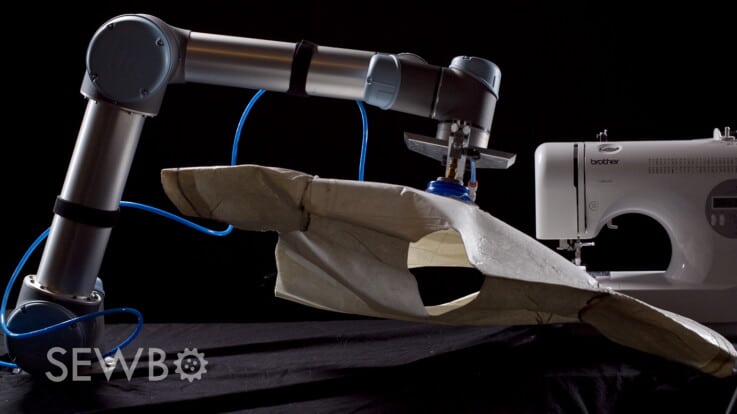 Image credit: Sewbo
22. Sewbo automated clothing
Full clothing manufacturing automation is on the horizon. Technology start up Sewbo has successful managed to create a t-shirt with zero human intervention via a series of pre-programmed instructions. Such innovations could pave the way for sew-on-demand for retailers mitigating stock waste and distribution time down the line. Hinting at a more sustainable future, clothing could be created local to market.
23. TILT reading app
The majority of e-commerce sites are now designed for mobile viewing, now the focus is on optimising user ergonomics. Apps like TILT for example enable users to read long-form texts (currently only available on Medium) without the need to touch your screen and constantly scroll down. As the name implies, users need only tilt their screen making for a less disruptive reading experience that can be read, for example, whilst standing with one hand on the handrail on a commuter train. At retail, think about modifications to the current click and swipe system that might help maximise navigation of your e-commerce site on the go.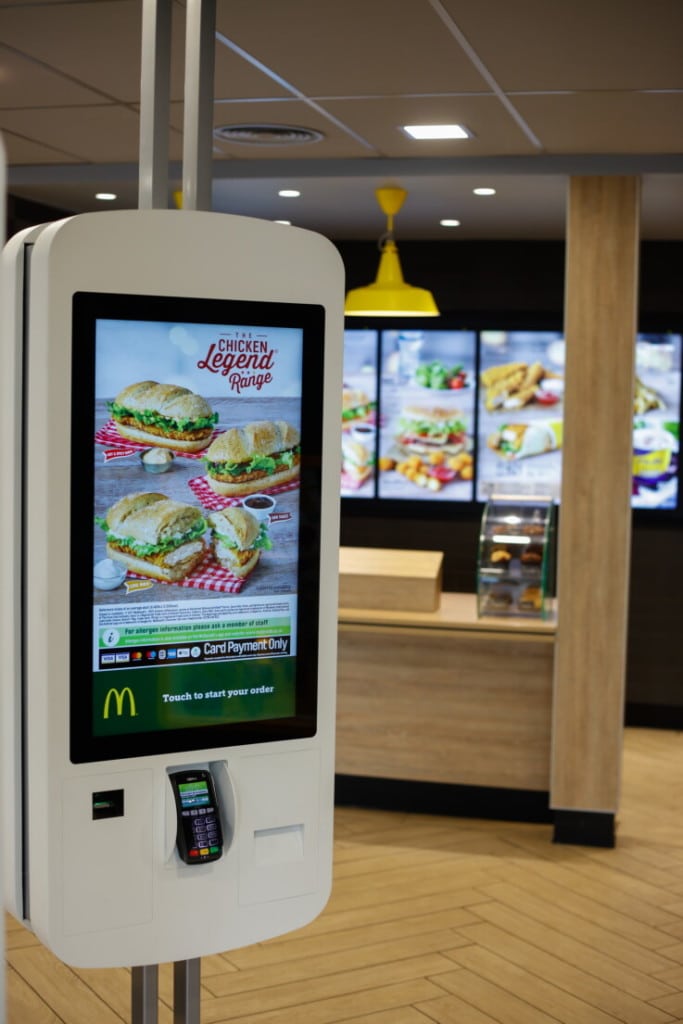 Image credit: McDonald's
24. McDonald's Menu
More items on the menu means a slower fast-food service. McDonald's has counteracted this issue with a radical move to digital self-serve stations whereby McDonald's staff bring customers order to them while they wait. The digital screens open up more opportunities for customers to personalise their order and check nutritional information. Retailers selling grab-and-go items or providing in-house services (such as styling consultations, beauty appointments) would benefit from similar touch screen ordering systems.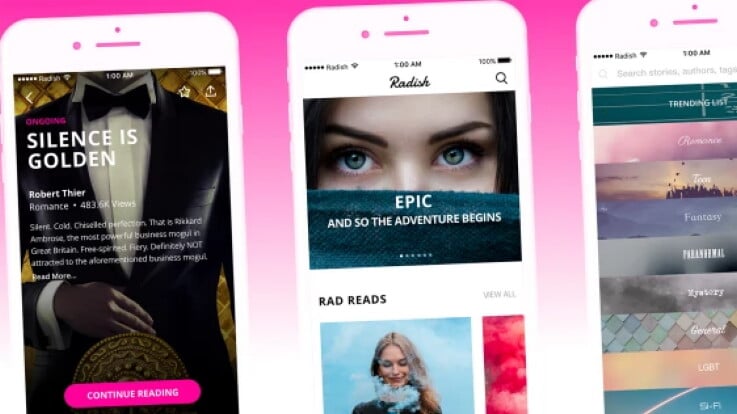 Image credit: Radish
25. Radish Serialised Fiction
Radish is a serialised fiction app that operates a micro-payment system similar to online games like Candy Crush. Anyone can sign up for free and preview the first few chapters of any book by one of Radish's 700 authors. However, should they wish to continue reading they will need to pay between 20-40 cents per chapter, or wait for them to be released for free a few weeks later. The top author currently earns $13,000 a month. As brands and, by extension, retailers continue to move into original content production, models such as this will not only create an on-tenter-hooks engagement but generate additional income.
26. W Hotels Apple Watch App
Smart watches are yet to hit critical mass but there are still some great examples of context-aware apps that truly provide value over gimmicks. The W Hotel app displays handy information such as the hotel address, check-in and -out dates, room number and most importantly – a door key function when held against a lock. No more digging around in luggage for paperwork or trying to find the right email on mobile. This will no doubt gravitate to services like automated click-and-collect.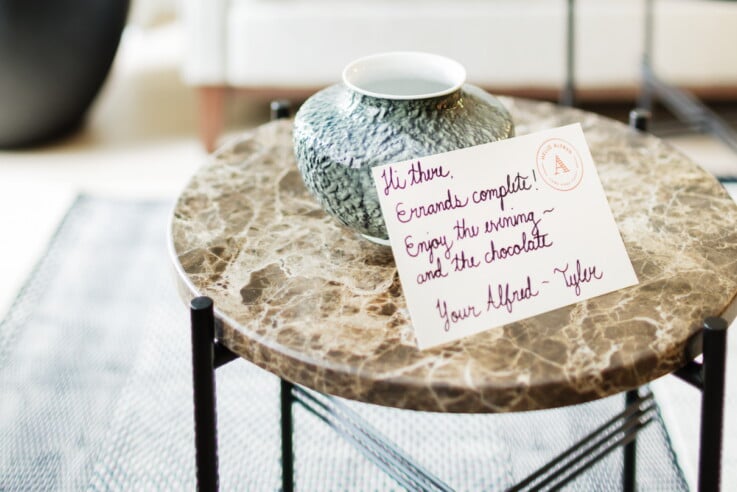 Image credit: Related Companies
27. Related Companies everyday concierge
Convenience and discretion are two key components for great customer service. Real Estate firm Related Companies has partnered with concierge app Hello Alfred to offer all rental customers a next-level care service. Via a customised platform called Life Simplified, residents will be able to access benefits such as grocery shopping, kitchen stocking, laundry and of course cleaning.
28. Netflix Hotline
To mark the release of Netflix' original movie Bright the team have created a unique toll-free 'hotline' where fans dial 1-844-SEE-BRIGHT to interact with characters and content from the film. First users hear some basic information about the film, second users dial various number combinations for star content including a pep talk from Will Smith or meditation from Joel Edgerton. For retailers already operating their own chatbots/text initiatives, this is the next level in terms of offering your audience opportunities to 'interact' with your ambassadors and influencers.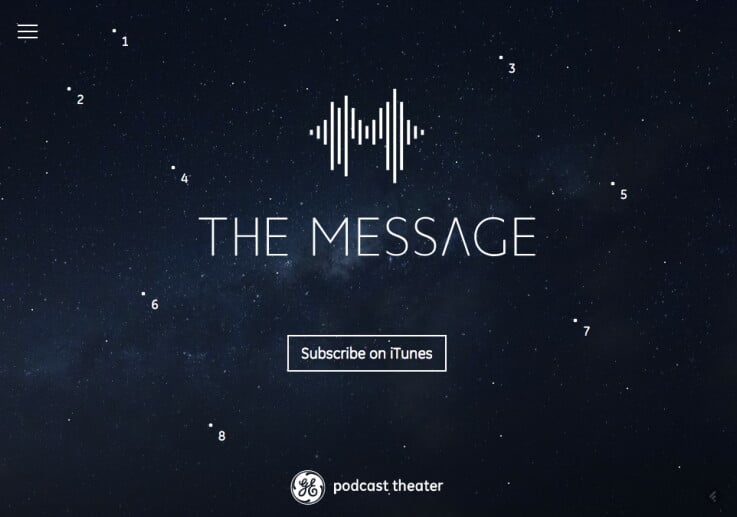 Image credit: General Electric Podcasts
29. General Electric Podcasts
Following on nicely from #27, General Electric were amongst the first to use a branded podcast, giving consumers a contact point through quality content. Inspired by their 'GE Theatre' sponsorship of yesterday, the energy giant launched an 8-part sci-fi 'documentary' around a transmission from outer space called The Message that went on to top the iTunes charts. Capitalising on the consumers off-screen time in between commutes or whilst cooking via podcasts or another sound-related content is a key opportunity.
30. Polestar Luxury Automotives
Proving that luxury as we know it has seismically shifted, Polestar is a post-ownership approach to the world of automotives. An off-shoot of Volvo, all cars are ordered online and offered on a two- or three-year subscription basis. There is zero deposit and pick-up and delivery for servicing is included in the monthly payment. We've witnessed similar innovations in fashion with initiatives like Rent The Runway. Retailers working within the technology and household gadget sectors could benefit from similar models.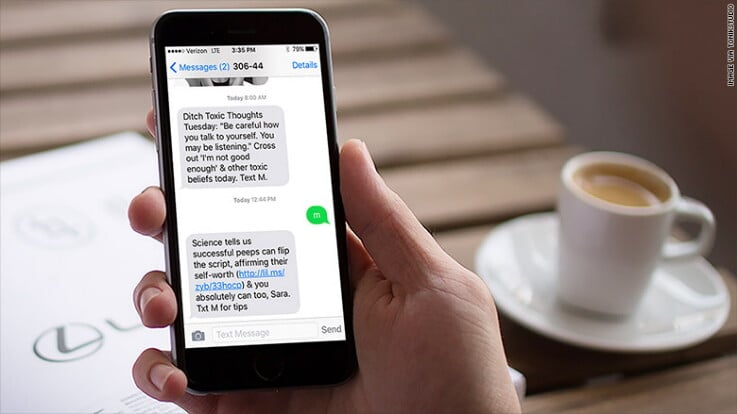 Image Credit: Shine app, Photo by Tonkstudio
31. Shine Motivation Messages
A combination of messaging-based communications and the movement towards more positive social media interaction, Shine is a text-messaging service that sends 'a daily text to help you thrive'. Users receive quotes, articles and actions every week day. Users that refer 10 friends receive goodies in return. Retail communications will need to evolve to add positive value in favour of pure product advertising.
32. Coachella Cashless
As Amazon beta-tests its select-and-go transactionless store, we're seeing less and less cash exchange hands. In a bid to combat deep queues, reduce monetary theft and increase sales festivals like Coachella are moving to accept mobile wallets on smartphones and smartwatches via Apple Pay, Android Pay and Samsung Pay and POS technology, Square.
At retail we'll see the cash desk decline in favour of hand-held units and self-service.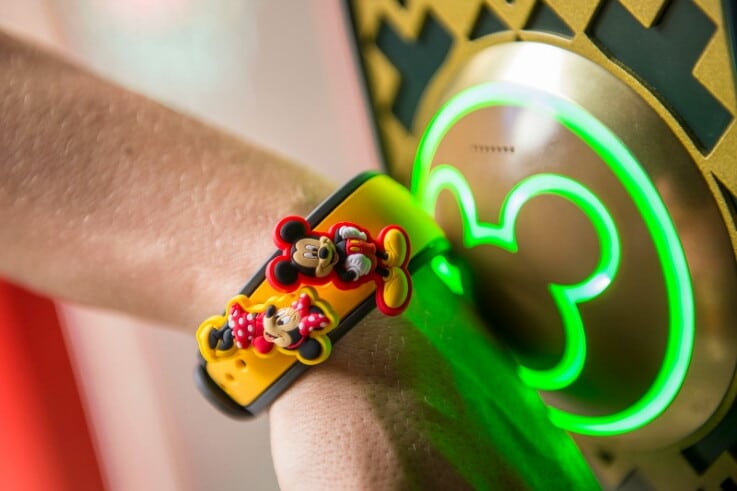 Photo credit: Walt Disneyworld (Matt Stroshane, photographer)
33. Disney Magic Band
A classic example of added-value consumer experience is the Disneyworld MagicBand. Available in card format (for grown-ups) or collectible smartband form, MagicBand enables park-goers to obtain FastPass+ entrances on rides, unlock their hotel room door; make restaurant reservations and more. At retail, the traditional 'loyalty card' scheme needs to evolve to include helpful functions such as an in-store RFID reader or returns scanner.
34. Aspiration Bank
Shoppers are increasingly more conscious of their conscience. Retailers that help them become more sustainable or socially-minded will win gains in 2018. Aspiration Bank has created its own Aspiration Impact Measurement (AIM) score of thousands of businesses. The score takes into consideration factors like employee welfare and environmental impact, not unlike the USA's 'B-Corp' classification. This gives consumers the chance to make easier, ethical decisions around which brands they support.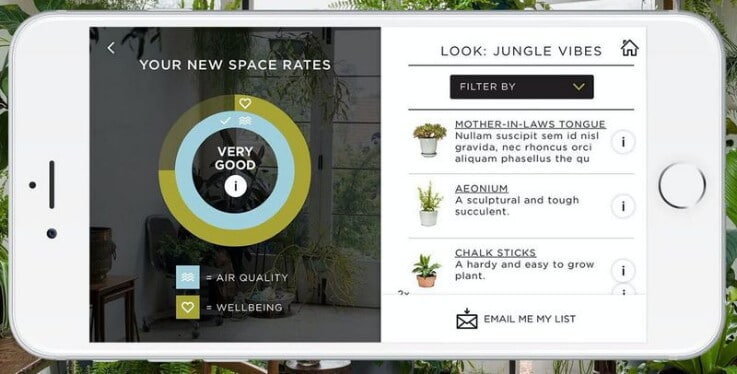 Image credit: Plant Life Balance
35. Plant Life Balance App
Plant Life Balance is a new, free to download app that helps individuals work out the type and number of plants they need in their home to help boost its wellbeing credentials. Users take a photo of the room they wish to dress and record the details of their existing houseplants. Users can then drag and drop new plants onto the image to improve the room's wellbeing rating. This drag-and-drop app model is another way of upselling new finds, particularly for the fashion and interiors sectors.
36. Echo – Ask A Stranger
Sometimes there just isn't a trusted friend available, sometimes you want an impartial opinion. Now, with Amazon Echo Look shoppers can now have a 'stranger' judge your outfit. The Look device adds 'seeing' capabilities to the Echo family, and is currently available on invite-only.
Amazon Spark is the supporting social network created especially for shoppers and users will be able to post their image to the networks to get instant feedback. With consumers in general feeling more at ease with third-party opinions (through the likes of apps like Bumble) adding fan-feedback functions to your e-commerce website offers a new opportunity.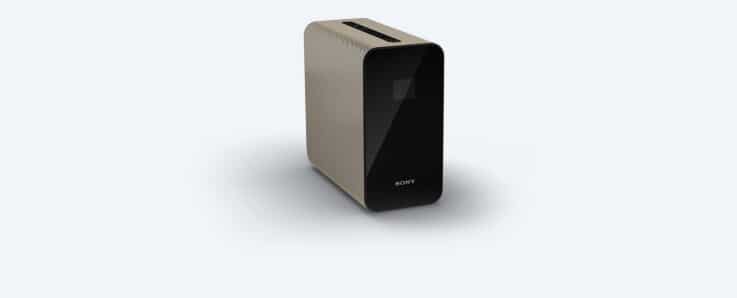 Image credit: Sony Xperia Touch
37. Sony Mobile's Xperia Touch interactive projector
In 2018, we'll increasingly experience a 'touch of magic' as new reality technologies enter our lives. One such example is Sony Mobile's Xperia Touch interactive projector which transforms any surface into a sensor-reactive, HD touchscreen interface. This will help evolve the likes of 'smart mirrors' at retail, bringing projected content into more diverse environments.
38. Avis Keyless Entry
Car rental company Avis Budget Group, Inc. has partnered with Continental to offer a mobile-first rental experience with keyless entry and ignition. The concept is currently being tested at the company's Mobility Lab in Kansas City. This seamless approach could be applied at retail around click-and-collect schemes via one tap of your mobile.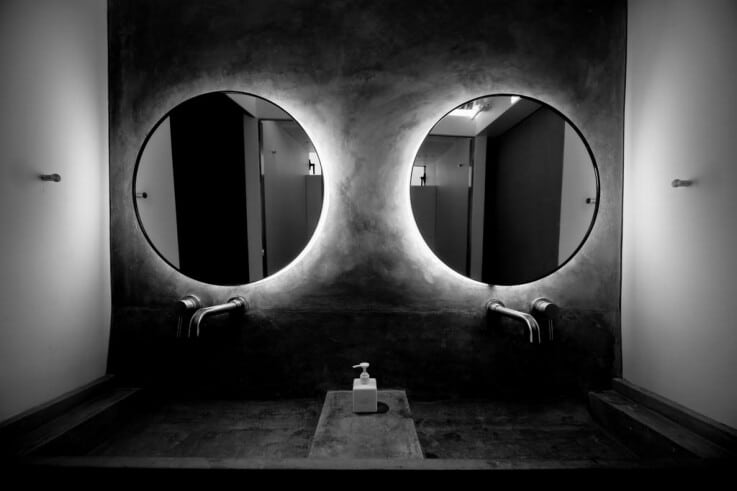 Image credit: SLEEEP
39. SLEEEP
As retail spaces become ever-more hybrid, we'll see them evolve with ever more unusual uses and applications. Responding to the needs of nomadic business travellers in need of a break, forget the co-working lounge, SLEEEP is a sleep-on-demand concept based in Hong Kong. It offers capsule hotels where guests can pitstop for a nap. These kind of resting areas would be a great opportunity for larger concept stores and department stores.
40. Netflix Personalised Websites
Retail websites and mobile experiences will need to evolve to reflect the individual tastes and preferences of the visitor. Netflix users may have noticed that the artwork for individual films often varies each time they visit the site. This is because they change the artwork based on what users have clicked-on in the past (there are currently nine options for Stranger Things). This heralds a new future for look book imagery and advertising, which may need to be captured in multiple formats depending on preferences of the user.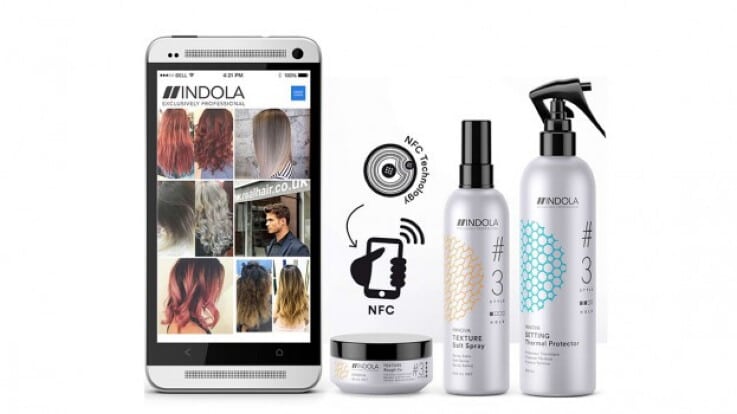 Image credit: Indola
41. Indola NFC Content
Haircare brand Indola is trying to make online research get faster and easier. Instead of 'Googling' to find inspiration and references, customers can tap on Indola's NFC-enabled packaging to receive content related to the product with styling advice, hair care tutorials and tips around other products that may be of interest. When even Instagram research feels like a chore, these sorts of smart functions can help speed up customer decision making.
42. Masterpass by Mastercard
Not everyone has acclimatised to the prospect of paying with your phone. Masterpass by Mastercard could be an easier, 'entry level' payment system for hesitant shoppers. Masterpass securely stores customer payment details meaning customers can enjoy a more instant tap-to-buy service whether shopping online, inside an app or in a store.
43. Shake Shack
We're seeing even faster fast-food service thanks to automated payment. Shake Shack is the latest to deploy kiosks in its stores to enable a more seamless flow of diners. Supported by staff known as 'Hospitality Champs', the cashless system notifies customers by text message when their order is ready to collect. The system is currently being tested at the chain's Astor Place Shack – a site that will become a testing ground for new service innovations.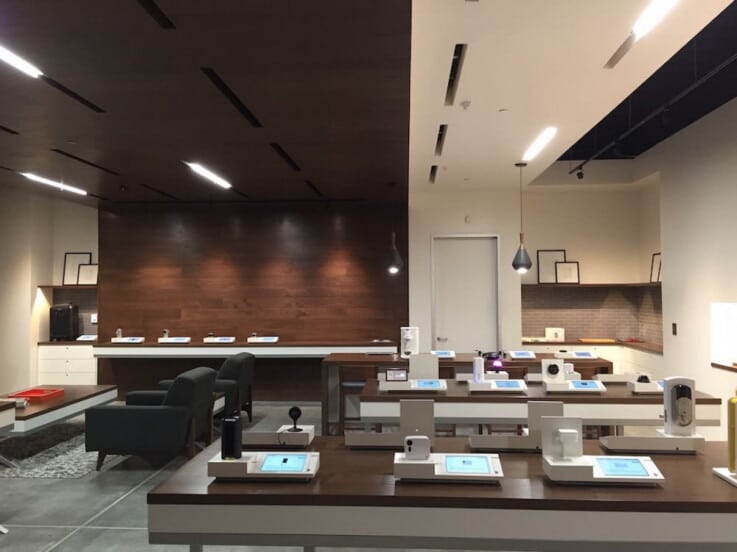 Image credit: b8ta
44. B8ta Personal Shopping
With technology as curated as fashion, customers are craving trusted recommendations more than ever. Tech retailer B8ta is offering personalised shopping sessions for shoppers in its stores. They'll receive one-on-one demos and introductions to brand new products on the market. As ever retailers dealing with new technologies and innovations could benefit from similar online booking systems for customer 'consultations'.
45. AI Predictions
Researchers at the University of California, San Diego and Adobe are working on a double, 'visually aware' algorithm that transforms big data into 'predictive' forecasts. The first algorithm studies user preferences in order to build up a library of recommendations. The second algorithm creates CGI imagery based on the data to skip ahead and predict items that might match the individual's style. A bold new approach to thinking about 'customisation', soon software will not only make recommendations but design for you too.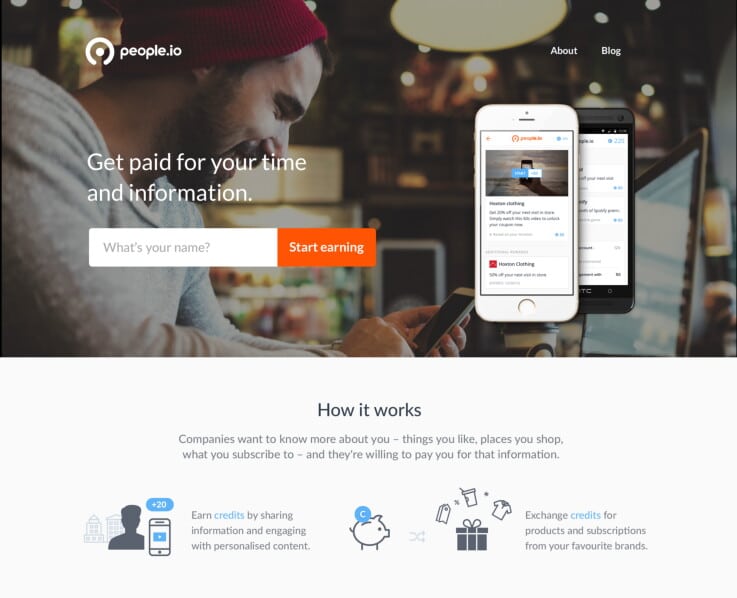 Image credit: People.io
46. People.io
People.io is an app that rewards customers in return for their information. A transparent, honest approach to collecting consumer data, the app is designed to encourage positive engagement. Users own the data contained within the app and earn credits for answering questions or volunteering information to brands. Approaches like this tackle issues like consumer data privacy head-on in an open, rewarding conversation.
47. SJ Railways Chips
Swedish train operator SJ Railways is creating a sci-fi alternative to paper tickets. Up to 3,000 of its regular passengers are now using microchips embedded in their hands as an alternative to other tickets. The train attendant simply scans with an app. Whilst this a forward-thinking approach, it was born out of consumer insight – and one to keep an eye on.
48. KFC Smile to Pay
Staying on the biotech tip, and tying into earlier examples of customer convenience. KFC launched a 'Smile To Pay' at the K PRO concept store in Hangzhou, China. Licensing Face++ technology by Megvii/Alipay, the device scans a customer's face in two seconds. The customer then enters their mobile number to verify and the payment is deducted from their Alipay account. The concept was developed with Gen Z customers in mind, a consumer base at ease with broadcasting their 'selfies' across the cybersphere.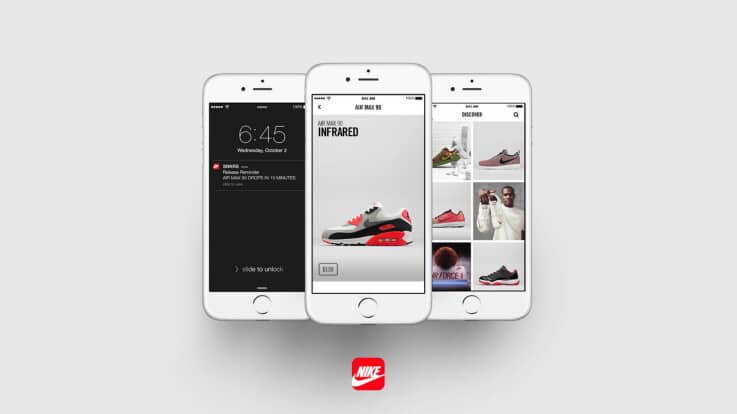 Image credit: Nike
49. Nike Sneaker Drop
For hotly-anticipated product launches and collaborations, take cues from the fabled 'sneaker drop'. Earlier this year, Nike unveiled limited PSNY x Air Jordan 12s. It teased the release of the shoe and released a notification that they would only be available via its Nike+ SNKRS app at a specific time and place. It created a scavenger hunt connecting offline with real world, identifying the brand's super-fans in the process.
50. Smashbox Cosmetics, Eye Recommended
The final in our future-facing listings Smashbox Cosmetics has partnered exclusively with AR company Modiface to implement eye-tracking across the Modiface App. Using the selfie camera function, customers can virtually try on make-up. The eye-tracking is an opt-in feature and allows Smashbox insight into how long a user has spent looking at and interacting with individual items.