Concept Stores
The Best Concept Store Openings August 2017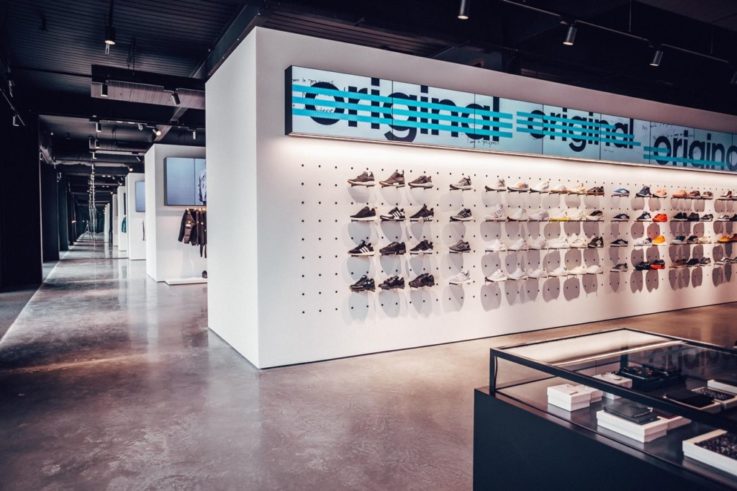 Concept stores aren't always about incorporating the highest levels of technology – sometimes there is more to good retail design than spending tons of money! A good concept store brings together a lifestyle initiative under one roof and makes consumers feel a certain way when shopping with that brand.
We think that this month's openings showcase a range of good design, innovative features, and fun concepts. So without further ado, here's our August round-up of the best openings in the last few months.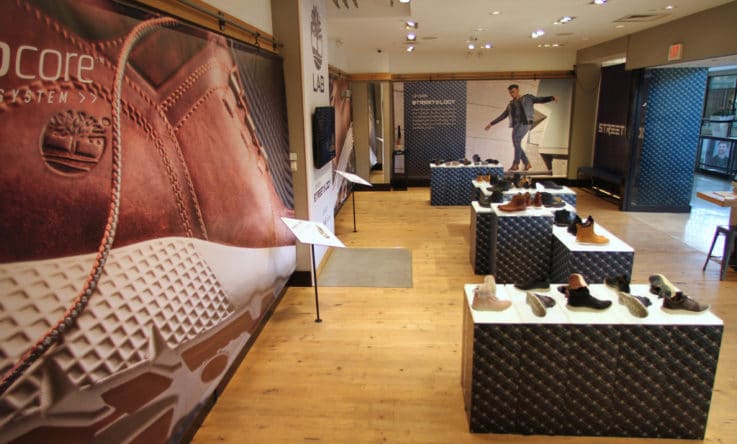 Timberland
Global outdoor lifestyle brand Timberland has opened the doors to its first specialty concept store: The Timberland Tree Lab. Located in the King of Prussia Mall, the largest shopping mall in the United States, the experiential Tree Lab features carefully curated product collections and brand stories in a gallery-style setting that is set to completely change every six weeks.
The Tree Lab debuts with the theme 'Streetology' – where versatile style for city streets meets hidden technology that's been tested for the city. Sleek, angular design elements combine with minimalist product displays for a fresh and modern brand presentation. An oversized, Timberland-style periodic table casually reinforces the science of comfort behind the new technologies.
While testing the products in the Tree Lab, guests are invited to sample a local craft beer or enjoy a bottle of water that will be recycled into Timberland linings or shoelaces. Store associates are on-hand to help connect visitors to everything from the latest style trends to local city events and every detail, down to the premium Tree Lab drawstring shopping bags, has been considered.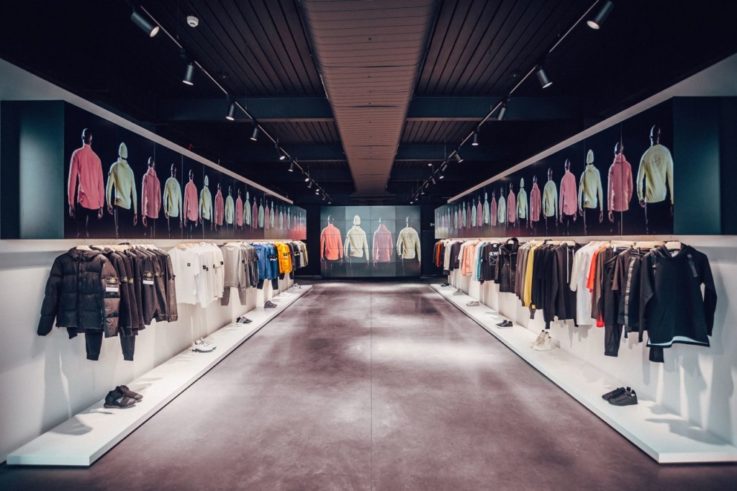 18montrose
Lifestyle store 18montrose has opened a new concept store retail space in the heart of King's Cross, presenting apparel, footwear, and design within a unique setting that can also be used as an event theatre space.
The atmosphere of the store is purposefully dark, allowing for the manipulation of the light and environment to turn the location from a retail store into an event space, merging the boundaries of fashion, art and design.
Divided into three zones, 18montrose uses distinctive display materials that correspond with the lighting and visual backdrop of each area. Moving images interact between surfaces, creating a retail environment that is finely tuned to improve the shopping experience.
The store serves the needs of all those seeking a new high-end retail space, with products for both men and women. Brands in the store include Alexander Wang, Rick Owens, Maison Margiela, Stone Island, adidas, Nanamica, Thom Browne and more.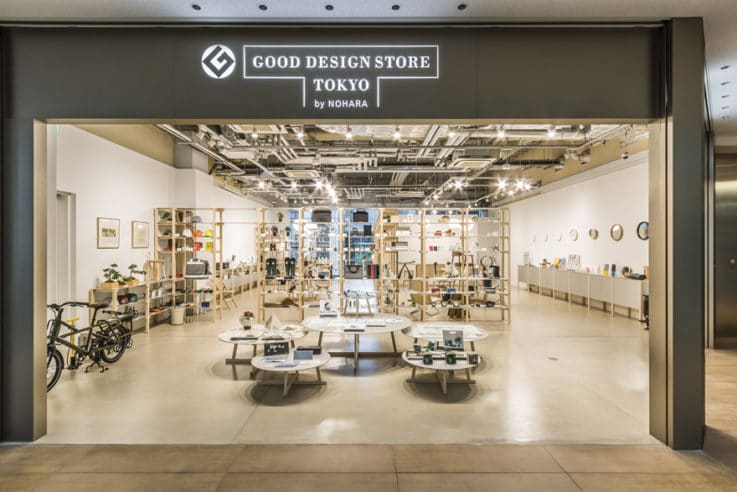 Good Design Store
Located in a shopping centre near Tokyo Station, Good Design Store is a curated home for life-enriching designs involved in the 'Good Design Award' spanning Good Design's 60-year duration. This is the first year the programme has a physical space where visitors can see and buy products from this year's nominees. The neutral store was designed by famed British industrialist designer Jasper Morrison—known for creating economic, efficient, and tasteful designs.
Each area's products reflect the room they are in, with furniture and decorative items in the living area, kitchen utensils and tableware in the dining room, and gadgets and stationery in the hobby room. Simple but elegant shelves, cabinets, and tables offer ample display space.
The garden area at the front of the shop is used as a welcome space to entice potential shoppers but doubles as a display area for new products and small exhibitions. All design decisions have been made with the aim for the store to be a place where customers can design a 'future pleasant life'.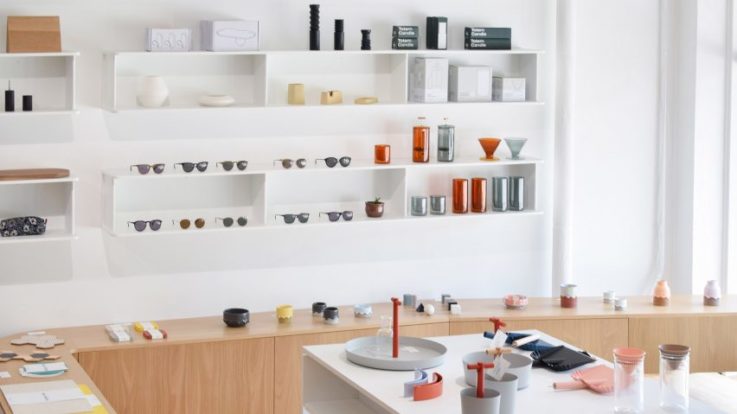 Commonplace
Design and lifestyle store Commonplace has launched a new space designed by local studio Tretow, applying the brand's philosophy to avoid the "clutter" of traditional retail spaces. The design is a masterclass for those looking to make the most of small spaces and pop-up stores.
The new interiors are intended to give individual products space to breathe and be appreciated on their own. Snaking shelves have been designed to encourage customers to linger in the store and shop for longer. The centrepiece of the shop is a 50-foot-long piece of custom white oak display shelving, which curves snake-like along the walls of the store and into the middle of the space, to encourage visitors to follow its "expressive geometry". Cupboards underneath conceal further storage for the store's products.
Additional display room is offered by glossy white tables and minimal white shelving arranged in a grid-like pattern on the walls, to make the most of the store's limited space.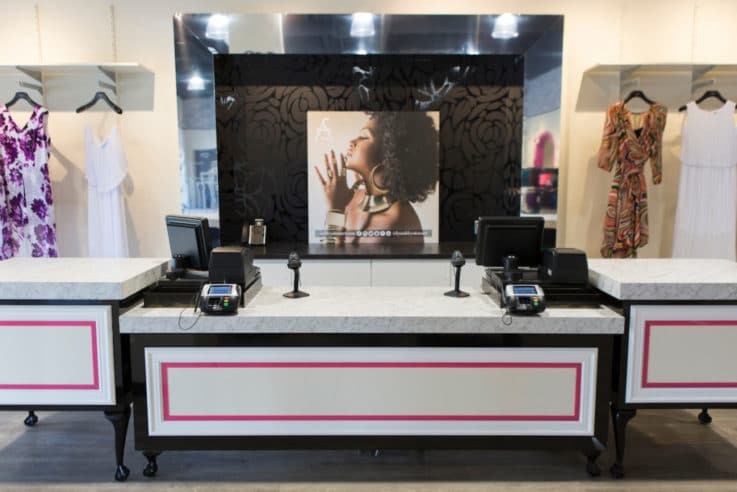 Ashley Stewart
Ashley Stewart unveiled its first-ever concept store in Newark, New Jersey. To serve the fashion retailer's community of women, the new 4,500-square-foot store offers a completely revolutionary shopping experience called "The Ashley Stewart Lab", serving as a fashion haven for girlfriends to gather and "celebrate their curves".
It incorporates a social lounge housing a marketplace dedicated to a curated selection of Ashley's favourite non-apparel brands that showcase a powerful, women-driven social universe. The store also has large fitting rooms that lead to a runway-ready lounge, complete with a digital display that streams the brand's Ashley TV multimedia content.
Stay posted for the latest retail openings in New York, coming to Insider Trends soon. In the meantime, why not experience the best retail spaces for yourself by joining one of our London retail trend tours? We'll show you the latest in retail trends and help you out with any questions.